SKYMET
October 7, 2015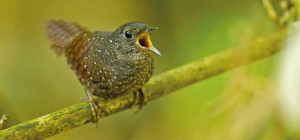 One of the most ecologically diverse regions comprising 10,000 plant species, 300 mammal species and 977 bird species, the Eastern Himalayas have made history yet again as a new range of singing and sneezing plants and animals have been discovered in the last few years.
A fish that sort of walks, a monkey that can't stop sneezing and a bird that enthralls with its singing are some of the newly found animals in last six years, according to World Wide Fund for Nature (WWF).
Eastern Himalayan region that includes Nepal, Bhutan and the northern Indian states of Arunachal Pradesh, Assam and Sikkim, areas of north Bengal, Myanmar and southern Tibet has observed discoveries in the past five years that include 133 plants, 26 species of fish, 10 new amphibians, one reptile, one bird and one mammal.
"I am excited that the region – home to a staggering number of species including some of the most charismatic fauna – continues to surprise the world with the nature and pace of species discovery," said Ravi Singh, CEO and secretary general of WWF-India and chair of the WWF Living Himalayas Initiative.
A band of new species
West Bengal has become the abode for the new species of snakehead fish that can breathe air and survive on land for four days.
A new bird known as the spotted wren-babbler, or Elachura Formosa, has the ability to sing an unusual high-pitched song which is likely to be found in northeastern part of India.
A new 47 millimeter long grayish blue-eyed frog called L bompu was found in Arunachal Pradesh, home to hundreds of undiscovered species during these last few years. Assam and Nepal have been bestowed with beautiful discovery of glorious orchids.
Image Credit: hindustantimes.com
http://fnvaworld.org/wp-content/uploads/2013/04/fnva-logo-300x130.jpg
0
0
Editor
http://fnvaworld.org/wp-content/uploads/2013/04/fnva-logo-300x130.jpg
Editor
2015-10-07 19:42:18
2015-10-30 17:46:54
200 NEW SPECIES OF PLANTS AND ANIMALS DISCOVERED IN HIMALAYAS