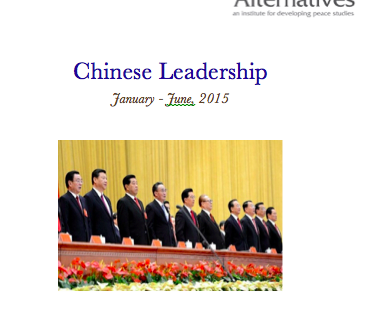 Xi Jinping's New Policies
Xi Jinping's High Risk Policy Needs a National Security Commission
May 5, 2015
China's president has dominant role in foreign policy, but coordination on decision-making could be lacking. When Xi Jinping came to power, he sought considerable adjustment in foreign and internal security policy, as suggested in interviews. He wanted to be the prime mover toward a vision of a rejuvenated China more active on the world stage, and he was less comfortable with the professional foreign policy bureaucracy that previously defined, shaped and conducted policy. Xi is less at ease than predecessors with the relatively independent internal security apparatus that now-disgraced minister Zhou Yongkang had consolidated and with the free-wheeling corruption and untethered military Hu Jintao had tolerated. Xi seeks to make the Chinese Communist Party the key instrument in developing, and perhaps implementing, policy.
China established the National Security Commission, or Zhongyang guojia anquan weiyuanhui, in January 2014 and announced its pending formation in connection with the Third Plenum of the 18th Central Committee of November 2013. The NSC is a work in progress. The commission aims at alleviating Beijing's longstanding coordination problem. Coordinating Chinese foreign and security policy has become progressively more difficult because the number of countries having established formal diplomatic relations with China has about tripled since 1971; globalization has extended the nation's interests and reach; the spatial domains of PRC operations have expanded from being a land power to increasingly present on and under all oceans, and in the air, space and cyberspace; the number of domestic security, diplomatic and international security policy-relevant bureaucracies has expanded; and transnational issues such as climate change have increasing salience. China has moved from being an irrelevance in global trade and finance to center stage.
All this requires a broadly conceived central foreign and security policy coordination mechanism of increasing sophistication, a mechanism that can provide top leaders with options, help establish priorities, evaluate costs and gains, and enforce implementation on a fractious bureaucracy and society. Another central aspect of the coordination problem is the tight linkage between external and internal security in Chinese thinking. The maintenance of internal cohesion and stability is the indispensable core of Chinese national security. Key to this is effectively dealing with periodic attempts of the outside world to subvert China, to weaken it from within, through "stability maintenance," or wei wen. The idea of an NSC, inspired in part by President Jiang Zemin after his 1997 exposure to the US National Security Council while in Washington, DC, was debated in his administration and thereafter in the era of Hu and Wen Jiabao. Chinese analysts have studied various countries' models for NSCs. In the year after the Commission's January 2014 establishment, the domestic and foreign security, military and diplomatic bureaucracies have sought to hammer out a National Security Law to give statutory definition to the NSC, its mission and scope of action, its composition, and its relationship to other organs – a draft of this law was submitted to the National People's Congress in December. Given the divergent interests there's been protracted debate over this legislation.
At the NSC's first meeting on 15 April 2014, Xi articulated the concept of "holistic" or "overall national security," or Zongti guojia anquanguan, mentioning 11 broad areas of concern. On 6 May 2014, the first National Security Blue Book was published, reportedly explaining the issues "Beijing sees itself facing in internal security – including Western nations' cultural hegemony threatening China's socialist values, terrorism, and the 'export' of Western democracy threatening Chinese ideology . . ." National security has in considerable measure become regime security. Beyond this, four NSC functions were identified in a People's Daily article and summarized by Yiqin Fu, cited above: First and arguably most important is developing a national security strategy that is bigger than simply military strategy; promulgating a legal framework for national security that embraces military, economic, foreign policy, technology, intelligence and other considerations; defining and adopting national security policies, focusing on terrorism, sovereignty, maritime, space and cyber concerns; and addressing specific national security threats and incidents, the most worrisome of which involve Tibet and Xinjiang, as well as Hong Kong. According to Beijing, incidents in these places have "profound connections to international actors, so relying on only a few powerful domestic organs is not enough. Intelligence and foreign affairs organs should cooperate closely." As to the membership and organization of the NSC, little is known outside a small circle in the PRC – no comprehensive list of NSC officials has been formally released, except to acknowledge that Xi chairs the body and that Premier Li Keqiang and Standing Committee of the Politburo Member Zhang Dejiang play leading roles.
With Xi playing a dominant role, this places a premium on knowing from whom and from which organizations he takes advice and gets information. Interlocutors in the PRC were uncertain who, with what authority, constituted the next level down helping to advise, inform and act on behalf of Xi in policymaking and coordination. Some informants think that he surrounds himself with advisers he accumulated earlier in his career, such as Li Zhanshu, director of the Party General Office in Zhongnanhai, a position similar to the chief of staff of the US president. Preliminary signs point to the importance of the General Office of the Party, within which are relatively young individuals – some say numbering about 300, with an unknown portion on temporary assignment from other agencies – who apparently serve as NSC staff. Comprehensive national security and foreign policy falling into different bureaucratic bailiwicks below Xi raise the issue of adequate coordination. Xi is the chair of all relevant cross-system integrators – the Leading Group for Comprehensively Deepening Reform and the Central Military Commission, the NSC, the Taiwan Leading Small Group and others. The implication of Xi holding the reins of almost all cross-system integrator organizations is that his leadership is less collective than in the past, particularly under Hu. As one senior foreign diplomat said of Xi, "[There are] not a lot of people to moderate him."
While recent moves in Chinese foreign policy have been significant and broad, it's too soon to say whether this new coordination body will be a partial solution to the longstanding coordination problem or simply compound that challenge. Under the new arrangement, China still has a military with a separate chain of influence straight to the top. There may still be separate domains for the foreign economic, diplomatic and military aspects of policy. From the vantage point of spring 2015, it appears that Xi is already more dominant in Chinese foreign policy than his two predecessors, that he has domestic incentives to speak tough and be assertive on sovereignty issues, but not drive issues externally toward conflict. His is a higher-risk policy style than that of his predecessors, and he needs an effective national security decision-making process to help navigate the treacherous waters ahead. That body does not yet exist.
China's Xi Vows Legal Reforms to End 'Injustice'
March 26, 2015
Chinese President Xi Jinping has reaffirmed his commitment to reform the country's corruption-riddled legal system, but stressed the Communist Party will not loosen its grip over the courts. A series of high-profile wrongful convictions has helped sap public confidence in China's courts, which have a conviction rate of nearly 100 percent and have long relied on forced confessions. In an address this week, President Xi acknowledged that malpractice, including "injustice and wrongful convictions," remains a problem, according to a report in the official Xinhua news agency. If these issues are not addressed "in a timely manner," the Communist Party leader said "they would hinder the progress of the rule of law, and damage social fairness and justice." But Xi emphasized the party will continue to exercise authority over the courts, saying this "represents the basic characteristics and political advantages of the socialist judicial system."
Chinese officials have repeatedly promised to end the use of torture to extract confessions and prevent government officials from interfering in legal cases. Earlier this month, China's top judge, Zhou Qiang, said the country's leaders must learn "profound lessons" from what he called past "miscarriages of justice." In one high-profile case, a Chinese court in December overturned the conviction of a teenager from Inner Mongolia who was wrongfully executed 18 years ago for the murder and rape of a woman. President Xi has repeatedly warned that rampant corruption could threaten the party's rule and undermine its popular legitimacy. He has carried out a massive anti-graft campaign. Many of the most senior officials to be taken down during the anti-corruption campaign appear to be Xi's political rivals, leading to questions about whether the campaign will be effective.
Xi's Bold Foreign Policy Agenda: Beijing's Pursuit of Global Influence and the Growing Risk of Sino-U.S. Rivalry
March 19, 2015
Refinements in the Chinese leadership's strategic assessment have spurred a set of policy directives aimed at bolstering the country's political and economic leadership at the regional and global level. Because these policies are driven by imperatives to sustain economic development, which undergirds the Party's legitimacy, Beijing is unlikely to be dissuaded from pursuing this course. While the risk of military conflict remains low, Sino-U.S. relations appear headed towards an increasingly acrimonious and bitter competition.
The Making of Strategic Assessments
For all the changes inflicted on the Chinese political system by President Xi Jinping's consolidation of power, the fundamental logic of how Beijing formulates and implements national level strategy and policy guidance remains largely consistent with that of his predecessors. Years of political and ideological reforms have standardized, to some degree, four critical steps in this process: 1) the identification of major contradictions in China's situation through a strategic assessment; 2) the formulation of ideas in a manner that upholds the Chinese Communist Party's (CCP) authority through a theory response; 3) the correction of strategy and policy in accordance with the theory's insights through the issuance of central directives, and 4) the implementation of policies accordingly. This entire process is underpinned by the logic that all of the Party's policies are derived from a rigorously scientific and infallible intellectual methodology. For this reason, Party leaders cannot advance change on a single step without also making changes to all other steps. This feature offers the observer an important advantage. Once a change in any step has been detected, developments in the other steps can be more confidently identified and considerable insight gained into Beijing's strategic intentions.
Strategic Assessment: The Changing Period of Strategic Opportunity
As President Xi's comments suggest, the Party's policy and theory work rests on the foundation of its strategic assessment of the contradictions facing the nation. The last major strategic assessment happened around 2000. The 16th Party Congress report provided a comprehensive analysis of these major domestic and international trends and contradictions contained therein, referred to by the phrase, the "new century in the new stage" (xinshiji xinjieduan). This assessment provided the fundamental requirements that justified the major strategic concepts and associated policy work of the Hu Jintao administration, including the well known "scientific development concept" and its derived variations, such as "harmonious world. As part of the strategic assessment, the 16th Party Congress report also carried the first designation of a "period of strategic opportunity." This was envisioned as a 10–20–year period in which a country's comprehensive national power, international competitiveness and influence were expected to rise as a result of favorable domestic and international factors. Around 2010, Chinese media saw considerable discussion about prospects for the period's continuation in the second decade. Chinese officials and theorists concluded that the period of strategic opportunity remains, but that its realization will require a more activist set of policies. One senior PLA official explained that the situation would be "more difficult and arduous" and that China would have to "seize" opportunity in the second decade of the 21st century, rather than passively expect its continuation. He attributed this change to the anticipation that Western powers "will not easily give up their status of dominating international affairs".
Theory Concepts for Foreign Policy
The Xi administration has already introduced a number of theory concepts to resolve the contradictions identified in the strategic assessment in a manner that upholds Party authority. For foreign policy, these include the "Community of Common Destiny," "New Asia Security Concept," the "Chinese Dream," and others. Past patterns of political behavior observed during the Hu era suggest the recent introduction of the "four comprehensives" will incorporate these concepts and will also generate new ones in coming years. The set of theory concepts will incorporate various central directives (zhidao fangzhen) that have already been issued by senior leaders since 2012.
Central Directives: The Focus on Reforming International Rules and Laws
Central directives remain critical to the Party's exercise of political power. Directives are instructions provided through the Party's network of cells and organizations to communicate the central leadership's intentions regarding policy. Party officials at all levels then oversee its implementation through the articulation and enforcement of state policy. Mirroring patterns observed in domestic policy, the main theme of directives on foreign policy has focused on international structural reform to facilitate the nation's continued rise. At a recent Politburo study session, President Xi provided directives to "actively take part in the formulation of international economic and trade rules" and for the country to "strive for the institutional right to global economic governance". The focus on structural reform manifests in both economic and political dimensions. As China's economy moves toward a structure more like that of the United States and other developed nations, trade relations are growing less complementary and more competitive. Chinese economists assess that future growth will depend heavily on the degree of the Asia-Pacific region's integration with China's economy, as well as issues related to global economic governance and international trade rules. While the pursuit of sustained economic growth provides the principal driver, political and security concerns remain an important factor. Beginning around 2012, China stepped up criticism of the U.S. alliance system in Asia while it increased efforts to establish and refine alternative security organizations, mechanisms and structures to complement China's domination of the region's economy. Reflecting the urgency of these structural reforms, Chinese officials now regard policy toward Asia as the priority direction.
The Quest for Political and Moral Authority
Because China regards protection of its growing array of economic, political and security interests as inseparably linked to reform of the international order, one of the most pressing tasks confronting its leaders is the accumulation of the political capital needed to push through the systemic and structural reforms that Beijing desires. Chinese leaders have settled on a variety of means to bolster the nation's international authority. They have indicated a willingness to increase the nation's contributions on tough global problems, such as climate change and dispute mediation in Africa. China is also cultivating political support among developing countries and neighbors in Asia. But Chinese leaders have also promoted policies to position the country as a more moral and appealing alternative to the West, which Chinese media denigrate as corrupt, hypocritical and inept. Applied to foreign policy, this has meant a highly moralistic policy in which Chinese officials attempt to balance considerations of generosity, justice and fairness with economic.
Implications: China Joins the Great Power Game
Development has long served as the primary focus of Chinese strategy and policy. Indeed, every major Central Committee gathering since 1997 has upheld the 15th Party Congress' directive that "development remains the central task." What is new in the Xi administration's policy focus is the recognition that changes to the structure of the international economic and political order are now required to sustain development. This carries important consequences for Chinese policy making. As China has grown powerful, its economic interests are gaining in strategic importance. While acknowledging that sovereignty and the political system are "more fundamental and more important" to the nation's survival, one Chinese scholar argued that their place in the order of national strategic priorities should be pushed back due to a lack of pressing external threats. The greater danger, he observed, now stems from "political and social unrest generated by an economic recession". This danger may have always been China's most pressing, but with its economy more deeply integrated with the global economy than ever before, preventing recession increasingly requires China to exert greater influence on the international order and in countries in which its economic interests are substantial. Chinese leaders appear to recognize this imperative and are developing policies accordingly. The complexity of the situation is such, however, that the country most capable of facilitating China's efforts in this regard is also a country that stands to lose considerably from such expansion—the United States. Small wonder, then, that the same Chinese scholar concluded that the contest over the rules of the international order will be the most important part of future Sino-U.S. relations in coming years.
In its focus on initiatives such as the New Silk Road, also known as the "one belt, one road," and the Asian Infrastructure Investment Bank, the Xi administration's policies appear to have similarly prioritized the consolidation and protection of economic interests. The good news is that this development suggests the leadership will continue to have little appetite for military conflict. While crises over maritime and other disputes will continue to plague China's relations with its neighbors, the risk of escalation to major war remains low. However, for both the United States and China, the imperative to sustain growth will put intense pressure on policy makers to secure and defend economic gains. Due to the fact that the two economies are growing less complementary and more similar in structure, trade relations will become more competitive than in the past. Moreover, because influencing the international order is increasingly essential to gaining the economic edge, this competition will unavoidably turn increasingly political. The danger remains that the search for economic leverage could spur political and military confrontation. For years, the United States has pursued a strategy designed in part to "bind" China to the international order in a manner that reinforces, rather than subverts, U.S. authority. The hope has been to "bind China to existing international system of norms, rules, and institutions" and "shape its evolving interests and values through bilateral and multilateral engagement". Beijing's policy shift shows it intends to play a different game. In choosing to selectively adopt and shape those aspects of the international order that serve its interests and circumvent those that do not, Beijing is demonstrating that it understands the rules of great power behavior more perceptively than Western strategists may have anticipated. Washington will need to grasp the dynamics of the evolving situation just as deeply to effectively manage an increasingly competitive relationship.
Xi's 'Four Comprehensives' likely to be his party legacy
February 25, 2015
The Lianghui or "two meetings," the annual meetings of China's National People's Congress and the Chinese People's Political Consultative Conference, will be held soon after the Chinese New Year holiday, according to the public WeChat account of the People's Daily's opinion web portal. Over the holiday, the site has issued a series of opinion pieces from heavyweight commentators to discuss the progress of the implementation of President Xi Jinping's "Four Comprehensives" principle-to comprehensively build an ideal Confucian society, to comprehensively deepen reform, to comprehensively implement rule of law and to comprehensively enforce strict discipline for the Communist Party. At the launch of the series of forums, Xi made a speech which focused on the strategic implementation and the logic behind the deployment of the "Four Comprehensives," which suggests that they will become a centerpiece of Xi's political theory during his time in office.
Party Media Hyping "Four Comprehensives"
From the first time he mentioned the principle in December in Jiangsu, Xi has repeatedly made reference to it, including at the CPPCC National Committee New Year tea party, at forums for ministers at the provincial level, at meetings and group study sessions of the Politburo and on the occasion of Chinese New Year.
Party Buzzwords
The piece stated that in the two years since the 18th Party Congress, several important meetings paved the groundwork for the formulation of the "Four Comprehensives": the 18th National Congress repeatedly stressed the importance of aspiring to an ideal Confucian society, the 3rd plenary session of the 18th CPC Central Committee deployed the terminology "deepening reform," the 4th plenary session called for the comprehensive implementation of rule of law, while the Summary Meeting of the Party's Mass Line Education announced moves to enforce strict discipline within the party. These four concepts were brought together for the first time in December. Over the past two years, state media outlets have been poring over Xi's methods of governance which, according to the analysis piece in the People's Daily, are summarized by the "Four Comprehensives." Some even take it to be Xi's guiding principle and have suggested that it will join the ranks of Jiang Zemin's "Three Represents" and Hu Jintao's "Scientific Outlook on Development," to become enshrined as party orthodoxy.
Amendment to the Party Constitution?
From Mao Zedong to Deng Xiaoping, the CPC has always aspired to political ideals; from its founding in July 1921 through to the establishment of the Communist government in China in 1949, the party has emphasized its foundational ideology of Marxism-Leninism, as well as Mao Zedong Thought, for its legitimacy. This is true for the notion of "people's democratic dictatorship," a phrase incorporated into the party constitution by Mao, as it is for the later "Three Represents," incorporated by Jiang. When Jiang was president, the "Three Represents" drafted by political theorist Wang Huning were an attempt to provide further legitimacy for the one-party government. However the CPC has largely leaned towards pragmatism rather than ideals in actual governance and the Hu Jintao administration in particular was seen as a government of technocrats. For Xi Jinping, anti-corruption, reform and rule of law have all made progress under his leadership but Xi is likely looking for a theoretical basis to underpin his achievements so far, according to Duowei News, a media outlet run by overseas Chinese. For buzzwords, Xi has already produced the concept of the "Chinese Dream," also thought to be the brainchild of Wang Huning, and the "New Normal," which puts a positive spin on China's slowing economic growth, but the former is vague and the latter only relates to economic policy, which is where the "Four Comprehensives" comes into play. The CPC usually adopts new guiding principles every ten years, so the timing appears to be about right for the launch of another. In view of this timeline, if the concept of the "Four Comprehensives" is to be adopted into the party constitution, it will likely go through a period of refinement and expansion and be enshrined in the party constitution during the 19th National Congress of the CPC.
What Xi's Catchphrases Say About His Priorities for China
February 7, 2015
In a recent list of "hot phrases" said by President Xi Jinping, domestic affairs dominate. Kerry Brown just noted for The Diplomat that President Xi Jinping is far more willing to speak out than his more reserved predecessor, Hu Jintao. China's domestic media have not been hesitant to draw attention to this fact either – Xi's remarks and speeches garner widespread coverage. In fact, People's Daily online just carried a story highlighting 12 "hot phrases" used by President Xi over the past few years. Hong Kong University's China Media Project provided an English translation of the bulk of the article. The list of catch-phrases is as notable for what's not included as for what is included. Of the 12 "hot phrases," only one touches on foreign policy – "one belt and one road," a reference to Xi's proposal for a Silk Road Economic Belt and Maritime Silk Road. The phrase "new type of great power relations" – arguably Xi's first catchphrase, as it emerged during a 2012 visit to the U.S. while he was still vice president – doesn't even make the list. So what does make People's Daily's list of 12 "hot phrases" used by President Xi?
As the China Media Project points out, many of these "hot phrases" are intended mostly to showcase Xi's folksy style, both in terms of phrasing and subject matter. He uses Internet slang to describe government work styles; he tells Chinese youngsters not to pull all-nighters. The message is that Xi is both relatable and concerned with the issues that dominate Chinese people's daily lives. But intermixed with these down-to-earth sayings are examples that hint at how Chinese media wants the people to think of their leader. Unsurprisingly, the "Chinese dream" is Xi's number one "hot phrase." This concept has percolated down to touch on every single aspect of Xi's governance of China – anti-corruption, economic reforms, even foreign policy. All of these initiatives are loosely tied to Xi's vision of realizing the Chinese dream: "the great rejuvenation of the Chinese people." Xi, as the originator of the phrase, now has a monopoly on defining it. It's up to Xi to decide which policies and actions are to the benefit of the "Chinese dream" and which are not. Environmental protection, for example, has been folded into the Chinese dream (as seen by another of Xi's "hot phrases," "APEC blue"). Turning away from the CCP's definition of Chinese values, however, is definitely not part of the Chinese dream. Thus another "hot phrase" involves Xi telling students, "In life, you need to get the buttons right from the start" – part of a longer lecture emphasizing that if young Chinese embrace the wrong values, all of society will suffer. It's a short step from there to the recent campaign for ideological education at China's universities.
Many of Xi's other "hot phrases" deal generally with the anti-corruption campaign. Xi's famous exhortation to battle "tigers and flies" made the list, as did a lesser known pronouncement urging officials to self-reflect ("Look in the mirror, attend to your wardrobe, wash yourself clean, and cure your ailments"). Yet while Xi is unafraid to tackle flaws in China's government, he insists on absolute Party leadership. He emphasized the importance of the Party holding the "knife handle" (political, legal, and military power). Xi also gave a Facebook-style "like" to the Chinese people for supporting the Party. We often discuss Xi's ambitious foreign policy vision for China, and rightfully so. But it's important to remember that – as in any country – it's Xi's domestic policies that will make or break his legacy. These "hot phrases" are a handy catalog of what initiatives Chinese state media wants to showcase – anti-corruption, environmental protection, economic reforms – in addition to highlighting Xi's down-to-earth image. It's telling that the one foreign policy initiative that made the cut involves economics and China's "neighborhood diplomacy" – the aspects of foreign policy most likely to directly influence the average Chinese citizen.
Time For Xi to Reform His Reforms
February 6, 2015
As Xi Jinping nears the two-year mark of his tenure as president of China, he might want to take stock of what is working on the political front and what is not. Here are some early wins and losses. Certainly, his anti-corruption campaign has hit its target—hundreds of thousands of them to be exact—and shows little sign of slowing down. He has cast a wide net, leaving little doubt that no sector of society—party, military, business, or other—is completely safe. Still, Xi remains vulnerable to accusations that the campaign is at least partially politically motivated, given that almost half of the senior-most officials arrested are tied in some way to his political opponents, and none of his Fujian or Zhejiang associates have been detained. He might want to bring some transparency to the process: uncertainty and fear of running afoul of some regulation or another are driving many officials to avoid making decisions or taking action.
Xi's ideological war has also taken hold far more rapidly than anyone might have imagined. The Internet as a forum for lively political discourse has virtually closed down, and his crack team of propagandists are constantly coming up with new ideas to turn back the information age for the average Chinese citizen. Banning foreign textbooks, blocking Gmail and VPNs, and putting cameras in classrooms to report on professors are just some of the initiatives underway. It is hard to reconcile Xi's desire to support China's most creative and innovative thinkers—much less attract back those who have made their lives abroad—to jumpstart the economy with policies designed to block communication and access to information. If he doesn't reign in the Liu Yunshan's and Lu Wei's soon, he should probably expect a wave of China's best and brightest to get their passports in order.
Xi has had less success in his efforts to reform social policy. Perhaps nothing is as surprising as the failure of the relaxation of the one-child policy to encourage young Chinese couples to have more children. In late 2013, Beijing issued new rules that permitted couples to have a second child if either parent was an only child. The government saw relaxation of the policy as a win-win—addressing both a significant source of societal discontent as well as the challenge posed by an aging population and shrinking labor force. Initially, the government estimated that with the reform, approximately eleven million additional couples would be eligible to have a second child. They anticipated that roughly two million new babies would be born each year. Instead, only one million couples applied, and as one Chinese expert estimates, there have been only 600,000 to 700,000 newborn second babies—roughly one-third of what the Family Planning Commission had anticipated. Analysts suggest that there are a number of reasons for the baby shortfall: no preschool for children under three, toxic environmental conditions, economic concerns, and even too much success in inculcating the value of a one-child policy.
Reform of the hukou, or residency permit, system is struggling as well. Launched in July 2014, hukou reform technically allows migrant workers to establish residency and receive benefits, such as education for their children, in the cities in which they work. Yet restrictions in the plan mean that only a small percentage of the more than 200 million migrant workers will likely benefit from the policy. Cities such as Beijing, Shanghai, Chongqing, and Guangzhou, which are home to the largest numbers of migrant workers, are excluded from the policy. Indeed, the new regulations only permit migrants to receive full urban residency benefits if they move to towns and cities of less than 500,000. Cities in between 500,000 and the most popular megalopolises have a range of restrictions on their residency requirements. As Chinese demography expert Kam Wing Chan has noted, it makes no sense to exclude the largest cities or set the barriers too high in other large second-tier cities—that is where most migrant workers currently live and, most importantly, where work is available. Given current restrictions in the policy, Chan estimates that to bring the migrant population to zero—the objective of the reforms—will require three to four more decades. Policy reform is challenging under any circumstance, but all of Xi's reforms share a common problem: a fundamental misunderstanding of social dynamics. The lack of restraint in the anti-corruption campaign and ideological war create a climate of fear that will undermine success in achieving other policy objectives over the long term, while a failure to recognize the actual needs of young Chinese couples and migrant workers means that the one-child policy and hukou system reform will continue to deliver sub-optimal results. For Xi Jinping it may well be time to reform his reforms.
Xi's first grand military parade 'meant to deter Japan and corrupt officials'
January 27, 2015
A huge military parade to be held in Beijing later this year to mark the 70th anniversary of the end of the second world war will also show off the nation's growing international influence and military might and bolster the political power of President Xi Jinping, according to analysts. The event will probably be held on September 3, according to academic and military sources, and it will the first time the president has attended a full-scale military parade in the capital since he took office in 2012. The events are usually held every 10 years in Beijing on China's National Day, October 1. "The parade will show the outside world that President Xi has full control of the party, government and army as well as highlight his success in the ongoing nationwide anti-corruption campaign," said Li Jie, a Beijing-based retired senior colonel. Macau-based military expert Antony Wong Dong said the parade would help the president further consolidate his personal prestige at home and overseas and would give the world a glimpse of China's achievements in modernising its army. "Military enthusiasts and politicians are waiting for more surprises in this year's parade because China has been reported testing so many advanced fighter jets and missiles in recent years," Wong said.
The last National Day parade in 2009 surprised many overseas military observers because it featured many of the PLA's latest generation of weapons, he said. An opinion piece published on the social media account of the People's Daily said the parade would display new-generation fighter jets such as the J-20 and J-31, and showcase new missile systems. The signed commentary also said the parade would show corrupt elements in the country that Xi had a tight grip on power, with the military, domestic security apparatus and the government's anti-corruption agency now firmly under his command. The government has initiated a sweeping anti-graft campaign since the president took office, with hundreds of officials under investigation. Foreign heads of state will also be invited to attend the military parade as guests for the first time. Russia's President Vladimir Putin has confirmed he will attend. Deng Xiaoping resumed the convention of holding the National Day military parade in 1984 after the event was dropped in the 1960s.
Xi's New Year's Resolution: Reform China's State-Owned Enterprises
January 14, 2015
2015 will be a pivotal year for China domestically, an important test for Xi Jinping's ability to push through real changes in his third full year as China's top leader. Two of Xi's most important initiatives – restructuring China's economy and fighting corruption within the Chinese Communist Party – will require a new willingness to go against the previously sacrosanct state-owned enterprises. China has over 150,000 SOEs at the national and local level, ranging from well-known behemoths like China Petro, China Mobile, and China Shipping to smaller provincial-level firms that often branch out into odd market areas such as hotels and shopping malls. Many of these companies have serious internal problems, including mismanagement, inefficiency, and inaccurate accounting methods. Perhaps most concerning, from an economic point of view, is that these companies simply are not very profitable. Since the financial crisis, despite continued rapid growth in China, average SOE profitability has fallen. According to The Economist, returns on investment for SOEs are at around 5 percent, compared to over 9 percent for private firms. Beijing's bid to encourage partial privatization of these firms is partially driven by a hope that private ownership will create more of an incentive for SOEs to follow best business practices. As it stands, many of China's SOEs seem to have grown complacent, accustomed to government-mandated monopolies, easy access to credit, and government subsidies. Not only do their inefficiencies drag down China's economy as a whole, but the privileges afforded to SOEs unnaturally restrict competition. That will be a problem as China seeks to foster increased domestic innovation.
Part of the reason China's SOEs are so inefficient is that they are a breeding ground for corruption: the perfect intersection of money and power. It's no surprise, then, that Xi's latest comments about the need for tighter control over the SOEs came in the context of anti-corruption. Speaking at the fifth plenary session of the Central Commission for Discipline Inspection (CCDI), the Party's anti-graft watchdog, Xi said that the Party must strengthen both its control over and its supervision of SOEs and their top executives. "The state-owned assets and resources, which do not come easy, are the common property of all people of the country," Xi said. He added that the disciplinary inspection organizations within each SOE should themselves be subject to investigations and supervision. Xi and the CCDI have already proven they are not afraid to target major SOEs. According to People's Daily, over 70 executives at SOEs were placed under investigation for corruption in 2014, most notably Song Lin, the former chairman of China Resources. Most of the probes focused on energy and resources firms, financial firms, and media and telecommunications firms. The article also suggests that the government body responsible for supervising the SOEs, the State-owned Assets Supervision and Administration Commission (SASAC) is not doing its job. SASAC has been accused of dragging its feet on implementing SOE reform; Xi may be looking for a solid excuse to shake up that organization as well.
Last December, a CCDI official promised that there would be more internal inspections at SOEs. Hao Mingjin, CCDI's vice minister of supervision, also warned that SOE executives were considered to be at "high risk" for corruption – and that a corrupt chief executive could easily lead to a "graft gang" that involves subordinates down the chain of command. Chinese state media have already identified one such political faction: the "Petroleum Gang," associates of the fallen Zhou Yongkang during his time at the China National Petroleum Corporation. The anti-corruption campaign against SOEs provides a key opportunity for Xi Jinping to push forward with more general reforms to state-owned businesses. SOEs form a powerful political bloc in China, but Xi is demonstrating his own power by aiming his anti-corruption campaign squarely at these institutions and their leaders. Still, removing some ne'er-do-wells from their posts is a far cry from actually implementing the structural reforms that are necessary to make SOEs accountable, efficient, and profitable.
Xi places importance on propaganda to control internet
January 10, 2015
Chinese president Xi Jinping has highlighted the importance of the role of the authorities as leaders in the virtual world, given the country's nearly 600 million online population, according to cpcnews.com –the Communist Party of China's (CPC's) news portal. In an article published on Jan. 8, cpcnews.com recapped Xi's series of remarks in the past to examine the Chinese leader's views on the qualities required from people working in the news business today. Propaganda works are "extremely important" to the CPC, the article reported, citing Xi's address during a national conference in August 2013. The Chinese president, who also serves as the general secretary of the CPC, said during the conference that propaganda officials should not only strive to be kept abreast of the trends but also aim to understand the bigger picture to plan strategies and provide proper responses.
He told propaganda officials that they need to focus on the fact that China has an online population of nearly 600 million, including many younger users who read news stories from online sources, instead of the mainstream media. The CPC news portal also cited an article written by Xi that urged people working in the news media to change their way of thinking and to pay attention to voices from all segments of society, when he was the CPC chief in Ningde City, Fujian province, in 1989. The CPC news portal further highlighted Xi's use of the common man's language, including popular terms used in the online community, and simple expressions in all his public addresses after he took power in late 2012. This approach makes it easier for Xi to convey his ideas to the public and should be adopted by people working in the news business, the CPC news portal noted.
Important Meetings
China's Xi highlights 'big picture' in reform drive
May 6, 2015
Chinese President Xi Jinping on Tuesday called on officials to view the country's reform drive in the context of "a larger picture" in order to deepen reforms. Xi made the remarks at the 12th meeting of the Central Leading Group for Deepening Overall Reform, during which he called on authorities to "grasp the larger picture of reform" and fully implement the "Four Comprehensives", an ideological framework that identifies the main pillars needed to support the rejuvenation of China. "Four Comprehensives" refer to comprehensively building a moderately prosperous society, deepening reform, advancing the rule of law, and strictly governing the Party. "Authorities should subordinate themselves to the overall situation and have the courage to face up to challenges," Xi said. An overall plan to promote innovation in reform in selected regions was adopted at the meeting. Members of the leading group also agreed that authorities must place scientific and technological innovation at the heart of the drive.
At the meeting, the group approved a pilot reform plan for public interest litigation and a document on improving legal aid. Describing legal aid as a "key project", it urged "efficient and quality" legal aid that caters to people's practical needs so they can "feel fairness and justice in every case". Legal aid should be provided, with lower costs and requirements, to help disadvantaged groups solve basic problems in life and work, according to the group. The statement said that legal aid should play a bigger role in solving social conflicts, as well as judicial protection of people's rights, especially in criminal cases. Public interest litigation should focus on cases that harm state and public interests in the fields of environment and resources, food and drug safety, state-owned assets and leasing the right to use state-owned land. A plan to expand a pilot project with strengthened liability for judges and prosecutors and better supervision of personnel, money and property to more provincial-level regions was also approved.
At the meeting, members of the leading group stressed that a plan to deepen reform in the science and technology sectors will be most effective if it stimulates innovation and integration of scientific and technological innovation with economic and social development. The reform, with both short-term and long-term measures, should focus on obvious problems that restrain sci-tech innovation, the statement said. "By 2020, major breakthroughs should be made in key areas in sci-tech reform, and a mechanism should be set up in line with socialist market economic laws in order to drive innovation," according to the statement. Societies affiliated with the China Association for Science and Technology were urged to provide public services in sci-tech fields, including by accrediting new technology, formulating technical standards and organizing national awards schemes for science and technology.
Corruption in China
Former top Tibet security official probed for graft
June 25, 2015
A former top Chinese security official in Tibet is being investigated for suspected corruption, the ruling Communist Party's anti-graft watchdog said on Friday, in a rare example of corruption-busters going into the restive and remote region. Le Dake, currently deputy head of Tibet's regional legislature, is being investigated for alleged "serious violation of discipline and law", the Central Commission for Discipline Inspection said, using the usual euphemism for graft. It provided no other details and it was not possible to contact Le for comment.
According to his official biography, Le was head of the State Security Department in Tibet from 2004 to 2013. President Xi Jinping has vowed to combat deep-seated corruption since assuming power in late 2012, though parts of the country with big minority populations like Xinjiang and Tibet have largely escaped the campaign so far. In January, state media said that anti-graft authorities found 15 senior Communist Party officials in Tibet guilty of corruption last year and punished them. China has ruled Tibet with an iron hand since People's Liberation Army troops "peacefully liberated" the region in 1950. Tibetan parts of China erupted in widespread anti-Chinese protests in 2008, and what China calls the Tibet Autonomous Region remains under tight security. Activists say China tramples on religious freedom and culture in Tibet. China rejects such criticism, saying its rule ended serfdom in Tibet and brought development to a backward, poverty-stricken region.
Former, current leaders in a game of whack-a-mole
June 16, 2015
When he greeted the New Year, former Chinese President Jiang Zemin must have felt as though he had been cornered. His once-powerful faction was in the pincers of President Xi Jinping's vigorous anti-corruption campaign. Key members of the Jiang group had already fallen victim to the campaign, including Zhou Yongkang, a former member of the Politburo Standing Committee, China's most powerful decision-making body, and Xu Caihou, a former vice chairman of the Central Military Commission. Zhou was expelled from the Chinese Communist Party, while Xu was placed under investigation before dying in March. Of the Politburo Standing Committee's current seven members, Zhang Dejiang, Yu Zhengsheng, Liu Yunshan and Zhang Gaoli have long been seen as closer to the Jiang group than to Xi. But amid Xi's sweeping anti-graft crackdown, the incumbent is winning over the four. At the beginning of this year, Xi's campaign was rattling bureaucrats, auto industry officials and others close to Jiang. Numerous bigwigs around them had already been targeted by Xi's campaign. Jiang has a history with the FAW Group, a leading state-owned Chinese automaker headquartered in Changchun, Jilin Province. The so-called machine-building industry faction was his support base; it was one of the Jiang administration's special interest groups. But when the year began, FAW was doubled over following an investigation — part of Xi's anti-corruption drive — and due to the detention of more than 100 of its senior officers.
The 88-year-old Communist Party elder then decided to demonstrate — albeit far from Beijing — that he is still alive and kicking. He visited Hainan Island, off the southern tip of mainland China and east of Vietnam. Hainan Island hosts the annual meeting of the Boao Forum for Asia, which Jiang played a leading role in establishing. Even after retirement, he has maintained a strong influence on the island.
Cry on Dongshan Ridge
On Jan. 2, Jiang, his wife Wang Yeping, children and grandchildren went up the island's imposingly beautiful Dongshan Ridge. Jiang was flanked by his eldest son, Jiang Mianheng, who had dominated the Chinese telecommunications industry, and his second son, Jiang Miankang. After visiting a mountainside temple with his family members, Jiang cried in an unusually loud voice, "Jiang Zemin came here! It's a worthwhile trip." He also pledged to promote the scenic mountain after returning to Beijing, saying:"This place will be crowded with tourists." Jiang's shout spread across the country the following day, first via the WeChat account of a Dongshan Ridge park, then through Chinese media outlets, which also provided photos. WeChat is a free calling and messaging app. So what was that out-of-character cry all about? Jiang was signaling his faction: "Even after retirement, I have taken up my position in the capital, Beijing, not in Shanghai, and I still have political influence. Don't worry." The Jiang group is also called the Shanghai faction. Chinese people think Jiang spends most of his time in Shanghai, the group's stronghold. But Jiang has a residence in Beijing's Zhongnanhai neighborhood, home to many leaders and where maximum security is ensured. After Xi became China's top leader, there were news reports that Jiang was completely driven out of Zhongnanhai. But "the reports were erroneous," a person familiar with Chinese politics in Beijing says.
Jiangsu is the home province of the Jiang family and of Zhou, while Shaanxi is the home province of the Xi family. As for the term Dongshan zaiqi, there is another theory, supposedly based on an event involving Li Gang, a government official of the Song dynasty who was born in 1083 and died in 1140. Li called for do-or-die resistance to the invading troops of the Jin dynasty, a dynasty of Jurchen tribes. But the Song dynasty, which was inferior to the Jin dynasty in terms of war capability, chose to enter peace negotiations with the northern enemy. Li was removed from his post and banished to Hainan Island. He secluded himself on Dongshan Ridge. One day, a monk from a local temple told Li he would soon be able to return to the capital of the Song dynasty. Three days later, the situation surrounding the Song dynasty was thrown into flux, and Li was told to return to the capital. Li was released from exile and made a comeback. He hailed from Wuxi, Jiangsu Province, where Zhou Yongkang, the indicted key member of the Jiang group, was born. There is speculation that a Chinese media tycoon close to Jiang helped in carefully orchaestrating for Jiang's Dongshan drama to be reported across the country. Alarmed by the publicity Jiang's wail received, the Xi leadership immediately ordered the deletion of all articles and photos posted online about the former leader's visit to the mountain and issued a gag order. On Jan. 6, only four days after the Jiang family's visit to Dongshan Ridge, Jiang's eldest son, Jiang Mianheng, abruptly resigned from his post as head of the Shanghai branch of the prestigious Chinese Academy of Sciences. The resignation of the heir, who is in his 60s, came immediately after his return from Hainan Island. He stepped down, citing his age. But because of the timing, rumors swirled that he quit under pressure from the Xi leadership.
Jiang wants to demonstrate his presence, while Xi wants to prevent Jiang from doing so. So they are playing like a couple of ancients, one of whom just cannot bear being out of power, and the other of whom is determined to gag his predecessor.
President Xi Jinping's corruption crackdown linked to officials' suicides
May 3, 2015
Reports of a third Chinese official committing suicide last month – following news that four other officials killed themselves in March – have caused a stir among users of mainland social media. On Thursday morning Chen Tianhong, the head of a town in Jiangsu province, jumped to his death from the 21st floor of the government building. Family members said Chen, 34, was emotionally unstable at the time of his death after suffering from serious insomnia, the Xinhua news agency reported. His death was the third suicide of an official to be reported by Chinese media last month, after the division head of the public security bureau of Mudanjiang city , in northeastern Heilongjiang province, hanged himself on Friday last week and the Communist party chief of Yizhou city , in southern Guangxi province, leapt to his death last Tuesday.
Some internet users questioned what had gone wrong with mainland officials, with many suggesting the deaths could be linked to the crackdown on corruption launched by President Xi Jinping after he came to power in November 2012. The number of suicides recorded by officials has risen sharply in recent years, which analysts said was inevitably linked to Xi's anti-graft campaign. More than 100 "tigers" – corrupt senior officials – and many low-level cadres "flies" have been purged. Between 2003 and 2012, the suicides of 112 officials were reported by mainland media, said an academic paper written about the phenomenon by Qi Xingfa, a politics professor at Shanghai's East China Normal University. The number of "irregular deaths" among cadres reached 54 between January 2013 and April 2014, of which 23 were confirmed as suicides by authorities, the China Youth Daily reported. Last year the website of the People's Tribune, a magazine published by the Communist Party newspaper, People's Daily, reported that 36 officials had committed suicide. The Knowlesys online public opinion monitoring service put the number at 72 after counting cases that had appeared in media reports. The rise in suicides among cadres since the crackdown had led the party to launch a national survey to find out how many members had killed themselves, the Financial Times reported.
Xi Jinping's comprehensive fight against corruption
April 22, 2015
The Four Comprehensives are likely to be put forward as Xi's contribution to the CPC theoretical canon, providing the ideological legitimacy for his reform and anti-corruption campaign. If this is the case, this new concept is an important means for analysing the future direction of Xi Jinping's leadership and makes it clear that the current cycle of increased power centralisation and party discipline will continue. The Four Comprehensives are focused on comprehensively building a moderately prosperous society, deepening economic reforms, governing according to the law, and applying strictness in governing the Party.
The fourth is aimed at enshrining Xi's corruption campaign as a key part of the ideological legitimacy for his rule. It will be very difficult for detractors to criticise it if it becomes part of the party's guiding philosophy. Within the CPC's system, new leaders must always explicate their planned policies and vision for the country as a natural extension of the canon of Marxism-Leninism and Mao Zedong thought. This provides a leader's mandate to rule, and defends them against those who may criticise their policies as going against the ideological tenets of the CPC. At this current juncture in Xi's leadership it is particularly important to have this ideological defence against his detractors and factional enemies. In 2014, the corruption campaign took the scalps of a number of 'big tigers', such as Zhou Yongkang, Ling Jihua and Xu Caihou. The rapid collapse of so many high-level party leaders in one year has not been seen since the 1980s or even the intra-party blood-letting of the Cultural Revolution.
The authorities have stated that the campaign has now punished over 100,000 cadres. And some senior party members are supposedly worried that the campaign is destabilising the legitimacy and integrity of the CPC itself. Former leaders Jiang Zemin and Hu Jintao have both spoken out about the campaign over-reaching. There is a natural ebb and flow to China's leadership dynamics, which switches between prioritising ideological purity, economic reform or the consolidation of political power. In 1987, the conservative theoretician Deng Liqun summarised the fraught ideological debates of the 1980s as a series of fang–shou (loosening and tightening) cycles. Loosening is characterised by more liberal ideology, economic reform and dispersion of powers to the provinces. Tightening sees conservative ideology, less economic reform and a consolidation of power in the central bureaucracy.
Using this rubric, the Hu Jintao–Wen Jiabao era was a loosening cycle. The 2009 stimulus gave provincial leaders unprecedented fiscal resources to achieve lofty growth targets in the lead up to 2012's 18th Party Congress. Hu's reign was also characterised by relatively weak control over the military. Provincial leaders like Bo Xilai and Wang Yang waged very public campaigns for higher office. And senior central leaders like Liu Zhijun and Zhou Yongkang were able to build virtual personal fiefdoms as the respective heads of railways and domestic security. It was during this existential party crisis that Xi came to power. The weakness and failures of the Hu era were perceived to have led to an unprecedented level of corruption. This gave Xi a strong mandate to begin a tightening cycle to reform the party and centralise power. And he quickly sought to create a series of central leading groups to take personal charge and centralise control over key issues. By including the corruption crackdown as an intrinsic part of the Four Comprehensives Xi Jinping has made it very difficult for others to criticise the campaign without seeming to violate the theoretical basis of the party. This now gives him ballast to go after some other seemingly untouchable senior leaders, despite the protestations of some party power brokers. As China struggles with its debt burden and a slowing economy, some have criticised the intensity of the campaign as threatening the stability of the government. But the tightening cycle does not seem to be slowing. If anything this has only increased the intensity.
Were China's Corrupt Officials Plotting a Coup?
April 13, 2015
For the past four months, the media has been obsessed with the idea of a new "Gang of Four" in Chinese politics. It is popularly believed that Zhou Yongkang, Ling Jihua, Xu Caihou, and Bo Xilai formed a political faction and conspired to overthrow the Xi Jinping leadership through a coup. Apparently, cues from China's official media have lent some support to this conspiracy theory. First, when Zhou Yongkang was expelled from the Party on December 5, 2014, it was reported that he had seriously violated the Party's "political discipline, organizational discipline, and confidential discipline."
Second, one week after Ling Jihua was investigated for "serious violations of the Party discipline," the Politburo held a meeting against factionalism on December 29, 2014. It was pointed out at the meeting that "banding together in gangs, forming cliques for private ends, or forming factions is not permitted," hinting that Ling had been involved in factional activities. Third, in an article published on China Disciplinary Inspection and Supervision Daily on March 18, 2015, Zhou Qiang, party group secretary and president of the Supreme People's Court of the People's Republic of China, shared what he had learned from General Secretary Xi Jinping. Most interestingly, Zhou mentioned that Zhou Yongkang and Bo Xilai had "trampled on rule of law, wrecked party unity, and engaged in non-organizational political activities."
For that matter, there is no hard evidence that Zhou and Bo conspired to overthrow Xi. It is likely that Zhou had thought highly of Bo before the Wang Lijun Incident and Zhou might have privately communicated with Bo about the handling of that scandal. But it is hard to imagine that Zhou would have pledged his support for Bo two years after his retirement. Finally, there is no evidence that the four men ever held any private meeting together on any topic. The only time they were physically in the same location (along with thousands of others) was during the official occasions of the National People's Congress sessions, as they were deputies to the NPC during the same period.
Time Is Running Out for China's Tigers
March 3, 2015
All of China is carefully watching to see what will happen to Xi's anti-corruption campaign this year after a fruitful 2014 which saw the downfall of big "tigers" like Zhou Yongkang, Su Rong, and Ling Jihua. But as Xi himself reminded the public in 2014, the anti-corruption campaign has not yet achieved a decisive victory. Indeed, some quarters of China are still quietly suspicious of the unprecedented efforts of cleaning up China's "tigers and flies" alike. Not surprisingly, the spokesperson of Chinese People's Political Consultative Conference (CPPCC), Lu Xinghua, in an interview said that more tigers would be captured and there is no "iron-cap prince (the untouchable)" before the anti-corruption campaign. Lu became famous last year when he implied that Zhou Yongkang would be brought to justice at the annual meeting of the CPPCC. Since the Chinese term "iron-cap prince" refers to very high level of Chinese leaders, one can only conclude that this year one or several tigers at Zhou Yongkang's level, or even higher, will be captured in the same way, per Lu's prediction. If true, this would significantly boost Xi Jinping and Wang Qishan's efforts to clean up China's corrupt politics and pave the way for other more pressing and fundamental reforms.
Indeed, one can argue that the main reason why China's more fundamental reforms are hard to implement, even under Xi's strong leadership, is because all sorts of corrupt tigers and flies are still resisting reform pressures. Tigers of all stripes might not directly and openly challenge Xi and Wang's anti-corruption efforts, but they can hide and wait for the right moment to pounce. There are already reports that many government officials now resist reforms by idling in their obligations; some of them even formed alliances to oppose and slow down official investigations. One particular area where corruption is still rampant is the energy sector. Perhaps this is the reason why the Party has decided to send inspection teams to all strategic central government-owned enterprises. The public has long complained about the monopoly of big strategic firms like China Petroleum and Sinopec which arguably contribute to China's serious air pollution problems. Zhou Yongkang had controlled many firms in the oil and energy sectors for several decades, and for this reason it is not easy to eradicate all of his influence in a year. Besides, there could be other hidden tigers in the energy sector, waiting to bite back once anti-corruption efforts weaken or even die out. Thus, it is imperative for Xi and Wang to "strike hard when the iron is still hot" (趁热打铁), as a traditional Chinese saying goes.
Click here to read the full article: http://fnvaworld.org/?p=13815
Click here to read more: http://fnvaworld.org/?p=13825
China's double standard on corruption
February 25, 2015
The Xi Jinping government knows well the dangers of corruption: it considers this "social pollutant" an existential threat to the Chinese Communist Party. And yet, China turns a blind eye to the corrosive effects of the substantial flows of its aid, assistance, and investment funds on recipient nations, all in the name of 'non-interference.' If China is sincere about wanting to aid nations with its monies, it should be equally forthcoming with standards for good governance to ensure that Chinese assistance does not do more harm than good. China's silence is deafening. The combination of breakneck economic growth with single-party rule has overwhelmed Communist party officials with opportunities to divert money to parochial interests. Not surprisingly, corruption has run wild. Since his accession to power, Xi Jinping has waged war against corruption, noting in a speech to the Politburo in 2012 "…that if corruption becomes increasingly serious, it will inevitably doom the party and the state. We must be vigilant. In recent years, there have been cases of grave violations of disciplinary rules and laws within the party that have been extremely malign in nature and utterly destructive politically, shocking people to the core."
To date, 182,000 party officials have been investigated and 32 leaders at the vice-ministerial level and above have been arrested. Some of the "tigers," in Xi's terminology, that were brought to justice include Bo Xilai, former minister of commerce and member of the Central Politburo, Xu Caihou, former vice chairman of the Central Military Commission, Liu Zhijun, former minister of railways, and Zhou Yongkang, the powerful head of China's security apparatus. There have been investigations into claims of negligence, graft, and abuse of power. The regime is cracking down on privilege and excess including lavish banquets, expensive social events – even funerals – and luxury goods to the extent that analysts worry about the negative impact these investigations could have on the Chinese economy. Regardless of whether the anti-corruption campaign is a genuine attempt to save the Communist Party and China from the cancer of corruption, a moral campaign, a cynical exercise to eliminate political rivals as some suggest, or a combination of the three, Xi's rhetoric and actions are based on the powerful connection between money and corruption. The Xi government recognizes that massive amounts of money flowing throughout the country have corroded China's political system and society and thus there is an urgent need to control it.
It is disturbing then that China turns a blind eye to the dangers that could result from massive infusions of Chinese money into the (much smaller and hence more easily overwhelmed) economies of countries with which it does business or offers aid. To get some sense of scale, according to Chinese official data, China's foreign assistance funds (excluding government-sponsored investments) during the period 2010-2012 reached $14.41 billion with 51.8 percent pouring into Africa. Top recipients of Chinese aid in Africa have been Angola, the Democratic Republic of Congo, and Ethiopia, countries plagued by corruption, weak governance structures, and instability. To be clear: China's aid is needed and welcome in recipient countries that struggle to provide for their population's basic needs. Our concern stems from Beijing's hands-off approach to assistance, providing money without conditions. Beijing touts this as a virtue of Chinese policy, contrasting its condition-free lending with that of Western countries and international financial institutions, all of which demand compliance with good governance practices before providing funds. China justifies these policies in the name of its "noninterference policy," arguing that Beijing has no right to intervene in the internal affairs of recipient states. China's official policy on aid explains that "when providing assistance it adheres to the principles of not imposing any political conditions, not interfering in the internal affairs of the recipient countries and fully respecting their right to independently choose their political systems and models of development." (In fact, recipients of Chinese aid have to accept conditions such as the use of Chinese companies – a demand that isn't uniquely Chinese – and promise to adhere to the "one China principle," both of which could be considered interference in domestic affairs.)
In the abstract that makes sense, but given China's acute awareness of the corrosive impact of such funds, this policy seems hypocritical at best and immoral at worst. Hypocritical because China knows well that such funds themselves risk interfering in internal affairs since unfettered money nurtures corruption, distorts good governance, and eventually alters the socio-political landscape of those countries.
Click here to read the full article: http://fnvaworld.org/?p=13786
Chinese Leader: Xi Jinping
What the West should know about Xi Jinping, China's most powerful leader since Mao
June 23, 2015
In the two years since he took China's most important job, Xi Jinping has become the most powerful national leader in the world. He has assumed seven top positions spanning the Communist Party, the state, the economy and the military. He has also displayed an activism that contrasts sharply with his predecessor Hu Jintao, and has promulgated a tough ideological line. At home, his big anti-corruption and frugality campaign is attempting to strengthen the 87-million-strong Communist Party by bringing the cadres closer to the people. Abroad, Xi has forged a foreign policy to dispense hundreds of billions of dollars to countries from Asia to Latin America while confronting Asian neighbours and seeking geopolitical parity with the United States. Projecting a folksy image domestically as "Xi Dada" (Uncle Xi), he appears popular, as a leader with ambitions that match China's economic weight, the strongest chief of the world's most populous nation since Mao Zedong. Like the Great Helmsman, Xi knows how to play to perfection the front-line role in his country's political system – Leninism with Chinese characteristics. (Though paramount leader after winning the power struggle that followed Mao's death in 1976, Deng Xiaoping preferred to operate through others.) With his tenure stretching to 2022, Xi does not have to worry about elections or obstructive legislatures; what matters is controlling and strengthening the monopoly movement that has ruled the People's Republic of China (PRC) since 1949. After taking over the Party leadership at the end of 2012, he swiftly pursued the centralisation of authority and set up four top-level national bodies under his chairmanship to add to the usual top three posts of Party general secretary, state president and chair of the Central Military Commission. He has no rivals and has ensured control of a vital power base by reshuffling top commanders of the People's Liberation Army (PLA) to promote generals close to him.
Xi has also put his name to an ambitious seven-year programme of economic reform. The growth rate has fallen below the government target but it is projected to be 6.8 per cent this year, strong by global standards. Inflation is low; deflation, boosted by excess capacity, is the big problem. Foreign currency reserves, feeding off the PRC's position as the world's biggest exporter, stand at $4trn, as much as the next seven biggest reserve holders combined. (Although this is an enviable position, China is in a "dollar trap": it cannot sell much of its US assets for fear of provoking a wider sell-off of the greenback, reducing the value of its remaining holdings.) Internationally, Xi has displayed ever-increasing confidence, discarding Deng's advice for China to "hide its brilliance and bide its time". For him, the time has come. The PRC's huge aid programme includes the "One Belt, One Road" plan, to pay for infrastructure, transport routes and energy generation plants along the maritime passage from China to the Gulf, and also across central Asia to Russia and Germany beyond. China has offered large sums to governments in Latin America to gain influence, buy in to companies and promote infrastructure projects that would provide work for PRC firms. Its firms have been investing in Europe, North America and Australia as well as the old natural-resources-hunting ground of Africa. The Beijing government has created the Asian Infrastructure Investment Bank and had the satisfaction of more than 50 countries, led by the UK, joining despite warnings from Washington not to do so – a telling sign of how strong is the ¬desire to get on with China.
Xi's body language at the summit in Beijing of the 21-nation Asia-Pacific Economic Co-operation (Apec) organisation towards the end of 2014 told a clear story. Japan's prime minister, Shinzo Abe, and Barack Obama were both put at a disadvantage by the staging of meetings with him by being made to appear like supplicants, Abe receiving only the most distant of handshakes and no small talk. Xi, who is broad-shouldered and nearly six foot tall, trumped the feline figure of Vladimir Putin, who committed the overeager faux pas of putting a shawl around the shoulder of the Chinese leader's wife: it was swiftly removed. Xi looked, and acted, like an emperor. Both Obama and David Cameron will have occasion to savour the Xi style when he visits the US and UK this autumn. Britain has already felt the impact of the tougher Xi approach over Hong Kong with the refusal late last year to allow a Commons select committee to visit the former colony and, in January, the snubbing of the Foreign Office minister Hugo Swire by the two most senior Hong Kong officials. But the Cameron government has accepted such ¬rebuffs in the hope that Xi's visit will result in contracts for British companies.
Confounding non-Chinese commentators who see the PRC as defined by its Confucian civilisation, Xi belongs to the other philosophical stream, of legalism, dating back to the First Emperor 2,200 years ago. This puts its faith in top-down autocratic rule, with the law frightening citizens into obedience. There is no room for retreat or compromise. The way in which reform is perceived to have brought down the USSR is held up as a terrible example of weakness. Xi's wide-ranging war on corruption is a perfect example of the legalist approach. Its cutting edge, the Communist Party's Commission for Discipline Inspection, can hold people for as long as it wants without charge in a secret location before the Party rules on whether to expel them. Only then are they handed to the courts for sentencing. In targeting high-profile "tigers" such as the maverick Politburo member Bo Xilai, who was sentenced to life in prison in 2013, and the former security chief Zhou Yongkang, who was given a life sentence on 11 June, Xi has shown that nobody is safe though powerful vested interests are bound to oppose him. (Besides being found guilty of corruption, Zhou was accused of divulging secret documents to his spiritual guru, who claims supernatural powers. A brief video of his sentencing showed a man who was once one of the PRC's most powerful figures, his previously black hair turned white, evidently from having hair dye denied to him in detention.) Close associates of Hu Jintao and his immediate predecessor, Jiang Zemin, have been detained; the campaign has also swatted tens of thousands of less eminent "flies" and induced a widespread atmosphere of fear.
After being abolished officially in 2002, class warfare has reappeared as a mantra in state media, along with Mao's "mass line" – to ensure conformity under the leadership – and denunciations of "western values". Repression of dissent, officially equated with subversion, has increased; Liu Xiaobo, the 2010 Nobel Peace Prizewinner, remains in jail, where he is serving an 11-year sentence for having circulated an online petition in favour of democracy. Beijing has also toughened its hold on Tibet, where more than 100 Buddhist monks and nuns have burned themselves to death in the past five years to protest against Chinese rule, and on the huge western territory of Xinjiang, where the state faces increasingly violent action by Muslim Uighurs who oppose the Chinese rule imposed by military force around 1950. Mass immigration by Han Chinese, who get most of the benefits of the cash being poured in by the central government, is changing the population balance in both territories.
Xi's persona as a strong leader with populist characteristics is nurtured by events such as his 2013 visit to a neighbourhood restaurant for a lunch of vegetables, steamed buns and pig-innard soup. His liking for football is reported in the Chinese media, along with his desire for the People's Republic to improve on dismal performances and become a World Cup challenger. In 2013 he was photographed on a dockside in a downpour holding his own umbrella and with his trousers legs rolled up, like a holidaymaker caught in the rain at Blackpool – though the snap disappeared from mainland websites after Hong Kong democracy protesters took the umbrella as their symbol. His wife, Peng Liyuan, has become China's most prominent first lady since Madam Mao – Jiang Qing, who led the extremist Gang of Four during the Cultural Revolution and subsequently died in jail – if a good deal less scary. The handbags Peng carries on foreign visits quickly sell out on e-commerce sites. She was a well-known folk singer with a big voice before she stopped performing when her husband rose to the Politburo Standing Committee (she sang in the PLA entertainment corps and holds a rank equivalent to major general). A schmaltzy ballad, "Xi Dada Loves Peng Mama", even went viral last winter, with tens of millions of internet downloads in China.
Xi, 62, has radiated a sense of entitlement from his youth, somebody who knew him in those days told me. The son of a first-generation Communist leader, he was sent to live in a cave and look after pigs when his father was purged in the Cultural Revolution. He then worked his way up through provincial posts, including senior positions in two high-growth provinces, Fujian and Zhejiang, before being put in charge of Shanghai in 2007. That same year he was elevated to the country's top political body, the Politburo Standing Committee, marking him as the man to succeed Hu Jintao at the following congress, in 2012. He stands at the top of the "princelings" group of offspring of first-generation Communist chiefs, though the leadership factions apparent before Xi became general secretary appear to have dissipated. Other Standing Committee members seem to have accepted his power play. Premier Li Keqiang, the leading member of the "Youth League faction" of Hu protégés, lines up loyally, but knows that if the economy falters seriously he will be the fall guy. Any ambitious younger politician aiming to join the Standing Committee at the next congress in 2017, and so position himself in line for the post-Xi leadership, is likely to hunker down in the leader's tent.
For all his power, Xi confronts a long string of challenges; indeed, he has indicated that he feels he needs great authority because of the scale of problems facing the regime. China has major economic imbalances. The leadership has to manage slowing growth, deflation, excess industrial capacity and a mountain of debt incurred by local governments for projects unlikely ever to provide a decent return on ¬capital. To ensure sustainable growth, it needs to reduce the dependence on exports and fixed asset investment and to increase domestic consumption – but the rate of consumption growth remains weak. Prices have fallen on the property market, into which many Chinese poured their savings. The recent stock-market boom has run ahead of itself and international investors showed what they thought early this month by declining to include in the benchmark global MSCI Emerging Market Index stocks that are listed on the mainland, rather than in Hong Kong. For all its adaptation of inventions from abroad, China is not good at original innovation. It also faces competition from lower-cost producers and needs to move up the value-added chain of manufacturing.
The second generation of the urban middle class, which holds the key to the PRC's future in many ways, and which has never known anything but strong growth, is more questioning than its parents. Social media has introduced conversations that are outside the range of the official channels, and too numerous for the censors to keep track. Chinese citizens make more than 100 million trips abroad each year and see the liberties democracy can bring. There is a grave environmental crisis in air quality (life expectancy in polluted northern cities is five and a half years lower than in the cleaner south), water and soil (one survey showed that 10 per cent of arable land was unsafe to grow crops on). Food safety is a constant concern. Differences in regional and personal wealth have soared. As the scale of the current anti-corruption campaign shows, graft is deeply embedded. Public trust in officialdom is low. The hukou registration system that ties people to their place of ordinary residence deprives migrant workers of rights to welfare, education or property, and prevents them from launching businesses in the cities, where they are treated as second-class citizens.
Low fertility, the one-child policy and the cost of raising children in a system without adequate maternity facilities have all caused the birth rate to fall just as more old people are living longer. The result is a demographic time bomb in a nation without a proper pension system and sparse state care for the elderly. Confucianism is fraying, and despite the new, Mao-tinged ideological campaign the "ism" that most marks out China today is materialism. The government wants people to spend more and thus boost growth, but the inadequate welfare system obliges Chinese citizens to save a lot. Abroad, some of the rulers with whom Beijing has formed close relationships have come unstuck – as in Sri Lanka and Venezuela. The PRC's project to build a highway and railway from the Arabian Sea through Pakistan to China's westernmost territory of Xinjiang has problems with both topography and the Taliban. There are serious doubts about the transcontintental railway proposal for Latin America. Moscow may resent China's push into central Asia and Beijing's expansive sovereignty claims in the South and East China Seas have drawn Japan, the Philippines and other countries closer to the strategic umbrella of the United States. Tokyo has launched its own aid programme in response to Beijing's initiatives. America has critical allies in the region; Beijing's only formal alliance is with North Korea. Despite its military spending, the People's Republic lags behind US military power in east Asia. As for soft power, the idea that Chinese civilisational values will spread to match those of the west looks good only on paper. Since 1949 the Communist Party has presided over extensive destruction of Chinese traditional culture. Apart from the Forbidden City and a few temples, Beijing is now a city of modern towers and ring roads, of shopping malls and mobile phones.
There are far more signs of western influence in China than of Sinicisation in cities of the west; the latest film in the Avengers franchise did far better at the box office in the PRC this month than a popular cartoon biopic of Deng Xiaoping. Despite the success of Chinese enterprises such as the internet giant Alibaba, the US remains well ahead in innovation and China usually adapts novelties from elsewhere rather than invents things itself. When it comes to politics, demonstrators in Ukraine or the Middle East call for western democracy but nobody marches to demand a Chinese political system. While universities in China are told to repel foreign values, any Chinese parents who can afford it send their children to be educated abroad. Xi's own daughter went to Harvard (under a pseudonym). The greatest problem facing the Chinese leadership is simple. What is the Communist Party of China for and where does it derive its legitimacy? That raises some very knotty issues.
For all the rampant growth and the praise some commentators heap on China's supposedly meritocratic system rooted in thousands of years of history, its ruling class has a spotty record. The country's economic success, which may be the most important global event since the end of the cold war, was buoyed by a combination of low wages, cheap credit and strong demand for exports. None of those factors now applies. The vast stimulus programme launched at the end of 2008 to counter the world financial crisis restored growth but led to wholesale misallocation of capital into wasteful projects that earn scant returns, the vast debt problem affecting companies as well as local governments, and also created soaring excess capacity in sectors such as steel production. In 2007, the then prime minister, Wen Jiabao, called the economy unstable, unbalanced, uncoordinated and ultimately unsustainable, a situation that was exacerbated by a £400bn expansion of credit and stimulus spending the following year. The seven-year reform programme laid out in a Party plenum document at the end of 2013 was the response to that. It was limited to the economy; political change is unthinkable. Yet there is still a core problem. The plan aims to use market mechanisms to buttress the state and build "national champions" in a modernised system, but there is no mention of the main driver of growth and jobs: the private sector. If they are to be effective, China's economic reforms must involve structural liberalisation, which has inevitable political implications and will reduce state power.
If he faces a choice between economic modernisation and party control, Xi is likely to choose protecting the second – in line with his condemnation of the Gorbachev experiment in the Soviet Union – as he steps forward as the strongman who defends the PRC's Leninist form of bureaucratic state capitalism. But that in turn would cramp the development and modernisation necessary to perpetuate the Communist Party's claim to rule. Such contradictions will shape China in the coming decade and, given the country's global impact, will weigh heavily on the world.
Chinese Politics in the Era of Xi Jinping
June 1, 2015
At The Guardian, Oxford professor and historian Timothy Garton Ash asks whether Xi Jinping can successfully restructure China's economy and society in the years ahead, and discusses the effects that his failure might have on regional peace and stability. Can Xi do it? This is the biggest political question in the world today. "Yes, Xi can," some tell me in Beijing. "No, he can't," say others. The wise know that nobody knows.
[…] By now it is relatively clear what Xi is aiming to do. He is trying to steer a complex economy and society through difficult times by top-down changes, led and controlled by a purged, disciplined and reinvigorated Leninist party. He is doing this in unprecedented conditions for such a party, consciously trying to combine the "invisible hand" of the market with the "visible hand" of the party-state. The "great helmsman" Mao Zedong is clearly one inspiration, but the pragmatic reformer Deng Xiaoping is another. "To reignite a nation, Xi carries Deng's torch," declared a commentary from the official news agency Xinhua.
[…] If all this were to succeed as intended, western liberal democratic capitalism would have a formidable ideological competitor with worldwide appeal, especially in the developing world. For the west, there would be a silver lining: competition keeps you on your toes. I suspect the hubris of the early 2000s – both abroad, plotting regime change in Iraq, and at home, in the turbo-charged excesses of financial capitalism – had something to do with the lack of serious ideological competition.
This outcome is obviously not what I, as a liberal and a democrat, would wish for Chinese friends. But I do emphatically wish for them, and for ourselves, a China that experiences evolutionary and not revolutionary change. There are many reasons for that view, not least that most Chinese embrace it themselves. But the most important concerns nothing less than war and peace. At The New York Times, on the other hand, Ian Johnson spoke with Willy Wo-Lap Lam, a professor at the Chinese University of Hong Kong and the author of "Chinese Politics in the Era of Xi Jinping," about Xi's leadership and how Chinese politics has changed since Xi assumed power:
Q. You have analyzed all major Chinese leaders over the past 30 years. What drew you to Xi?
A. Xi is very different from previous leaders. Basically Jiang Zemin and Hu Jintao followed Deng Xiaoping's instructions not only to reform the economy, but to carry out some degree of institutional changes. Deng didn't believe in Western-style reforms, but he did try major institutional reforms to prevent a second Cultural Revolution and a Mao Zedong-style tyranny. […] But Xi Jinping so far has stood many of Deng's principles on their heads. We have seen an excessive concentration of personal power by Xi Jinping. He's not first among equals. He's the big boss. He runs roughshod over the other six members of the Standing Committee, especially Premier Li Keqiang.
Q. Perhaps there is a plausible argument that he needs to concentrate power to push through reforms?
A. This is the so-called theory of neo-authoritarianism — that in a complex country like China, the ruler must have near-absolutist powers. Xi says that all the easy reforms have been tried out. He's been left with difficult reforms that would impinge on the prerogatives of power blocs in the party — and so he needs extra powers to push through changes. But the big question that I raise in the book is why thorough structural reforms are nowhere to be seen. I believe he is concentrating power for two purposes. One, to ensure that the Communist Party remains China's perennial ruling party. He wants to be sure that no one else can challenge the supremacy of the party. Also that it only has one dominant faction, the inchoate Xi Jinping faction. It's about amassing powers in his own hands — and it has very little to do with economic or political reform.
Xi Jinping's China is the greatest political experiment on Earth
June 1, 2015
Can Xi do it? This is the biggest political question in the world today. "Yes, Xi can," some tell me in Beijing. "No, he can't," say others. The wise know that nobody knows. There is a great debate going on in Washington about whether the US should change its China policy in response to Beijing's more assertive stance under President Xi Jinping. This includes the reported stationing of artillery on the extraordinary artificial islands it is building on underwater reefs in the South China Sea. It also matters to everyone everywhere whether China can sustain its economic growth as it exhausts its ready supplies of cheap labour, avoiding the traps into which some middle-income economies have stumbled. Yet even more than in other countries, the future of China's foreign policy and its economy depend on the quality of decision-making produced by the political system. It's the politics, stupid. By now it is relatively clear what Xi is aiming to do. He is trying to steer a complex economy and society through difficult times by top-down changes, led and controlled by a purged, disciplined and reinvigorated Leninist party. He is doing this in unprecedented conditions for such a party, consciously trying to combine the "invisible hand" of the market with the "visible hand" of the party-state. The "great helmsman" Mao Zedong is clearly one inspiration, but the pragmatic reformer Deng Xiaoping is another. "To reignite a nation, Xi carries Deng's torch," declared a commentary from the official news agency Xinhua.
Much of the reignition has so far been about establishing control over the party, state, military and what there is of civil society, after the Bo Xilai affair made apparent the internal crisis of party rule. Yet, as a hereditary communist, the president may genuinely believe enlightened, skilful authoritarian rulers can handle things best: Lenin's wager, but also, in different variations, Plato's and Confucius's. The sinologist Ryan Mitchell notes that in a 1948 article, a veteran Chinese communist called Xi Zhongxun was quoted as saying "the most lovable qualities of us Communist party folks are devotion and sincerity". Speaking to party members in 2013, his son, Xi Jinping, said that "leading cadres must treat the masses with devotion and sincerity". It is also extremely uncomfortable for those Chinese who believe in free and critical debate, independent civic initiatives and non-governmental organisations. Here I found a striking contrast with earlier visits to Beijing. It's not just the inconvenience of finding it difficult to access Gmail, Google docs and so much else on the internet. More seriously, I noticed a real nervousness among intellectuals who a few years ago were so outspoken; a sense that the boundaries of what can be said publicly are narrowing all the time.
Click here to read the full article: http://fnvaworld.org/?p=15268
China Needs a Strong Leader Like Xi — but the Rule of Law Like Singapore
April 13, 2015
This year is the 50th anniversary of the founding of Singapore. In that time span, this tiny nation jumped from the Third World to the First World thanks to the policies of the late Lee Kuan Yew. Now, the younger generation is criticizing him. But for me, Lee was truly outstanding because he forged a system of governance that enabled his small city-state to make this leap. Lee was truly the father of Singapore. Being tossed out of Malaysia and forced to be independent, Singapore's impressive accomplishments were all achieved within only one generation. Singapore climbed from a low-income level with no resources — even the water had to be imported from Malaysia — all the way to the high-income level, avoiding the middle income trap where an economy stalls as wages rise. It now has a GDP per capita of $55,000. There's no another place like the Lion City on the planet. Among the numerous small countries in the world, what other ones have reached such a level of achievement in such a short time frame? It took the small nations of Scandinavia more than a hundred years to develop to their level today. The core of Lee's success was that he never engaged in empty ideological talk and stuck to what worked practically. He was a realist who always put the national interest first. He pursued his goals with a single-minded focus. As long as he was convinced his policies were for the long-term benefit of the people of Singapore, he stuck with them even under mounting opposition.
The Influence of Lee's Singapore on China
When Deng Xiaoping visited Singapore in 1978, he was pondering how China could benefit from reform and opening up policies. After Deng's southern tour to revitalize reform in 1992, China looked again to Singapore. At first, China was interested in Singapore's economic development. After the Asian financial crisis in 1997 and 1998, China was intrigued by Singapore's financial system. When developing the joint Singapore-Suzhou Industrial Park, China looked into expanding similar industrial parks. Later, the Sino-Singapore Tianjin Eco-city showed China's interest in Singapore's green environment. There is one particular thing the Chinese have also been very keen, in a discreet manner, to learn from Singapore: How has Singapore, a pre-dominantly Chinese society, constructed a clean government with the rule of law under what has been one-party rule for decades? "How has Singapore, a pre-dominantly Chinese society, constructed a clean government with the rule of law under a one-party state?" Another thing China needs to further grasp about the Singapore spirit is how the openness of its ruling political party has contributed to its success. The strength of Singapore's People's Action Party basically lies in its willingness to seek out and absorb talent from anywhere. Indeed, China has begun to open up gradually on this front. For example, the recent appointment of the president of Tsinghua University — an environmental scientist — as China's Minister of Environmental Protection is very similar to what Singapore has been doing. Many talented officials in the Singaporean government were recruited from the society at-large. It's too rigid to rely solely on the bureaucracy.
On Chinese President Xi Jinping
It is a cruel world we live in. You will be respected only after you have become successful. Many people are going to China these days. The reason is that China has been successful. If you have failed, who cares? Having a strongman is a good thing if you know what you're doing. Among the leaders in China, Mao Zedong in the first generation and Deng Xiaoping in the second generation were both political strongmen like Lee Kuan Yew. However, the people knew that, like Lee, they were not in the game for themselves, their families or their small circles. They devoted themselves to the whole nation with a certain kind of idealism. Fast forward to the current anti-corruption campaign in China. How many small circles of cronies have been exposed? It is clear that even some in the leadership have lost sight of the big picture and only think of their own families and circles. Look at Zhou Yongkang, the former Politburo member and security chief or Ling Jihua, the advisor to former President Hu Jintao, as well as some "tigers" in the military, for example. Therefore, it's still quite necessary for China to have a strong leader like Xi. His strong position allows him to pay attention to the big picture — with the aim of taking the whole nation and society to the next level. Three years after the 18th Party Congress, Xi has rolled out a blueprint in the Third and Fourth Plenum. His next challenge is how to implement it. Power isn't an end in itself. Power comes with responsibility. The more power there is, the heavier the responsibility. For me, Xi is a responsible leader.
On the "Four Comprehensives" of Xi's Reform
Xi recently revealed a list of political goals for China — the so-called "Four Comprehensives." I believe that it would be much clearer to see the picture if we look at them in reverse order as follows: 1) Strictly govern the Party; 2) Govern the nation according to law; 3) Deepen reform; and 4) Build a moderately prosperous society. A moderately prosperous society was a goal first raised by Deng. To build this goal comprehensively is to emphasize the concept of the middle class. Chinese society today is still dominated by the top and the bottom with a weaker middle class. Yet, all developed nations in the world have a strong middle class. This is the best metric to measure a government's performance. With a higher ratio of the middle class, it means the arrival of a consumer society. With that, the society will become stable and economic development will be sustainable. China has yet to achieve this. A very successful aspect of Lee's rule was his grasp of the role of the "crucial minority" — or learned elites who can guide society. In 1978, Lee told Deng, who was visiting Singapore, that China would definitely become successful in the future. Lee's reasoning was that most Singaporeans were descendants of illiterate and poor Chinese coming from Fujian and Guangdong while the "progeny of the scholars, mandarins and literati" stayed in the mainland. Consequently, Singapore had to build its own governing class from scratch. So, whatever the Singaporeans could do, China could do or could do even better because of the talent pool of scholars and mandarins that already exists. All the successful Asian nations have grasped the role of guiding elites. Japan's Meiji Revolution was one example. South Korea was like that too. China also needs to cultivate this crucial minority when building up the country. Without that, it would be bad for the whole nation. It's important to get the crucial minority on board first. The next phase is to take small steps towards governing the nation according to law. With the rule of law, China could push forward in deepening reform and reach its goal of middle class prosperity.
China's Anti-corruption Campaign and Rule of Law
Some important questions need to be addressed in China to take these next steps toward rule of law. Under one-party rule, what should the legal system be like? How can the judiciary maintain its independence? What is the constitutional structure like? How can it be achieved? Intellectuals in China are always tempted to go to either extreme. On the one hand, some believe that everything is fine and China's system is even better than the West. On the other hand, some think China's current system is at a dead end and must become just like the West. This is a division between the left and the right. But one must look at reality and see what is practically possible. After all, when Hong Kong was still under British rule, the independence of the judiciary was well established despite the absence of elections. Singapore, on the other hand, has had one dominating party, but the strong rule of law is intact. The current anti-corruption campaign under Xi can be compared to two historical periods, one Chinese and one Western. In Chinese history, it's similar to the anti-corruption drive during the founding days of the Ming Dynasty (1368-1644). In the Western context, many countries also experienced a similar process in their development. For example, the United States in late 19th and early 20th century also launched massive anti-corruption campaigns. While the economy might have to suffer an adjustment in the short term, it is beneficial in the long term. This historical moment presents a rare window of opportunity for China. If Xi had not launched the anti-corruption campaign now, it would have been impossible to do so in 10 years time. By then the vested interest groups would have become too powerful. If the economic oligarchy becomes a political one, China will become the Russia of yesterday. China must grasp the opportunity Xi has opened and see through the fight against corruption until the end.
Xi Jinping Forever
April 1, 2015
Foreign and Chinese observers surprised at Chinese leader Xi Jinping's maneuvers to shake up the Chinese Communist Party (CCP) — and at the same time arrogate powers of the party, state, and military to himself — may be in for another shock. Just two and a half years into his reign, Xi appears to be angling to break the 10-year-tenure rule for the country's supreme leader, with the aim of serving longer than any Chinese ruler in decades. According to three sources close to top CCP officials, Xi and several top aides are making plans to ensure that the strongman will rule until at least 2027, when he will still be a relatively sprightly 74 years old. "Xi's total dominance of the party-state-military apparatus — and the fact that he has so far not groomed any successor — indicates that he will remain China's supreme ruler irrespective of whether he gives up his post of CCP general secretary in 2022," said one of the sources, all three of whom asked to remain anonymous because of the sensitivity of discussing elite politics. While much could happen to derail Xi's plans — including pushback from rivals, an international or domestic crisis, or health issues, among other things — Xi appears to be planning to stay in office for as long as he can.
Xi's desire to rule for longer than a decade is best evidenced by his refusal to publicly groom potential successors. In China, leaders are often classified by their generation. Xi, a member of the fifth generation of leadership — a reference to cadres born in the 1950s — has failed to groom potential successors from the sixth or seventh generation. Consider, by contrast, the actions of his predecessor Hu Jintao, CCP general secretary from 2002 to 2012, who was born in 1942 and was the core leader of the fourth generation. Not long after ascending to the elite Politburo Standing Committee (PBSC) in 1992, Hu started preparing to elevate fifth-generation cadres, including Xi Jinping (then Zhejiang province party secretary) and Li Keqiang (then Liaoning province party secretary and now China's premier) to the 25-member ruling body, the Politburo. He also elevated slightly lower-ranking officials: By the mid 1990s, roughly 20 fifth-generation rising stars had achieved the rank of vice minister or above.
Equally significantly, in the years leading up to 2007's 17th Party Congress, a major meeting that happens twice a decade, Hu picked roughly 30 sixth-generation rising stars and prepared them for major promotions. By 2005, Hu and Jiang appear to have decided to install Xi and Li into the PBSC, as successors to Hu and then-premier Wen Jiabao. And by the end of 2005, a few dozen sixth-generation cadres had attained the rank of vice minister or higher. If Xi were following the CCP's tradition of injecting new blood into the ruling elite, he should by late 2015 promote a few dozen seventh-generation officials to ministers and vice ministers. However, only one seventh-generation cadre — Shanghai Vice Mayor Shi Guanghui (born 1970) — has attained the rank of vice minister since Xi came to office in November 2012. It seems very unlikely that he'll elevate many more this year. Xi seems poised to break another unwritten rule. Ever since the late 1980s, the top level of the party has unofficially followed the policy of qishang baxia, or "seven in, eight out": A cadre 67 years of age or younger can still ascend to the PBSC, while one who is 68 or older cannot. At the major party congresses, held every five years, PBSC members 68 and over are expected to retire, while those under 68 can stay on. Of the current seven members of the PBSC, all but Xi and Li will be 68 or older by 2017 — and therefore should retire. But who will replace the ranks?
The three anonymous party sources indicate that at least three fifth-generation candidates who are confidants of Xi — Li Zhanshu (born 1950), Wang Huning (born 1955), and Zhao Leji (born 1957) — will likely ascend to the PBSC in 2017. More significantly, current PBSC member Wang Qishan (born 1948), the nation's top graft-buster, would likely get a second term. This is even though Wang, a fellow princeling who has known Xi since the 1950s, will be 69 years old at the 19th Party Congress in 2017. That fifth-generation leaders will likely remain the bulwark of the party leadership until the 20th Party Congress in 2022 is another indication, the sources say, that Xi will try to stay on at least until the 21st Party Congress in 2027.
Click here to read the full article: http://fnvaworld.org/?p=14226
A Mandate, Not a Putsch: The Secret of Xi's Success
February 4, 2015
When U.S. President Barack Obama said that Chinese President Xi Jinping "has consolidated power faster and more comprehensively than probably anybody since Deng Xiaoping," he was voicing a view held in both capitals. Since taking office, Xi has been able to push through ambitious economic reforms, rewire decision-making at the top of the Chinese Communist Party (CCP) and take down a number of Party heavyweights using the largest anti-graft campaign in decades. How has he amassed the power to impose these changes on a conservative CCP? The key to Xi's success is likely not a sudden power play, but a decade-long effort to create elite consensus on the most difficult questions facing the Party. In short, Xi was given permission to be a transformative leader. A new review of speeches and writings made during his rise shows that he laid out a platform for his presidency long before being chosen for the job. His selection, therefore, represented a mandate for many of the radical changes he continues to push through. Some elements of this mandate were publicly stated as Xi took office: many key decisions made at the Third Plenum decision were foreshadowed by Hu Jintao's outgoing Work Report in 2012, a document that requires the approval of much of the Party's top echelons (for a comparison, see China Leadership Monitor, No. 42, 2014).
During his years as Party Secretary of Zhejiang Province, from 2002 to 2007, Xi treated the job as an extended audition. In speeches, essays, interviews, a regular column in the Zhejiang Daily and two books, Xi laid out a distinctive "Zhejiang model," containing many of the ideas and slogans he has acted on in the past two years. Xi described his vision for Communist Party rule, and he made sure that the leadership was listening, appearing in national media to explain his theories. In laying out his vision, Xi entered the most heated debates of the Hu era, finding ways to accommodate both sides. He was pro-market, but not anti-state. He was committed to Mao's socialist legacy, but saw it as a tool for governing rather than revolution. Of course, Xi's power has many sources. He also used factional ties, political maneuvering and his membership in China's "Red Aristocracy" to reach the top. However, the considerable efforts he went through to publicize his thoughts in a system where cadres are closely tracked for performance and loyalty, suggests that he viewed persuasion as a critical tool, and that those who chose him knew and accepted Xi's plans. This interpretation allows us to explain Xi's effectiveness without assuming he is all-powerful.
Although the leadership selection process is highly secretive, and we do not have direct evidence about exactly who chose Xi or how, we know something about what Xi put into this "black box," and we know the result—so it is possible to make some deductions about why he succeeded as a candidate.
Pitching his message in Zhejiang
After working his way up the ranks of the CCP in the provinces of Hebei and Fujian, Xi arrived on the national stage in 2002 as Zhejiang Party Secretary. He governed the province for five years, allowing him to develop a distinctive approach to governance. He waded into national debates with prolific writings and speeches, much of which was collected as two books: Work on Real Things, Walk at the Forefront [Gan Zai Shichu Zou Zai Qianli] and New Thoughts from the Yangtze [Zhijiang Xinyu], published in December 2006 and August 2007. Xi had to pitch himself to a Party caught between conflicting economic traditions. "Red" conservatives, state-sector interests and social reformers all sought a larger state. Economic reformers worried, with increasing intensity, that state power was crowding out the market. Statists and liberals also clashed over political reform. While Western democracy was never on the table, the early Hu years saw intense discussion about "intra-Party democracy" and other ways to legitimize the Party's monopoly on power by tackling corruption and giving people something other than Communism to believe in. Xi used his time in Zhejiang to provide his answers to these questions.
Using Two Hands to Fix the Economy
Xi seems to have been long interested in Zhejiang and its famous "Zhejiang model" of growth powered by family enterprises. In 1982, as a Hebei official, he led a delegation of provincial officials on a tour of Zhejiang and other coastal provinces. In 1998, as Deputy Party Secretary of Fujian, he led another delegation to Wenzhou, a bastion of Zhejiang private entrepreneurship (Economic Observer, December 30, 2002). When he arrived in Zhejiang, one newspaper described him as "a committed proponent of limited government" (Economic Observer, December 30, 2002).
Xi explained his view of a mixed economy with the idea of "two hands": the "visible hand" of the state and the "invisible hand" of the market. He insisted that the two complemented each other. In a March 2006 Zhejiang Daily column, Xi described "two hands" as the "key to market-oriented reform" (Zhejiang Daily, March 17, 2006). Xi did not coin the "two hands" phrase, but he redefined it—and credited it to Adam Smith: "This concept of marketization is very clearly explained in Adam Smith's Wealth of Nations, where he introduces the theory of two hands," he told CCTV in 2006 (CCTV, March 16, 2006). Xi specified that the hand of the market should "adjust" the economy, promote efficiency and lead urban development, whereas the state should lead social management, public services, fairness and rural development. Xi's answer to the debate about markets versus the state was that China could simultaneously strengthen both. This is a vision Xi has pursued as General Secretary, even continuing to use the same "two hands" formulation.
Click here to read the full article: http://fnvaworld.org/?p=13544
Where Does President Xi's Power Come From?
January 6, 2015
As Chinese President Xi Jinping furthers his progress on anti-corruption and reforms, some observers, pundits, and even the public have raised concerns over two critical issues. First, hunting too many 'tigers' might damage the public's faith in the Chinese Communist Party's leadership. Second, there are suspicions that Xi may intend to amend Deng Xiaoping's idea of "collective leadership" and seek a more decisive or even autocratic role as the CCP's top leader. These are meaningful concerns that demonstrate the complexity and delicacy of Chinese politics, particularly with regard to this round of anti-corruption moves. But the more direct and meaningful question is: Where does Xi's power come from? This is a very important point, as it connects to discussions of the overall political legitimacy of CCP leadership. Instead of a full analysis, I intend to give some preliminary ideas that might help us to understand the roots of Xi Jinping's confidence, power, and political obligations as he carries out his ideas for the governance of China.
First, Xi has based his governance on an embrace of personal dreams. Ever since his emergence in China's top leadership, Xi Jinping has repeatedly emphasized the term "dream," connecting his ideas for governing China with an acknowledgement of Chinese citizens' ideals, pursuits, and dreams. This gives us good reason to believe that Xi Jinping has a strong streak of revolutionary idealism. This is not a put down; rather, I believe that it is exactly the character of revolutionary idealism (or, simply put, a strong personal dream) that differentiates a true statesman from a politician. Xi spent over 40 years working his way up from a primary-level office (similar to community councils in the West) before becoming China's top leader. This 40-year career not only taught Xi the necessary knowledge, skills, and political savvy, but also gave him a true understanding of Chinese people's real lives and their real hardships. This understanding in turn further solidified his own vision for governing the huge country by incorporating "personal dreams" into the overall "China dream."
Second, Xi is recalibrating China's "collective leadership." One of the most important and significant characteristics of China's elite politics is "collective leadership," which was created (and later violated) by Mao Zedong, restored by Deng Xiaoping, and further implemented by the following generations of Chinese leaders. This "collective" mechanism was designed to prevent the overconcentration of power in the hands of any individual among China's top leaders. As Yi Edward Yang has argued, collective leadership paved the way for an institutionalized political process within the CCP, but at the same time the need for consensus can delay the Party's response to crises. This model poses some complex problems. Western analysis quite often lumps China's collective leadership and factional politics together, seeming to indicate that "collective leadership" in practice means reaching political compromise among different political factions. Chinese and Western scholars have different opinions regarding whether Chinese "collective leadership" is actually a product of "factional politics." For his part, Xi Jinping has already shown his strong political will to reject and fight various factions within the party, especially in the context of his anti-corruption campaign. In particular, Xi has spoken out against local strongmen (小山头), cliques (小圈子), and criminal gangs (小团伙). As Xi fights against factionalism, it is essential for him to take up a relatively stronger role within China's "collective leadership" in order to move forward smoothly and decisively. Of course, Xi must successfully reconcile the long-standing political traditions of the CCP with his ambitious new vision.
Third, Xi gains power from the public's expectations and support. Discussing his anti-corruption campaign, for example, Xi explained that China's leaders understand clearly both the Party's mission and the people's expectations. By responding to people's calls for true anti-corruption measures, Xi fosters both public expectations and public support. Xi's relatively firm and decisive responses have further consolidated his central role in this anti-corruption storm. So far the concerns about the CCP losing political legitimacy have been submerged by nation-wide support from the general public, even though there have been complaints among certain groups. But in addition to support for Xi's policies, public support also comes from Xi Jinping's individual image (including his China dream, as discussed above). Xi has shown the public a different image than his predecessors. The song "Xi Dada Loves Peng Mama," which was widely circulated among Chinese netizens, reflects Xi Jinping's extremely high popularity among the Chinese public. The public indeed welcomes a more "real" political figure, one that lives, loves, and laughs just like regular people do. All told, Xi is drawing power from different sources than his predecessors. Right now, China is in a critical period of internal and external transitions. Domestically, China faces economic and social transitions. Externally, there is the possibility of a global power shift from the United States to China, although this remains unlikely in the near term. Xi Jinping's primary concerns are and should be those domestic issues, which (not coincidentally) serve as the primary source for his confidence and power.
Chinese Leader: Chen Jining
Green Star Over China
June 22, 2015
It wasn't the sort of speech you'd expect from a soon-to-be minster of the Chinese government. On Jan. 27, Chen Jining waxed philosophical to graduating master's degree students at the elite Tsinghua University in Beijing, where he was serving as university president. He talked about picking up Malcolm Gladwell's book Outliers during a visit to Taiwan and about shooting the breeze with Facebook founder Mark Zuckerberg during a recent campus visit. Unlike the standard Chinese Communist Party apparatchik, Chen eschewed impenetrable party theory or bureaucrat-ese for personal anecdotes and motivational comments. The difference between mediocrity and excellence, Chen said, dressed in robes and a mortarboard, was not talent but "continued perseverance [and] sustained effort." He closed his speech with a quote from China's former premier and Tsinghua dean Zhu Rongji who in 2014 penned a letter to Tsinghua students telling them to be bold and fearless. "You're young so what does it matter if you fail," Chen quoted Zhu as saying.
So, it stunned many when a month later, Beijing announced that it had tapped Chen to be China's new environmental minister. He was just 51, with a doctorate degree in environmental science from Imperial College London and a reputation for being "gutsy." Ministers are cabinet-level officials and often climb the ladder by taking district, municipal, and then provincial posts. Chen, who spent his career in academia, is an outsider (though the Ministry of Education oversees Tsinghua). He seemed like a square peg in a round hole. Reuters wondered in a March 4 article if this "novice" communist bureaucrat might be "a breath of fresh air" for China's environment. Despite the leadership declaring a "war on pollution" in 2013, coal-hungry China is the world's biggest carbon emitter; 90 percent of China's cities still have air that doesn't meet the country's air quality standards. (China's Ministry of Environmental Protection didn't immediately respond to a request for comment.)
Fast forward three months and the mortarboard has given way to a hard hat. On June 16, Chen was in Baoding in north China's Hebei province, visiting a sewage treatment plant. The city of 11 million people has the dirtiest air in China, Chen's ministry announced in February. In Baoding, Chen looked glazed over, like many hard-traveling Chinese officials. Maybe his gutsy edge was already being worn down by the job? But experts who monitor China's environmental sector say that Chen's performance has been promising and that there is still hope that Chen will boldly tackle the catastrophic damage that three decades of juggernaut industrial and economic growth have wrought on the country's water, air, and soil. Erin Ryan, a law professor at Florida State University and an expert on China's environmental legislation, said that Chen showed "courage and clear sightedness" when he spoke out in support of Under the Dome, a daring documentary about China's environmental problems that came out in February. By early March, government censors were scrubbing the Internet of any traces of the film. Ryan said by email that she was hoping that Chen could "bring the rest of the government around to his approach, rather than the opposite."
And Chen hasn't been evasive about the monumental task he faces. On June 9, state media quoted him saying that "the Chinese environment is reaching or has reached its limit, due to years of sprawling development at the price of environment." He vowed to take "more forceful" measures to tackle the problem within the next five years — as part of the government's latest five-year plan, which will span 2016 to 2020. Part of the new more forceful approach is to include environmental taxes that will punish polluters and reward environmentally friendly corporations. On June 10, Beijing released a draft version of the tax law for public review. Ryan said that if the law goes forward, she would consider it "a great accomplishment under Chen's leadership" because it would "harness market forces in support of environmental goals, which could be very powerful in China." Another bright spot on China's environmental horizon is that China may reach peak emission levels for greenhouse gases some five years earlier than the government's target of 2030, according to a recently released report by the London School of Economics. Fergus Green, coauthor of the LSE report, wrote that China has "turned a corner, with coal use falling over the last year, and [is] likely to plateau or fall further over the next few years before falling more strongly throughout the 2020s."
Though the tax law and the fall in fossil fuel use both preceded Chen, they appear to be part of a wider government shift in attitude that allowed a hire like Chen in the first place. He is taking over as some of those efforts are starting to see results, but there are hopes that he can help sustain the push. Sam Geall, a research fellow at the University of Sussex in England and executive editor of the bilingual China Dialogue environmental website, toldForeign Policy that Chen "has had a positive impact so far" and that his appointment is part of a larger shift away from China's previous "pollute first, clean up later" model. All this is "reflective of broader political support for tackling environmental issues," Geall said. It's a huge task and far from a one-man job, but perhaps Chen will take the advice that he poached from former premier Zhu — and continue to "be bold."
Academics fill posts of officials caught in CPC's graft probes
February 10, 2015
As the Communist Party's anti-graft probe continues in China, new blood from academia is entering into official circles, according to the Chinese-language Hong Kong Economic Times. This reflects a new emphasis on professional governance among the senior leadership, according to one analyst cited by Hong Kong's Ta Kung Pao, who said that officials with an academic background may become the new norm in the country.
Tsinghua president tapped to head environment ministry
Following the personnel changes in the central ministries and commissions and the local-level People's Congress and Chinese People's Political Consultative Conference, as well as the vacancies opened up by the anti-corruption campaign, lots of new blood has entered China's official circles. Academics-cum-politicians have become a major feature of these personnel changes. On Jan. 28, the Organization Department of the CPC Central Committee announced the appointment of president of Tsinghua University Chen Jining as party secretary for the environment ministry, replacing 65-year-old Zhou Shengxian. After the procedure is completed at a meeting of the Standing Committee of the National People's Congress (NPC) or the full NPC, Chen will likely be formally appointed to minister of the department next month. The CPC Central Committee Organization Department previously announced that the president of Hefei-based University of Science and Technology of China, Hou Jianguo, has been appointed to vice minister of the Ministry of Science and Technology. Before that, Qu Xing, the dean of the China Institute of International Studies, a research body under the Ministry of Foreign Affairs, was appointed as the Chinese ambassador to Belgium. Guo Guangsheng, the former president of the Beijing University of Technology, was appointed as the deputy party secretary for Beijing, a sub-provincial-level ministerial position.
From top schools to party leadership
There have been a few examples of officials from academic backgrounds over recent years, for example incumbent science and technology minister Wan Gang and minister of education Yuan Guiren were both once university presidents; and Xu Xianming was appointed to deputy director of the office of the Central Commission for Comprehensive Social Management from his previous post as president of Shandong University. In November of last year, the CPC Central Committee General Office made specific mention of an effort to cultivate officials from academia in its plan for national and party leadership for 2014-2018, which suggests that this may become the new norm for senior appointments. One political analyst said that the appointment of experts to official posts is part of an effort to create an elite, scientific and professional leadership. Chen Jining and Hou Jianguo are both renowned scholars and the central authorities likely want to use their professional expertise to improve policy efficiency.
Chen, 51, is an authority on the treatment of polluted water; after graduating from Tsinghua University he went to study in the UK, gaining a doctorate from Imperial College London and engaging in research there before returning to his alma mater to teach and has held positions at Tsinghua, including the head of the environmental engineering department, vice president and president. He has also participated in national pollution treatment projects launched by the environment ministry since 2001. Sources from the upper ranks of the environment ministry said that although China's environment is becoming increasingly polluted, local governments are unwilling to make moves to curb pollution for fear of hurting GDP growth, so Chen's appointment has been seen as an attempt to remove the issue from disputes between the central and local government and get everyone to push for pollution treatment in order to restore China's natural beauty.
Professionalism over cronyism
Another analyst has stated that officialdom in China was previously dominated by people who wanted to make a name for themselves as opposed to more professionally minded officials, which has led to the launch of unscientific policies which have weighed down on efficiency; this is expected to change with the entry of academics to senior government posts. The director of the document translation department of the Central Compilation and Translation Bureau Yang Xuedong has stated that as China develops both socially and economically the leadership of the party will inevitably shift, raising intellectual standards to meet new demands as without well-educated officials effective governance is impossible. Liu Xi, a professor at Renmin University of China's Public Management School, said that professional standards for government officials are getting higher and higher and that policymaking units should have higher standards still. A political commentator said that the influx of academics to officialdom in China will also result in a reduction in factionalism and cronyism, given that they will be hired for their professional expertise, rather than their backgrounds or connections.
Chinese Leader: Zhou Yongkang
Zhou Yongkang Got Sentenced to Life in Prison, but Not for His Real Crimes
June 11, 2015
The end has come for the case of Zhou Yongkang, the man who once wielded immense power in the Chinese Communist Party through his post as security chief. Now, after a long political battle, he has been sentenced to life in prison. This development further cements the control of current regime leader Xi Jinping and is another defeat for the Communist Party faction created by former dictator Jiang Zemin. Zhou has a litany of crimes to his name—running the gauntlet from sexual debauchery to abuse of power to disclosure of state secrets, but the most grievous among them have been completely omitted in the charges announced by the Tianjin court handing down his verdict. One of these crimes—given that it took place under his watch, almost certainly with his connivance, and possibly at his order—is that of forced organ harvesting from living prisoners of conscience, mostly taken from practitioners of Falun Gong, a popular Chinese spiritual practice that has faced deadly persecution by the Communist Party since 1999. Many, including those with extensive experience in the Party system, believe the issue should be redressed.
Bao Tong was policy secretary for Zhao Ziyang, the reformist Chinese leader who was ousted in 1989 following his expressions of support for the student protesters at Tiananmen. In an interview with Epoch Times, Bao said that he wished to see the Chinese regime bring the issue of forced organ harvesting into the public realm. Partners in Persecution Zhou Yongkang, 72, had been a staunch ally of ex-Communist Party General Secretary Jiang Zemin. In addition to spending over a decade in office, from 1989 to 2002, Jiang tightened his grip on the power structure of the nation and Party by filling key posts with cadres loyal to him. Being one of Jiang's most prominent officers earned Zhou the director's office of the Communist Party's Political and Legislative Affairs Commission (PLAC), a wide-reaching agency that controls nearly all of the regime's fearsome security forces. But it was the persecution of Falun Gong, the meditative discipline with roots in China's most ancient faiths, that really defined Jiang's unsavory political legacy, and which catapulted Zhou and other Jiang stalwarts into their seats of power.
According to websites run by overseas Falun Gong practitioners that document the persecution, Chinese regime authorities are confirmed to have murdered several thousand practitioners through torture and other means of abuse, though the true scale of the campaign's lethality is certain to be much greater, given the difficulty of gathering reliable information from within China. Investigative research conducted by American journalist Ethan Gutmann into allegations that detained Falun Gong were being harvested for their vital organs, over 60,000 people are estimated to have been murdered through this gruesome yet profitable practice. Zhou, in supporting his patron Jiang, carried out the persecution of Falun Gong enthusiastically. He is likely to have had a major role in facilitating forced organ harvesting. In 2007 Zhou took over as PLAC chief from its former director, Luo Gan, another Jiang ally who had masterminded much of the persecution.
In the latter half of the 2000s, Zhou colluded with Bo Xilai, an up-and-coming communist official and member of the Politburo—the Party's top decision-making body—to maintain the primacy of the Jiang faction into the next decade. Their endgame was a coup against Xi Jinping, a relatively unknown politician who had been selected to take over after General Secretary Hu Jintao following the 18th Party Congress in 2012, according to insider sources at the time, whose information has since been vindicated by the Party's own pronouncements that they engaged in cliquism, collusion, and anti-Party activities. Bo Xilai, also known for his eager role in the anti-Falun Gong campaign, was brought to ruin when his own charge, Wang Lijun, defected to the U.S. Consulate in Chengdu in February 2012. The Americans turned Wang over to the Chinese central authorities, who appeared then to be alert to Bo and Zhou's machinations. Not long afterward, Bo was apprehended, stripped of his Party membership, and, in a trial held in 2013, sentenced to life in prison. The next year Xi Jinping began a full-scale campaign against corruption in the Party. He started by attacking Zhou's power base in the state-run petroleum sector, and also went about rooting out corruption in the government, military, and in industry. First Zhou's oil allies, then Jiang's handpicked clients in the military and telecom industry began to fall. Finally, in mid-2014, Zhou himself was sacked. The Jiang group's days were numbered. To this day, even after Xi Jinping's anti-corruption campaign left the Jiang faction a shadow of its former self, the Communist Party has not budged on its position vis-à-vis Falun Gong and continues to slander it.
Zhou and other Jiang associates, who committed the worst of offenses against Falun Gong, may have been disciplined, but behind the scenes, innocent people continue to be detained, beaten, orphaned, and killed for their faith in the peaceful, apolitical, and meditative practice. The general view among observers of the matter is that Jiang Zemin's motivation in persecuting Falun Gong was part political maneuvering, part jealousy over Falun Gong's sudden popularity, and part embarrassment at failing to ensure loyalty to the Communist Party's atheist ideology. Jiang meant to use Falun Gong as a convenient internal enemy. Even with the Party ranks, many high-level officials and their families were practicing Falun Gong. Neither Jiang Zemin nor his eldest son Jiang Mianheng have yet been directly touched by Xi's purges, but some say that day may come soon. In this way, the responsible individuals would be punished while the Party is absolved of wrongdoing.
But having set the Communist Party's ideology and authoritarian nature as a Leninist power bloc against the traditional beliefs and values of Falun Gong, the persecution has escaped whatever personal ambitions Jiang Zemin originally harbored. Suddenly ceasing the campaign and declaring it the mistake of a former leader may stretch even the Chinese Communist Party's remaining legitimacy—scarce as it already is.
Zhou Yongkang: From apex of power to caged 'tiger' in China
April 3, 2015
At the height of his power, Zhou Yongkang controlled police forces, spy agencies, court systems and prosecution offices across China — and the domestic security czar wasn't shy in deploying his vast assets to crush dissent and unrest in the name of "preserving social stability." During his reign before retiring in 2012, as worsening income inequality and official corruption fueled mass discontent nationwide, Zhou oversaw the domestic security budget swell to surpass that of the two million-strong Chinese military — the world's largest. As a member of the ruling Communist Party's Politburo Standing Committee — China's top decision-making body — Zhou was one of nine men who effectively ruled the country of more than 1.3 billion people. Away from the spotlight, though, Zhou and his family members were reportedly taking advantage of his leadership position to accumulate enormous wealth. The allegedly blatant exchange between money and power, as revealed by China's state media, would eventually prompt Zhou's shocking downfall. He's the most senior official ever to face corruption charges in the history of the People's Republic.
Criminal trial
After months of intense political rumors, the Communist Party's disciplinary arm in July 2014 announced a formal investigation into Zhou for "serious disciplinary violations." In December, state-run Xinhua news agency reported his arrest after the Communist leadership expelled him from the party. And on Friday, state prosecutors revealed that he has been formally charged with accepting bribes, abuse of power and leaking state secrets. They said the criminal trial will take place in Tianjin, a city near Beijing. Party investigators also accused Zhou of having affairs with multiple women, and trading power and money for sex.
Watershed moment
Many have viewed his fall from grace as a watershed moment in the secretive world of Chinese politics now ruled by President Xi Jinping, who has been spearheading a massive anti-corruption campaign ostensibly targeting "tigers and flies" — high-ranking and low-level officials alike. "The important thing here is that Xi has proven he's powerful enough to break this taboo of never incriminating former Politburo Standing Committee members," said longtime political analyst Willy Lam with Chinese University of Hong Kong. Unlike Xi, who is "Communist royalty" thanks to his father's status as one of Chairman Mao's comrades in arms during the revolution, Zhou was born to a poor family in eastern China. Smart and hardworking, Zhou didn't disappoint and went on to become one of the few local students admitted into an elite university in Beijing. That school, now called China University of Petroleum, was the cradle for titans in the state oil industry. His political skill shone when he was transferred to the oil ministry in Beijing, which later became a giant state-owned oil company and one of Zhou's power bases.
Decisive leader
Overcoming factional wars in the ministry, Zhou was said to be a decisive leader who focused on expanding domestic oil exploration as well as overseas projects, a two-pronged strategy that would continue to this day. Fast growth of business abroad made supervision from Beijing harder, sowing the seeds for corruption. In 2001, after a stint as minister of land resources, Zhou was named the Communist Party chief of Sichuan in southwest China, one of the country's most populous provinces.Zhou also developed strong local ties and planted officials loyal to him — including secretaries he brought from Beijing — in key postings throughout the province. Zhou's big break came in 2002 when he returned to Beijing and was put in charge of the ministry of public security, which runs the country's police forces. Five years later, he rose to the apex of power by taking a seat in the nine-member Politburo Standing Committee — with an expanded portfolio that covered all domestic security affairs. His reign coincided with a time of mounting social and ethnic unrest as well as such major events as the Beijing Olympics in 2008, the 60th anniversary of the People's Republic in 2009 and the World Expo in Shanghai in 2010.
Family involvement
Those close to Zhou have fallen with him. State media have reported official investigations — and formal arrests in some cases — into dozens of Zhou's family members and former aides. The biggest impact was felt in the domestic security apparatus, state oil industry and Sichuan province — three places Zhou once ruled.
Details have also emerged in Chinese media about possible skeletons in Zhou's closet, including the suspicious circumstances surrounding the death of his first wife. Most stories, though, have focused on the vast wealth amassed by Zhou's older son as well as his two brothers and their families. The Zhous reportedly benefited immensely from China's booming energy and real estate sectors thanks to Zhou's deep ties to the two related ministries. Zhou's older son, who is 42, is said to own multiple luxury properties worth millions of dollars. Before even turning 30, the younger Zhou's first foray into business met with fast growth and quick success after winning a contract to upgrade IT systems for 8,000 gas stations across China. His companies also reportedly reaped huge financial gain from buying and selling oil fields and hydropower stations. State media reports also indicated that one of Zhou's younger brothers, a onetime farmer, used Zhou's influence to launch a "crisis management" business and profited from helping people get out of jail, enter police academy and sell steel pipes to state-owned oil fields. Other published articles have painted an intricate web of officials, cronies and tycoons — some with alleged mafia connections — orbiting around the domestic security czar before the crumbling of his power structure. "I think, unlike Bo Xilai, Zhou Yongkang will cooperate with investigators because his family is involved," said analyst Lam, predicting a suspended death sentence for both Zhou and his older son.
Will Zhou Yongkang Be Crucified?
April 7, 2015
On April 3, Good Friday, Zhou Yongkang, former Politburo Standing Committee member and former secretary of the Central Politics and Law Commission, was officially indicted on charges of "bribery, abuse of power, and intentional disclosure of state secrets." According to a report from Xinhua, Zhou Yongkang took advantage of his posts to offer interests to others and illegally accepted a huge amount of money and property. His abuse of power was called particularly serious with bad social impacts, resulting in grave losses of public property and damaging the interests of the country. The report said Zhou also intentionally disclosed state secrets; this act was also called particularly serious. Apparently, Zhou's alleged criminal activities can be traced to the late 1980s when he became deputy general manager of the China National Petroleum Corporation (CNPC). In the subsequent 20-plus years, Zhou is alleged to have amassed a huge fortune for himself and his family. Among those who have been detained for investigation in connection with Zhou are his son, his daughter-in-law, his in-laws, his brothers, his nephew, his personal secretaries, his guards, and his subordinates.
In the same period, Zhou rose from a cadre of the vice-ministerial rank to the pinnacle of the Chinese political hierarchy. He was promoted to general manager of CNPC in 1996 and appointed founding minister of Land and Resources in 1998 under Premier Zhu Rongji. He was transferred to Sichuan as party secretary in 1999 and was made a Politburo member in 2002. In March 2003, he was concurrently appointed as minister of public security and state councilor under Premier Wen Jiabao. He was further elevated to the Politburo Standing Committee in 2007 under General Secretary Hu Jintao. It is hard to believe Zhou, a rising political star, had been a corrupt official all along. On December 5, 2002 in Chengdu (capital city of Sichuan), Sun Xiaoqun, deputy director of the Central Organization Department, announced that Zhou, a newly elected Politburo member, would no longer be party secretary of Sichuan. Sun gave high praises to Zhou as a loyal, capable, dedicated, and decent communist leader. Two days later, in Beijing, He Guoqiang, director of the Central Organization Department and a Politburo member, introduced Zhou as a new minister of Public Security and also highly praised him as a leader with rich experiences in state enterprises, central state organs, and the provinces. Ironically, Zhou was also described as a leader who places "strict demands on himself."
Five years later, on October 28, 2007, Li Yuanchao, the then-director of the Central Organization Department and a Politburo member as well as a member of the Central Secretariat, announced that Zhou, a newly elected Politburo Standing Committee member, would no longer be minister of Public Security. Li applauded Zhou's great achievements as a minister of public security in the previous five years and described the years under Zhou's leadership as one of the "best periods" in history. Now, under investigation, Zhou turned out to have been corrupt all these years. That raises the question of how to distinguish between a corrupt official and a clean one. In other words, are those who are currently considered uncorrupt seen as clean only because they have not been investigated? A popular saying in China captures the situation very nicely: officials not under investigation are all role models; once under investigation, they are all corrupt. It is beyond doubt that Zhou will have to face the death penalty. As the first Politburo Standing Committee member to be indicted for corruption in the history of the People's Republic of China, Zhou's fate could go one of two ways. He could be given a suspended death penalty, or he could be executed right away. Could Zhou be "crucified" to cleanse the Party?
Click here for more article: http://fnvaworld.org/?p=14470
Chinese Leader 'Grasps Knife Handle,' Turning It on Foes
January 22, 2015
In the wake of the purge of top security official Zhou Yongkang, Chinese Communist Party leader Xi Jinping appears to be making an explicit case against the former security czar—and hinting that other, higher, officials are in the offing for elimination. These messages, conveyed directly or interpreted afterwards by analysts, were presented in recent speeches by Xi to cadres in the Political and Legal Affairs Committee (PLAC), the agency that controls the entire domestic security apparatus of the Chinese state. It represents the first public reckoning with the legacy of Zhou Yongkang's control over the security apparatus, which was widely recognized to have become a second center of power in the regime. Zhou, who chaired the PLAC from 2007 to 2012 (after five years as head of the Ministry of Public Security), was effectively appointed to the position by former Party godfather Jiang Zemin. Apart from continuing to execute Jiang's violent security measures against the Falun Gong spiritual group, Zhou helped build the office into a many-tentacled empire, largely impervious to the directives of the Hu Jintao leadership. The system's growth was also based on the perversely incentivized "stability maintenance" system, where instances of protest would be met by overwhelming force, which engendered anger at the regime and led to more protests, thereby justifying the use of greater force.
'Handle of the Knife'
As part of breaking with this legacy, Xi chaired a major conclave on Jan. 20 in Beijing, where he spoke of the need to "firmly grasp the handle of the knife" when it comes to the work of the PLAC, where Zhou once enjoyed his unfettered power. A helpful interpretation published in People's Daily on the same day—where the author referred to Xi by his deferential and respectful nickname, "Xi Dada," which can mean "Uncle Xi"—made clear that Xi's remarks meant business. "Many political-law cadres sighed: 'it's been so long since I heard the phrase 'knife handle,'" the author (who was not named) wrote. The piece went on to explain that the phrase comes from Mao Zedong, the revolutionary leader of the Chinese communist insurgency and the first chairman of the People's Republic of China. "At that time, class struggle was intense, class conflict was prominent, and he emphasized 'the knife handle' to point out the class character of the political-legal system." In May of 1926, when Mao was chairing a conference in Guangzhou on agrarian revolution, he reportedly said: "making revolution is knife against knife, gun against gun. To overthrow the militia of the landlord, we need our own peasant army. If the knife handle isn't in one's own hand, there will be chaos." The People's Daily author made clear the subtext of Xi's reference to this phrase: Xi Jinping must be the one with control over the Party's instruments of coercion. "The political-legal system is the nation's powerful agency; it is able to restrict people's freedom and confiscate personal assets; as soon as it leaves control of the Party and the people, falling into the hands of someone with ulterior motives, then it will become a sharp weapon that harms the enterprise of the Party and the people," the author wrote.
Conspiracy
Unusually for a piece in People's Daily, the article referred to the alleged abuses of power of Bo Xilai and Wang Lijun, who ran the southwestern mega-city of Chongqing as "their family empire," the writer said. Since 2012 Epoch Times reports and columns, particularly in the Chinese edition, discussed a conspiracy to seize power by Zhou Yongkang and Bo Xilai—with others behind the scenes. The paper reported that Jiang Zemin, the former leader, directed the conspiracy, while Zeng Qinghong, his henchman and political fixer, plotted many of the details. The original plan, these reports said, based on details provided at the time by Party insiders, called for Bo Xilai to replace Zhou Yongkang as head of the security apparatus, and then, when the time was ripe, shunt aside Xi Jinping to seize the highest power in the Party. This would have been possible because of the enormous power wielded by whoever was the chairman of the PLAC under the old system: the public security apparatus, the People's Armed Police (around one million strong), and other auxiliary forces. The conspiracy theme has since been at least partially corroborated, most recently with reports in the Hong Kong and mainland press about Zhou Yongkang and Bo Xilai holding secret meetings to discuss an alternative political line—one based on hard Maoist class theory rather than the commercially-oriented "reform and opening up" policies of Deng Xiaoping. They reportedly decided to "do something big." The overall tenor of the reports was understood by analysts to mean that the two are alleged to have conspired to seize power.
Chinese Leader: Zeng Qinghong
Xi purges the liberal who gave him China's crown
June 7, 2015
He was once the kingmaker of Chinese politics, but Zeng Qinghong is said to be among the victims of a purge that is sweeping away the last liberals in the country's Communist elite. Zeng, 75, cut a smooth figure in the top ranks of the party and served as a trusted aide to the former leader Jiang Zemin. A supporter of democratic experiments inside the party, he shocked orthodox cadres by banning performances of The Internationale, the Marxist anthem. He went on to broker the deal that led to Xi Jinping taking over as head of the party, the state and the army in 2012. But Zeng is now under detention in the northeast city of Tianjin, while Xi's investigators probe his family's affairs for evidence of corruption, according to media reports in Hong Kong. It is a sign that the party's factions have decisively broken their unwritten pact to leave each other's family business dealings alone in the interests of unity. The move may be intended to curb the influence of Jiang, 88, who continues as a power in the land a decade after he stepped down as leader.
Zeng belonged to the aristocracy of Red China — his father was Mao Tse-tung's interior minister and his mother made the 1930s Long March — but that does not guarantee immunity from the poisonous elite politics in Beijing. The purge, officially described as a campaign against graft, has already claimed hundreds of officials and army officers, including two generals close to Zeng, as well as the former security supremo, Zhou Yongkang. The targets of the investigations, conducted by the party's Central Discipline and Inspection Commission (CDIC) under draconian extrajudicial rules known as shuanggui, are almost all rivals of Xi. Some, like the fallen spy chief, were hardliners. Now it seems that as Xi concentrates his authority, anyone in favour of a collective leadership or mild political reform is in trouble. The first clue that Zeng might have been vulnerable came in a strange article posted on the CDIC website on February 25. It purported to be about a figure from imperial history, Prince Qing Yikuang. The prince grew rich from his role at the court of the Dowager Empress Cixi and is said to have put his ill-gotten gains into the Hong Kong and Shanghai Bank, the forerunner of today's (Sunday) HSBC. Netizens swiftly noted the Chinese characters of the prince's name were similar to Zeng's. They speculated the article meant to compare the empress to his patron, the former leader Jiang, while hinting at a heady mix of graft and foreign finance.
Zeng may be vulnerable because his family is seen to personify the excesses of the generation known as "princelings". Last week, an Australian newspaper highlighted the extraordinary wealth of his son, Zeng Wei, who bought a 100-year-old Sydney waterfront mansion for more than pounds 15m, demolished it and built a stunning new house on the site. In a telling signal, censors allowed the story to be reproduced on websites in China. In an article for The Wall Street Journal, the China scholar David Shambaugh says all the tentative reforms masterminded by Zeng have been rolled back. Shambaugh said China's earlier leaders had sought to manage change, not resist it.
Chinese Leader: Zhao Ziyang
Zhao Ziyang to be Laid to Rest, Ten Years After Death
April 5, 2015
Ten years after the death of former Premier Zhao Ziyang, authorities have agreed with his family to allow his burial, though a location for his final resting place has not yet been determined. Verna Yu reports for the South China Morning Post: His funeral in 2005 was a sensitive event as the authorities feared it could spark large-scale mourning. On the day of his funeral, police and security agents were posted on every corner along Changan Avenue, Beijing's main thoroughfare, and many of his supporters were barred from the ceremony.
The lack of a burial site for Zhao became an issue again after Zhao's wife died over a year ago. Wang said on Sunday that officials from the party and the Beijing government had met the family in recent months to discuss finding a burial site for Zhao and his wife. There was still no firm plan but the family said it was a step forward. "Their attitude was sincere and we can talk about things," Zhao's youngest son, Zhao Wujun , said. "We just want the old people to be buried peacefully."
Zhao Ziyang's burial has not been resolved because the authorities are still nervous about invoking the memory of the popular leader, whose opposition to the armed crackdown made him a symbol of conscience. Zhao spent the last 16 years of his life under house arrest, accused of "splitting the party" and "supporting unrest" for sympathising with protestors in the Tiananmen pro-democracy movement. After expressing sympathy with protesters in Tiananmen Square in 1989, Zhao was purged from the Party and held under house arrest until his death in 2005. Upon his death, his family and officials did not reach agreement over the location of his burial. In January, supporters visited his home on the tenth anniversary of his death, but the gathering was heavily monitored by police.
General News on Chinese Leadership
Who Will Be Xi's Number 2 on China's Central Military Commission?
May 29, 2015
General Fan Chonglong, who since November 2012 has served as the first vice chairman of the Central Military Commission (CMC) of the Chinese Communist Party Central Committee, is very likely to retire in two years. Born in May 1947, he will turn 70 in May 2017 and, according to custom, will exit the CMC at the 19th National Party Congress in the fall of that year. The question is, who will be his successor? The first and most obvious candidate is General Xu Qiliang, the second vice chairman of the CMC. Though three years younger than Fan, Xu in fact has even more substantial political and military credentials. Xu joined the People's Liberation Army in 1966, three years earlier than Fan; became a CCP member in 1967, two years earlier than Fan; and was admitted to the Central Committee of the CCP in 1992, a whole decade earlier than Fan. Throughout almost his entire military career, Xu was promoted in the PLA Air Force much earlier than Fan reached equivalent positions in the PLA Army. Xu was appointed as a division commander in 1983 at the age of 33, seven years earlier than Fan, who was made a division commander in 1990 at the age of 43. Xu was promoted to army commander in 1990 at the age of 40, five years earlier than Fan, who was made an army commander in 1995 at the age of 48. Xu was promoted to chief of staff of the PLA Air Force (a position with a rank of deputy regional chief) in 1994, six years earlier than Fan, who was made chief of staff of the Shenyang Military Region in 2000.
In military ranks, Xu was awarded the rank of major general in 1991, six years earlier than Fan; Xu was promoted to the rank of lieutenant general in 1996, six years than Fan; and Xu was promoted to the rank of general in 2007, one year earlier than Fan. However, Fan caught up with Xu in 2004 when both were promoted to the rank of military regional chief: Fan became commander of the Shenyang Military Region and Xu deputy chief of staff of the PLA. Xu entered the CMC as a member in October 2007 in his capacity as commander of the PLA Air Force, but Fan skipped over him in November 2012 to become the first vice chairman of the CMC without any prior experience as a CMC member. It seems that with Fan's forthcoming retirement, Xu will be a very strong candidate to replace him as the number one vice chairman of the CMC. However, his background in the Air Force means he might encounter strong resistance in the PLA, which has a strong army tradition.
The second candidate is General Zhang Youxia, director of the General Armament Department. Four months younger than Xu, Zhang's military credentials as an army officer are impeccable. Zhang joined the PLA in 1968 and rose through the ranks in the army system. He was appointed commander of the 13th Army Corps in 2000, promoted to deputy commander of the Beijing Military Region in 2005, and became commander of the Shenyang Military Region in 2007. Zhang was appointed director of the General Armament Department in October 2012 and entered the CMC in that capacity one month later. When it comes to the selection of a new CMC vice chairman in 2017, in addition to being an army officer with the highest rank in the PLA, Zhang also has three factors in his favor. First, he would be the only PLA officer left in the CMC who has real combat experience. He participated in wars with Vietnam twice, in 1979 and 1984. Second, he is a red princeling with close ties with Xi Jinping. His father, General Zhang Zongxun (1908-1998), worked very closely with Xi's father, Xi Zhongxun (1913-2002), in the 1940s. Third, Zhang Youxia and Xi Jinping are both natives of Shaanxi born in Beijing.
Chinese President Xi Jinping's secret battle with factions
April 2, 2015
Cheng Li, director of the John L. Thornton China Centre at the Brookings Institution in the US, did most to expose to the world the factions that kept the country's leadership balanced but tentative following the death of the last all-powerful Communist Party figure, Deng Xiaoping. Now Li, who on Tuesday delivered the Lowy Institute-AMP China Lecture in Sydney, is turning to the country's elite politics — which he says is no less important, and no less vicious. He told The Australian that in late 2012, on the eve of the five-yearly national party congress, "I divided politics in two camps" — the taizidang or princelings and the tuanpai or Youth League followers, broadly led by successive party general secretaries Jiang Zemin and Hu Jintao respectively. The Politburo Standing Committee, China's peak decision-making group, that emerged at that congress was no longer balanced, Li said. Of the seven members, six were from the Xi-Jiang princeling faction, and only Li Keqiang, who became Premier, from the tuanpai. "Xi received tremendous support from the top leadership. What happened next was quite dramatic."
Some of the most powerful figures in the Chinese firmament fell or were dragged down by corruption investigations, including Bo Xilai, the principal princeling rival of Xi; Ling Jihua, Hu's chief adviser and head of the party's ¬United Front Work Department; and Zhou Yongkang, former chief of China's security structure and member of the PBSC whose family and friends ran the country's strategic oil and gas industry. The anti-corruption campaign has targeted "tigers" — heavyweight figures — and less important cadres, "flies". Li said four of the tigers brought down were formerly associated with the princeling faction, "so you can't say the campaign is driven purely by factional politics". But the campaign had created gaps in the ranks that could be filled by the next generation from within the faction, Li said.
"Xi's real challenge now is the consolidation of power so that he has his own people within both civilian and military hierarchies. That's still very slow to take place." He pointed out that while Xi's allies clearly controlled the Politburo and its standing committee, the central committee of the party, comprising 376 people, presented a different picture, with Hu's tuanpai camp holding a majority. "In that regard, Xi still has an uphill battle. His relationship with Jiang and Hu remains complicated." It was too early to say how the dynamics of top-level politics in China will play out, Li said. Xi faced the challenge, he said, that those next in line for promotion to the top jobs tended to be allies of Jiang's faction, rather than his own supporters, who are moving into position — but at lower levels for now because they are younger. Xi was changing the governance structure already, though, Li said, evolving away from the collective leadership style of Jiang and Hu, who were first among equals. "Xi is clearly already the boss, like Deng and Mao."
Click here for detail article: http://fnvaworld.org/?p=14206
The End of CCP Rule and the Collapse of China
March 30, 2015
Is the CCP on the verge of collapse? Or is its 'dynasty' just getting started?
Ever since the publication of David Shambaugh's controversial essay "The Coming Chinese Crackup" on March 6, 2015, China scholars have been debating the demise of communist rule in China. Shambaugh made two basic points in the essay: the endgame of communist rule in China has begun and Xi Jinping's ruthless measures have accelerated the demise of the CCP's rule in China. His critics hardly challenged his first point but mostly disagreed with him on his second point. By world communist standards, the CCP has indeed entered its endgame. After 70 years, for instance, communist rule in the Soviet Union ended on December 26, 1991. In six months, the Chinese Communist Party will have ruled the People's Republic of China for 66 years. With rampant corruption at all levels of the party and the government — where a typist has taken bribes in the amount of four million yuan and a vice chairman of the Central Military Commission took cash bribes weighing more than one ton — the CCP seems unlikely to outlive its Soviet counterpart by a large margin.
Nevertheless, by Chinese dynastic standards, the CCP's rule is not in its endgame. Instead, it might very well be in its beginning. The last dynasty, the Qing, lasted for 267 years; by that standard, CCP rule is still in its infancy. In 1710, 66 years into the Qing Dynasty's rule in China, the country was at its peak as a prosperous and powerful nation under the wise leadership of Emperor Kangxi. The dynasty would last another 200 years.
As a ruling dynasty, the CCP has had a mixed record so far. While it is true that the CCP under Mao Zedong unified most of the country, Mao's policies did not make China more prosperous and stronger. Tens of millions perished in the aftermath of the Great Leap Forward, and the entire population suffered during the decade-long power struggles of the Cultural Revolution. Deng Xiaoping heralded a new era of economic prosperity, but his GDP-oriented policies have severely strained China's environmental capacities. China witnessed the best performance in terms of economic growth in the decade from 2002 to 2012 under the leadership of Hu Jintao. Yet corruption and environmental degradation worsened in the same period, in spite of Hu's signature slogan of a "scientific outlook on development."
In the past two and a half years, Xi Jinping's leadership has been long on anti-corruption campaigns but short on anti-pollution efforts. One hundred officials at the rank of vice minister and above have been investigated for corruption, but there is no sign that the central leadership is taking environmental issues more seriously. A series of new leading small groups have been created to manage national security, internet issues, reforms, and military modernization, but no central leading small group on environmental protection has been set up. Given these mixed results, Xi Jinping could very likely be the last ruler in China as a communist. Yet he could also start another new era of prosperity and strength as a new emperor of the CCP Dynasty. Whether the People's Republic of China will end up like the Soviet Union or follow the footsteps of Manchus on its way to international prominence will depend on what this new leadership will do (or will not do) in the next seven years.
The Coming Chinese Crackup
March 6, 2015
The endgame of communist rule in China has begun, and Xi Jinping's ruthless measures are only bringing the country closer to a breaking point.
On Thursday, the National People's Congress convened in Beijing in what has become a familiar annual ritual. Some 3,000 "elected" delegates from all over the country—ranging from colorfully clad ethnic minorities to urbane billionaires—will meet for a week to discuss the state of the nation and to engage in the pretense of political participation. Some see this impressive gathering as a sign of the strength of the Chinese political system—but it masks serious weaknesses. Chinese politics has always had a theatrical veneer, with staged events like the congress intended to project the power and stability of the Chinese Communist Party, or CCP. Officials and citizens alike know that they are supposed to conform to these rituals, participating cheerfully and parroting back official slogans. This behavior is known in Chinese as biaotai, "declaring where one stands," but it is little more than an act of symbolic compliance.
Despite appearances, China's political system is badly broken, and nobody knows it better than the Communist Party itself. China's strongman leader, Xi Jinping , is hoping that a crackdown on dissent and corruption will shore up the party's rule. He is determined to avoid becoming the Mikhail Gorbachev of China, presiding over the party's collapse. But instead of being the antithesis of Mr. Gorbachev, Mr. Xi may well wind up having the same effect. His despotism is severely stressing China's system and society—and bringing it closer to a breaking point. Predicting the demise of authoritarian regimes is a risky business. Few Western experts forecast the collapse of the Soviet Union before it occurred in 1991; the CIA missed it entirely. The downfall of Eastern Europe's communist states two years earlier was similarly scorned as the wishful thinking of anticommunists—until it happened. The post-Soviet "color revolutions" in Georgia, Ukraine and Kyrgyzstan from 2003 to 2005, as well as the 2011 Arab Spring uprisings, all burst forth unanticipated. China-watchers have been on high alert for telltale signs of regime decay and decline ever since the regime's near-death experience in Tiananmen Square in 1989. Since then, several seasoned Sinologists have risked their professional reputations by asserting that the collapse of CCP rule was inevitable. Others were more cautious—myself included. But times change in China, and so must our analyses.
The endgame of Chinese communist rule has now begun, I believe, and it has progressed further than many think. We don't know what the pathway from now until the end will look like, of course. It will probably be highly unstable and unsettled. But until the system begins to unravel in some obvious way, those inside of it will play along—thus contributing to the facade of stability. Communist rule in China is unlikely to end quietly. A single event is unlikely to trigger a peaceful implosion of the regime. Its demise is likely to be protracted, messy and violent. I wouldn't rule out the possibility that Mr. Xi will be deposed in a power struggle or coup d'état. With his aggressive anticorruption campaign—a focus of this week's National People's Congress—he is overplaying a weak hand and deeply aggravating key party, state, military and commercial constituencies. The Chinese have a proverb, waiying, neiruan—hard on the outside, soft on the inside. Mr. Xi is a genuinely tough ruler. He exudes conviction and personal confidence. But this hard personality belies a party and political system that is extremely fragile on the inside.
Consider five telling indications of the regime's vulnerability and the party's systemic weaknesses.
First, China's economic elites have one foot out the door, and they are ready to flee en masse if the system really begins to crumble. In 2014, Shanghai's Hurun Research Institute, which studies China's wealthy, found that 64% of the "high net worth individuals" whom it polled—393 millionaires and billionaires—were either emigrating or planning to do so. Rich Chinese are sending their children to study abroad in record numbers (in itself, an indictment of the quality of the Chinese higher-education system).
Second, since taking office in 2012, Mr. Xi has greatly intensified the political repression that has blanketed China since 2009. The targets include the press, social media, film, arts and literature, religious groups, the Internet, intellectuals, Tibetans and Uighurs, dissidents, lawyers, NGOs, university students and textbooks. The Central Committee sent a draconian order known as Document No. 9 down through the party hierarchy in 2013, ordering all units to ferret out any seeming endorsement of the West's "universal values"—including constitutional democracy, civil society, a free press and neoliberal economics.
Third, even many regime loyalists are just going through the motions. It is hard to miss the theater of false pretense that has permeated the Chinese body politic for the past few years. Last summer, I was one of a handful of foreigners (and the only American) who attended a conference about the "China Dream," Mr. Xi's signature concept, at a party-affiliated think tank in Beijing. We sat through two days of mind-numbing, nonstop presentations by two dozen party scholars—but their faces were frozen, their body language was wooden, and their boredom was palpable. They feigned compliance with the party and their leader's latest mantra. But it was evident that the propaganda had lost its power, and the emperor had no clothes.
Fourth, the corruption that riddles the party-state and the military also pervades Chinese society as a whole. Mr. Xi's anticorruption campaign is more sustained and severe than any previous one, but no campaign can eliminate the problem. It is stubbornly rooted in the single-party system, patron-client networks, an economy utterly lacking in transparency, a state-controlled media and the absence of the rule of law.
Finally, China's economy—for all the Western views of it as an unstoppable juggernaut—is stuck in a series of systemic traps from which there is no easy exit. In November 2013, Mr. Xi presided over the party's Third Plenum, which unveiled a huge package of proposed economic reforms, but so far, they are sputtering on the launchpad. Yes, consumer spending has been rising, red tape has been reduced, and some fiscal reforms have been introduced, but overall, Mr. Xi's ambitious goals have been stillborn. The reform package challenges powerful, deeply entrenched interest groups—such as state-owned enterprises and local party cadres—and they are plainly blocking its implementation.
These five increasingly evident cracks in the regime's control can be fixed only through political reform. Until and unless China relaxes its draconian political controls, it will never become an innovative society and a "knowledge economy"—a main goal of the Third Plenum reforms. The political system has become the primary impediment to China's needed social and economic reforms. If Mr. Xi and party leaders don't relax their grip, they may be summoning precisely the fate they hope to avoid.
Click here for detail article: http://fnvaworld.org/?p=13849
China's Messy Power Politics
February 27, 2015
In 2011, most people still thought China, as a nation, had less debt than Europe or the United States because of its relatively low government debt levels. Then came Fraser Howie's seminal book Red Capitalism, one of the first books to expose the debt machine within the Chinese banking system and the risks of the debt-filled growth model. After a six-year-stay in China, Fraser now lives in Singapore and still has one or two things to tell us about China and its economy.
What About the Political Situation in China Today?
The narrative out there is that Xi Jinping and his anti-corruption drive is all about breaking down vested interests and laying the framework for clearing the decks. People think he will allow a clear reform push, that he is actually going to really push through a lot of these third plenum pledges for the market to take the first role and the state the second role. Today there is very little evidence of that. There is hope rather than concrete evidence of it. Wherever you look, around Xi, there are hard lines everywhere. There is a hard line taken in Tibet; there is a hard line taken in Jinjiang [South China, the locality of a recent labor dispute]; there is a hard line taken in Hong Kong. Hong Kong is seen as a victory for the CCP in the sense that the streets are cleared and they haven't given any ground. I think it's a disaster for the people in Hong Kong because you just alienated a large portion of the population and you have shown that the "one country, two systems" model is highly flawed. And yet what does Xi do? The same week of the Hong Kong protests, he turns around and tells Taiwan that the only way to reunify with Taiwan is through the "one country, two systems" policy, which the Taiwanese don't like at all. So you seem to go out of your way to upset people, in Xi Jinping's case. Whether it's the Japanese, the Vietnamese, the Filipinos, the Vietnamese, or the Malays. China is going out of its way to annoy people and to make people worried. That doesn't look like a confident nation, a nation that would be attracting others to it.
What Do You Predict?
Anything is possible on the political side. There is effectively a civil war going on politically in China. It's not going on with guns—not that we see at least— and clearly people are not being taken out and being shot—although people are being executed post corruption purges. But there is a civil war of sorts going on within the party. And it's far too early to say how this will play out. It's about power, it's about control, it's about factions. What's really scary about Xi is that he is a true believer in the system. He actually believes the communist party, Marxist, Leninist, Mao Zedong thought is the solution to China's problem, which I absolutely think it's not.
Who is Fighting Against Who?
I don't think that's clear. Xi is a man with a mission but he has alienated a lot of the power bases, like the one around Zhou Yongkang for example. I am not defending any of them either. This is more like a mafia war for dominance. None of these are nice groups. He has taken out the Zhou Yongkang network. Now there are indications he is going after Jiang Zemin and the Shanghai factions. How does this play out? There is so little transparency politically in China. This is not Westminster or Washington where there is a lot of understanding, off the record briefings. It's very unclear in China: How loyal is the PLA, who are they loyal to? We see these announcements from Xi saying the PLA must be loyal to the party. Do you think they are not? Many of these groups have become very rich and successful in their ability to garner power and make money. They have become very successful in the past couple of years. They think, "why would I want to change, why am I in the firing line, I want to get my family overseas." The objectives are always about power.
What Do You Think About Xi?
Many people are going along with Xi because he has the running at the moment but this could easily turn. Does it turn if the economy slows down, does it turn if there is some military clash? We are in a very fluid position at the moment in China and it could go many different ways. Ten years ago China was relatively easy to read, it was going into one direction. Xi has very much put a cat amongst the pigeons and shaken things up.
How Factionalism in Chinese Politics Is Misunderstood
February 2, 2015
Apparently, factionalism is a real issue in Chinese politics. The top leadership takes it so seriously that it held a Politburo meeting on December 29, 2014 on combating factionalism within the Chinese Communist Party. However, there are also widespread misperceptions of factionalism in Chinese politics.
First, there is confusion between corporate groups and political factions. Corporate groups are those whose members have worked in the same organization and political factions are those whose members have clientelist ties based on mutual benefits. It is popularly believed that there is a "Petroleum Clique" in China. This is because a number of former high-ranking officials (such as Jiang Jiemin and Wang Yongchun) associated with Zhou Yongkang have been sacked along with their former boss. But it is not clear whether all senior officials who have worked or are currently still working in the petroleum sector belong to the same faction or only some of them. It is not very useful to identify only those who have been sacked along with Zhou Yongkang as members of the Petroleum Clique. Nor is it useful to classify all senior officials who have worked in the sector as members of the Petroleum Clique.
Second, there is confusion between a location and a political faction. It is widely believed that there is a "Sichuan Clique" simply because Zhou Yongkang worked as party secretary of Sichuan from 1999 to 2002 and several of his former subordinates in the province such as Li Chuncheng, Guo Yongxiang, and Li Chongxi have been purged due to their connections with Zhou. The problem with this label is that it is not easy to distinguish between those closely associated with Zhou and many others who have worked or are currently working as senior officials of the province.
Third, there is confusion between a category of people and a political faction. In Chinese politics, personal secretaries (mishu) of top leaders are usually considered belonging to a political faction, known as the "Mishu Gang." The fact that several of Zhou Yongkang's personal secretaries such as Guo Yongxiang and Ji Wenlin have been investigated because of their association with Zhou seems to have provided evidence to support such a claim. However, the personal secretaries of different leaders hardly work with each other. They belong to the same categories of people but not necessarily to the same faction.
In an ordinary sense, political factions are supposed to be competitors with each other. But the three main factions identified by the media are not competitors but actually people associated with one ex-Politburo Standing Committee member who has been disgraced. These identifications are politically correct but these perceptions are not very useful in analyzing the dynamics of Chinese politics.
China closer to dream of rejuvenation
January 5, 2015
As the new year begins, Chinese people are more confident of realizing the "Chinese dream" than any other time. And they have good reason. Since the transition of the Chinese leadership in late 2012, Xi Jinping, general secretary of the Central Committee of the Communist Party of China (CPC), has worked with his colleagues to better serve people and shoulder greater responsibility. Over the past two years, Xi made more than 20 domestic inspection tours covering more than 20 provinces, municipalities and autonomous regions. Wherever he went, he talked with ordinary citizens, trying to learn every aspect of people's livelihood, such as employment, education, medical care, housing and social insurance.
Following Xi, the other six members of the Standing Committee of the Political Bureau of the CPC Central committee also stretched out to visit poverty-stricken regions. In the last two years, China has continued its clamp down on corruption, including both high-profile "tigers" and low-level "flies." A slew of senior officials, both in service and retired, have been investigated for discipline violations, including Zhou Yongkang, Xu Caihou, Ling Jihua and Su Rong. About 100,000 cadres have been punished for violating the "eight-point guideline," and more than 700 typical cases have been exposed. Since the "eight-point" guideline was introduced in late 2012, government spending has dramatically dropped and thrifty life and work styles are becoming popular.
China is also determined to promote the rule of law with a comprehensive reform plan adopted last year at a key CPC meeting. Laws concerning environmental protection have been revised or are being revised, a move to build a harmonious relationship between people and the nature. In the last two years, China has kept steady economic development. The country's total amount of trade in goods tops the world and its economic aggregate ranks the second with steady growth. A series of economic reforms has been made by the new leadership to activate the economic market and improve economic endogenous force.
Click here for detail article: http://fnvaworld.org/?p=13195
Will China Have Its First Female Poliburo Standing Committee Member?
January 2, 2015
Sun Chunlan is in prime position to be the first female politician to reach China's top decision-making body.
By her new appointment as director of the Central United Front Department, Madame Sun Chunlan seems to have been demoted. Former party secretary of Tianjin (one of the four centrally administered municipalities) and a member of the Politburo, she has apparently moved down to become the head of this central department with little power and prestige.
In contrast to her counterparts in the Central Organization Department and the Central Propaganda Department, who usually took over their leadership roles before they had entered the Politburo, she assumed the position two years after she had become a member of the Politburo. Many of her predecessors (such as Ding Guan'gen, Wang Zhaoguo, and Liu Yandong) have used the position as a stepping stone to the Politburo. But her immediate predecessor, Ling Jihua, obviously was relegated to the department in September 2012 for his involvement in a scandal related to the car accident that killed his son and two other passengers. Born in the year of tiger (1950), Sun could very well be a target for Central Disciplinary Inspection Commission officials who are hunting for both "tigers" and "flies."
Alternatively, it is also likely that by this appointment, she is being groomed for a more important leadership role in the near future. As Yu Zhengsheng, currently the No. 4 ranking Politburo Standing Committee member and chairman of the Chinese National People's Political Consultative Conference (CNPPCC), will have to retire at the forthcoming 19th Party Congress in 2017 due to his age. By then, Sun Chunlan, a full member of the Politburo, will have gained experiences as party chief in one province (Fujian) and one centrally administered municipality (Tianjin) as well as having served as head of the Central United Front Department for almost two years. That will make Sun a great candidate to succeed Yu both as chair of the CNPPCC and as a Politburo Standing Committee member. If that happens, Sun will be the first female Politburo Standing Committee member in the entire history of the Chinese Communist Party.