The Tibet Plateau has been of crucial importance to the dominant powers of South and East Asia in their respective strategic calculations. George Ginsburg and Michael Mathow, explained the strategic importance of the Tibet Plateau in these words, "He who holds Tibet dominates the Himalayan piedmont; he who dominates the Himalayan piedmont threatens the Indian subcontinent and may well have all of South Asia within his reach, and with that all of Asia."
Nehru similarly stated in the Indian Parliament in December 1950, "From time immemorial, the Himalayas have provided us with magnificent frontiers….We cannot allow that barrier to be penetrated because it is also the principal barrier to India." That policy was designed to make the Tibet Plateau a buffer state among the three great imperial powers that surround the Himalayan piedmont – India, China and Russia. Closer to home, problems between India and China, in particular the border issue, cannot be resolved without involving Tibet.
Since 1950 China has been India's direct neighbour, thus helping it to be in a better military and strategic position. China has been pursuing rapid infrastructural developments along India's border. It has built roads, airports, railways, and has actively promoted tourism in this sensitive area. India's borders thus have become more vulnerable not only due to these new infrastructure projects on the Tibet Plateau and along India's border but also due to an increase in the number of Han migrants moving on to the Plateau as a result thereof. India therefore needs to give special attention to its   infrastructural development projects especially alongside the Sino-Indian border as these impinge directly on India's security.
Tibet is the crux of Sino-Indian relations. Developments taking place on the Tibet Plateau have direct geo-political implications for India. Chinese officials, diplomats and members of Chinese government (controlled) think-tanks have listed the following main items as issues of concern, these are, in order of priority:
a) Dalai Lama and Tibet issue
 b) The border dispute, and
 c) India's Geo-political ambitions.
RAILWAYS
Major railway links that connect Tibet with India's border are:
The Golmud-Lhasa Railway line: operational since July 2006 provides China with the capability to mobilise as many as 12 divisions (approximately 12,000 troops make a division) in a month's time. Initially the travel time for troops from Golmud to Lhasa was approximately 72 hours, with the introduction of this Railway line, this has been reduced to 16 hours.

The extended line from Lhasa to Shigatse or the Lari Railway situated near India's border with Sikkim covers a distance of 253 Kms was commissioned in August this year. This line borders Nepal and Bhutan as well.
In the pipeline:
The work is already in progress to connect Lhasa and Yatung through a railway line just above the McMahon line.
There are also plans to extend the Shigatse line to Kyirong in Northern Nepal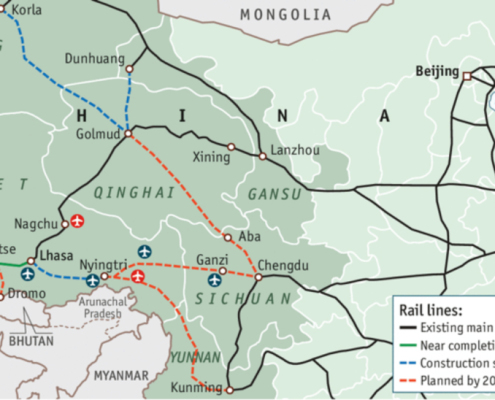 HIGHWAYS ALONG THE SINO-INDIAN BORDER
China has developed a network of highways and subsidiary / feeder roads in the TAR to connect strategically significant border areas with India, Nepal, Bhutan and Pakistan by means of motorable roads.
The major road networks that China has built on the Tibet Plateau in the past few years are:
– The Eastern Highway or Sichuan-Tibet Highway
-The Central Highway or Qinghai-Tibet Highway
– The Western Highway or Lhasa-Kashgar / Aksai Chin / Xinjiang Highway
– Yunnan-Tibet Highway
AIRBASES 
China has constructed seven major airbases on the Tibetan Plateau along with innumerable satellite airstrips, which provides the PLAAF (People's Liberation Army Air Force) the potential to dominate air space over Tibet and gives it a capability, for the first time, to execute combat operations over Indian Himalayas. The main airfields within the region include 7 airports: Lhasa Gonggar Airport, Ngari Gunsa Airport, Nyingchi Mainling Airport, Qamdo Bamda Airport also known as the Changdu Bangda Airport and Shigatse Peace Airport, Nagchu Dagring Airport and the Daocheng Yading Airport. All these airports are of strategic significance to India and are operational.
Tibet's economy has been growing at an annual rate of 12 per cent or more over the past seven years, and the Golmud-Lhasa Railway Line is believed to have played a great role in boosting the region's development. However, the consequent strategic challenges lie in the neighboring countries especially for India. In addition, China's double-digit growth in its defense budget and the massive military modernisation undoubtedly poses a security challenge to India. China has increased its military budget for 2014 to almost $ 132 billion, a 12.2 percent rise over last year. China's defence budget for 2014 represents 5.3 per cent of the total central government budget, which is a minor increase from 5.1 percent in 2013. However, Indian defense budget has been set as $38.35 billion and it is still less than a third of China's $145 billion expenditure last year estimated by the Pentagon in its report to the U.S. Congress.
Therefore, events taking place on the Tibetan Plateau and it's stability is of immense significance for India's security. Against this backdrop, FNVA through a variety of means closely follows events on the Tibet Plateau and brings out Special Reports and carries out awareness programmes for people in politics, and academia to help shape policies for this region.
http://fnvaworld.org/wp-content/uploads/2014/10/JRN3103.jpg
768
1920
Editor
http://fnvaworld.org/wp-content/uploads/2013/04/fnva-logo-300x130.jpg
Editor
2014-10-14 17:24:32
2015-09-03 12:23:40
Analysis of developments in China and the Tibet Plateau: Implications for India's security