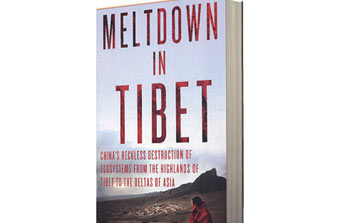 Friday, 9th January 2015, (15:00 – 17:30hr.)
Venue: Foundation for Non-Violent Alternatives, 143, 4th Floor, Uday Park –
110049, New Delhi
The programme shall be followed by a screening of documentary movie prepared by the Speaker.
SPEAKER
Michael Buckley is an award-winning Canadian journalist who, amongst other things, wrote Lonely Planet's first guidebook to Tibet (the first guidebook ever to Tibet) in 1986. A freelance travel writer and photographer, he has traveled extensively throughout Southeast Asia, and the Himalayan and Karakoram range. His presentation will be extensively based on his numerous visits to Tibet and his book titled "Meltdown in Tibet". He has made two short documentaries about major environmental issues in Tibet and moves between Asia and Vancouver, Canada.
ABSTRACT:
Tibetans have experienced waves of genocide since the 1950s. Now they are facing ecocide. The Himalayan snowcaps are in meltdown mode, due to climate change-accelerated by a rain of black soot from massive burning of coal and other fuels in both China and India. The mighty rivers of Tibet are being dammed by Chinese engineering consortiums to feed the mainland's thirst for power, and the land is being relentlessly mined in search of minerals to feed China's industrial complex. On the drawing board are plans for a massive engineering project to divert water from Eastern Tibet to water-starved Northern China. Ruthless Chinese repression leaves Tibetans powerless to stop the reckless destruction of their sacred land, but they are not the only victims of this campaign: the nations downstream from Tibet rely heavily on rivers sourced in Tibet for water supply, and for rich silt used in agriculture. This destruction of the region's environment has been happening with little scrutiny until now. In "Meltdown in Tibet, " Michael Buckley turns the spotlight on the darkest side of China's emergence as a global super power.
http://fnvaworld.org/wp-content/uploads/2013/04/fnva-logo-300x130.jpg
0
0
Editor
http://fnvaworld.org/wp-content/uploads/2013/04/fnva-logo-300x130.jpg
Editor
2015-01-05 08:50:51
2015-01-13 05:09:30
"Meltdown in Tibet"