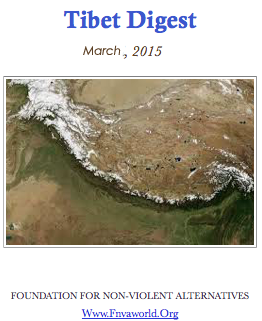 China's Minority Policies
Xinjiang: Han Residents Urged to Increase Safety Measures
March 18, 2015
In response to escalating violence throughout China, authorities launched a nationwide crackdown on terrorism last May, and recently extended it through the end of 2015. Despite the campaign's steady rollout of heightened security measures in Xinjiang and elsewhere in China, violence has continued—mostly in Xinjiang, but also in major cities outside of the autonomous region. Last week, human rights group Dui Hua Foundation analysed official statistics showing that criminal trials in Xinjiang increased 40 percent last year compared with 2014, and warned of a "heightened suppression of human rights activism and dissent" in the region. With tight controls on media in the troubled region effectively barring journalists from Xinjiang and forbidding unsanctioned reports, violence is often first reported by advocacy groups or foreign government-funded media organisations. This week, Radio Free Asia's Chinese service reported on a circular from Kashgar Prefecture urging ethnic Han residents (specifically) to take extra precautions following successive violent attacks [Chinese].
Tibetans in Yunnan Give Up Wearing Animal Skins, Burn Valuable Furs
March 4, 2015
Tibetan villagers living in the southwestern Chinese province of Yunnan have marked the beginning of the Lunar New Year by vowing to give up the wearing of animal furs and by burning those already in their possession, sources said.
The Feb. 27 action by residents of Drangsung village in Yunnan's Dechen (in Chinese, Deqin) county was aimed at complying with the wishes of exiled Tibetan spiritual leader the Dalai Lama that Tibetans abandon the use of animal skins for clothes, a local source told RFA's Tibetan Service.
"The Tibetans had kept animal-skin clothes as rare and valuable family possessions," RFA's source said, speaking on condition of anonymity.
"However, they became aware of the objections of the Dalai Lama and of local Tibetan Buddhist leaders who advised them not to use them."
"So the Tibetans in Drangsung village came together and set their fox-fur caps and dresses decorated with wild animal skins on fire," he said.
The Dalai Lama first appealed in January 2006 to Tibetans living in China to protect endangered animals in Tibet and to stop using animal skins on their clothes, and many Tibetans heard his instructions via Tibetan radio broadcasts from overseas.
Chinese police frequently investigate and arrest Tibetans deemed to have responded to the wishes and policy directives of the India-based Dalai Lama, whom Beijing considers a dangerous separatist bent on "splitting" Tibet from Chinese control.
"The Tibetans were fully aware of the possible consequences of their actions, and knew they might be detained and beaten by the authorities," RFA's source said.
Tibetan followers of Shugden, a controversial deity whose worship has been deemed divisive by the Dalai Lama, have increased their use of clothing dressed with animal furs, however, he said.
Detention and Self-immolation
Tibetan woman burns herself to death in protest over Chinese policies
March 7, 2015
A 40-year old woman from Ngaba Tibetan Autonomous Prefecture burned herself to death on Friday in a protest against Chinese policies in her homeland, becoming the 137th known case of self-immolation by Tibetans since 2008, sources in Ngaba told RFA's Tibetan service. The Tibetan woman, Norchuk, set herself ablaze at 3:30 am on Friday in a hay barn in her village of Trotusk in Ngaba (in Chinese, Aba) county of Sichuan province. She was a constituent of Dephu monastery who was recently taken a vow to become a lifelong vegetarian, the sources said, in the only details about the woman that were immediately known. Norchuk's death came amid a heightened security presence in many Tibetan areas that locals say is aimed both at intimidating Tibetans now celebrating religious observances during the Lunar New Year and at preventing protests on the coming March 10 anniversary of a failed 1959 Tibetan revolt against Chinese rule. Before the Feb. 18 Losar (New Year) holiday, large numbers of Chinese security forces were deployed to Tibetan-populated areas of Sichuan and Qinghai provinces in a bid to deter anti-China protests. Sporadic demonstrations challenging Chinese rule have continued in Tibetan-populated areas of China since widespread protests swept the region in 2008. The self-immolations were committed to show opposition to Beijing's rule and call for the Dalai Lama's return.
Important Meetings
China's regional power shift: Silk Road and Asian Infrastructure Investment Bank
March 31, 2015
China let the cat out of the bag at the BoAo Forum for Asia, where President Xi Jinping stated that the recent initiatives of the Silk Road and Asian Infrastructure Investment Bank (AIIB) will include "China's friends and partners", in addition to any country which is willing to join this coalition – indicating to the emerging power transition at the Asian level. This is not surprising given the statement by President Xi at last May's CICA summit meeting at Shanghai that Asian security issues have to be dealt by the Asians. This reminds one of what China's founding leader Mao Zedong once said about "setting up a different kitchen". Although Mao's 1949 statement is targeted against Kuomintang, sixty years later, China clearly has the United States in mind. China's plan, unveiled formally at the Boao forum, contains modest principles– with the United Nations Charter as the basis. Mentioned in 2013 during President Xi Jinping's visits to Kazakhstan and Indonesia, the Silk Road initiative connects an ambitious area of Europe with Asia and Africa, including the Indian Ocean region. This region has 4.4 billion people, constituting 63% of the global population and with a combined GDP of $21 trillion.
The five goals outlined as a part of this initiative, viz., "policy coordination, facilities connectivity, unimpeded trade, financial integration and people-to-people bonds", make clear China's leading role in this initiative. At a time when the US and European states, after the financial crisis, had initiated trade protectionism and market regulation, China stated the basic principle of the Silk Road initiative will be to give "decisive role of the market in resource allocation and the primary role of enterprises, and let the governments perform their due functions". The action plan remains innocent and modest, with "cooperation, harmony and inclusiveness, market operation and mutual benefit", although in actual practice, which country dominates the processes is anybody's guess. Already, over 60 countries have expressed interest in the Silk Road initiative and 40 more have lined up for the AIIB, including US allies. So when President Xi stated at Bo Ao that this Chinese song is not a "solo", "but a chorus sung by countries along the route", he is proposing a united front of like-minded partners.
Of course, Xi assuaged the feeling of the by-standers by suggesting that the Silk Road initiative and the AIIB will follow the principles of "wide consultation, joint contribution and shared benefits". That needs to be seen. While China's initiative spoke about "respecting each other's sovereignty and security concerns", one of the projects, the $45.6 b Sino-Pak Economic Belt, announced during PM Nawaz Sharif's visit to Beijing last year, could become controversial as it passes through the disputed Northern Areas of Kashmir.
Xi meets entrepreneurs, promising more opportunities in China
March 29, 2015
President Xi Jinping on Sunday said he hoped foreign entrepreneurs would boost contact and cooperation with China for win-win results. The Silk Road Economic Belt and the 21st Maritime Silk Road initiative, proposed by China, will create opportunities for trade and investment between China and countries along the routes, said Xi at a symposium with some 40 domestic and foreign entrepreneurs on the sidelines of the 2015 Boao Forum for Asia (BFA) conference. "We hope the annual trade volume between China and these countries will surpass 2.5 trillion U.S. dollars in a decade or so," he told board chairmen and CEOs from countries including Saudi Arabia, Australia, the United States, Thailand, Russia, and the Republic of Korea. The "new normal" of the economy and China-led initiatives, such as the Silk Road Fund and the Asian Infrastructure Investment Bank (AIIB), will create new opportunities, said Xi.
"The interaction between China and the rest of the world is becoming increasingly closer," and opportunities in the domestic market, investment, green growth and foreign cooperation are expanding, said Xi. "New opportunities are emerging for investment in infrastructure facilities, new technology, products, industry and business models," said Xi. China will adopt a green development path, promote energy saving and environmental friendly production, said Xi. "We are pushing forward an energy production and consumption revolution, improving energy structure and will implement an energy saving first principle," said Xi. "China pushes economic and financial cooperation at all levels and is an active promoter of economic globalisation and regional integration," said Xi. Lee Jae-yong, vice chairman of Samsung Electronics, said China's investment environment had been further improved with government reform measures.
Chinese leader Xi Jinping spells out ambitious Asia vision at Boao Forum
March 28, 2015
President Xi Jinping reassured the world that China's economy remained strong, as he vowed his initiative to boost links with Asian and European countries would provide trade and investment opportunities to "all nations". Addressing the annual Boao Forum for Asia in Hainan province, Xi said China welcomed all countries to join the Beijing-led "One Belt, One Road" initiative, which aims to improve regional connectivity in a project inspired by the ancient Silk Road. He stressed the project was not meant to replace existing economic partnerships. "The programmes of development will be open and inclusive, not exclusive. They will be a real chorus comprising all countries along the routes, not a solo [effort] for China," Xi said.
Xi's comments came as China released a blueprint outlining its vision for linking infrastructure, finance and telecommunications, and removing trade barriers, along the route. The "One Belt, One Road" initiative has various threads. The Silk Road Economic Belt focuses on linking China, Central Asia, Russia and the Baltic states; linking China to the Gulf and Mediterranean through Central Asia and West Asia; and connecting China with Southeast Asia, South Asia and the Indian Ocean. The 21st-Century Maritime Silk Road will stretch from China to Europe through the South China Sea and the Indian Ocean in one route, and from China to the South Pacific in the other. Xi said China's economy would continue to be a major driving force for Asia even though it forecast its rate of growth to slow. "As the economy continues to grow in size, around 7 per cent growth would be quite impressive, and the momentum this would generate would be larger than the double-digit growth of previous years," Xi said. "This new normal of the Chinese economy will continue to bring more opportunities for trade growth and development for the countries of Asia and beyond," Xi said.
Without specifying regional disputes, Xi said China was committed to resolving conflicts peacefully. "China has in the past 100 years or more suffered turmoil and war, and the Chinese people will never impose upon other countries or people the tragic history our own people have experienced," Xi said. Chief Executive Leung Chun-ying said Hong Kong's "advantages in financing and professional services will be able to contribute to the 'One Belt, One Road' plan".
Beijing's Panchen Lama misses out on vice-chairman post
March 12, 2015
China's pick as the 11th Panchen Lama is at least a year away from receiving the honorific title of CPPCC deputy chairman, with the advisory group set to select another candidate for the top job today.
But he still has the central government's blessing and support as China's face of Tibetan Buddhism. His portrait is rarely hung in Tibetan homes, however, unlike the show of respect paid to his predecessor and the 14th Dalai Lama.
After years of careful training and grooming, the Panchen Lama was appointed a delegate to the Chinese People's Political Consultative Conference this year.
It had been speculated that, at the age of 20, the CPPCC's youngest delegate could become one of the advisory group's more than 20 vice-chairmen, with state leadership rank, to replace the late Ngapoi Ngawang Jigme. But according to Liu Bainian , vice-chairman of the Chinese Catholic Patriotic Association and a CPPCC delegate, former Macau chief executive Edmund Ho Hau-wah is the only candidate on the list.
The delegates will hold a ceremonial election for a new vice-chairman today, as the annual CPPCC plenum draws to a close.
The Panchen Lama has been in demand this year, with journalists keen to glimpse the saffron-robed Living Buddha, who has been attending the plenum for years as a guest.
And group discussions by CPPCC religious delegates, the category which the Panchen Lama falls into, were for the first time in years closed for overseas media this year. Previously, the religious group would be open to overseas media for at least one panel discussion.
A rare glimpse of the Panchen Lama's maiden foray into political circles came in an interview with Xinhua in which he said that he would carry forward the tradition of the 10th Panchen Lama in 'loving the country, the religion and the people'.
'I have shouldered the mission of safeguarding national unity and ethnic solidarity since I was enthroned. Now, such a sense of responsibility is becoming even stronger,' he said.
Even fellow delegates were careful about their comments on the Panchen Lama, with most Tibetan delegates turning away at the question.
A top official with the Buddhism Association of China asked a reporter from this newspaper to delete the recording of his comments on the Panchen Lama, even though he only sang his praises while adding that he would have to 'wait for his time to come' for the vice-chairmanship.
Those who did not shy away spoke highly of the Panchen Lama.
Sita, a vice-minister of the United Front Work Department of the Communist Party and a CPPCC delegate, described the Panchen Lama as smart and having a good memory.
'He is receiving good training now. Aside from religious knowledge he is also learning science, English and other subjects,' he said. 'I think all these will be helpful for his bigger role in Tibetan Buddhism in the future, and will be effective in making Tibetan Buddhism more adaptable to our socialist society.'
Gyaincain Norbu was made the 11th Panchen Lama by Beijing without the consent of the 14th Dalai Lama. The exiled Tibetan spiritual leader's choice for the position, Gedhun Choekyi Nyima, disappeared shortly after his nomination was rejected by Beijing, prompting concern over his safety.
The new Tibetan government chairman, Padma Choling, said earlier this week that Gedhun Choekyi Nyima was being kept out of public view at his own request.
It has been tradition to enrol religious figureheads in the CPPCC as part of Beijing's strategy to tighten its control on the influence of religions. Gyaincain Norbu's predecessor, the 10th Panchen Lama, was a CPPCC delegate and made a vice-chairman in 1954, at the age of 16.
Elliot Sperling, an expert on Tibet issues from Indiana University's Central Eurasia Studies Centre, said the delay in the Panchen Lama's elevation was designed to avoid making his rise seem too precipitous.
'It's somewhat funny that with regard to the Dalai Lama, China insists he should not be mixing religion and politics, yet China's Panchen Lama is appointed to a political post with no questions,' Sperling said.
Thubten Samphel, a spokesman for the Tibetan government in exile, said the appointment of Gyaincain Norbu as a CPPCC delegate would not be of any significance to the Tibetan people.
'I believe the Tibetan people will recognise the Panchen Lama recognised by the Dalai Lama as their true spiritual leader,' he said.
Barry Sautman from the University of Science and Technology in Hong Kong said Beijing's grooming of its Panchen Lama was to prepare for the post-Dalai Lama era, when the Panchen Lama would play a key role in selecting the next Dalai Lama.
Military and Infrastructure Development
The broad governance blueprint of Xi Jinping
March 2015
The "Four Comprehensives " strategic layout mapped out by China's top leader Xi Jinping, a comprehensive elaboration of the overall framework for China's future administration and development, will guide the modernising of the nation's governance system and capability. They are also of great significance to global governance ideology. The "Four Comprehensives" not only offer a guide to realising the common dream of Chinese people, they offer new vitality to global governance theory. To comprehensively build an all-round well-off society is the grand goal China has vowed to realise by 2020. According to the 18th National Congress of the Communist Party of China in 2012, to comprehensively build a moderately well-off society, China will not only work for continuous and healthy economic development and raising people's living conditions, it will also promote continuous expansion of democracy and remarkably build up its cultural soft power. In particular, the country seeks to achieve significant progress in the construction of an ecological civilisation that features the sustainable use of resources and an environmentally friendly society. Such a broad governance blueprint shows China's confidence it can realise the Chinese Dream.
Comprehensively deepening reforms will help realise the goal of building a well-off society in all-round way. Only with systematic, comprehensive and coordinated reforms, can the country drive its modernisation. Establishing the rule of law offers the fundamental guarantee for building a well-off society in an all-round way. To build a society ruled by law requires China also bring its manner of leadership and governance under the rule of law. With rule of law, China can promote institutionalisation, standardisation and proceduralisation of various affairs concerning the Party, the nation and society, and realise modernisation of its national governance system and capability. But the country must first push for stricter governance of the Party. Comprehensively governing the Party in a stricter manner will reforge the core power of China's governance system, enabling the comprehensive deepening of reforms and the implementation of the rule of law. To realize a well-off society in an all-round way, China must comprehensively deepen reforms guided by the leadership of the CPC governing under the rule of law and mobilize people nationwide to work for the Chinese Dream.
Infrastructure money continues to pour into Kunming
March 24, 2015
The seemingly unlimited supply of development money made available to Spring City urban planners shows no signs of letting up. A new report released by the municipal government reveals 340 billion yuan (US$54.3 billion) has been allocated to "accelerate" construction, especially on the city's metro, railway and highway systems, over the next five years. Referred to as the "Comprehensive Transportation Campaign" (CTC), program costs include having at least six fully functioning metro lines by the year 2020, up from the current number of two-and-a-half. When finished, the above- and below-ground sections of the Kunming Metro will cover 206 kilometers. Three additional lines are also under consideration, but will not be finished by 2020.
It is not only the metro that will receive huge amounts of funding. So too will railway ventures designed to make Yunnan more connected not only to the rest of China, but also to its Southeast Asian neighbours. Among the 12 railroads receiving CTC money is a line that will one day connect Lhasa to Shangri-la and then Kunming, a bullet train to Shanghai and other railways linking up with Chongqing, and cities in Guizhou, Myanmar and Vietnam. In addition to the expenditures for the metro system and vast railway upgrades, the Comprehensive Transportation Campaign will add more than 20 newly built or drastically expanded traffic expressways radiating outwards from the Spring City. The network of roads is planned to connect all of the "economically important cities of central Yunnan" and in some cases drastically reduce driving times.
One other key initiative involves logistics and Dianchi Lake. To facilitate all of the planned trade coming into and leaving Kunming once the aforementioned projects are completed, an enormous "integrated transport hub" is under consideration for Chenggong. If approved — and it appears the money has already been set aside — a 458 million yuan (US$73 million) shipping and receiving facility would be built on the shores of the lake, complete with a wharf. In 2014, the entire province saw 70 billion yuan earmarked for infrastructure work — a number almost matched by annual CTC outlays for the Spring City alone. It appears provincial leaders, and those in Beijing, are still quite serious in their intentions to transform Kunming into a hub connecting greater China with Southeast Asia and beyond.
China plans to boost military budget by 10.1 percent in 2015
March 4, 2015
China announced that its official military budget will grow by 10.1 percent in the coming year, amid unease among Beijing's neighbours about its growing might and territorial ambitions.
The increase to about $145 billion in spending would mark the fifth year in a row of double-digit increases despite the country's slowing economic growth, which fell to 7.4 percent last year from 7.7 percent the previous year.
The spending reflects China's growing power and desire to assert itself in the region and globally. However, Beijing says the bigger budgets are aimed only at modernising and improving conditions for the 2.3 million-member People's Liberation Army, the world's largest standing military.
"China has a tougher road to travel than other large nations in terms of national defense modernisation. We can only rely on ourselves for research and development of most of our military technology," legislative spokeswoman Fu Ying said.
"Meanwhile, we need to ceaselessly improve conditions for our soldiers," Fu said.
Fu spoke at a news conference Wednesday, ahead of the formal announcement of the military budget early Thursday. She said that China's military posture remains strictly defensive and that it has never used "gunboats" to advance its trade interests.
State Department spokeswoman Marie Harf told reporters Wednesday that the U.S. was monitoring China's military developments. She called for China to be more transparent and use its capabilities "in a manner that's conducive to maintenance of peace and stability in the Asia-Pacific region."
Even more dramatically, India, the world's biggest arms importer in recent years, increased its spending this year by 11 percent to $40 billion, with big increases for its navy and air force. New Delhi has expressed concern not only about the disputed land border, but also about the Chinese navy's growing presence in the Indian Ocean.
China's official military spending is still less than a third of the U.S. defense budget, a proposed $534 billion this year along with $51 billion for the conflicts in Afghanistan, Iraq and Syria. But it comes against a background of anticipated flat or falling American spending on its armed forces in coming years.
The Pentagon and global arms bodies estimate China's actual military spending may be anywhere from 40 to 50 percent more because the official budget doesn't include the costs of high-tech weapons imports, research and development, and other programs.
China is seeking to improve conditions for the military amid rising labor costs and competition with the private sector for top graduates in science and technology.
The need for ever-more sophisticated weaponry is also increasing the costs, with the addition of an aircraft carrier combat wing, the roll-out of two prototype stealth fighters and cruise missiles that fly faster than the speed of sound.
The PLA's traditional mandate had been to guard China's borders and prepare for contingencies involving Taiwan, the self-governing island that Beijing has pledged to take control of, by force if necessary.
However, newer missions, including U.N. peacekeeping operations, are taking China's military much further afield. China is also poised to pass an anti-terrorism law that could authorise the sending of military forces overseas to take part in anti-terror missions if granted permission by the host nation.
China's forces, under the control of the Communist Party, are seen as being hampered by political interference, and top commanders have lately come under scrutiny as part of a nationwide crackdown on corruption.
Already, President Xi Jinping has overseen the arrests of two top generals, including the military's retired No. 2 officer, Xu Caihou. This week, officials announced that 14 other top officers are under investigation or have been convicted of crimes such as selling ranks, embezzling funds or taking kickbacks on housing contracts.
Environment
The Price of Damming Tibet's Rivers
March 30, 2015
China has more than 26,000 large dams, more than the rest of the world combined. They feed its insatiable demand for energy and supply water for mining, manufacturing and agriculture. In 2011, when China was already generating more than a fifth of the total hydropower in the world, the leadership announced that it would aim to double the country's hydropower capacity within a decade, so as to reduce its heavy dependency on coal-fired power plants. Since the waterways of mainland China are already packed with dams, this new hydropower output could come from only one place: the rivers of Tibet.
Rivers gushing through deep canyons at the edges of the Tibetan plateau hold the highest hydropower potential in the world. The headwaters of seven major rivers are in Tibet: They flow into the world's largest deltas and spread in an arc across Asia. Two of the continent's wildest rivers have their sources in Tibet: the Salween and the Brahmaputra. Though they are under threat from retreating glaciers, a more immediate concern is Chinese engineering plans. A cascade of five large dams is planned for both the Salween, which now flows freely, and the Brahmaputra, where one dam is already operational. The damming does not benefit those who live in Tibet. The energy generated is transferred to power-hungry industrial cities farther east. Tibetans are forcibly deprived of their land; protests against hydropower projects are prohibited or violently dispersed.
Even more alarming are projects to divert the waters of Tibet's rivers for use in mines, factories and other industries. At the eastern edge of Tibet, a planned mega-diversion from south to north would move water from the Yangtze to the Yellow, China's two greatest rivers. Other plans call for diversion of water from the Brahmaputra, Salween and Mekong — all rivers that cross national boundaries. Including China itself, up to two billion people downstream from Tibet depend on these rivers. Damming and diverting them will have a severe impact on their lives and environment, especially when you consider that rice and wheat require water-intensive cultivation. Dams block silt, and they block fish migration. The Yangtze is China's biggest freshwater fishery, but since the Three Gorges Dam that spans it was completed in 2012, the downstream population of carp has fallen by 90 percent, according to Guo Qiaoyu of the Nature Conservancy in Beijing. Vietnam, Cambodia and Bangladesh heavily depend on rivers sourced in Tibet. More than 60 percent of Cambodia's annual fish catch derives from Tonle Sap, a lake that is replenished by the annual flooding of the Mekong. Over the last decade, as new Chinese dams have come online on the Mekong, the fish catch has plummeted. The waters rise and fall at the whim of Chinese engineers.
Then there are the direct human costs of damming and diverting: Whole communities must be relocated from areas flooded by a reservoir. They are often shifted to degraded land, where they live in poverty or have to relocate once again. In Tibet, since the 1990s, at least a million nomads and farmers — a sixth of the population — have been relocated from grasslands to make way for mining ventures and hydropower projects. These "ecological refugees" are shunted into ghettos. Moreover, China claims complete sovereignty over Tibet's rivers, oblivious to protest from Tibetans and from the people downstream.
The United Nations has done too little, too late. In 2014, the Watercourses Convention came into effect, spelling out guidelines for transboundary water sharing, but it is non binding. More to the point, China is not a signatory — and neither are most nations of South Asia. This will end badly for the nations downstream from Tibet, which are competing for scarce water. Damming and water diversion could also end badly for China, by destroying the sources of the Yangtze and Yellow Rivers. The solution to these complex problems is simple: Since these enormous projects are state-run and state-financed, China's leaders can cancel them at will. Though campaigns by Chinese environmentalists have stopped some dam projects, the pro-dam lobby, backed by Chinese consortiums, is powerful. There are alternatives to disrupting the rivers: China has made great investments in solar and wind power, but has not significantly deployed them in Tibet. China's leaders need to consider the costs of forging ahead with these projects. The health of these rivers is of vital concern to all of Asia.
Mount Everest could look very different by the end of this century
March 27
Most of Mount Everest's glaciers will markedly shrink over the course of this century, as climate The study, published Wednesday in the journal Cryosphere, found that the thousands of glaciers in the Hindu Kush-Himalayan region — where Everest is located — could shrink by 70 to 99 percent by the end of this century. The researchers used a model that took into account eight future temperature and precipitation scenarios as well as historical data on temperature, precipitation, and glacial melt. Since the scenarios varied in terms of warming, the researchers found that total scale of loss will depend on how much emissions rise and how much those emissions affect the climate in the Himalayan region.
"The signal of future glacier change in the region is clear: continued and possibly accelerated mass loss from glaciers is likely given the projected increase in temperatures," Joseph Shea, lead author of the study and a glacier hydrologist at the International Center for Integrated Mountain Development, said in a statement.
That glacier melt could have major impacts for the people who live in the region and depend heavily on meltwater from the glaciers. More than one billion people in the region depend on water from the glaciers, the Guardian reports, and as the glaciers continue to retreat, the meltwater will become less reliable.
"Changes in glacier area and volume are expected to have large impacts on the availability of water during the dry seasons, which will impact agriculture, hydropower generation, and local water resources availability," the study reads.
In addition to disrupting water sources, the retreat of glaciers could also create lakes dammed by glacial debris — which, if that dam breaks, could pose a huge risk to communities living downstream to the lakes. Mount Everest also has a unique problem when it comes to climate change: the human poop that's built up from years of mountaineers trekking up the mountain could spread as Everest's glaciers melt.
The researchers stress that this study should be seen as one of the first to quantify how glaciers in the Himalayan region will react to climate change, and that since "considerable uncertainties" remain, more research on the subject is needed. Still, that doesn't mean the study's findings shouldn't be taken seriously.
"Glaciers in the region appear to be highly sensitive to changes in temperature, and projected increases in precipitation are insufficient to offset the increased glacier melt," the researchers write. "While we have identified numerous sources of uncertainty in the model, the signal of future glacier change in the region is clear and compelling."
Scientists have warned about climate change's risks to Mount Everest and the rest of the Himalayan region before. In 2014, a Chinese scientist said that Everest's glaciers had melted 10 percent in the last 40 years, and that climate change was likely to blame. A 2013 study done by the same scientist — Kang Shichang, glaciologist at Chinese Academy of Sciences' Institute of Tibetan Plateau Research — found that the tops of Tibetan glaciers were shrinking, or "virtually being decapitated," in Schichang's words.
Other studies have also warned of climate change's impact on glaciers around the world. Last year, a Parks Canada official said that Alberta's Athabasca glacier — the most-visited glacier in North America — is melting at an "astonishing" rate, and could disappear within a generation. And this year, a study found that Western Canada could use 70 percent of its glaciers by the end of the century.
"What [glaciers] are telling us is that the climate is changing. The glaciers don't respond to weather, so they don't get confused about whether it was a cold winter or a hot summer," Gary Clarke, professor emeritus at University of British Columbia, told ThinkProgress in April. "When the glaciers are wasting away, we know that the climate isn't helpful to them."
China must do more in environmental governance: experts
March 19, 2015
Some foreign experts have said that while China has made tremendous efforts in environmental governance and sustainable development, it still faces many environmental challenges and has a long and bumpy road to travel. The scale of China's economy is one of the biggest challenges China has to deal with in environmental protection nowadays, said Isabel Hilton, director of China Dialogue. "This is a very big country and it is a big problem," Hilton said, adding that China has to handle stresses on the environment both from its current economic activities, and from damage inflicted by decades of intensive growth, especially the pollution in the air, water and soil. "I think in terms of governance we have seen a lot of progress in legislation and regulation. We have seen a lot of progress in things like environmental courts, we have seen a lot of progress in realistic fines," Hilton said.
Hilton also suggested China take advantage of its enormous manufacturing capacity to fast forward the transformation of its energy structure, "which is still 70% dependent on coal." "When China turns its attention to the manufacturing of solar panels or wind turbines, the global price drops because China is very good at this," she said, adding that China and the world would both benefit from the country's upgrading of energy structure. Hideaki Koyanagi, director of the Sino-Japan Cooperation Project Office at the Institute for Global Environmental Strategies, said that the accumulating burden of past pollution remains one of the major threats against China's environmental protection. German ecologist Hans-Joachim Mader said that compared with the country's economic growth, China's environmental governance is moving forward at a slower pace. He suggested that China allow natural restoration to keep pace with economic growth.
Border Issue
Border talks with China to resume today
March 22, 2015
Special Representatives (SRs) of India and China will sit for the 18th round of talks on the border dispute, with a view to finalising the framework for resolution, as well as prepare for Prime Minister Narendra Modi's visit to China in May. Chinese State Councillor Yang Jiechi, who is in Delhi ahead of his meeting with National Security Adviser Ajit Doval, will meet Mr. Modi on Tuesday. This is the first time that the Modi government will engage with Mr. Yang on the border issue after Mr. Doval was appointed SR last November. "It will be an exercise in clarifying and understanding each other's positions," government sources said. The talks come a year after the last round of SR talks, and six months after Mr. Modi raised "serious concerns" about incidents of transgressions along the India-China border which overshadowed his meeting with Chinese President Xi Jinping in Delhi. "Clarification of the Line of Actual Control would greatly contribute to our efforts to maintain peace and tranquillity and I requested President Xi to resume the stalled process of clarifying the LAC," Mr. Modi had said at the time.
Chinese Ambassador to India Le Yucheng said the talks would be "a new start" with National Security Adviser Ajit Doval, the Special Representative, whom he described as a "good friend." "We are looking forward to continuity of spirit and atmosphere we have from previous talks. Both sides will express our vision on how to find a way out of this dilemma," Mr. Le told the Headlines Today network. The two parts of the border dispute — roughly 2,000 km along Arunachal Pradesh and about 4,000 km along the LAC in Ladakh, especially the Aksai Chin area taken by China in the 1962 war — will form the discussions between Mr. Doval and Chinese Special Representative Yang Jiechi, expected to last the day on Monday.
Commentaries
Tibetan Leader: Chinese Government Can't Choose Next Dalai Lama
March 30, 2015
Lobsang Sangay
Since 1959, when the current Dalai Lama escaped from Tibet, his tireless efforts for freedom for Tibetans and peace in the world has irked and outraged the Chinese Communist Party. Its leaders have called the 14th Dalai Lama a "wolf in sheep's clothing," "a devil with a human face," and a "devil with horns." They ban the Dalai Lama's portrait and severely punish anyone in Tibet found carrying or displaying his image.
How incredible, then, that China now claims the right to locate the next reincarnation of the spiritual leader whom they call "the devil." How incredible, too, that the Communist leaders whose ideology regards religion as the opium of the people, and whose founding figure, Mao Zedong, who famously told His Holiness the Dalai Lama in Beijing that "religion is poison," now orders the Dalai Lama to reincarnate on the Chinese government's terms.
If the Chinese leadership believes in rebirth and religion so much, instead of worrying about the reincarnation of a "devil," they should — as His Holiness himself has remarked — start with finding the reincarnation of revolutionary leaders such as Chairman Mao and Deng Xiaoping.
In July of this year, the Dalai Lama turns 80. For decades, he has addressed the question of his reincarnation. He said that the next Dalai Lama could come in the form of reincarnation, selection, or emanation. He also said that if the present situation regarding Tibet remains the same, he will be born outside Tibet, away from the control of the Chinese authorities. He warned that any candidate chosen for political ends by anyone, including China, should not be recognised or accepted.
The Chinese government's claim to sole authority over the choice and location of the next Dalai Lama is a mockery of human intelligence. Yet Zhu Weiquin, head of the ethnic and religious affairs committee of the Chinese People's Political Consultative Conference, asserted that the "decision-making power over the reincarnation of the Dalai Lama, and over the end or survival of this lineage, resides in the central government of China." Imagine Fidel Castro picking the pope!
Historically, the Chinese Communist Party's closest engagement with the religion of Tibetan Buddhism started in the 1950s when the national army destroyed 80% of the then-existent Tibetan monasteries and disrobed 98% of its monks and nuns — tragic events carefully documented in the 70,000 Character Petition to Chairman Mao written by the late Panchen Lama in 1962. Beginning with the monumental carnage of the so-called Great Leap Forward and Cultural Revolution, extending into "patriotic re-education" in the monasteries and strike-hard campaigns that denounced the Dalai Lama and all expressions of religious freedom, and continuing to today's restrictive policies in Tibet, Beijing's incessantly flawed policies and ruthless campaigns to repress Tibet's Buddhist culture and civilization have been the hallmark of the party's rule.
In Tibetan Buddhism, reincarnation is a deeply revered and sacred spiritual practice spanning nine centuries. Behind the idea of reincarnation is the faithful belief in rebirth, and its purpose to continue the mission and wisdom of the previous incarnation in the present body. It is the extraordinary bond between the spiritual teacher and the faithful that has historically sustained the Dalai Lamas as the long-serving sovereigns of Tibet, functioning as both temporal and spiritual leaders for 369 years. Only as recently as 2011 did the current Dalai Lama, adapting to the concept of democracy, voluntarily transfer his political powers to an elected leader of the Tibetan people.
Despite more than 50 years of state-sponsored rampages and destruction, the Tibetan people have not lost hope. The source of that hope is the Dalai Lama and the power of spirituality. As long as the Tibetan people continue to suffer in their homeland, the Dalai Lama will not become a political stooge of the state by reincarnating in an occupied Tibet.
The chilling reality of China's cyberwar on free speech
March 24, 2015
The Chinese government has declared the Internet to be the new battlefield in its fight against "pornography and unlawful information." The chilling reality is that the main casualty of this cyberwar is freedom of expression. China's Internet model is one of extreme control. The authorities use an army of censors to stifle dissent. In January, the Orwellian "State Internet Information Office" announced it had shut down scores of websites and more than 100 social media accounts for "distorting history of the Communist Party and the nation." Under the guise of a campaign to ensure social stability, the Chinese authorities suppress online debate on a range of legitimate issues.
Dozens of phrases are censored on social media including any mention of the 1989 Tiananmen Square crackdown or the recent Hong Kong pro-democracy protests. Thousands of websites, including Wikipedia, Facebook, Instagram and Twitter remain blocked.
Read the full article here: http://fnvaworld.org/?p=13963
March 21, 2015
Even China accepts that only the Dalai Lama can legitimise its rule in Tibet.
When the 13th Dalai Lama died in 1933, the body of Tibet's spiritual leader was placed in state on a throne at the Norbulingka, his summer palace in the capital, Lhasa. It faced south. Twice, however, overnight, its head had turned to the east. Also pointing east, a star-shaped fungus mysteriously sprouted on a pillar in the room. In the trances to which they were prone, state oracles tossed khatak, ceremonial scarves, to the east. Taking the hints, parties searching for the reincarnation of the dead lama headed in that direction, looking, in accordance with tradition, for an infant born at around the time of his death. They eventually identified the young Tenzin Gyatso as the 14th Dalai Lama.
That incarnation will turn 80 this year and, though in good health, he is given to musing about his own death and reincarnation. It would be "logical", he has suggested, for the reincarnation to be like him, in exile from Tibet, which he has not been able to visit since fleeing from the Chinese suppression of an uprising in 1959. Perhaps the 15th Dalai Lama might be female. Or perhaps the institution of the Dalai Lama, being man-made, might end, if the Tibetan people feel they do not need it.
The theology of Tibetan Buddhism seems an improbable area of expertise for the Chinese Communist Party. But the Dalai Lama's latest suggestion that he may be the last in the line has provoked fury from Chinese spokesmen and the official press. Padma Choling, the (ethnic-Tibetan) governor of the "Special Autonomous Region" of Tibet, accused the Dalai Lama of "profaning religion and Tibetan Buddhism". A party paper, the splenetic Global Times, far from finding it presumptuous to criticise the spiritual leader of Tibetan Buddhism, who is also its leading theologian, accused him of "spouting nonsense".
Read the full article here: http://fnvaworld.org/?p=13969
March 16, 2015
The Two Meetings (or Two Sessions) have always been an occasion to see new faces and hear people who are not always in the news. This is particularly the case for the 'ethnic faces'. The Tibetan official objected to the Dalai Lama's announcement that 'his traditional religious role should cease with his death'. Padma Choling affirmed that it was against "the Tibetan Buddhism tradition as the soul of a senior lama is reincarnated in the body of a child on his death. … [as] the move is expected to upset the reincarnation system that has been honoured for hundreds of years in Tibet and destabilise the Buddhist region." The Central Committee member added that the process: "should follow strict historical conventions and required religious rituals of the Tibetan Buddhism …and be approved by the central government."
For Beijing, it is for the Communist Party of China to 'decide' who will be the next Dalai Lama. An atheist Party, which has unexpectedly become expert in 'religious matters', believes that the Dalai Lama's claims to stop his lineage (more correctly, the institution of the Dalai Lamas) "is blasphemy against the Tibetan Buddhism." Beijing has a few other 'ethnic faces', who are regularly seen (often in traditional costume) during the NPC/CPPCC deliberations. This is also true for the People's Liberation Army (PLA), though no 'ethnic' officer has ever made to it to the powerful Central Military Commission or the Central Committee However, Beijing realises that these 'faces' (Tibetans, Uyghurs, Mongols, Huis, etc.) are very useful to support China's pretense of 'regional autonomy'. In March 2014, when 33 people were killed and 130 wounded when a group of attackers dressed in black went on the rampage in Kunming railway station, we heard the voice of Saimati Muhammat.
Read the full article here: http://fnvaworld.org/?p=13956
A dissident in China: The power of one
March 14, 2015
The departure from Beijing on May 19th 2012 of Chen Guangcheng, his wife and two children on a plane bound for America marked the end of the most dramatic story of a dissident's escape from persecution in Communist-ruled China. Mr Chen's flight from imprisonment in his own home, where he had been kept under watch by hundreds of guards; his arrival at the American embassy in Beijing with Chinese agents in hot pursuit; and the high-level wrangling between America and China that eventually allowed him to head into exile, had the trappings of a Hollywood thriller. And to cap it all, he is blind.
"The Barefoot Lawyer", Mr Chen's memoir of his struggle with the thuggery of the state in the poor village in eastern China where he grew up, and of his eventual flight, is a powerful reminder of how some aspects of the country remain unchanged despite its rapidly growing prosperity. The tyranny he describes in his part of the countryside is perhaps at the extreme end of a range of rural, political climates. But many farmers across China will recognise the untrammelled power of local officialdom that Mr Chen endured, even if their own dealings with it may not always be so grim.
Read the full article here: http://fnvaworld.org/?p=13920
The Loose Reins Model: Why the Chinese Leadership Must Rethink Its Minorities Policy
March 19, 2015
Sixty-four years ago, the People's Republic of China invaded Eastern Tibet and wrested an agreement for the peaceful liberation of Tibet from the governor of the easternmost province. The year was 1950, five years after the end of World War II. The People's Republic of China was barely a year old. Much has been written about Mao Zedong as a utopian thinker, a giant of twentieth-century history who despised bourgeois thinking and bourgeois forms of government, who believed that socialism and communism were superior forms. Mao had come to power as a revolutionary leader and a theorist of people's war, but he was a cold-blooded practitioner of geopolitics.
In public, Mao enunciated the ideological line of communism, using anti-imperialist rhetoric. In private—as shown by newly opened Cold War archives of the PRC—he was a realist. He had the emperor's syndrome: this was an imperial taste, a predilection that drew more on national tradition and history than on communist ideology. He indulged in the colonial strategy of creating buffer zones at the perimeters of territory. It was a bit hypocritical. While denouncing the colonialism of the West, a justly deserved criticism, he practiced colonialism to establish his new People's Republic. It was a contradiction much commented on by the Politburo member, Hu Yaobang, when Hu visited Tibet in the 1980s. "This looks like colonialism," is what Hu said. And it was. And it is.
Read the full article here: http://fnvaworld.org/?p=13908
China's Double-Digit Defense Growth
March 19, 2015
What It Means for a Peaceful Rise.
China has done it again. In early March, it released its defense budget for 2015, and as in almost every year for over almost two decades, it increased its military expenditure by double-digit percentages. This year, the Chinese defense budget will rise by 10.1 percent, to roughly $145 billion. And it seems likely that the trend will continue, much to the concern of Washington and regional capitals. Already, China is the second-biggest military spender in the world, having surpassed the United Kingdom in 2008. China's new budget for the People's Liberation Army (PLA) is more than three times those of other big spenders such as France, Japan, and the United Kingdom, and nearly four times that of its rising Asian rival, India. It is also the only country besides the United States to have a triple-digit defense budget (in billions of U.S. dollars).
Read the full article here: http://fnvaworld.org/?p=13939
Why China Can't Fix Its Environment
March 16, 2015
In early March, a debate over China's action (or inaction) on the environment gripped both Chinese and international media. While air pollution and other environmental degradation have long been widely acknowledged, it was not until Chai Jing, one of China's best known journalists, unveiled her self-financed 104-minute documentary Under The Dome, which features China's catastrophic air pollution, that the government's position on the environment became a nationwide, policy-oriented debate among intellectuals, policymakers, bureaucrats, and the Chinese public. Chai Jing managed to at least influence policy by releasing the documentary just before China's "two sessions" – the Chinese People's Political Consultative Conference (CPPCC), which is the country's top national advisory body, and the meeting of the National People's Congress (NPC), the top legislative body. She attributed the air pollution to the country's outdated energy structure, state-owned companies' monopolistic controls over natural resources, and lack of individual effort and oversight.
However, the heated debate was cut short when Chinese authorities ordered the film to be removed from Chinese websites. This decision further reinforces the popular perception that because of economic rents and vested interests, ruling parties in undemocratic countries like China will block any changes to existing systems, even though the changes are good for the public. Yet that argument ignores the fact that the Chinese government has become increasingly active – both domestically and internationally – on environmental protection. So why can't it come up with a definitive solution to this widespread social problem?
Read the full article here: http://fnvaworld.org/?p=13880