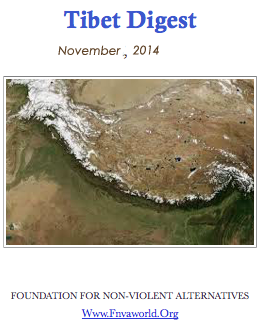 China's Minority Policies
Not a Degree of Freedom for Tibetans Within China: US Diplomat
November 26, 2014
Tibetans within China do not enjoy freedom within the Communist nation, a top US diplomat has said after meeting Tibetan refugees in India and Nepal. The US Special Coordinator for Tibetan Issues, Sarah Sewall, who is also Under Secretary of State for Civilian Security, Democracy, and Human Rights talked of her assessment of human rights conditions in Tibet during an interaction with reporters here on Monday. There are 30 Tibetan Associations across US and Canada representing near about 15,000-17,000 Tibetans. During her trip to the two countries, she met Tibetan refugees in both the countries and gained first-hand information about the situation in Tibet from them. She also met the Dalai Lama in Dharamshala.
"I spent much of my time talking to refugees and talking to the organisations that welcome and work with refugees about the situation in China, because they tend to have more recent stories," Sewall said. "I met with several people who had left China recently, and I spoke to many people who have family in China," she added. "Their assessment of the situation tracks very much with the State Department's assessment of the situation, as recorded in our human rights reporting – that there is not a degree of freedom for Tibetans within China that we think is consistent with international human rights standards," the top American diplomat said. Sewall said she also had a wide range of discussions with the Dalai Lama. "We spoke about non-violent approaches to conflict resolution, to include the questions of preserving Tibetan culture, religion, and education in every place that Tibetans currently reside," she said.
"That's a very wide-ranging discussion that, of course, also includes concerns about the refugee community with whom he works closely," she added. China brands the Dalai Lama, who fled into exile in India in 1959 after an abortive uprising against Chinese rule of Tibet, a separatist. The Dalai Lama, however, says he is only seeking genuine autonomy for his Himalayan homeland. Sewall said the US Government has spent an enormous amount of its resources and its energy seeking to support Tibetan in particular refugees, but also Bhutanese refugees in the two countries. She announced a new USD 3.2 million USAID grant to help modernise the health system for Tibetan refugees during her visit to Nepal.
Cultural recognition is a must in ethnic interaction: expert
November 16, 2014
Hu Yan, professor of Research Institute of Ethnic and Religious Theories of the Party School and senior researcher on the Tibetan history expressed his views on China's ethnic work in a recent interview by the China Tibet Online after the Sixth Conference on China's Ethnic Work of the CPC Central Committee held on Sept. 28.  Hu said, contact, interaction and integration between different ethnic groups does not only refer to the material and personnel exchanges and intermarriage, but also the exchanges of ideas and harmonious relations between different ethnic groups as well as the recognition toward the cultural identity of other ethnic groups.
In a statement issued after the ethnic conference, the Chinese leader pointed out "a favorable social environment should be created for the contact, interaction and integration between China's ethnic groups. Differences between ethnic groups should be respected and variety should be retained. All ethnic groups in the family of the Chinese nation should help each other as brothers and sisters, love their motherland and share the concept of the Chinese history and ethnic affairs. This is the fourth time that the concept of "contact, integration and integration" was put forward following the Fifth Conference on the Work of Tibet held in 2010 and the First and Second Conference on the Work of Xinjiang held in 2010 and 2014 respectively. "China is a multi-ethnic country since ancient times. Boasting a history of 5,000 years, people of different ethnic groups have migrated interacted and influenced each other and developed together," Hu Yan said. "Contacts and interaction is the law of the advancement of history, by which different countries and nations can understand each other better and develop faster, and the society will progress more rapidly."
Yu Zhengsheng, chairman of the Chinese People's Political Consultative Conference said at the conference in commemoration of the 20th anniversary of China's policy of aiding Tibet in August this year said that the "pairing system" is aimed to promote contacts, integration and integration between China's ethnic Han and minorities. As a member of the second batch of the aid-Tibet cadres, Hu Yan said, "The 20 years of efforts in aiding Tibet has brought about dramatic changes to Tibet with the rich resources and advanced technology offered from other parts of China. And the more important change is that the project has enabled the ethnic Han and Tibetans to understand each other better, respect each other's culture and enhance affinity between each other. The cadres of various ethnic groups in Tibet have felt the warmth of the Chinese family while the aid-Tibet cadres have not only contributed to the ethnic unity but also increased their sense of community of the Chinese nation.
In terms of the recognition of the cultural identity mentioned in the statement of the conference on China's ethnic work, Hu Yan said that integration is not merely economic exchanges, nor intermarriage between different ethnic groups, but the harmonious relationship between them as well as the recognition and sense of pride toward the culture of the whole Chinese nation. And it is the ideological foundation of ethnic unity and harmony as well as the spirit for the realization of the Chinese nation's great rejuvenation. Hu also stressed that cultural integration does not mean to destruct an ethnic group, nor to force it to succumb to another culture. Instead, it encourages each ethnic group to respect anther ones, appreciate their strong points, accommodate their weak points, learn from and help others in order to enhance the affinity between different ethnic groups and the sense of the Chinese nation. "This is true ethnic unity."
Infrastructure Development
Tibet-Sichuan grid goes live
November 20, 2014
Senior Chinese leader Yu Zhengsheng on Thursday announced the opening of a power grid connecting Tibet and Sichuan. The 1.08 billion U.S. dollar project links Qamdo in Tibet Autonomous Region and the Tibetan Autonomous Prefecture of Garze in Sichuan Province, aiming to put an end to the electricity shortages of the 500,000 residents of the Qamdo region and ease power strain in Tibet as a whole. The complex interconnection circuits stretch 1,521 kilometers across the plateau at an average altitude of 3,850 meters and its construction involved more than 20,000 staff over eight months, according to the State Grid Corporation of China. Yu, a member of the Standing Committee of the Political Bureau of the Communist Party of China Central Committee, inspected the power-dispatching center under the State Grid before the announcement.
An official document from the Tibet Autonomous Region stated that the Gyirong Port located in Shigatse Prefecture will expand next month, China Tibet News reported. A top concern of the locals and merchants will be answered by that time period. Preparation work includes publicity of customs policies among the villagers, and the issuing of
favorable measures for people involved in the border trade. Presently, strong enthusiasm for participation in border trade is being shown. The Gyirong Port was opened in 1962. It is one of the largest land trade ports between Tibet and Nepal in Tibetan history, and it was listed as a first class land trade port by the central government of China in 1978. Since 2007, a total of 20 infrastructure projects have been completed with an investment of 52.45 million yuan, as China decided to develop the port after a recession period in the beginning years of the 1980s.
Tibet-Sichuan grid goes live
November 20, 2014
Senior Chinese leader Yu Zhengsheng on Thursday announced the opening of a power grid connecting Tibet and Sichuan. The 1.08 billion U.S. dollar project links Qamdo in Tibet Autonomous Region and the Tibetan Autonomous Prefecture of Garze in Sichuan Province, aiming to put an end to the electricity shortages of the 500,000 residents of the Qamdo region and ease power strain in Tibet as a whole. The complex interconnection circuits stretch 1,521 kilometers across the plateau at an average altitude of 3,850 meters and its construction involved more than 20,000 staff over eight months, according to the State Grid Corporation of China. Yu, a member of the Standing Committee of the Political Bureau of the Communist Party of China Central Committee, inspected the power-dispatching center under the State Grid before the announcement.
Environment
Plans revealed to boost Tibet's water industry
November 28, 2014
Tibet is aiming to attract new investment into its natural water industry to boost sales nationally and overseas and make the sector one of its economic growth engines. Among a raft of measures being introduced by the local government, natural drinking water manufacturers will now be exempt from all corporate tax for five years, starting from the first year a company starts making profits. Companies registered in the autonomous region currently pay 15 percent tax, as part of China's West Development Strategy. The authorities are hoping to raise Tibetan natural drinking water output to more than 5 million metric tons over the next three to five years, which could be worth 40 billion yuan ($6.5 billion). Estimates suggest that could create 10,000 new jobs and increase the region's share of China's natural drinking water to more than 15 percent.
Miao Wei, head of the Ministry of Industry and Information Technology, said: "The ministry will strongly support the growth of the natural drinking water industry in Tibet, allowing the sector to take full advantage of its niche status to lead regional economic growth and help promote the upgrade of China's food industry. "The natural drinking water industry in Tibet has huge potential, based on the strength of public demand for safety and green consumption." Tibet has 27,000 square kilometers of glaciers, accounting for 47.6 percent of the nation's total. Rivers originating on the plateau give it the largest water reserves in China. Per capita water resource in Tibet is 60 times the national average.
Among other measures aimed at boosting the local industry, the government has proposed preferential financing policies for companies registered and founded in the region, or enterprises that are registered elsewhere but pay income tax to Tibet. Newly established enterprises will also be allowed bank loans at an interest rate that is 2 percentage points lower than the national average, and natural drinking water companies will be offered tax refunds on up to $30 million of their imported goods.
Losang Jamcan, chairman of the autonomous region, said: "Tibet's natural drinking water companies are highly competitive. They produce high-quality, unpolluted, low-alkaline water that is among the world's best. "Many of its upmarket bottled-water companies have the potential to make further inroads into domestic and foreign markets."
India fears floods and landslides from Tibet dam
November 26, 2014
New Delhi has expressed its concern over the completion of China's Zangmu Dam project, a hydroelectric power station on the Brahmaputra river in Tibet, because it allows Beijing to control the river's flow into Arunachal Pradesh and other parts of the northeastern India, reports the Times of India.In addition to India, Bangladesh also fears that the dam will cause flash floods and landslides threatening millions of people downstream since the Brahmaputra is one of the strongest Himalayan rivers. The power plant is restricted to dams made off the main body of water that generate electricity. From the perspective of the Chinese government, it poses very little danger. China put the largest of the hydropower stations into operation on Nov. 23. The mechanism will be good for "harnessing the rich water resources of the river to empower the development of the electricity-strapped region." A total of US$1.5 billion was spent to complete the six sections of the dam. The first section began its service over 3,300 meters above sea level and construction of other five sections is estimated to be completed next year.
The Zangmu Dam is expected to have a power capacity of 510,000kW after its completion in four years, as well as an estimated 2.5 billion kilowatt-hours of production annually. India said that it will launch extensive studies on the impact of dam construction and behavioral changes on the Brahmaputra. Whether the results of the studies will have any influence on the construction deadlines for the four other dams is questionable. Hua Chunying, spokesperson for the Chinese foreign ministry, said China always takes a responsible attitude toward the exploitation of cross-border rivers in the border region. The construction of the hydropower stations will not affect flood control or river ecology on the lower reaches, she added. In a joint statement released during Chinese president Xi Jinping's visit to India in September, the Indian side also thanked China for its assistance in offering hydrological data and in dealing with emergencies, said the spokeswoman. "China and India have maintained sound communication and cooperation on transborder river issues," Hua said. "China has done a great deal in providing hydrological data for India in accordance with a humanitarian spirit and in handling emergencies."
China media: Tibetan mega dam begins operation
November 24, 2014
China has begun generating electricity from Tibet's biggest ever hydropower project, state-run media reported, the latest dam development on Himalayan rivers which has stoked fears in neighbouring India. The first generating This picture taken on November 23, 2014 shows the Zangmu Hydropower Station in Gyaca county in Lhoka, or Shannan prefecture, southwest China's Tibet region. – AFP
unit of the 9.6 billion yuan ($1.6 billion) Zangmu Hydropower Station, which stands more than 3,300 metres above sea level, went into operation on Sunday, China's official Xinhua news agency said. The dam on the Yarlung Zangbo River –known as the Brahmaputra in India, where it is a major waterway – will be 116 metres (381 feet) high when completed next year, according to reports. It will have a total generating capacity of 510,000 kilowatts, Xinhua said, making it the largest dam ever built on the Tibetan plateau." The hydropower station will solve Tibet's power shortage, especially in the winter," Xinhua quoted an official from the Tibet Electric Power Co. as saying. India has previously expressed concern about damming the Brahmaputra, one of the largest Himalayan rivers and a lifeline to some of India's remote, farm-dependent northeastern states.
India's foreign ministry last year urged China "to ensure that the interests of downstream states are not harmed by any activities in upstream areas" of the river, after state media reports that China planned several more dams there. But a previous Indian foreign minister, S.M. Krishna, has said New Delhi had "ascertained from our own sources that this is a run of the river hydro-electric project which does not store water and will not adversely impact downstream areas in India". Chinese media showed photographs of the dam, a large concrete structure which did not appear to have flooded an area significantly wider than the river's original span.
Protests and Detentions
Tibetan Singer Jailed Four Years For Belting Out Patriotic Songs
November 29, 2014
A popular Tibetan singer has been ordered jailed for four years for belting out songs calling on Tibetans to speak their own language and to forge unity among themselves as Chinese authorities pursue a crackdown on public assertions of Tibetan national and cultural identity. Kalsang Yarphel, 39, was sentenced on Thursday by a court in Chengdu, the capital of Sichuan province, where he had been held since being detained in June last year in Tibet's capital Lhasa, sources said. "
Pema Rinzin, the producer of his songs, and two other Tibetan associates were also sentenced by the same court but the names of the associates and the jail terms of the three were not immediately known, the Tibet Times reported. China has jailed scores of Tibetan writers, artists, singers, and educators for asserting Tibetan national and cultural identity and language rights since widespread protests swept Tibetan areas in 2008.
Snow Flower concerts
Yarphel, a father of three and who is from Machu (in Chinese, Maqu) county in Gansu province, was taken into custody in Lhasa on July 14, 2013 after he helped organize Lhasa-area concerts called Khawai Metok, or Snow Flower, in which he sang a song titled "Fellow Tibetans," former political prisoner Lhamo Kyab told RFA then. The song, which calls on Tibetans to learn and speak Tibetan and to "build courage" to think about Tibet's "future path," was deemed subversive by Chinese authorities, who opened an investigation and questioned Yarphel several times before finally detaining him, he said. Popular since childhood for his beautiful singing voice, Yarphel had built up a strong fan base among Tibetans over the years and had distributed many recordings, said Kyab, adding that the singer had performed at concerts arranged both by the government and by private organizations. The Dharamsala, India-based Tibetan Centre for Human Rights and Democracy (TCHRD) had said that Chinese authorities had banned the sale of DVD recordings of the Khawai Metok concerts at which Yarphel performed. But copies had already been widely distributed in Tibetan-populated areas of China's Qinghai, Gansu, Sichuan, and Yunnan provinces, TCHRD said.
Petition
Alarmed by a surge in the jailings of Tibetan singers who promote Tibetan culture, the London-based advocacy group Free Tibet launched a petition about a year ago urging China to free all Tibetan performers in custody. The petition, addressed to China's justice minister, won support from popular singers and musicians in the West. Among Tibetan singers in custody are Lolo, Pema Tinley, Chakdor, Shawo Tashi, Ugyen Tenzin, Achok Phulshung, Choksal, Trinley Tsekar and Gonpo Tenzin. All were detained since 2012, with some already tried and sentenced to jail terms as long as six years. One song by jailed singer Lolo, "Raise the Tibetan flag, Children of the Snowland," was seen as a direct challenge to Chinese rule. Some 133 Tibetans have self-immolated since 2009 in protests opposing Beijing's rule and calling for the return of exiled spiritual leader the Dalai Lama.
Tibetan Nuns Wary of Communist Chinese 'Patriotic Education' Expelled From Temple
November 20, 2014
Several dozen Tibetan nuns were expelled from their temple for refusing to participate in state-mandated "patriotic education." The nunnery, located in the town of Nagqu in Tibet's Biru County, expelled at least 26 nuns for neither registering with a local government body nor attending "patriotic education" classes, Voice of America reported on Nov. 17. According to unnamed sources, the "patriotic education" was instituted on a large scale this September as part of moves by the Chinese regime to get a tighter grip on its western territories. Tibet, a Chinese province since the People's Liberation Army conquered it in the 1950s, has seen severe damage to its traditional culture and religion under communist rule. During the Cultural Revolution (1966-1976), the majority of Tibet's temples and monasteries were destroyed or closed. Today, Tibetan Buddhism is under strict regulation by the Chinese Communist Party (CCP), and the exiled Dalai Lama, spiritual leader of Tibet, is considered by the Chinese authorities to be a "splittist element."
In recent years, the CCP has taken numerous measures to clamp down on the rights of TIbetans. As previously reported by Epoch Times, two popular Tibetan singers from Biru County and several writers were detained last year for expressing "splittism." In March 2008, following mounting political and socio-economic conflicts, protests broke out in Lhasa, Tibet's capital, as well as in the provinces of Qinghai, Gansu, and Sichuan, where Tibetan minority communities can be found. The protests were severely repressed by Chinese police and military forces; the Tibetan government-in-exile reported that about a hundred people were killed. The expelled nuns were sent back to their hometowns. Some went into hiding in the mountains to escape inspection, the Voice of America report said.
Earthquake
Tibetan Aid Groups Move to Help Quake Victims in Dartsedo
November 26, 2014
Aid groups have moved in to provide assistance to thousands affected by a deadly 5.9-magnitude earthquake in a Tibetan populated area in southwestern China's Sichuan province, an official from one of the organizations said. The quake left at least two people dead and injured 54 others, according to reports. "The human toll in this earthquake was not that severe, but the damage to private houses, school buildings and monasteries is extensive and shockingly intense," Tulko Gyatso Rinpoche of the local Compassion Aid Foundation told RFA's Tibetan Service. "Many buildings collapsed and some suffered cracks." He said the foundation sent a truckload of 100 tents, shoes and food to the affected areas. "We will continue helping the victims," he said.
The epicenter of the quake, which struck on Nov. 22 and lasted about eight seconds, was Lhagang town in Dartsedo (in Chinese, Kangding) county in the Kardze (Ganzi) Tibetan Autonomous Prefecture, a Tibetan source said. "The Dzogchen school located in the area suffered major damage," the source said. Dartsedo is the seat of Ganzi prefecture and about 330 miles (531 kilometers) from the Sichuan provincial capital Chengdu. Lhagang town is about 30 kilometers (20 miles) from Dartsedo, which is part of Kham, one of the three historical regions of Tibet and is divided today between western Sichuan and the eastern part of what is now the Tibet Autonomous Region.
Nearly 80,000 people of a local population of about 100,000 were affected by the earthquake, which damaged 25,000 houses and forced 6,200 to evacuate, according to China's official Xinhua News Agency. Chinese state media said the quake struck Dartsedo at 4:55 p.m. and had a magnitude of 6.3 on the Richter scale, according to China's seismological agency, although the U.S. Geological Survey put the magnitude at 5.9.Among the 54 injured, six were in critical condition and another five had sustained serious injuries, according to Xinhua. The remaining 43 had minor injuries, including 19 primary school students who were hurt in a stampede. China's Ministry of Civil Affairs has provided 1,000 tents, 2,000 quilts and 2,000 cotton-padded coats to survivors as well as dispersed 50 million yuan (U.S. $8.14 million) to disaster relief efforts, the Xinhua report said.
Commentaries
Facing environmental crisis, can Buddhist values offer non-religious China a greener path?
November 30, 2014
JUDY WOODRUFF: In a surprise announcement during the president's visit to Beijing a few weeks ago, the U.S. and China reached a major climate deal. Remarkably, the atheist country, which is also the world's number one polluter, has recently embraced Buddhism to help persuade its citizens to care about the environment. Special correspondent Fred de Sam Lazaro that story. A version of his report appeared previously on "Religion & Ethics Newsweekly" and was produced in partnership with the Pulitzer Center on Crisis Reporting and Face to Face Media.
FRED DE SAM LAZARO: Liu Jianqiang, lifelong atheist and investigative environmental journalist, is becoming a Buddhist. His first expose was on illegal dam construction on the upper Yangtze River. Over the last 10 years, it's led to national attention, a job firing and now burnout.
LIU JIANQIANG, Journalist (through interpreter): As an environmentalist, every day what we see is polluted air, polluted rivers, and the slaughter of wild animals. This kind of negative energy attacks us every day. Where do we draw our strength from?
FRED DE SAM LAZARO: He's one of millions of Chinese returning to Buddhist, Taoist, and Confucian temples that have at times in the past been condemned by the government. A little more than four decades ago, during China's Cultural Revolution, many Buddhist temples like this one in central Beijing were destroyed or defaced. Today, these temples are alive with worshipers. By some accounts, one out of every five Chinese call themselves Buddhists.
Some scholars say this search for faith is linked to China's massive environmental problems.
MARTIN PALMER, Alliance of Religions and Conservation: In a world in which capitalism and socialism and consumerism have created a kind of industrial behemoth that is just thundering ahead, that is draining life out of the villages. That is polluting the soil and the water and the air, you have a heartless world.
FRED DE SAM LAZARO: Martin Palmer, shown in a Chinese TV broadcast here, is based in the U.K., but has been working in China nearly 20 years, urging religious groups to respond to this crisis and to encourage conservation. In 2006, he realized this message was also being heard by the Communist Party.
MARTIN PALMER: I was called in for a meeting in 2006 with the minister for the environment and the minister for religion, and they were very frank. They said the single-child policy has created the most selfish generation in China's history, because each child has been brought up as the center of attention for the family. Nothing is too much to give to them. And these two Communist Party officials said we want the religions to help us bring compassion back.
Read the full article here: http://fnvaworld.org/?p=12671
June 2014 Special Report on TIBET
November 25, 2014
While undertaking survey in Tibet, Wang Jian Ping accompanied by Chen Quan Guo and Deng Xiao Gang, carried out investigation at the Potala Palace square civilian police station. Wang Jian Ping emphasised starting a new phase of establishment of the People's Armed Police for the long term peace and stability and peace in Tibet. The leaders of the Tibet Autonomous Region Chen Quanguo, Deng Xiaogang, Zara, Wang Ruilian, Gesang Ciugene, Ben Ba Zahi, Dorji Tsju, Kumiko, Vice Minister of Logistics Department of Armed Police force Shen Jinlun, Police Traffic Controller, Commander Liu Zhanqi, Police Forest Department Commander He Hongcheng, Armed Police Tibet Corps Commander Song Baoshan and the Commissar Tang Xiao accompanied the investigators.
Wang Jian Ping visited Tibet region's People's Armed Police training base, Traffic police detachment of the two battalion four, Tibet forest Armed Police Corps, Police 117 division training troops, Police Ngari detachment to get a detailed understanding of the situation of the building of the teams, to call on officers and men of the armed police team. Wang Jian Ping fully acknowledged the success achieved by the Armed Police Tibet Corps and the Armed Police Force and emphasised the armed police officers and men to understand the serious and complicated situation they face at present, to strengthen the war preparation, to continue doing a good job of building up (of the police); To ensure giving priority to the tasks that need to be dealt with urgently, provide a strong support for Tibet's persistent stability, long term stability and comprehensive stability. At the Potala Palace square, Wang Jian Ping cordially greeted and expressed sympathy to the officers and men on duty, encouraged everybody to stand guard for the party and the people and to be on patrol. Waking into the Potala Palace square civilian police station, Wang Jian Ping understood in detail the organisational structure of the police. Wang Jian Ping addressed the office at the police station and exhorting them to improve the quality of work that has provided a strong pillar for Tibet's developmental breakthrough and long term peace and stability of the government.
During the investigation, Wang Jian Ping heard the Party Committee work report of Tibet Armed Police Corps, acknowledged and approved every work done by the Tibet Armed Police Corps. Wang jian Ping stressed that at present the general situation of the Tibetan society continues to be harmonious and stable, the mechanism effective in the long run for safeguarding the stability has taken the first steps toward its formation. The armed police forces of Tibet need to further implement the spirit of the third plenary session of the 18th Party Congress, put into practice the spirit of the series of the important speeches delivered by Xi Jinping, closely follow the party's goal of strengthening the army in this new situation, work hard to build a modern armed police force that obeys the commands given by the party, and win the battle and satisfactorily complete the mission given by the party and the people thus making a new contribution for the developmental breakthrough and long term peace and stability.
Read the full article here: http://fnvaworld.org/?p=12433
How far is Tibet from APEC?
November 10, 2014
As Beijing is fully engaged in the APEC meetings from Nov. 5 to 11, you may wonder how much it will impact the Tibet Autonomous Region, seemingly so far away from the meetings in China's capital. The answer is that it is not so far away as you may think.
Firstly, APEC established in 1989, is the highest level, most influential regional economic organization in the Asia-Pacific region to advance regional economic integration and promote continued development in the region. Over the past two decades through the joint efforts of all the member countries various benefits have been reaped for the people of the Asia-Pacific region, including freer trade, a lower cost of commodities, more frequent exchanges of personnel and more convenient custom clearance. Tibet, as a part of China, is naturally a beneficiary of these results. Secondly, APEC has brought about better opportunities for development. Aside from the informal state leaders' summit and ministerial meetings, other side events are also held such as the "APEC Investment Fair", and the "Small and Medium-sized Enterprises Technological Exchanges Fair and Exhibition", which have also boosted the economic development of the entire region. Tibet has been taking an active part in these related activities, pursuing opportunities for enhancing the economic growth of the autonomous region. In 2005, Tibet attended the "APEC Investment Fair" held in Busan, Korea which attracted foreign investment with a total trade volume of 200 million U.S. dollars. In June this year, Tibet attended the "8th APEC Small and Medium-sized Enterprises Technological Exchanges Fair and Exhibition" in Yiwu, Zhejiang Province, where distinctive products of 20 enterprises were on display including Tibetan medicine food and drinks and high quality mineral water.
Read the full article here: http://fnvaworld.org/?p=12532