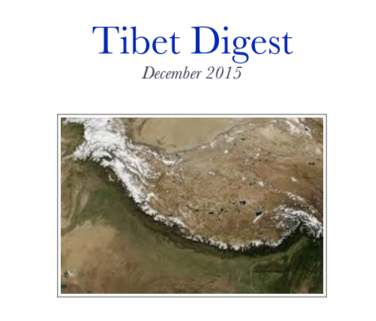 ---
China's Minority
Policies
---
Fast food chain KFC will open its first ever outlet in Lhasa at
downtown mall Shenlishidai Square shopping centre from January
2016.
Lhasa Tourism Development projects an increase in tourist numbers
from 11.79 million in the last five years to a staggering 24 million
just domes/cally.
Lhasa to be only international tourist city
Phayul
December 31, 2015
According to data released at the conference, from 2010 to 2015,
the total revenue from tourism reached 15.493 billion Yuan (2.389
billion U.S. dollars) which is expected to increase to more than 30
billion Yuan (4.626 billion U.S. dollars). In the next "Five-Year Plan"
period from 2016-2020, the city will invest 100 billion Yuan in
promo/ng tourism. High-end brands and commercial complexes are
set to occupy the city landscape.
The concerned authori/es have put forth proposals to join in the
World Tourism Ci/es Federa/on and the Asia-Pacific Tourism
Associa/on and also apply to be an UNESCO intangible cultural
heritage ancient city in the next five years.
Exile Tibetans argue that the development of infrastructure in Tibet
has come at a price, and oben the Tibetans are the ones who get
neglected by the fruits of such development. "All posi/ve bearings
from such an ini/a/ve are reserved for Chinese investors and
workforce; the infrastructure caters to a select credit card yielding
groups, revenues will vanish into Chinese investor's pocket and the
opportuni/es and jobs created by such ini/a/ve go to ethnic
Chinese work force. Yet the dire outcome of these developments
such as increased cost of living, unemployment and other means of
marginalisa/on are dealt mostly by Tibetans," said Tsering, a
Tibetan from Lhasa who arrived into exile in 2001.
In a similar developmental plan by China at the beginning of next
month, Lhasa's neighbouring Tagtse (ch. Dazi), Lhundrub (ch.
Linzhou), and Meldro Gongkar (ch. Mozhugongka) Coun/es,
tradi/onal Tibetan dwellings will be replaced by Chinese styled
houses. The cost of which will be borne by Tibetan homeowners
who are without any say in the decision.
The 2013 project to modernise the Bharkor market area in Lhasa
city aXracted condemna/on from organisa/ons and people around
the globe. Tibetan writer Tsering Woeser called it a 'frighyul
modernisa/on'. "Lhasa is being destroyed by excessive commercial
development. Lhasa doesn't exist for only tourists, there are real
people who live here and it's also a religious place. You can't just
turn it into a Sanlitun village," the Beijing based Tibetan writer told
the South China Morning Post in 2013.
TIBET DIGEST, DECEMBER 2015 7
in next five years: China
China's central bank gives a helping
business.asiaone.com
December 29, 2015
China's central bank is seeking new methods to strengthen financial
support in the Tibet autonomous region, aiming to accelerate
regional economic development and lib local residents out of
poverty in the next five years.
New financial measures, including more aggressive bank lending
with rela/vely low interest rates in Tibet than other regions, are
under discussion, according to officials and financial industry
execu/ves.
The People's Bank of China, the country's central bank, will
encourage commercial banks to issue more loans to enterprises in
Tibet, based on lower financial costs and required reserve ra/o,
according to Pan Gongsheng, deputy governor of the bank.
"Financial ins/tu/ons, including banks, securi/es companies and
insurance companies, will launch more branches in Tibet in the next
five years, and the policy will support development of private
banks, village banks and other micro-financial ins/tu/ons in the
area to expand their service coverage," said Pan.
More funds raised by those financial ins/tu/ons will be injected
into infrastructure construc/on projects, environmental protec/on
and urban development.
The policy will focus on small and micro credit for local farmers and
herders, and be used to relieve poverty, the official said.
Due to its plateau climate and rela/vely undeveloped economy, the
financial sector in Tibet lags behind other regions in the country,
and especially lacks financial professionals.
According to data from the central bank, by the end of November,
11 banks had launched branches in Tibet. Total outstanding loans
reached about 205 billion yuan (S$44.5 billion), 6.8 /mes the
amount in 2010.
In the first 11 months, enterprises in Tibet has raised fund of 21.5
billion yuan from the equity market.
In 2014, the total GDP of the Tibet autonomous region was 92
billion yuan, the lowest among all 31 provinces, autonomous
regions and municipali/es, which equaled only about 7.3 per cent
of the GDP in Guangdong province-the country's highest last year.
hand to Tibet
Xie Xuezhi, chairman of the Agricultural Development Bank, one of
China's three major policy banks, said his bank will invest more than
100 billion yuan into Tibet in the next five years. It has issued 4.9
billion yuan in loans in the region this year.
Liu Shiyu, chairman of Agricultural Bank of China, said by the end of
2016 his bank plans to expand services to all villages in the region
that have basic telecommunica/on infrastructure.
Losang Jamcan, chairman of the autonomous region, said the
region is predicted to achieve annual GDP of more than 100 billion
yuan this year, up 12.2 per cent year-on-year.
organisa/ons – with the aim to realise certain poli/cal and
ideological purposes.
This has leb foreign governments including the US concerned about
the too-broad defini/on of terror that increases surveillance power
of Beijing.
According to Leibold, terrorism in China, as both a concept and a
rhetorical device, is about securing its rule over the troubled
regions of Xinjiang and Tibet. "The line between peaceful poli/cal
ac/vism and violent acts of terror is frequently blurred in China, as
the sentencing of Uyghur scholar Ilham Toh/ and the Tibetan monk
Tenzin Delek Rinpoche on charges of terrorism and separa/sm
suggests," he wrote in his ar/cle in The Na3onal Interest on
December 7.