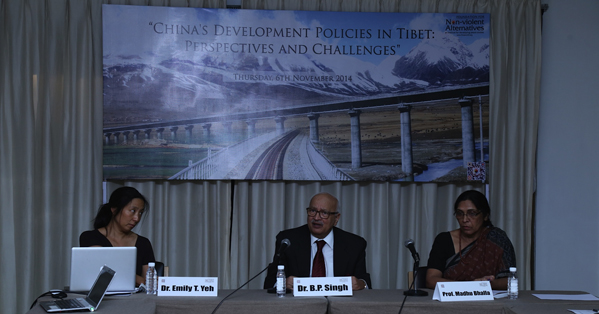 Thursday, 6th November 2014
15:00 – 17:15hr
India International Centre (IIC) ANNEXE, Basement.
PROGRAMME
"Taming Tibet: Landscape Transformation and the Gift of Chinese Development" Dr. Emily T. Yeh
"Tibet between Security and Development" Prof. Madhu Bhalla
Q & A Session
Chair
Dr. B. P. Singh is the former Governor of Sikkim and Patron of the Foundation for Non-Violent Alternatives.
SPEAKERS:
Dr. Emily T. Yeh is Associate Professor of Geography at the University of Colorado in Boulder. Her research interests include questions of power, political economy and cultural politics in the nature-society relationship. Using primarily ethnographic methods, she has conducted research on property rights, natural resource conflicts, environmental history, development and landscape transformation, grassland management and environmental policies, and emerging environmentalisms in Tibetan areas of China. Broader research and teaching interests include transnational conservation, critical development studies, the relationship between natures, territory, and the nation, and environmental justice. Her regional expertise is in China, Tibet, and the Himalayas.
Prof. Madhu Bhalla is currently teaching at the Department of East Asian Studies, Delhi University. Before joining Delhi University in 2005, she taught at Jawaharlal Nehru University, New Delhi, Queen's University, Canada and Trent University, Canada. Her teaching and research interests lie in the areas of Chinese security and foreign policy, the political economy of China, United States' foreign policy and International Relations theory. She has published numerous scholarly papers in these areas and contributed several book chapters to edited volumes. Professor Bhalla has held visiting fellowships at the Fudan University, Shanghai and has been a visiting scholar at the University of Sichuan at Chengdu. She has also been a member of the governing body of Laxmi Bai College, Delhi University, and is a resource person for strategic and policy think tanks and media organisations in Delhi.