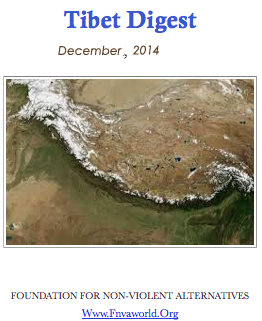 China's Policies in Tibet
China steps up its overseas publicity efforts to mitigate negative reports on Tibet
December 28, 2014
As the mainstream foreign opinion regarding Tibet has been largely negative, China has strived to reverse this trend and win over supporters. Over the last few years it has sent Tibetan legislators, experts and cultural representatives abroad to share their views about their home, in addition to making documentary films and staging cultural activities.
On December 7, a delegation from the Tibet Autonomous Region, including two deputies to China's National People's Congress (NPC), wrapped up an eight-day visit to North America. Their mission was part of Chinese efforts to share a different point of view about the situation in Tibet from the one that is usually heard abroad and to develop Tibet-related public relations. It was the ninth overseas trip by Tibetan legislators since 2009, the first of which came one year after the deadly March 14 riot in Lhasa which claimed 19 lives and injured hundreds of civilians and police officers. The delegation met with lawmakers, politicians, scholars and experts and talked with overseas Tibetans during the trip – which stopped at five cities in Canada and the US – and exchanged their views about Tibet. A lot of criticism of China's Tibet policies has come from the parliaments and congresses of Western countries. Currently, more than 20 parliaments in Western countries have established "Tibet question groups" to assist "Tibet independence" forces to enlarge their international influence, according to Tenzin Lhundrup, deputy secretary general of the Tibetan government and a member of the delegation that recently returned from the North America trip. "These parliaments are the key targets of, as well as barriers to, our communication efforts," Tenzin told the Global Times.
At this point nine trips have been made, including five to Canada and the US, and another four to New Zealand, Australia, Belgium, Italy, the European Parliament, France, Spain, Poland and Latvia. Wang Pijun, former deputy director of the Tibet Bureau of the State Council Information Office (SCIO) of China, said that the majority of the American people have little knowledge about Tibet. Tibet has long been described by the Western media as a region ruled over by the Chinese, who profit from its resources but damage its culture and environment. "What we need to do now is go out and tell the world about Tibet, so as to increase understanding and dismiss confusion," Wang, now the director of the information center of the United Front Work Department of the CPC Central Committee, told China Central Television in 2009. "Tibet is the 'water tower' of China and Asia. The regional government will never sacrifice the ecological environment to obtain economic development," Lobsang said, adding that one third of Tibet's land has been designated as conservation zones. Together with Lobsang on the trip was Phuntsok, an NPC deputy and director of the standing committee of Ngari (Ali) Prefectural People's Congress, and Zhang Yanqing, mayor of Lhasa and deputy to the People's Congress of Tibet Autonomous Region.
In addition, the Chinese government has made documentaries about the region to showcase its point of view. Tibet and its vicinity: life and time, a five-part documentary and a 90-minute movie presented by the SCIO, is set to be released soon. The documentary tells the stories of Tibetans living in harmony with animals and nature. Meanwhile, Tibetologists have been sent on government-organized trips abroad every year since 2001. Such trips have been made to over 25 countries all over the world, including the US, Thailand, Japan, Australia, South Africa, Germany, Brazil and Sweden. Zhaluo, an expert at the Institute of Ethnology and Anthropology with the Chinese Academy of Social Sciences, had led Tibetologists on foreign trips twice, once to the UK, Ireland and Israel in 2013 and once to the US and Canada in 2010. "We exchanged opinions with a variety of different people: politicians, scholars, reporters, NGO workers, and overseas Tibetans. Our talks were open to anybody, no matter they were friendly or not, as long as they wanted to meet us," Zhaluo told the Global Times. During the visits, they spoke about the government's achievements and the autonomous system. When asked questions about the government's attitude towards the Dalai Lama and environmental policy, Zhaluo said they answered directly and honestly.
Robert Barnett said he welcomes the Tibetans' visits to the US but he hoped that the exchanges could be two-way. "I have not been allowed a visa [to enter China] since 2007. I have never been given any reason for this. I am sure it is the result of a political decision, not because of any security concerns," he said. Tenzin, however, claimed Tibet has been gradually opening up. In recent years, Tibet has started to allow more foreigners to visit the region. On September 25 the first China Tibet Tourism and Culture Expo opened in Lhasa, attended by more than 300 guests from home and abroad. A month earlier in August, the city hosted the Fourth Forum on the Development of Tibet, attended by more than 100 domestic and foreign guests. "Tibet is open. We have been welcoming foreign travelers and journalists to Tibet," Tenzin said, noting that Tibet received 223,200 overseas visits in 2013. "Due to special geological, environmental and climate conditions, Tibet's accommodation and tourism facilities are insufficient. We still have room to improve."
China says officials should learn minority languages
December 22, 2014
Officials from China's majority Han population who work in ethnic minority regions need to make an effort to become conversant in their languages, the government said on Monday, calling for better understanding of minority cultures. China has more than 50 minority groups, many of whom have their own distinct cultures, ranging from groups with large populations like the Tibetans and Mongols to tiny minorities with threatened languages, including the shamanistic Evenki. While Mandarin is the country's official tongue, minority languages are taught at school and in some cases widely used, but few Han officials make the effort to learn them or understand much about the local culture. A cabinet policy document issued via the official Xinhua news agency says that while more minority officials needed to be trained to speak good Mandarin and write Chinese, Han officials also need to fit in. "Han cadres working in minority areas ought to study and grasp the language and script of minorities," the document says.
A core of Han officials should be trained to work long-term in minority areas, and people with a deep understanding of such regions need to be nurtured, it adds. Hu Chunhua, Communist Party boss of the southern province of Guangdong and tipped as a future president, is one of the few senior Han officials believed to speak a minority language, Tibetan in his case, having previously worked in Tibet for many years. The pushing of bilingual education in Tibetan regions has set off protests in recent years, though many parents also want their children to learn Mandarin to improve their job prospects. Rights groups blame Beijing's strict controls on religion, language and culture for stoking the unrest, a charge China strongly denies.
Chinese authorities kill Tibetan leader
December 15, 2014
Village leader killed in restive Driru County. On 21 November 2014, Ngawang Monlam, the leader of Wushong Village in Driru County, was killed by local Chinese authorities. It is believed that he was killed because the authorities wanted to replace him. Many of his supporters have been arrested, including Palka, Naldmey Droril and Tashi. During his time as a village leader, Ngawang Monlam, a former monk of Gyashoe Pelkar Monastery, promoted Tibetan Buddhism, culture and the economic development of his village. He established education centres for both the young and old, to improve the literacy of fellow Tibetans. He was involved in building a village hall and established theatrical troupes to perform during religious and cultural events. Driru County has been going through severe crackdowns and political re -education since various protests and Tibetans refusing to fly the Chinese flag on their house. Watch artist May Kindred-Boothby's original interpretation of the suffering and resilience of the people of Driru County below.
China jails elderly Tibetan for advocating Dalai Lama's stand on Shugden
December 14, 2014
China has jailed an elderly Tibetan man for one and half years in Chamdo (Chinese: Changdu) Prefecture of Tibet Autonomous Region for having advised other Tibetans to follow the Dalai Lama's advice not to worship a controversial 17th century spirit, reported Radio Free Asia (Washington) Decd 12. Jamyang Tsering, 77, was arrested from Lhasa in early Jun 2014 and tried and sentenced in early December by a court in the prefecture's Dzogang (Zuogong) County. Jamyang Tsering's relatives are worried as the man suffers from a number of ailments, including abdominal disorders, diabetes, high blood pressure, and other disorders. He himself is said to be concerned about his 86-year-old wife who lives in their home in Lhasa. The man was reported to have advised as many people as possible to follow the guidance of Tibet's exiled spiritual leader and refrain from worshipping shugden, also known as Dolgyal. The Dalai Lama says Shugden is a divisive and harmful spirit, not the enlightened religious protector that a fringe minority of Tibetan religious leaders consider it to be. Jamyang Tsering, originally from Chamdo, was tried in Chamdo apparently because he had sought to encourage a group of Chamdo-area students visiting Lhasa to follow the wishes and guidance of the Dalai Lama and to always "hold to their pride in being Tibetan". China has on numerous occasions condemned the Dalai Lama for his criticism of Shugden and is accused of supporting those in the outside world who carry out slanderous campaigns against him over this issue.
Infrastructure Development Projects in Tibet
New city inaugurated in China's Tibet
December 19, 2014
The Tibet Autonomous Region now has a new city after Xigaze was upgraded and inaugurated to become the third prefecture-level city in the region on Thursday. "The inauguration of Xigaze City is a milestone throughout the area's history, which marks its development entering into a new era," said Zhang Hongbo, mayor of the new city. As part of the status upgrade, the city's Communist Party committee, people's congress standing committee, government and political advisory body were established. Located at an altitude of more than 3,800 meters, Xigaze is now the third prefecture-level city in Tibet after the regional capital Lhasa and Qamdo. With a population of 780,000, or one fourth of the total in Tibet, Xigaze was previously known as a prefecture. Its gross domestic product surged by 62.5 times to 14.5 billion yuan in 2014 from 56 million yuan in 1964. Deputy mayor Zhang Xiuwu said the conversion from a prefecture to a city means a simplified administrative approval procedure, which is much helpful for the economic development of the area with higher efficiency. "The prefecture, as an administrative branch office of the regional government rather than a government itself, had no right to approve many administrative affairs. With the city government established today, many administrative affairs can be approved within the city directly, without having to be submitted to the regional capital Lhasa for approval," he said.
Construction of Lhasa-Nyingchi railway begins
December 19, 2014
Work on a railway that will link Lhasa, capital of Tibet Autonomous Region, and Nyingchi, in the east of the region, has started, according to China Railway Corp. on Friday. According to the plan approved by the National Development and Reform Commission, the Lhasa to Nyingchi section of the Sichuan-Tibet railway will stretch for 402 kilometers from Nyingchi to Xierong. The project will cost 36.6 billion yuan (6 billion U.S. dollars) and take seven years to complete. State-owned China Railway Corp. will build and operate the line. The Qinghai-Tibet railway began operation in 2006, introducing rail transportation into Tibet for the first time in history. The railway links Xining, capital of Qinghai Province, with Lhasa.
New trans-Himalayan flight links Nepal, Tibet and Sichuan
December 7, 2014
An airline in China is launching a new flight that crosses the Himalayas to connect three key regional cities. Sichuan Airlines will operate an Airbus A319 on the route. Operated by Sichuan Airlines, the new scheduled service will fly from Chengdu, in southwest China's Sichuan province, to Nepal's capital Kathmandu, with a stop in Lhasa, the capital of Tibet. The new route will commence in January 2015, operating daily using a two-class, 132-seat Airbus A319 aircraft. The departure and arrival times will be announced at a later date. Airbus says its single-aisle A320-series, which includes the smaller A319, are suited to high altitude airports due to its "exceptional take-off and climb characteristics". More than 113,000 Chinese people visited Nepal in 2013, making it the mountainous nation's second largest tourism source market, behind India. China and Nepal also recently revised their bilateral Air Service Agreement (ASA) to provide 70 weekly flights between the two counties by 2016, up from current 35 flights. Currently Air China operates 10 weekly flights between Chengdu and Kathmandu, include daily direct services.
Construction begins on Chengdu-Ya'an section of Sichuan-Tibet railway
December 6, 2014
Work began on the rail line from Chengdu, capital of southwest Sichuan Province to Ya'an, a city in the province on Saturday. The 42-km Chengdu-Ya'an section is an important part of the Sichuan-Tibet railway, and will have a journey time of about eight hours from Chengdu to Lhasa, capitals of Sichuan the Tibet. Transport is a bottleneck for tourism in Tibet and currently, there is no direct railway service between the two cities. After completion, the Sichuan-Tibet railway will connect with the Qinghai-Tibet railway.
Tourists can visit Kailash Mansarovar through Nathula in 2015
December 2, 2014
Indian pilgrims would be able to visit Kailash Mansarovar in the Tibetan Autonomous Region of China through the new route of Nathula in Sikkim from next year, state Tourism department officials said here today. Things are progressing at a very fast pace and that the Centre and the Sikkim Government are aiming at having the first batch of pilgrims visiting Kailash Mansarovar using this new route in June 2015, the official claimed. India and China had signed a bilateral agreement on the Nathula alternative route September 18 this year. The agreement provides for conducting the Kailash Mansarovar Yatra through Nathula in addition to the existing Lipulekh Pass in Uttarakhand. The route through Nathula will augment the capacity and reduce the hardship and journey time enabling many more pilgrims, in particular aged pilgrims, to undertake the Yatra, the official said.
Self-Immolations and Detentions
Facebook Deletes Post on Tibetan Monk's Self-Immolation
December 27, 2014
A prominent Tibetan writer says Facebook deleted her post on the self-immolation of a monk in Sichuan Province, raising concerns about politically motivated censorship. Tsering Woeser, who has written several books about Tibet and is a critic of Chinese policies in the region, said she posted a short item about Kalsang Yeshi, a 37-year-old monk who set himself on fire in front of a police station on Dec. 23 in Dawu County, part of the Kardze Tibetan Autonomous Prefecture in northwestern Sichuan. Ms. Woeser's post included a link to a video about Kalsang Yeshi's death. A message from Facebook on Friday said the post had been deleted because it "didn't meet Facebook's community standards," without offering specifics.
Facebook provided this statement Sunday on the removal of the post: Facebook has long been a place where people share things and experiences. Sometimes, those experiences involve violence and graphic videos. We work hard to balance expression and safety. However, since some people object to graphic videos, we are working to give people additional control over the content they see. This may include warning them in advance that the image they are about to see contains graphic content. We do not currently have these tools available and as a result we have removed this content. Self-immolations by Tibetans, who generally describe the act as a protest against restrictions on religious and cultural freedoms in Chinese areas of Tibet, surged in 2011 and 2012. The rate has tailed off in recent years, but rights groups say that in the past two weeks, three people have died after lighting themselves on fire in Tibetan areas of China. The International Campaign for Tibet, a rights group, says 136 Tibetans have self-immolated since Feb. 27, 2009.
Ms. Woeser, who is based in Beijing, said she believed the post may have been deleted because of the disturbing nature of the self-immolation, or because of efforts to sanitize material that might be critical of the Chinese authorities. She joined Facebook in 2008 and has posted extensively about self-immolations, but says this was the first time the company had removed her content. "I was really surprised. I couldn't believe my eyes," she said of her reaction to the deletion notice. "I thought, 'How is it that this has become like a Chinese website?' " Mark Zuckerberg, Facebook's chief executive, has expressed an interest in expanding the company's presence in China, where its site is blocked.
Tibetan protests reported in China's Sichuan
December 26, 2014
Monk shot in the arm by police during clash following three fatal self-immolations in eight days, rights group says. Chinese police have fired on Tibetan protesters demonstrating after a series of deadly self-immolations by people campaigning against Chinese rule of their Himalayan region, according to a rights group. A Buddhist monk was shot in the arm after police used tear gas and opened fire during a clash with Tibetans outside a police station in the western province of Sichuan, which borders Tibet, the Britain-based Free Tibet organisation said in a statement. In 2012, more than 80 Tibetans staged such fiery protests, according to rights groups. Most of them are believed to have died. The number of self-immolations has fallen in the past couple of years but a 37-year-old Tibetan monk set himself on fire outside a police station in Sichuan's Dawu county on Tuesday, the third fatal self-immolation in eight days, Free Tibet said. A 20-year-old woman set herself on fire on Monday in Ngaba county in Sichuan, and last week a 34-year-old men set himself alight in front of a police station in the western province of Gansu, which is also adjacent to Tibet. The Dalai Lama, Tibetan Buddhists' spiritual leader, fled to India after a failed uprising against Chinese rule in 1959. He has called the self-immolations "sad" but "understandable". He says he does not encourage them and has questioned their effectiveness.
Tibetan Monk Self-Immolates in Second Protest This Week
December 23, 2014
A Tibetan monk set himself on fire in Sichuan on Tuesday in the second self-immolation protest this week against Beijing's rule in Tibetan-populated areas of China, sources said. Kalsang Yeshe, 38, set himself ablaze at around 11:20 a.m. local time outside the Tawu Nyitso monastery in the Kardze (in Chinese, Ganzi) Tibetan Autonomous Prefecture's Tawu (Daofu) county, sources in the region and in exile told RFA's Tibetan Service. "He self-immolated in protest against Chinese policies in Tibet and called for the return of [exiled spiritual leader] the Dalai Lama to Tibet," one source said, speaking from exile on condition of anonymity and citing local contacts. Yeshe staged his protest "in front of the offices of the Chinese Public Security Bureau and work team stationed at the monastery," the source said. Engulfed in flames, Kalsang Yeshe collapsed on the ground, and Tibetans nearby rushed to prevent his body being taken away by the police, a local source told RFA. "But police dispersed the crowd by firing warning shots and took possession of his body," the source said, adding, "It is unknown whether he is dead or alive." Other sources said that Yeshe died at the scene, however.
Yeshe, a resident of Thewa village in Tawu county's Kunor township, had previously studied at the Ganden Jangtse monastery in South India before returning to Tibet, where he began a campaign against illiteracy among the elderly and "taught Buddhism and the Tibetan language," a local source said. "He was a well-respected monk," he said. Yeshe's burning brings to 136 the number of self-immolations by Tibetans protesting Chinese rule since the wave of fiery protests began in 2009, and is the third to take place this month. Chinese authorities have tightened controls in a bid to check self-immolation protests, arresting and jailing Tibetans linked to the burnings. Some have been imprisoned for up to 15 years.
Tibetan Woman Dies in Second Self-Immolation Protest This Month
December 22, 2014
A Tibetan woman set herself on fire and died in Sichuan province on Monday in the second self-immolation protest this month against Beijing's rule in Tibetan-populated areas of China, sources said. Tsepe, 20, set herself ablaze at around 2:00 p.m. local time in Meruma town in Ngaba (in Chinese, Aba) county in the Ngaba Tibetan Autonomous Prefecture, local sources told RFA's Tibetan Service. "Today, a 20-year-old Tibetan woman self-immolated in protest against China's repressive policies," one source said, speaking on condition of anonymity. "Soon afterward, the police arrived and took her body away," the source said. Sources gave the woman's name as Tsepe and described her as a resident of Meruma town's Unit No. 4. Reached for comment, a duty officer at a local police station denied knowledge of the incident, adding, "You should ask the higher authorities," before hanging up the phone.
Separately, a Tibetan monk living in India said Tsepe was known for her "good character and personal integrity," citing contacts in Ngaba. "Tsepe had been living with her parents as a nomad and had not been to school since she was young," the monk, Kanyak Tsering, said. "Police took her parents and brother Yime away for questioning shortly after her protest, but it is not known if they will be detained," he said. In addition to her brother Yime, Tsepe leaves behind five other siblings, sources said. Chinese authorities have tightened controls in a bid to check self-immolation protests, arresting and jailing Tibetans linked to the burnings. Some have been imprisoned for up to 15 years. "Tibetans continue to set themselves alight in protest against China's policies and rule in Tibet," Eleanor Byrne-Rosengren, director of the London-based advocacy group Free Tibet, said in a statement on Monday. "The ongoing crisis in Tibet will not be resolved until the world's leaders put pressure on China to recognize Tibetans' desire for freedom instead of criminalizing it," she said.
Breaking: Tibetan dies after setting self on fire
December 16, 2014
A Tibetan man has died after he set himself on fire earlier today in Amchok town, Sangchu County, Kanlho Tibet Autonomous Prefecture in Gansu province. Sangyal Khar set himself on fire right in front of the Police Station Tuesday around 9 AM (local time). A Tibetan source said that Khar's charred body was taken to Sangchu County by the Chinese police who refused to hand over the body to his family despite protests from the local Tibetans. The situation in Amchok town remains tense as authorities cordoned off the area and put restrictions on local people's movement and communication lines. Khar became the 134th Tibetan to immolate self, and 114th to succumb to the burns.
Tibet in Sino-Indian Border Dispute
Four dozen Chinese centres, monasteries along Indian borders
December 28, 2014
Security agencies have found that close to four dozen Chinese study centres and other monasteries are present along India's frontiers with Nepal and Bhutan and are allegedly indulging in propaganda programmes. The development comes at a time when both the countries are often witnessing incidents of incursions by Chinese PLA troops along the icy frontier in Jammu and Kashmir leading to long-standing border disputes between the two neighbours. A report prepared by the lead intelligence gathering agency at these two frontiers–Sashastra Seema Bal (SSB)– said that 22 China Study Centres (CSC) have come up in the Nepalese territory, with 11 of them operating bang on the 1,751 km long Indo-Nepal border. The SSB, raised in 1963 in the wake of the Chinese aggression, is also the designated border guarding force at these open borders under the command of the Union Home Ministry. "These centres are propagating subjects of Chinese culture, traditions, teachings and economy to the population in Nepal which is a cause of concern along the border areas as India's frontiers with Nepal and Bhutan are open and unfenced without any restrictions on the movement of the citizens of either of these countries," a source said, quoting the report.
The report, accessed by PTI, said these centres are giving special impetus on propagation of their work in the fertile 'Terai' areas of the Himalayan nation, especially Jhapa and Ilam districts, which have strong trade, economic and ethnic ties with India. The force has time and again prepared special reports on these centres which security agencies feel are indulging in "anti-India propaganda" even as the CSCs maintain that they aim to teach Chinese language to locals and disseminate cultural information about China and its various art forms. Apart from the CSCs, the snoop wing of the border guarding force has reported that 22 monasteries have also come up along the border areas with Bhutan in the Indian territory between the districts of East Sikkim to Jaigaon, a small town in West Bengal near the Bhutan border, also known as the gateway to the neighbouring country at Phuentsholing.
"These monasteries have come up in the last four-five years but their growth ratio is doubtful as there is no proportionate Buddhist population where they are situated and operating. These centres are supposed to carry out religious activities," the source said. These Buddhist institutions have also been reported to have come up at Kalimpong which is a sub-division of Jalpaiguri district of West Bengal. An Army Mountain division is located on the peripheries of this hill station. Similar monasteries have also been reported to be working in Malbazar, another sub-division of Jalpaiguri district and the neighbouring Alipurduar district of the state. India shares a 699-km border with Bhutan. The SSB has recently moved a proposal to the government to strengthen and revamp its existing intelligence wing along these borders. Government has also accorded the 70,000 personnel-strong force a Rs 658 crore modernisation budget which SSB is utilising in procuring surveillance and other gadgets and weapons.
Environmental Issues
Scientists warn of China's shrinking glaciers
December 20, 2014
China's glaciers have retreated by 18% since the 1950s, Chinese scientists warned. A survey taken between 2006 and 2010 using remote sensing data showed China had 48,571 glaciers covering 51,840 square km in its western regions, according to a recent catalog of the country's glaciers released by the Chinese Academy of Sciences (CAS). The worst shrink was detected on the Altai Mountains located in Xinjiang Uygur autonomous region and the Gangdise Mountains in Tibet autonomous region, with retreat amounts hitting 37.2% and 32.7% respectively over the past half century, according to the survey by the CAS Cold and Arid Regions Research Institute. Major glaciers on the Qinghai-Tibet plateau, especially the eastern section of the Gangdise and the southern and western Himalayas, were melting at the most rapid pace; with areas experiencing skrinkage of 2.2% every year, according to the survey.
Large scale hydropower will fail in Tibet due to freezing temperatures
December 17, 2014
Hydropower dams on the Tibetan plateau will be inefficient or inoperable because of freezing temperatures and power lines will wreck the region's natural beauty and exacerbate climate changes, warns geologist Yang Yong. Driving into Tibet is already an increasingly popular choice for tourists – the pristine scenery is some of the best anywhere in the world. But the views are now spoiled by dense networks of power lines and pylons. And as the power grid develops these eyesores will spread to every corner of the Qinghai-Tibet Plateau. On November 23 Tibet's first large hydropower plant at Zangmu went into operation, sparking huge concern in the Indian media. The new plant marks the start of large-scale hydropower generation in Tibet. The dam at Zangmu stands 116 metres high at 3,310 meters above sea level. It has a reservoir capacity of 86.6 million cubic metres of water and a generating capacity of 510 megawatts. The project itself will not have a large impact on the local ecology or hydrology, but a single dam is unlikely to be profitable – a cascade of dams will be needed, passing water downstream in coordination with each other. Such large scale development will inevitably threaten the rivers of Tibet and the entire Plateau. If this approach is not changed the rivers of the Qinghai-Tibet Plateau face disaster. During the 13th Five-year plan large hydropower dams will be developed on the Jinsha (upper Yantgtze), Lancang (Mekong), Nu (Salween) and Yarlung Tsangpo, creating the highest density dam cluster in the world.
It is not known exactly how many hydroelectric plants Tibet already has, but there are less than 10 larger ones (50 megawatts or more) and over a hundred smaller ones. These are often inefficient and short-lived. Most of the hydroelectric plants I have studied at an altitude of 3,500 metres or more in Sichuan, Qinghai and Tibet suffer from ice blockages during the five months or so of freezing temperatures every year, meaning little or no electricity is generated. The cold weather also damages equipment and greatly increases maintenance costs. Tibet is not suited to large-scale hydropower development for two reasons. First, the Qinghai-Tibet Plateau is the source of Asia's major rivers, and these are mostly fed by glacier meltwater, rather than precipitation. This means flows are highly seasonal and changeable and so power supply is unstable and the frozen winters and iced-up rivers can damage generating equipment. Second, due to the quality of land in Tibet's river valleys and the geological conditions, creating reservoirs to regulate water flow is problematic. This reduces the ability of dams to regulate power generation and respond to higher demand. These two factors make development of hydropower in Tibet more technically and economically challenging.
The Qinghai-Tibet Plateau is the roof of the world, a highland of global significance for its river sources and ecosystems. It should be developed for its environment, rather than for its hydropower, and the region itself does not need large amounts of power. Wind and solar power and other complementary sources of electricity should be used to supply the region's own needs, but exporting electricity will not be worthwhile and the power grid required would cause huge damage to the area's natural beauty. Tibet is a world-class tourist destination for both international and domestic tourists, who are attracted by its natural scenery and ancient culture. Already some popular routes and sights are marred by power lines, making them less valuable for tourism. Tibet has a range of different environments, and power supply plans can be designed accordingly. For example the south-west of Tibet has a network of rivers and so small-scale domestic hydropower generation can be used. In other areas there are good prospects for wind and solar power, and a smart power grid for the plateau should be investigated. But hydropower should not be relied upon to supply Tibet with power, much less for exports. The costs and dangers are too great.
The Qinghai-Tibet Plateau is one of the world's most geologically active regions. The earth's crust here is still rising, causing frequent earthquakes and powerful fractures. The geology of the rivers is complex, the climate variable, the flora and fauna diverse and the ecology vulnerable. The most obvious sign of climate change is the melting or even disappearance of glaciers – something that is happening now on the plateau. For over three decades I have been made multiple visits to the plateau every year, especially the Sanjiangyuan region, where the Yangtze, Yellow and Mekong rivers rise. In October this year I found that surface temperatures at the huge glacier sources on the south-west slope of Geladan and Purog Kangri in the heart of northern Tibet were 30 degrees Celsius, with ground temperatures around 40-46 degrees Celsius. The sustained heat was leaving the glaciers scarred with gullies carved by meltwater runoff, some cut right down to the rock below the glacier, with the sounds of rocks colliding in the water echoing around. The effects of climate change on hydropower development are unknown. Large hydroelectric plants may also exacerbate climate change – most will be built in arid valleys and so the resulting reservoirs will cause local climate change, increasing the overall complexity of the problem.
China's glaciers have retreated by 18% since the 1950s, Chinese scientists warned. A survey taken between 2006 and 2010 using remote sensing data showed China had 48,571 glaciers covering 51,840 square km in its western regions, according to a recent catalog of the country's glaciers released by the Chinese Academy of Sciences (CAS). The worst shrink was detected on the Altai Mountains located in Xinjiang Uygur autonomous region and the Gangdise Mountains in Tibet autonomous region, with retreat amounts hitting 37.2% and 32.7% respectively over the past half century, according to the survey by the CAS Cold and Arid Regions Research Institute. Major glaciers on the Qinghai-Tibet plateau, especially the eastern section of the Gangdise and the southern and western Himalayas, were melting at the most rapid pace; with areas experiencing skrinkage of 2.2% every year, according to the survey.
China's glaciers shrink by a fifth since the 1950s
December 14, 2014
 China's glaciers have retreated by 18 per cent over the past half century, a comprehensive survey has found, as some experts warn of "chain effects" that could have an impact on water supplies in the country's western regions. An average of 244 sq km of glacial ice had disappeared every year since the late 1950s, according to the Chinese Academy of Sciences, which released its second major survey of the nation's glaciers at the weekend, Xinhua reported. Snowcaps on the Altai Mountains in Xinjiang and the Trans-Himalaya mountain range are among the worst affected and have shrunk by 37.2 per cent and 32.7 per cent respectively over the past five decades, according to data compiled by the Cold and Arid Regions Research Institute. The Karakoram and Altyn-Tagh mountain ranges in Xinjiang, the Kunlun Mountains and Changtang plateau in the Tibetan region were less affected and retreated between 8.4 and 11.3 per cent during the period.
China had 48,571 glaciers in its western provinces, including Xinjiang, the Tibetan region as well as Qinghai, Sichuan and Gansu provinces, the institute found, after updating a catalogue compiled in 2002 using remote sensing data. Snowcaps would initially swell rivers originating in the country's west. But eventually, as the glaciers disappeared, the rivers could become seasonal. "It's still too early to say if all glaciers will disappear, but their continuous retreat will affect the run-off volumes of those rivers," Liu told Xinhua. Yang Yong, an independent geologist who has surveyed major glaciers on the Qinghai-Tibetan plateau, said glaciers on the plateau were melting at a rapid pace, which could inflict disasters on local ecology. "For instance, the Chema Yungdung glacier has retreated by about 400 metres since our first visit in 1998, and a lake has formed," Yang said. Yang said rising temperatures and melting glaciers were already changing weather patterns, with some parts of Changtang plateau having sandstorms every year – gradually turning them from grassland into desert. When sand falls on the glaciers it absorbs heat and speeds up the melting. "I'm worried that the glaciers melting is the start of a chain of climate disasters," Yang said. China's third assessment of climate change, released last week by the Ministry of Science, said average temperatures increased between 0.9 and 1.5 degrees Celsius from 1909 to 2011. The global average from 1880 to 2012 was 0.6 to 1.05 degrees.
China Inaugurates World's Largest Water Transfer Project
December 13, 2014
China officially inaugurated the largest water diversion of project in the world, which will channel 44.8 billion cubic meters of water from Yangtze in southwest to north China. Approximately $79 billion has already been spent for the plan, making the South-North Water Transfer Project one of the most expensive engineering projects in the world. With rapid growth of cities, development of heavy industries and demand for irrigation, North China has faced water shortage problems that may have a serious effect on the development of the country. The project started with a comment from Mao Zedong in the 1950s during an inspection tour where he said: "The south has plenty of water but the north is dry. If we could borrow some, that would be good." The diversion project plan consists of three sections: the eastern line, running from Yangtze to Tianjin; the middle line, from Danjiangjou to Beijing; and the western line, from Yangtze to Yellow River.
Although the transfer project will solve the uneven distribution of water in China, it does not completely solve water scarcity. Moreover, it creates more problems as the project goes more massive. Qiu Baoxing, vice minister of the Ministry of Housing and Urban-Rural Development, said, "As the scale of the project gets bigger and distance gets longer, it is more and more difficult to divert water." He suggested that "recycled water could replace diverted water" and to "develop water desalination technology." This project faced a lot of objections as many problems arise. As it transfers water in long distances, many of it could be wasted with leaks in pipelines and evaporation. In addition to this, the construction of the central route caused around 330, 000 residents from Hubei and Henan provinces were relocated. The large number of migrant residents include farmers whose livelihoods were destroyed to give way to the canal route. The huge cost of the water diversion project will only make the water expensive for consumers. Jennifer Turner, the director of china Environment Forum in Washington DC, referred to the projects as a "Band-Aid" solution. The project has successfully provided relief water supply to north and it will soon divert water in a larger scale. But Turner says the project "will never solve north China's water problem."
Taking up concerns on Brahmaputra river with China: Government to Rajya Sabha
December 11, 2014
India has urged China to ensure that interests of downstream states are not harmed by any activities in upstream areas of the Brahmaputra river, the Rajya Sabha was informed today. In a written reply, Minister of State for External Affairs V K Singh told the Rajya Sabha that the government carefully monitors all developments on the Brahmaputra river. "As a lower riparian state with considerable established user rights to the waters of the river, India has conveyed its views and concerns to the Chinese authorities, including at the highest levels of the government of the People's Republic of China," he said. "India has urged China to ensure that the interests of downstream states are not harmed by any activities in upstream areas," Singh said.
The Minister said the 'outline of the 12th Five Year Plan for national economic and social development of the people's republic of China' indicates that three hydropower projects on the main stream of the Brahmaputra river in Tibet autonomous region have been approved for implementation by the Chinese authorities. "According to reports, one power generating unit of the Zangmy hydro electric project has been operationalised in November 2014," he said in his reply. He added that the two countries during the Vice President's visit to China in June, signed the implementation plan for provision of hydrological information of the Brahmaputra river in flood season by China to India. The matter of further strengthening bilateral cooperation on trans-border rivers was also discussed during the visit of Chinese President Xi Jinping to India in September 2014.
Scientists Discover 2.5 Million Year Old Canyon Underneath Yarlung River in Tibet
December 9, 2014
The study shows about 2.5 million years ago, Yarlung Tsangpo had created a deep canyon at least 500 meters below its current riverbed. "The data tells us that the river had incised deeply into the margin of Tibetan Plateau and then at a later stage the tectonic uplift created the gorge and made this river so steep," Dirk Scherler, a geologist and one of two lead authors of the study, told VOA's Tibetan Service. The study, which was published in American Association for the Advancement of Science a week ago, shows that as collision of Indian Plate and the Eurasian Plate lifted the Tibetan Plateau, sediments from the tectonic activities filled up the ancient canyon. Through drilling, the scientists determined that the ancient canyon was, in some part, 1000 meters deep.
According to Scheler, who now works at GFZ German Research Center for Geosciences, the buried-canyon extends for about 300 kilometers upstream from the Yarlung Tsangpo Grand Canyon, a well-known gorge that some regards to be deeper than the Grand Canyon in U.S. and slightly longer. Tibet, once located under ocean, is a young plateau with lively seismic activities. The tectonic forces in the Earth's crust continues to build mountains, glaciers make valleys and rivers make canyons. As the Himalayas continue to grow, Indian monsoons continue to feed the Tibetan rivers, which incise the plateau.
Protecting ecology key to Tibetan life
December 7, 2014
The Tibet autonomous region will make every effort to protect the environment on the plateau in a bid to protect the livelihood of people, as well as promote healthy social and economic development in the region. "We base our city's development on protecting the environment," said Zhang Yanqing, mayor of Lhasa, the capital and largest city of Tibet, "because a good environment in itself is a powerful and attractive resource." Tibet is regarded as the last piece of pure land in China and a popular travel destination for visitors from home and abroad. The State Council, or Chinese Cabinet, passed a long-term program to protect the ecology and environment in Tibet in 2009, which plans to allocate 15.8 billion yuan to 10 projects for the ecology and environment from 2008 and 2030.
Under the guidelines of the program, Tibet is taking tough measures to expand forests and reduce pollution. Tibet has allocated around 2.83 billion yuan ($460 million) to subsidize projects related to grasslands and forests in 2013 and expand the green area by more than 83,000 hectares in the major river basin areas in the first three quarters of the year. The government of the autonomous region has taken measures to cut pollution by reducing outdated cement capacity by 200,000 tons in 2013. "We also have shut down more than 40 mines," Zhang said. "Based on the strict control on mining, we have already stopped digging gold mines, because the environment is more important," said Phuntsok, deputy director of the standing committee of People's Congress of Ngari prefecture in the western Tibet. In November, Lhasa was named the first model city in environmental protection by the Ministry of Environmental Protection since 2012, a recognition Lhasa's mayor said he's proud of. The Lhalu Wetland Conservation, the largest near a city in China, is vital to keeping Lhasa's mild climate, functioning as "a lung for the city".
In addition to the extensive protection of the natural environment, Lhasa also has plans to regulate living facilities to reduce pollution, as well as improve the livelihood for residents. "We will start the second phase of the refuse landfill, and build a power plant that generates electricity with the garbage," Zhang said, adding that the new landfill is designed for 50 years to deal with the garbage from tourists, residents as well as factories. In addition, a new sewage plant is being planned, he said. "We will build a water plant that processes water from rivers instead of the underground water we currently use," Zhang said. "It's an important move to protect the precious underground water resources." Under strict environmental protection, Tibet also pursues a healthy economic development focusing on high-technology industries, and traditional food and medicine industries. The government promotes the development of plants processing traditional Tibetan medicines such as crocuses and honeysuckle. "We will also take advantage of the rich water resources with the vast glaciers and rivers to create brands of water products, such as bottled drinking water and cosmetics," Zhang said. "We are responsible for improving the livelihoods of residents and protecting the environment for future generations."
Commentaries
Communist 'Hardliners' Holding Back Xi on Tibet Issue: Dalai Lama
December 17, 2014
The Dalai Lama today conceded that he may be the last one to hold the top spiritual title in Tibetan Buddhism, even as he blamed "hardliners" in Beijing for holding back President Xi Jinping from taking an objective look at his demand for genuine autonomy for Tibet. Dalai Lama told the BBC that it would be better that the centuries-old tradition ceased "at the time of a popular Dalai Lama". He said whether another Dalai Lama should come after him would depend on the circumstances after his death and was "up to the Tibetan people." The 79-year-old spiritual leader, who looked frustrated over world leaders including Pope Francis shunning to meet him for fear of offending China, pointed out that his role no longer included political responsibilities. In 2011, the Dalai Lama handed these to an elected leader of the Tibetan government in exile, Lobsang Sangay. "The Dalai Lama institution will cease one day. These man-made institutions will cease," he said. "There is no guarantee that some stupid Dalai Lama won't come next, who will disgrace himself or herself. That would be very sad. "So, much better that a centuries-old tradition should cease at the time of a quite popular Dalai Lama," he said apparently referring China's assertions that it has a say in the appointment of his successor.
In another interview to a French broadcaster he blamed the hardliners in Chinese government for the delay in a resolution on the Tibetan autonomy issue. He said that the hardliners are holding back Xi from considering the Tibetan demand for greater autonomy. Asked if Xi was ready to discuss his calls for genuine autonomy, Dalai Lama said he thought there were "some indications". "But at the same time, among the establishment, there is a lot of hardliner thinking still there. So he (Xi) himself sometimes finds it is a difficult situation," said the Dalai Lama, who knew Xi's parents before he fled to India in 1959. "Now this president is quite active and realistic. However, the old thinking is still very much well entrenched. So change is difficult," he said. Reacting to Dalai Lama's comments, Chinese Foreign Ministry spokesman Qin Gang discounted the hardliner-softliner view.
Read the full article here: http://fnvaworld.org/?p=13011
Diverting the Indus River to Xinjiang: a 'pilot' project!
December 13, 2014
Yesterday, the BBC reported that: "China inaugurated one of the biggest engineering projects of all time: the South-North Water Diversion, a £48bn, 2,400km network of canals and tunnels, designed to divert 44.8bn cubic metres of water annually from China's humid south to its parched, industrialised north. At 2.32pm, the project's 'middle line' officially began carrying water from the Danjiangkou reservoir in central China's Hubei province to Beijing – the distance from Corsica to London." Chinese officials believe that the diversion can save China from "a water crisis that could set its development back years." The Henan Daily explained the 'frugal' launch: "engineering project, in keeping with a frugal and pragmatic working style, celebratory activities will be kept as simple as possible. No officials will take part in the ceremonies." Jennifer Turner, director of the China Environment Forum at the Wilson Center in Washington DC, told the BBC that though the project could provide some much-needed relief, it "will never solve north China's water problem". It is a "Band-Aid, rather than a long-term solution."
There is no doubt that the issue will be debated again and again in the months and years to come. In the meanwhile, some researchers in China have thought of something else, a smaller 'pilot' project: to divert the Indus river towards Xinjiang.
Read the full article here: http://fnvaworld.org/?p=12929
India to map risks of melting permafrost
December 12, 2014
New study will map risks associated with thawing 'permafrost' – or frozen soil – due to global warming, which may cause extensive damage to environment and infrastructure. For the first time, the Indian government is planning a pilot study of permafrost in Himachal Pradesh. It is expected to provide crucial data in a little-studied area of climate change impact in the Himalayas. Part of an Indo-Swiss science and technology initiative, the study will look at whether global warming is thawing the permafrost that is typically found at elevations of 2,400-2,800 metres in the Himalayas, depending on the direction and exposure of the slopes. Unlike the Andes and the Alps where scientists have collected data on permafrost – soil at or below the freezing point of water – there is no data from the Himalayas, says Markus Stoffel, professor at the Institute of Environmental Sciences, University of Geneva, and lead scientist from Switzerland for the project. Rising temperatures are believed to have led to permafrost melting in these ranges, and in Alaska.
The only indication of possible extensive presence of permafrost in the Himalayas comes from a global study by Stephan Gruber, department of geography, University of Zurich, which analyses mean annual temperatures at various heights along slopes. "But it is no direct proof," points out Stoffel. When permafrost melts, the land above it sinks or changes shape, and the shifting ground could potentially damage buildings and infrastructure such as roads, airports, and water and sewer pipes. It also causes landslides, slope collapse, and glacial lake outburst floods (GLOFs) and topples trees. Permafrost received considerable attention in the latest fifth assessment report of the Intergovernmental Panel on Climate Change, but much of the focus is on studies from the European Alps, says Stoffel. In the Hindu-Kush Himalayas, where many people live in areas with permafrost or those that will be impacted by permafrost melt, data is absent.
The study in India will attempt to gain a first impression of permafrost in the region, including insights into areas where it is present, and areas where it is close to melting point which is a critical situation as it increases the risk of increased loose rock fragmentation and debris flow. It will use a combination of methods: satellite imagery, identifying areas with potential permafrost features such as tongue-shaped rock glaciers, and mapping areas with active and fossil permafrost features. Rock glaciers or frozen rock debris cemented by ice are considered important indicators of permafrost. Scientists will also combine permafrost analysis with an assessment of hazards, to help develop a framework for assessment of risks and vulnerability to natural hazards in the Himalayas.
Read the full article here: http://fnvaworld.org/?p=12955
Upstream superpowers
December 5, 2014
On November 23, the first power-generating unit of the Zangmu hydropower complex on the Yarlung Tsangpo or the Brahmaputra in China's Tibet Autonomous Region became operational. The 510 MW Zangmu dam is not as large as some of China's other large dams, or those that India is building or planning to build on the Yarlung Tsangpo/ Brahmaputra river system. Zangmu, however, underscores the limited channels of cooperation that exist between India and China to govern the rivers they share. Until recently, Indian officials relied on satellite images of construction sites to learn about China's plans. It took the Chinese some time to acknowledge the existence of dam-building projects on the Yarlung Tsangpo. Things have improved since. But there is no water sharing agreement between India and China. Nor is one on the horizon. As an "up-stream superpower", China avoids multilateral entanglements. More than two-thirds of the 40 major transboundary rivers that flow through China and 16 other countries originate in China. China was one of three countries to vote against the adoption by the UN General Assembly of the 1997 UN Convention on the Law of the Non-Navigational Uses of International Watercourses , which seeks to strike a balance between upstream and downstream interests. The convention commits state parties to the utilisation of transboundary rivers in "an equitable and reasonable manner" and requires them to take "all appropriate measures to prevent the causing of significant harm" to co-riparians. India abstained in that vote.
China has since signed bilateral agreements with a number of co-riparians. But as Selina Ho of the National University of Singapore points out, while China has been willing to cooperate with southeast Asian countries on the Mekong, it has not been as forthcoming with India on the Brahmaputra. Ho attributes it to the historical animosity between the two countries, the territorial disputes and "the incongruence between China's traditional perception of India as a regional power without global reach and India's growing status as a rival for influence and resources worldwide". It is not surprising that potential conflicts between India and China feature prominently in most scenarios of future "water wars".
Read the full article here: http://fnvaworld.org/?p=12797
Indian critics of Tibet dam accused of "exaggerating" dangers
December 4, 2014
Tibet's first major dam, the Zangmu hydropower station, started generating electricity at the end of November. This prompted complaints from Indian media that Chinese dam building on the Yarlung Zangbo River could reduce water flow and cause environmental damage downstream in India. But Chinese experts say vested interests in India stand to benefit from playing up the threat of Chinese hydropower and that only dialogue and partnership will solve Asia's water disputes. The Yarlung Zangbo, one of the world's largest rivers, rises on the Qinghai-Tibet plateau and flows through China, India and Bangladesh. It is known as the Brahmaputra once it crosses the border into India. The Zangmu Hydropower Station – northwest of Gyaca county in the Tibet Autonomous Region – cost 9.6 billion yuan (US$1.6 billion), took eight years to build and will eventually generate 510 megawatts of electricity. China has repeatedly promised the project, as a run-of-the-river plant with no dam or reservoir, will not reduce water flow downstream. But this has failed to allay Indian concerns. Li Yuanyuan, vice-director of Hydropower Planning and Design Institute at the Ministry of Water Resources, told chinadialogue that the accusations were unnecessary and "India's media are imagining threats." China is building hydropower dams "to end Tibet's electricity shortages," he said.
Ye Hailin, secretary-general of the Chinese Academy of Social Sciences' Institute of Asia Pacific Studies, agreed Indian media was "making a fuss about nothing." The Indian media has reported China's construction of hydropower facilities on the Yarlung Zangbo will cause floods, mudslides and environmental damage. There are also concerns China could exercise leverage over India by stopping the flow of water from the dam in the event of conflict between the two nations. Xie Chao, a researcher on Indian and South East Asian affairs at Tsinghua University's School of International Relations, told chinadialogue that "exaggeration and manipulation of the threat of Chinese development of water resources benefits vested interests within India." He argued playing the China card makes India's politicians appear strong, fans up nationalist sentiment and wins votes. For the state governments, particularly those on the border, the "China threat" can be used to win a bigger slice of government funding and infrastructure investment.
Read the full article here: http://fnvaworld.org/?p=12799