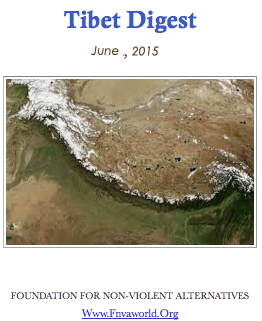 Minority Policies of the PRC
Tibetans mark Dalai Lama's 80th birthday despite China's ban, threats

June 24, 2015
Despite warnings and threats of severe punishment by China, Tibetans in many parts of their occupied homeland celebrated the 80th Tibetan-calendar birthday of their exiled spiritual leader, the Dalai Lama, on Jun 21, reported Radio Free Asia (Washington) Jun 22. The service reported on instances of celebrations in several parts of Qinghai and Sichuan provinces.
The report said that on the Churathang, an open area in Draggo (Chinese: Luhuo) County of Kardze (Chinese: Ganzi) prefecture, Sichuan Province, monks and villagers set up a religious altar and offerings in front of a large portrait of the Dalai Lama. And they performed incense-leave burning ceremony and said prayers for the Dalai Lama's long life, the report cited an exile Tibetan with local contacts as saying.
And at a place called Choru in Kardze County, "both laypeople and monks observed the day with different activities," the report cited a second exile Tibetan with local sources as saying.
The report also cited a local Tibetan source as saying that in the Draser Village of Golog (Guoluo) County in Qinghai Province, Tibetans celebrated the day in their homes since public markings of the day were banned.
And in the province's Gepasumdo (Tongde) County in Tsolho (Hainan) Prefecture, public celebrations with an incense-leave burning ceremony and firework displays were reported to have been held.
In the province's Pema (Banma) County, Golog (Guoluo) Prefecture, Tibetans carried out prayer ceremonies in local monasteries.
Not all celebrations were successful. A religious fasting retreat organized in another part of Pema County was prevented by the police, the report added. Still, Tibetans went to the local market to free hundreds of fish, dedicating their saved lives to the Dalai Lama's long life, the report cited a local source as saying, speaking on condition of anonymity.
China's main focus is on preventing celebration gathering and activities on Jul 6, when the Dalai Lama birthday is usually celebrated or marked.
Tibetan Netizen Detained Amid Dalai Lama Birthday Fanfare
June 23, 2015
Police in China's western Qinghai province have detained a young Tibetan man who disseminated material online marking the 80th anniversary of the birth year of exiled spiritual leader the Dalai Lama, as authorities clamped down on celebrations in the region.
Tsering Dondrub, 25, was arrested in Rebgong (in Chinese, Tongren) county in Qinghai's Malho (Huangnan) Tibetan Autonomous Prefecture on June 20 after posting the material on a popular messaging application called WeChat, a Tibetan source told RFA's Tibetan Service Tuesday.
"A young Tibetan named Tsering Dondrub of the Dugkar family in Rebgong's Manggo village was detained for posting an image of the Tibetan flag and a photo of His Holiness the Dalai Lama on his WeChat account," the source said, speaking on condition of anonymity from inside Tibet.
"At this point, no one knows where he is detained."
According to the source, Chinese authorities have placed serious restrictions on activities related to the Dalai Lama's July 6 birthday in Rebgong, as well as in other Tibetan-populated regions, posting warnings against celebrations of the politically sensitive event and blocking public gatherings that could be linked to it.
"Many vehicles equipped with devices to monitor online activities have been seen patrolling the area to monitor Tibetan activities," the source said.
"Tibetans in Rebgong were instructed not to assemble in large groups, organize celebratory picnics or use social media during the 80th anniversary. They were also instructed not to share photos or videos with others."
According to the source, Tibetans in Tsering Dondrub's Manggo village had planned a variety of activities for June 20-21 to mark the 80th anniversary of the Dalai Lama's birth year, "but the Chinese [authorities] stopped them."
"They had no choice except to celebrate within the confines of their homes," the source said.
"The Tibetan families placed photos of the Dalai Lama on the altars in their homes, made offerings of food and flowers, and recited prayers for his long life," he said.
A France-based Tibetan in exile, who maintains contacts inside Tibet, told RFA that monks at Rebgong's Riwo and Palden Gyurme monasteries also held prayer recitals for the long life of the Dalai Lama and made offerings to photos of the spiritual leader over the weekend.
"However, when the public tried to attend the monasteries to participate in the celebration, the Chinese authorities blocked them from doing so," the source said.
"Even mobile phones carried by members of the public were confiscated and their contents searched."
Successful prayer bid
Another Tibetan in exile told RFA that efforts by Chinese authorities to obstruct celebrations honoring the Dalai Lama in Chone (Zhuoni) county, in Gansu province's Kanlho (Gannan) Tibetan Autonomous Prefecture, have been largely unsuccessful.
"Tibetans in Tsawushi in Chone county accumulated several hundreds of thousands [of prayer recitals] over a one month period from May 5 to June 5 for the long life of the Dalai Lama," the source said.
The Dalai Lama, who turns 80 this year, fled Tibet into exile in India in the midst of a failed 1959 national uprising against Chinese rule, and displays by Tibetans of the Dalai Lama's photo or public celebrations of his birthday have been with harsh punishment in the past.
Sporadic demonstrations challenging Chinese rule have continued in Tibetan-populated areas of China since widespread protests swept the region in 2008, with 141 Tibetans to date setting themselves ablaze to oppose Beijing's rule and call for the Dalai Lama's return.
At Least 18 Dead in Ramadan Attack on Police Checkpoint in Xinjiang
June 23, 2015
Chinese police officers and paramilitary policemen patrol a street in Kashgar city, July 23, 2014.
ImagineChina
At least 18 people are dead following a knife and bomb attack by a group of ethnic Uyghurs on a police traffic checkpoint in northwestern China's troubled Xinjiang region, sources said Tuesday, amid harsh restrictions on observance of the Muslim holy month of Ramadan.
One source said the incident, which occurred Monday in the Tahtakoruk district of southwestern Xinjiang's Kashgar (in Chinese, Kashi) city, left as many as 28 people dead, several of whom were bystanders.
The attack began when a car sped through a traffic checkpoint without stopping, Turghun Memet, an officer with the nearby Heyhag district police station told RFA's Uyghur Service.
"When one of the policemen at the checkpoint ran out of the booth, the car backed up, hitting him and breaking his leg," Memet said.
"Two other suspects then rushed out of the car, using knives to attack and kill two police officers who had come to rescue their comrade," he said.
The remaining traffic police, who do not carry guns, called for backup from Memet's department and the People's Armed Police (PAP).
"By the time armed police reached the scene, three more suspects had arrived by sidecar motorcycle and attacked the checkpoint and police cars with explosives, killing one regular police officer, another traffic policeman and one auxiliary officer," Memet said.
"They also injured four other officers and damaged a police vehicle," he said.
"At that point, our [armed officers] arrived and killed 15 suspects we designated as terrorists."
Memet said the car used by the attackers had displayed a license plate from Kizilsu Kirghiz Autonomous Prefecture's Atush (in Chinese, Atushi) city, but he was told they were residents of Kashgar prefecture's Yengisheher (Shule) and Peyziwat (Jiashi) counties.
"The security is tight in [downtown Kashgar], so they chose to attack an area on the outskirts of the city," he said.
"They were in possession of simple weapons, so they targeted [an unarmed] traffic police checkpoint."
Information 'tightly controlled'
A police officer from Kashgar's Ostengboyi station, near the site of the attack, confirmed the incident to RFA, but said it was unclear how many people had died.
"The number of the dead varies even among the police—especially when it comes to the number of female suspects," the officer said on condition of anonymity, adding that he had heard either three or eight women were involved in the attack.
"Some are saying that all of the suspects were killed, while others say some were injured and taken to the hospital for treatment," he said.
"Information about this kind of incident is always tightly controlled—not even the police are given the details. But people are saying that the dead numbered around 20."
The officer noted that the attack occurred during the sensitive month of Ramadan and had "a massive effect" on the inhabitants of the city.
"Even the police are panicked and the situation is still very tense right now."
An officer from the Qoghan police station, which has jurisdiction over the site of the incident, also said the attackers were from Yengisheher and Peyziwat counties, but decided to target Kashgar because the city is more populated.
"I assume that they intended to do more damage in a bigger crowd in Kashgar city," he said, adding that an investigation into the attack was ongoing.
'Running for their lives'
A food vendor who works near where the attack occurred said the sound of explosions and prolonged gunfire prompted him to open his shop door a crack so he could see what was happening.
"I saw people running for their lives in all directions when the police fired, including a lot of women who were crying and screaming," he said, adding that if the women had been among the attackers "they would not have run and cried."
"We weren't given any information about the suspects' identities. The government usually refers to them as 'terrorists' in this kind of situation and they may do so this time as well."
A retired government worker, who also declined to give his name, said he had heard from a police officer that "28 people were killed in the incident, including six attackers and three police, while the others were all bystanders."
"It seems the police who arrived at the spot were either panicked or encouraged by the 'strike hard' policy, because they opened fire indiscriminately and many people who were not linked to the attackers got killed," he said.
Authorities have launched a "strike hard" campaign in Xinjiang in the name of fighting separatism, religious extremism, and terrorism, following a string of violent incidents that have left hundreds dead in recent years.
The government worker said he believed the incident was prompted by the restrictions put in place by authorities during the month of Ramadan, which he called "very extreme."
"I think this is the first reaction to this year's Ramadan restrictions," he said.
"If such restrictions were implemented in other parts of the [Muslim] world, they would have led to bloody incidents on a mass scale, but we Uyghurs are a defenseless and helpless people and this is the reaction."
Ramadan restrictions
The attack comes a week after millions of Uyghurs began observance of the Muslim holy month of Ramadan under increasing official pressure not to fast.
Uyghur officials and other state employees like teachers have been banned from fasting, and it is against the law for children under 18 to take part in religious activities.
Restaurants in the region are typically required to stay open all day, even if the owners are Muslim, and Uyghur children and young people are often required to attend free lunches in the region's schools and universities to avoid the dawn-to-dusk fast traditionally observed during Ramadan.
Turkic-speaking minority Uyghurs have complained about pervasive ethnic discrimination, religious repression, and cultural suppression by Chinese authorities.
Last October, authorities tightened rules forbidding anyone under the age of 18 from following a religion, targeting families whose children studied the Quran or fasted during Ramadan with hefty fines.
Authorities in the Hotan, Kashgar, and Aksu prefectures of Xinjiang have forced Uyghur parents to sign pledges promising not to allow their children to participate in religious activities, the Germany-based World Uyghur Congress exile group has said.
China equips all temples in 'Tibet' for TV propaganda education

June 20, 2015
China said Jun 19 that in order to guide religions to fit in a socialist society, it had provided radio and television equipment and access to services in all the 1,787 temples in the Tibet Autonomous Region. The project was launched in 2011 by the local authorities, reported China's overseas party mouthpiece Global Times Jun 19, citing the regional party mouthpiece Tibet Daily.
The report said the project helped monks and nuns better understand the ruling Chinese Communist Party government's policies and regulations, "improved their ability to distinguish truth from rumors, and also provided an effective channel to guide religions to fit in a socialist society."
With most of the temples being located in the mountains, technicians had to carry the equipment on their backs or use horses, the report added.
China does not allow Tibetans to watch or listen to overseas channels or services or programs not approved by it and the equipment provided to the temples give access only to the official Chinese media.
Five Tibetan Monks Are Detained in Chamdo on Unknown Charges
June 19, 2015
Chinese flags fly at a monastery in Chamdo in an undated photo. Photo courtesy of an RFA listener
Chinese authorities in Tibet detained five monks in a restive eastern prefecture on unknown charges over the weekend, later releasing four, with one placed under strict orders not to travel from his family home, sources said.
All five were residents of Chamdo (in Chinese, Changdu) prefecture's Karma monastery, a scene of past protests against Chinese rule and frequent target for harassment by police, RFA's source said, speaking on condition of anonymity.
"On June 13, at around 10:30 a.m., a group of Chinese police suddenly arrived at the monastery and detained two monks named Kargyal and Tenzin, taking them to nearby Karma town where they were thoroughly interrogated," the source said.
Two other monks—who were identified by sources as Barma Kunkyab and Shedrub Dawa-—were then taken into custody that afternoon and also questioned in government offices in the town, he said.
"Two of them were held until late at night and were released around 1:00 a.m., and except for Kargyal, all were eventually allowed to go," he said.
No reason was given for the monks' detention, he said.
Beaten in custody
The next day, police returned to the monastery and questioned a monk named Tashi Gyaltsen, the source said.
"He was then taken to the town's government center and severely beaten up," he said, adding that Gyaltsen was later released when his brother told authorities their father was in poor health.
"They allowed him to return to his family home under the condition of strict restrictions on his movements," he said.
Separately, a second local source confirmed the five had been detained, with all but Kargyal eventually released.
"At this time, the Chinese authorities are harassing the monks of Karma monastery," the source said.
Intrusive campaigns
Karma monastery is located in Chamdo prefecture's Chamdo county, where Chinese authorities in the past have launched intrusive campaigns to identify and monitor the political views of villagers.
In late 2011, Khenpo Lodroe Rabsel, a senior instructor at the monastery, was detained by authorities after monks fled the institution to escape police harassment following an Oct. 26 bomb blast in a nearby town, sources said in earlier reports.
The attack on a government building brought Chinese security forces into the area in large numbers, with authorities later warning senior monks that they would be shot if they failed to heed government orders to return.
Khenpo Rabsel was later released after being jailed for over two years, but was stripped of his robes and forbidden to teach, sources said.
Sporadic demonstrations challenging Chinese rule have continued in Tibetan-populated areas of China since widespread protests swept the region in 2008, with 141 Tibetans to date setting themselves ablaze to oppose Beijing's rule and call for the Dalai Lama's return.
China tightens access to information in Tibetan monasteries
June 19, 2015
Multi-year plan sees crackdown on unauthorized satellite access and installation of government-approved TVs.
China has finished installing televisions in every one of Tibet's nearly 1,800 Buddhist monasteries as Beijing steps up efforts to control information in the restive Himalayan region.
The scheme required monks and nuns to carry television sets on their backs or on horses across high mountain passes over the past three and half years to achieve complete coverage, the state-runTibet Daily reported yesterday.
"By listening to the radio and watching television, monks and nuns have a more intuitive understanding of the party and the country's policies, laws and regulations, ethnic and religious policies," it added.
Completion of the scheme has coincided with a new "patriotic program" launched by Tibet's Communist Party chief Chen Quanguo in April that requires all temples to fly China's national flag.
Beijing began its latest information war in Tibet during 2009 — a year after an uprising led by monks — when authorities piloted a television and radio scheme at 44 temples in Lhasa.
The government has long been irritated by services including Voice of America, sponsored by the US State Department, which beams in Tibetan-language news on human rights and exiled spiritual leader the Dalai Lama.
Authorities started posting notices in monasteries that had failed to replace old satellite televisions in 2013, threatening fines of 5,000 yuan (US$805) and "other consequences that should be borne by the monks themselves".
Officials then destroyed "illegal" televisions in bonfires, said Tsering Tsomo, director of the Tibetan Center for Human Rights and Democracy in Dharamsala, the Indian city where the Dalai Lama and other Tibetan exiles are based.
"The Chinese government is trying really hard to try to stop Tibetans from getting any information from outside," she told ucanews.com. "It has gotten much worse and we are very concerned. Now what we see is the government punishing Tibetans just for sharing information."
Police detained eight monks in March for allegedly sharing news on the popular Chinese messaging app WeChat at their monastery in Sog County, according to the London-based campaign group Free Tibet.
In 2012, senior monk Yonten Gyatso was sentenced to seven years in prison for sharing images of nun Tenzin Wangmo, one of about 140 Tibetans who have self-immolated to protest against Chinese rule since the 2008 uprising.
As Beijing has cracked down on information sharing, Tibetans have devised new methods to get information in and out of the region, although these could not be revealed for security reasons, said Tsering Tsomo.
"This is like a cat and mouse game, they try to block something from outside and then Tibetans come up with something else so we share information, and then they crack down again," she said.
China bans Ramadan fasting in mainly Muslim region
June 18, 2015
Civil servants, students and teachers prevented from fasting and restaurants ordered to remain open in Xinjiang region.
China has banned civil servants, students and teachers in its mainly Muslim Xinjiang region from fasting during Ramadan and ordered restaurants to stay open.
Most Muslims are required to fast from dawn to dusk during the holy month, which began on Thursday, but China's ruling Communist party is officially atheist and for years has restricted the practice in Xinjiang, home to the mostly Muslim Uighur minority.
"Food service workplaces will operate normal hours during Ramadan," said a notice posted last week on the website of the state Food and Drug Administration in Xinjiang's Jinghe county.
Officials in the region's Bole county were told: "During Ramadan do not engage in fasting, vigils or other religious activities," according to a local government website report of a meeting this week.
Each year, the authorities' attempt to ban fasting among Uighur Muslims in Xinjiang receives widespread criticism from rights groups.
Uighur rights groups say China's restrictions on Islam in Xinjiang have added to ethnic tensions in the region, where clashes have killed hundreds in recent years.
China says it faces a "terrorist threat" in Xinjiang, with officials blaming "religious extremism" for the growing violence.
"China's goal in prohibiting fasting is to forcibly move Uighurs away from their Muslim culture during Ramadan," said Dilxat Rexit, a spokesman for the exiled World Uyghur Congress.
"Policies that prohibit religious fasting is a provocation and will only lead to instability and conflict."
As in previous years, school children were included in directives limiting Ramadan fasting and other religious observances.
The education bureau of Tarbaghatay city, known as Tacheng in Chinese, this month ordered schools to communicate to students that "during Ramadan, ethnic minority students do not fast, do not enter mosques … and do not attend religious activities".
Similar orders were posted on the websites of other Xinjiang education bureaus and schools.
Officials in the region's Qiemo county this week met local religious leaders to inform them there would be increased inspections during Ramadan in order to "maintain social stability", the county's official website said.
Ahead of the holy month, one village in Yili, near the border with Kazakhstan, said mosques must check the identification cards of anyone who comes to pray during Ramadan, according to a notice on the government's website.
The Bole county government said that Mehmet Talip, a 90-year-old Uighur Communist Party member, had promised to avoid fasting and vowed to "not enter a mosque in order to consciously resist religious and superstitious ideas".
Chinese leader who ordered 'merciless repression' in Tibet dead
June 16, 2015
Qiao Shi, the Chinese leader who during a visit to Tibet in Jul 1988 had ordered "merciless repression" of all forms of protest against Chinese rule, has died. He died of illness in Beijing at 7:08 am on Jun 14, reported China's official Xinhua news agency Jun 14, citing an obituary from the Central Committee of the Communist Party of China (CPC).
Qiao Shi, former chairman of the National People's Congress (NPC) Standing Committee, died of illness in Beijing on Sunday at the age of 91. (Photo courtesy: en.apdnews.com)
Qiao Shi, the Chinese leader who during a visit to Tibet in Jul 1988 had ordered "merciless repression" of all forms of protest against Chinese rule, has died. He died of illness in Beijing at 7:08 am on Jun 14, reported China's official Xinhua news agency Jun 14, citing an obituary from the Central Committee of the Communist Party of China (CPC).
Qiao, who was 91, last served as the chairman of the National People's Congress (NPC) Standing Committee from 1993 to 1998. He was also a member of the Standing Committee of the Political Bureau of the CPC Central Committee, China's top decision making body.
Before that, he was the head of the CPC Central Commission for Discipline Inspection from 1987 to 1992. It was while holding this position that he toured Tibet where there had been a series of peaceful protest rallies in capital Lhasa since Sep 27, 1987. Chinese police had already opened fire to kill many Tibetans while detaining thousands more. But following Qiao's call, an officer was reported to have been heard ordering his men to "kill the Tibetans" when there was a demonstration at the Jokhang Temple on Dec 10, 1988.
The party obituary was reported to describe Qiao as an excellent Party member, a time-tested and loyal communist soldier, and an outstanding proletarian revolutionist, statesman and leader of the Party and the state, with this death being called "a great loss for the Party and the people".
China cracking down on Tibetan monastery for exceeding monk quota limit
June 15, 2015
In further tightening of control and restrictions on a Tibetan Buddhist monastery in Tridu (Chinese: Chenduo) County of Yulshul (yushu) Prefecture, Qinghai Province, China has begun strictly enforcing government limit on the number of monks allowed to be enrolled there. Those found to be residing and studying at the Nyatso Zilkar Monastery without having received permission from the relevant Chinese government departments were being expelled, reported Radio Free Asia (Washington) Jun 12, citing local sources.
"Only those who are registered within the approved quota of monks assigned to Zilkar will be allowed to remain there," the report quoted one source as saying.
Under Chinese rule, Tibetans are not allowed to become monks unless they are at least 18 years old. And in order to become a monk and enrol in a monastery, a Tibetan should receive clearance and permission from several government departments, including the police and the local religious bureau. And monasteries cannot enrol monks beyond the limits set by the Chinese government. Monks who fail patriotism tests, or who are found involved in protests against Chinese government, or who do not belong to the local area, are all expelled. The same applies to nuns.
Monks of Nyatso Zilkar have, in recent years, led protest marches and held prayers for self-immolation protesters. As a result, they have faced severe and repeated crackdown from the Chinese government. The report noted that on Feb 8, 2012, about 400 monks of Nyatso Zilkar launched a seven-mile "solidarity" march but were stopped by security forces halfway at a bridge, angering hundreds of local residents who then joined the demonstration.
It was not clear how many monks Nyatso Zilkar currently had and how many were seen likely to be expelled. Many monasteries in Tibet have monks in excess of the official quota due to the severity of the limits imposed by the Chinese government and the difficulty of getting the relevant clearances and permits to join them.
The report said Nyatso Zilkar was continuing to see its monks being pursued and detained by Chinese authorities for suspected involvement in protest activities. A monk named Tsultrim Woeser was taken away on Jun 10 and detained for two days before being released but barred from returning to his monastery, the report said. Friends were said to suspect that he may have been targeted for his use of the online social media and due to his previous travels to Tibet's capital Lhasa and to Qinghai.
Also, on Jun 11, Chinese police came looking for a monk who was studying at Nyatso Zilkar but belonged to a Tibetan area in Sichuan Province. However, the police returned empty handed as the monk had already left, the report added.
China condemns Tibet protesters, says won't shake bid resolve
June 11, 2015
China on Thursday condemned pro-Tibet demonstrators who burst into a news event with the Olympic committee bidding to host the 2022 Winter Games in Beijing, saying they would not shake China's resolve to host the Games.
The protest on Wednesday in Lausanne, Switzerland, could be the first of many such demonstrations and be a public-relations headache for China if Beijing wins the bid to host the event.
Three Tibetans disrupted Beijing's presentation, according to the International Tibet Network, a Tibetan advocacy group. Online video footage showed one protester being dragged away by security officers as he shouted: "Stop Beijing 2022. No more bloody Games again. IOC, don't make the same mistake again."
Tibetan parts of China experienced a wave of violent anti-Chinese protests in 2008, the year Beijing hosted the Summer Olympics. Rights groups said the Games were marked by forced evictions – claims angrily dismissed at the time by the government – and other abuses.
China has ruled Tibet with an iron fist since troops "peacefully liberated" the region in 1950.
Protesters in Lausanne held a banner with the Olympic rings displayed as bullet holes, while a woman wore a t-shirt covered in fake blood.
"These people were deliberately provocative," Chinese Foreign Ministry spokesman Hong Lei told a daily news briefing.
"Their behavior will not shake the resolve of the Chinese government and people to apply to hold the Winter Olympics in Beijing."
Beijing's bid committee did not respond to a request for comment.
Activists have already expressed concern about the possibility Beijing will win, with Tibetan groups saying that China's rights record disqualifies it.
President Xi Jinping has overseen a broad crackdown on the country's rights community since he took office in 2013, in what some groups call the worst suppression of dissent in two decades.
The International Olympic Committee said last year it would include human rights clauses in new contracts to be signed by future Olympic host cities, strengthening its anti-discrimination policy.
China had provided the IOC with "written assurances" of its respect for human rights, an Olympic panel said in a report earlier this month.
Beijing is competing with Almaty, Kazakhstan, in its bid to host the 2022 Games. The IOC will pick the winner next month.
How was Tibet's human rights situation in 2014?
June 10, 2015
On June 8, China's State Council Information Office published a white paper titled "Progress in China's Human Rights in 2014". The paper mentioned that the Chinese people's fundamental rights were further protected in 2014, and the constitutional principle that "the state respects and protects human rights" was well implemented.
Liu Huawen, deputy director of the Human Rights Research Center of Chinese Academy of Social Sciences said,"China's views of human rights are advancing with the times. It has been developing from the economic development to the economic, political, social, cultural, ecology combined."
Human rights is first and foremost the rights to life and development. According to the white paper,last year the economy in the Tibet Autonomous Region, located in central and western China, grew faster than the eastern regions of China. In 2014, China's GDP growth was 7.4 percent more than the previous year, and GDP growth in the Tibet Autonomous Region was 3.4 percent higher than that of the national average.
The Tibet Autonomous Region government completed a rural housing project over eight years that with the total investment of 27.357 billion yuan, bringing safe and comfortable housing to the region's 2.3 million rural residents.
With Lhasa as its center, Tibet has already established a public health service system that combines Tibetan medicine, western medicine, and traditional Chinese medicine across the entire region, providing free health care through the rural health care system for the whole region's rural residents. More than 5,900 orphans receive effective aid. The average life expectancy in Tibet is 68 years old, and maternal and infant mortality rates have been substantially reduced.
The democratic rights of the Tibetan people were effectively protected in 2014. More than 93 percent of deputies of the Tibet Autonomous Region People's Congress are of Tibetan ethnicity or come from other ethnic minority groups. The Tibet Autonomous Region has 20 deputies in the National People's Congress, of whom 14 are of Tibetan ethnicity or come from other ethnic minority groups. 70.53 percent of party cadres in the region are of Tibetan ethnicity or come from other ethnic minority groups.
According to the white paper issued by the Chinese government in April this year titled "The Historical Choice of Development Path For Tibet", since 1965 the Tibet Autonomous Region People's Congress and its Standing Committee have enacted more than 290 local laws, and legally binding resolutions, decisions, implementing a number of nationally drafted laws that are appropriate for Tibet.
In addition, the right of use and development of Tibetan language, culture, and religion are all respected and protected. In the Tibet Autonomous Region,there are currently 10 Tibetan-language magazines and 22 Tibetan-language newspapers. The Tibet People's Broadcasting Station operates 42 Tibetan-language programs, and the Tibet TV Station broadcasts in Tibetan language 24 hours a day. Tibet is implementing bilingual compulsory education in stages for over 400,000 students, accounting for 97 percent of students in Tibet.
The Tibet Autonomous Region has nearly 800 intangible cultural heritage items and 158 precious ancient books entered into the national precious ancient book record. In 2014, three major cultural renovation projects of the Potala Palace, Norbulingka, and Sakya Monastery were completed with investments totaling 380 million yuan.
Monks and nuns enjoy full coverage for health insurance, pensions, welfare subsidies, and personal accident insurance. As of 2014, there were 110 monks who had achieved the Tho Ram Pa senior academic title and 84 monks who had achieved the Nzhing Ram Pa intermediate academic title. In addition,China has spent 35 million yuan and more than 20 years in compiling theChinese Great Tibetan Scripture Book (Tibetan language) for publication.
Liu Huawen said that the human rights situation last year achieved new developments in environmental protection. "This white paper defines the right to protect the environment in a separate chapter." The white paper mentions that Tibet has invested 5.7 billion yuan in the protection and construction of national ecological security barrier. Energy saving has achieved remarkable results, and Tibet has already established operational and specific environmental pollution control targets and responsibility assessment methods.
According to data from the white paper "Historical Choice of Development Path for Tibet", Tibet currently has 413,700 square kilometers of nature reserve areas, and more than 6 million hectares of wetlands, both ranking first in China. According to Xinhuareports, records from the Tibet Environmental Bulletin show that in 2014 the air quality in Lhasa ranked third out of 74 cities.
The white paper also emphasizes that China is protecting the people's right to life and development at a higher level. China's achievements in human rights show that the country has successfully created a path of development suited to its national conditions and human rights.
As one of China's ethnic minority regions, Tibet, since its peaceful liberation in 1951 and the establishment of the Tibet Autonomous Region in 1965, has achieved a great leap from a feudal serfdom to a socialist society.The Tibetan people have become masters of their own in the country and the society. Therefore, the development path Tibet has embarked on today is in line with China's development as well as the fundamental interests of the Tibetan people.
Chinese Police Detain Four Tibetan Monks at Labrang
June 9, 2015
Labrang monastery in Sangchu county, Gansu, June 1, 2015. Photo courtesy of an RFA listener
Police in northwestern China's Gansu province have taken four monks into custody at a large and well-known Tibetan monastery, posing in one case as electricians to make the arrest and refusing so far to tell family members where the detained men are being held.
All four of those taken into custody were residents of Labrang Tashikyil monastery in Gansu's Sangchu (in Chinese, Xiahe) county in the Kanlho (Gannan) Tibetan Autonomous Prefecture, a site of frequent protests against Beijing's rule in Tibetan areas, sources said.
Three of the detained monks—Chunggey Jinpa, Kalsang, and Jamyang—were seized by police at around 7:00 p.m. on June 5 while walking in a market near the monastery, a local source told RFA's Tibetan Service on Tuesday.
"Despite a Chinese law requiring authorities to inform detainees' relatives of where they are being held within 24 hours, nothing has been heard so far," RFA's source said, speaking on condition of anonymity.
"Their current whereabouts remain unknown," he said.
The three come originally from the Bora district of Sangchu county, with Kalsang and Jinpa performers of ritual dance at Labrang and Chunggey Jinpa enrolled in formal Tibetan Buddhist studies at the monastery, the source said.
Taken away in handcuffs
Another Labrang monk, Kalsang Monlam, was detained separately on or about the same day, with plainclothes officers disguised as electricians jumping the fence of his living quarters at the monastery to take him into custody, the source said.
"After first saying they were there to do a job, they forced the monk to unlock his mobile phone and then ransacked his room and took him away in handcuffs," he said.
The families of the detained monks are now "very concerned about their well-being and present status," the source said, adding that in similar cases of detention at Labrang it has taken months, and sometimes years, for authorities to formally file charges.
Heightened security measures at Labrang in March included the arrival at the monastery of hundreds of armed paramilitary police, and appeared aimed at preventing protests on the March 10 anniversary of a failed 1959 Tibetan revolt against Chinese rule.
Tibet's spiritual leader the Dalai Lama fled Tibet into exile in the midst of the uprising, and Beijing has repeatedly accused exiled Tibetans, including the Dalai Lama, of stoking dissent against its rule ever since.
Sporadic demonstrations challenging Chinese rule have continued in Tibetan-populated areas of China since widespread protests swept the region in 2008, with 141 Tibetans to date setting themselves ablaze to oppose Beijing's rule and call for the Dalai Lama's return.
China exports repression beyond its borders
June 9, 2015
Shohret Hoshur, Washington-based reporter for Radio Free Asia. Chinese authorities have arrested Mr. Hoshur's three brothers. (Smith Augustin Jr. /Radio Free Asia/Courtesy of Smith Augustin Jr. /Radio Free Asia)
I t is common for tyrants to claim that human rights are an "internal matter" and should not concern outsiders. When faced with complaints that they deny people freedom to speak, protest, worship and vote, these autocrats like to say: Buzz off. That's how China's leaders have responded for decades when called out for their abysmal record on human rights. Yet Beijing is increasingly exporting its "internal matters" — the repression of critical or even independent voices — to other countries.
We noted previously how China used a computer attack in March to damage servers in the United States that enabled citizens to bypass the Great Firewall, that massive, smothering blanket imposed by the state on Internet freedom. Researchers in Canada concluded that Beijing has developed an offensive cyberweapon, dubbed "the great cannon," to take down Web sites outside China to which it objects.
Now we are concerned about how China is attempting to punish the ethnic Uighur journalist Shohret Hoshur of Radio Free Asia by imprisoning his three brothers in China. Mr. Hoshur left China in 1994 after he ran into trouble with the authorities because of his reporting. He has since become a U.S. citizen, and his work has provided an important window on events in the largely Muslim province of Xinjiang, beset in the past few years with a violent conflict that China blames on Uighur separatists. Radio Free Asia is funded annually by the U.S. government's Broadcasting Board of Governors.
Mr. Hoshur's original and courageous reporting irritated the Chinese authorities, and his family in Xinjiang began suffering several years ago. But the intimidation and threats have accelerated in recent months.
One of Mr. Hoshur's brothers was sentenced to five years in prison last year on charges of violating state security laws. Two other brothers have been detained since August after discussing the trial in a phone conversation with Mr. Hoshur. Now, according to Mr. Hoshur, family members have been told that both detained brothers — who have disappeared into the gulag and not been heard from since — are about to be formally charged with leaking state secrets.
Mr. Hoshur told us this is a worrisome development because it means a prosecutor has approved the charges. These allegations are vague, trumped-up and of the kind often used in political persecutions. Mr. Hoshur says his brothers are farmers and merchants and are not involved in politics. They are being punished simply to hurt Mr. Hoshur.
The Chinese probably assume that they can imprison Mr. Hoshur's brothers with impunity and simply tell the rest of the world to get lost. We think the United States should declare, loudly and publicly, that such brazen intimidation is reprehensible. The brothers of Mr. Hoshur should be released and the family left alone. When China persecutes a journalist living in the United States, it is no longer an "internal matter."
Progress in China's Human Rights in 2014
June 8, 2015
The Information Office of the State Council, or China's Cabinet, issued a white paper on Progress in China's Human Rights in 2014 Monday.
Read the full report here: http://fnvaworld.org/?p=15426
Tibetans, Allies Dispute China's White Paper On Human Rights Conditions
June 8, 2015
China has released its annual white paper on the state of human rights conditions in the country. Published across state-run media, the report takes an overview of the progress that was reportedly made in 2014 — all while Tibetans and their activist allies say the government continues to marginalize and exploit the ethnic group.
On the same day as the release of the white paper, British activist group Free Tibet released a statement saying that ongoing construction efforts put forth by Beijing have polluted the only water source in the Tibetan village of Shadrang. The report says that various infrastructure and mining projects have disrupted the natural habitat and have had a profound effect on resources for local residents.
"Infrastructure projects in Tibet are motivated by China's focus on resource exploitation, not the interests of Tibetans," Alistair Currie, campaigns and media manager for Free Tibet, said in a statement. "Roads and highways facilitate the movement of equipment and workers in, and extricated resources out. Pollution, destruction of the environment and land-grabbing are part and parcel of the economic exploitation of Tibet, and of little concern to China's government. This is a deep source of grievance to Tibetans and increasingly a flashpoint for protest."
Despite these criticisms suggesting a differing view on the human rights situation in China, the lengthy report gave a mostly positive outlook on human rights issues.
"The tremendous achievements China has made in its human rights endeavors fully demonstrate that it is taking the correct path of human rights development that suits its national conditions," the report read. China's central government has taken very public, notable efforts to rectify issues with the treatment of the elderly and disabilities, while improvements or awareness about other human rights issues are less easy to pinpoint.
When it comes to the "rights of ethnic minorities," the white paper cites an increased representation of ethnic minorities in civil servant roles as a sign of better response to the needs of the community. The report says Tibetans "or other ethnic minorities" account for just over 70 percent of the government officials in the Tibetan Autonomous Region. The report also claims that cultural services for ethnic minorities are growing. However, reports on the ground still seem to differ.
In late May, 37-year-old Sangy Tso, a mother of two, self-immolated in political protest "against those Chinese officials who are constantly torturing Tibetans in the area," Free Tibet reported. The group said it was the fifth confirmed account of self-immolation in Tibet in 2015.
Tibetan language tested on first syllabus, kids of returned Tibetans to get bonus points in college addmission
June 8, 2015
At 9am on June 7th, the national College Entrance Examination known as Gaokao began. This year, Tibet has a total of 22,590 candidates, 90 percent of whom are minority students, and 83 percent of whom are the children of farmers and herdsmen.
Tibetan language is a subject tested independently by Tibet Education Bureau. In 2013, the first curriculum and Gaokao instructions on Tibetan language was compiled in Tibetan history by Tibetan language teachers selected from middle schools.
This year, Tibet has designed the tests of Tibetan language in strict accordance with the requirements of the syllabus. Tibetan language examination will be held on the morning of June 9th.
This year three blind candidates; in Lhasa City and Nagqu Prefecture participated in Gaokao. Separate exam rooms and teachers have been arranged to assist them to take the exam.
According to Lu Shicheng, Dean of Tibet Education Examinations, in recent years in the college enrolment plan in Tibet, a special rural poverty plan has been established to help the children of farmers and herdsmen to attend college, setting up a separate batch of admission for these students. In 2014, the college admission rate for children of farmers and herdsmen was 71 percent, an increase of nearly 10 percent.
In the bonus policy, the children of returned overseas Tibetans as well as nine other categories of candidates can be rewarded up to 30 bonus points.
Two Tibetans Linked to Lhasa Self-Immolation Are Freed From Prison
June 3, 2015
Two Tibetans linked to a self-immolation protest three years ago in Tibet's regional capital Lhasa have been released from prison after serving their sentences and have returned to their homes in western China's Sichuan province, sources said.
Phakma, the wife of a Lhasa restaurant worker, and her nephew Jigme were released on May 29 and were flown to Chengdu in western China's Sichuan province, "where many of their friends and relatives were waiting to welcome them," a local source told RFA's Tibetan Service.
"They were taken to a local hospital for health checkups and finally reached their home in Ngaba [in Chinese, Aba] Tibetan Autonomous Prefecture on June 1," the source said, speaking on condition of anonymity.
"When they arrived, their relatives and members of their village community welcomed them by burning incense and juniper leaves, hoisting flags, and presenting them with ceremonial scarves," he said.
Phakma, now 37, and Jigme had been detained "along with many other Tibetans" after two young men set themselves ablaze in the courtyard of Lhasa's Jokhang cathedral on May 27, 2012, to challenge China's rule in Tibetan areas, the source said.
The fiery protests were among the few to be reported in or near the capital of the Tibet Autonomous Region (TAR). Almost all other self-immolations, now totaling 141, have been staged in Tibetan-populated regions of western Chinese provinces or in eastern prefectures of the TAR.
Phakma, a resident of Shogu village in Ngaba's Lota township, has two daughters and a son, RFA's source said, adding that her husband Karkho was also linked to the self-immolation protest and was later sentenced to life in prison.
New law issued to standardize Tibetan language in Sichuan Tibetan-inhabited area
June 4, 2015
Garze Tibetan Autonomous Prefecture in Sichuan Province held a press conference regarding the implementation of the "Regulations on Standardizing Tibetan Language in Garze Tibetan Autonomous Prefecture", June 1st, 2015, Garze Daily reported.
The regulation aims to protect and promote Tibetan language learning, research, use, management and development; to standardize the Tibetan language, which marked a new stage in the development of the Tibetan language in Garze.
The "Regulations" were passed by the Sichuan Provincial People's Congress in April 2015 and came into effect from  June 1.
With a total of six chapters and 41 articles, the "Regulations" are mainly focused on research, use and management of the Tibetan language, and the building of the teams involved as well as their legal responsibilities.
The "Regulations" clearly define the specific standards in five aspects, stipulate the arrangement rules between the Tibetan language and the national common language, as well as the obligations related to the management of Tibetan language, outlining the supervisory responsibilities of the relevant functional departments.
The meeting urged all levels of the local government to further implement law-based management of the Tibetan language; to further encourage all ethnic groups to learn languages from each other; to further promote the standardization of the Tibetan language; and to help promote continued development of the Tibetan language. 
Tibet to accelerate training of bilingual judges to promote rule of law
Mobile court in the pastoral area of Tibet's Nagqu Prefecture
June 3, 2015
The Supreme Court will decide a timetable and roadmap of "thousand-person plan" for training bilingual judges from the high, middle and primary level courts in July,according to reports by the Legal Daily.
On May 28, at a bilingual training seminar for judges jointly held by the Supreme People's Court and State Ethnic Affairs Commission, deputy director of the State Ethnic Affairs Commission Dondrup Angben pointed out that ethnic minority areas are all faced with the same problem: there is a lack of judges who understand the law as well as both Mandarin and Tibetan, which restricts the administration of justice in those areas. This is the greatest barrier to fair administration of justice.
Tibet is a multi-ethnic area in which the Tibetan ethnicity is the largest group. As the people's awareness of the law begins to gradually increase, the number of cases in primary level courts rises each year. In addition, the majority of cases accepted by primary level courts involve farmers and herdsmen. The law regulates that Tibetan language be used to open a court session to hear cases, which rural and pastoral residents expect in the judicial system. Therefore, it is extremely important to train judges to be bilingual in both Tibetan and Mandarin.
Zhao Xiaolian, director of the Teaching and Research Section of the National Institute of Judges Tibet Branch said that the current team of bilingual judges in Tibet is young, and the levels of their Tibetan language and knowledge of the law are varied. Therefore, they are unable to meet the needs of the people. So there is an urgent need to train high quality judges who have good command of both Tibetan and Mandarin.
In order to solve this problem, the Supreme Court issued the "Opinions in strengthening training of personnel of the people's courts under the new situation" in October 2013. According to the goals set forth in the "thousand-person plan", bilingual 1,500 bilingual judges will be trained by 2020. In October 2014, the Supreme Court together with the State Ethnic Affairs Commission held a Tibetan and Chinese bilingual training course at Southwest University for Nationalities in Chengdu, capital of Sichuan Province.
In April of this year, the Supreme Court together with the State Ethnic Affairs Commission also published the "Opinions in strengthening and improving bilingual training of judges in minority areas" in order to  promote the implementation of the "thousand-person plan". The National Court has built a database of teachers for training judges to be bilingual, and five training bases for bilingual and ethnic minority judges have been built in Tibet and Inner Mongolia autonomous regions, and Qinghai, Guizhou and Gansu provinces.
This year, the Supreme Court has raised 2 million yuan of special fund for the compilation of teaching materials to train bilingual judges. The Tibet High People's Court has compiled teaching materials such as "Translation models of Tibetan-Mandarin judgement documents" and "General penal code in Tibetan language".
Currently, the Tibet Autonomous Region has 82 level-three courts, 84 detached tribunals and 1,283 judges. Among them, 799 judges are bilingual in Tibetan and Mandarin, making up 62 percent of the total number of judges
China's Panchen Lama pledges patriotism in sensitive year
June 2, 2015

A youth named by China as the second-highest figure in Tibetan Buddhism but reviled by many Tibetans as a fake has pledged his patriotism, Chinese state media said on Tuesday, amid a year of sensitive anniversaries for Tibet.
Gyaltsen Norbu was selected as a boy by officially atheist Beijing in 1995 as the 11th Panchen Lama in China's drive to win the hearts and minds of Tibetans.
Tibet's current spiritual leader, the Dalai Lama, had announced his own choice of a six-year-old boy, who was taken away by authorities and has since vanished from public view.
This year not only marks the 20th anniversary of the disappearance of the six-year-old boy but also the 80th birthday of the Dalai Lama, who has lived in exile in India since fleeing Tibet in 1959 following an abortive uprising against Chinese rule.
During a seven-day tour of the southwestern Chinese province of Yunnan, which borders what China calls the Tibet Autonomous Region and is home to many ethnic Tibetans, China's Panchen Lama visited temples, met monks, blessed followers and lead prayers, the official Xinhua news agency said.
"The Panchen Lama pledged to uphold patriotism and make contributions to national unity, ethnic solidarity, religious harmony and social stability," the news agency said.
"He called on all Chinese Tibetan-Buddhist followers to love the country, make efforts to benefit the people and practice benevolence to promote social development and protect national interests," it added.
China has gradually exposed its Panchen Lama in public roles in the hope he will achieve the respect commanded by the Dalai Lama among Tibetans and globally, and in 2012 he made his first trip outside mainland China when he visited Hong Kong.
Chinese troops marched into Tibet in 1950. After the Dalai Lama fled, the 10th Panchen Lama stayed on and was initially seen as a collaborator, but it later emerged that he spent more than a decade either in prison or under house arrest for criticizing Beijing.
He was freed in 1977 and politically rehabilitated the following year. He died in 1989.
Activists say China has violently tried to stamp out religious freedom and culture in Tibet. China rejects the criticism, saying its rule has ended serfdom and brought development to a backward region.
Tibet remains under heavy security and in recent years foreign media has been all but banned from visiting.
Environment
China climate change plan unveiled
June 30, 2015
China – the world's largest emitter of greenhouse gases – has announced details of its climate action plan.
The office of Premier Li Keqiang said that emissions "will peak by around 2030″ and China would work hard to achieve the target even earlier.
The statement echoes China's declaration last November following a US-China summit.
China's pledge comes ahead of talks late this year in Paris to seek a new global deal on climate change.
The statement, released following a meeting in Paris between Li and French President Francois Hollande, said China aimed to reduce its carbon dioxide emissions per unit of GDP by 60-65% by 2030, from 2005 levels.
The carbon intensity target builds on a previous plan to cut carbon intensity by 40-45% by 2020. China also aimed to increase the share of non-fossil fuels in its primary energy consumption to about 20% by 2030, the statement added.
Beijing previously set a goal of getting around 15% of its energy from clean sources by 2020. This is a significant moment in international climate negotiations. For years China argued that it was too poor and underdeveloped to even consider accepting any obligations to curb its greenhouse gases.
Now we're witnessing the world's largest emitter playing by the UN's rules and promising even deeper cuts that those suggested some months back. For diplomats and ministers hoping to see a meaningful deal at the climate summit in Paris at the end of the year, this will be a welcome step.
The size of cuts, and the timescale, will of course be judged by many as too little and too late. But for anyone who endured the collapse of talks at the Copenhagen summit six years ago, China is playing a very different and far more constructive game. Will it actually make any difference to global warming? Scientists always say it does not matter to the atmosphere where the emissions come from and China's will continue to rise for the next 15 years or so, and on their already gargantuan scale.
And today's announcement does not mean that Chinese use of fossil fuels is coming to an end any time soon. On the same day that China has announced this climate plan it also began construction of a massive pipeline that will bring it a lot of gas from Russia.
National plans
All countries involved in UN climate talks must submit national plans for cutting emissions ahead of the key Paris talks.
China joins several other countries, including the EU, US and Mexico, that have already committed their plans for tackling climate change, formally known by the UN as INDCs (intended nationally determined contribution).
With China's announcement, the world's biggest polluters – China, the US and the EU – have now all detailed their climate plans ahead of the global climate conference.
Commenting on the statement, Li Shuo, climate analyst for Greenpeace China, said for success in Paris, all players – including China and the EU – needed to up their game.
"Today's pledge must be seen as only the starting point for much more ambitious actions.
"It does not fully reflect the significant energy transition that is already taking place in China.
"Given the dramatic fall in coal consumption, robust renewable energy uptake, and the urgent need to address air pollution, we believe the country can go well beyond what it has proposed today."
Energy transition
China's new climate plan sends a strong message to other countries to do more on climate ahead of this year's negotiations for a new global climate deal, said WWF.
Samantha Smith, global climate leader at WWF, said China was the first major developing country emitter to set a total emissions peak target.
"In doing so, China has committed to both global climate security and to a transformational energy transition at home," she said.
"We emphasise the importance of the fact that China has made commitments beyond its responsibility as a developing country. But we hope that China will continue to find ways to reduce its emissions, which will in turn drive global markets for renewable energy and energy efficiency."
On Monday, at talks in Brussels with EU leaders, the Chinese Premier said the country was seeking a fair, global system to tackle climate change.
China will work with the international community to seek a "fair, reasonable, win-win" global climate governance system, Li said.
China to make bigger splash for hydropower
June 30, 2015
As China embarks on rapid urbanization along with the modernization of its rural regions, demand for energy grows more insatiable. Hence, the State Grid Corporation is transmitting ever more sources of electricity to a rising number of households, shops, offices and factories in the country.
Farmers also deserve better lives for their efforts to feed the nation. Rural residents need electricity for their homes and access to upgraded equipment to boost crop and livestock production.
Beijing has announced plans to build more power plants to meet rising demand. China must boost energy supply or risk succumbing to power shortages that could hamper domestic manufacturing activities and would make life unbearable for residents. The construction of more dams for hydropower plants can play a pivotal role.
Building boom for hydropower
The State Grid Co. has recently disclosed a blueprint to build three new hydropower plants in China's central and eastern provinces of Anhui, Henan and Shandong, which would offer state-of-the-art electrical storage. The three projects are estimated to cost approximately RMB21.7 billion or $US3.55bln. and are set for completion in 2021, according to the China Topix Website.
The new hydropower plants are expected to generate a capacity of 3.6 million kilowatts while reducing carbon emissions. The State Grid currently has 19 hydropower plants with 12 still under construction.
When all plants become fully operational, it is estimated that they can produce 38 million kilowatts of clean fuel. Meanwhile, Moscow seeks greater cooperation with Beijing to build more dams on Russian rivers.
Three Gorges Dam goes north to Russia
Last month Chinese President Xi Jinping visited Moscow to celebrate the 70th anniversary of the end of World War II in Europe where he was joined by Russian President Vladimir Putin.
They reached agreements on deals, which included China's Three Gorges Dam Corp. signing a joint project with Russia-based RusHydro. The two hydropower giants plan to construct a dam on the Bureya River in Russia's Far East region.
The project is expected to benefit both countries. The dam is designed for installed capacity of 320 megawatts, which would also help strengthen flood controls on the Russian side. The electricity the hydropower plant generates would get transmitted to Chinese households.
Russia is recognized for holding an abundance of oil & gas reserves, but Moscow hopes to diversify its economy by developing alternative energy sources to export abroad, particularly to China.
Hydropower works but needs more fixing
Yes, hydropower can reduce greenhouse gas emissions, but some critics have raised concerns such as the costly and lengthy construction time of building huge dams. A substantial amount of hydropower wastage has also occurred.
In regards to building dams, environmentalists should understand that supporting clean energy means constructing more power plants on sites that may require some citizens to relocate elsewhere, such as what happened when building the Three Gorges Dam near Chongqing. Hydropower does not just magically appear from rivers; constructing dams are necessary for its existence.
The Economic Times pointed to another dilemma, since China does have enormous hydropower capacity but has failed to utilize it fully. More than 20 percent of the energy produced has gone unused and wasted due to low energy demand in the surrounding isolated rural regions.
Meanwhile, China has the ability to double current hydropower output to 2.2 trillion kWh with dams already in operation. This means that technical lapses continue to confront the sector, but Chinese officials are aware of the difficulties and in search of pragmatic solutions.
"We are currently looking for ways to solve problems on discarded water," Shi Lishan, vice-head of renewables at China's National Energy Administration, told the Economic Times.
Water that flows as energy
Water remains an essential source for life, since we need it for drinking and washing ourselves. Additionally, China is utilizing water for more energy usage by building dams for hydropower plants. It's a clean energy, and if used to full capacity, can reduce pollution, potentially eliminating the use of 500 million tons of coal annually. Accordingly, Beijing needs the full support of its citizens to pursue hydropower ambitions nationwide.
China-India: Revisiting the 'Water Wars' Narrative
June 30, 2015
The "water wars" narrative in the context of the Brahmaputra River is premature and unhelpful.
With China's late-2014 completion of the Zangmu dam, the largest hydropower dam on the Brahmaputra River (known in Tibet as the Yarlung Tsangpo River), many Indian and international security experts have been warning of the coming of "water wars" between the two countries.
Those who worry about this scenario have three major arguments. First, China will face serious water shortages in the future and so will begin to divert water flow from the Brahmaputra River to its dry north. Second, this would be catastrophic for downstream countries. Third, China's unwillingness to sign any binding agreement with downstream countries over trans-boundary rivers is evidence of Beijing's insistence on absolute sovereignty over water, to the significant detriment of downstream countries.
While water issues could well emerge as one of the major threats to Sino-India relations given rapidly rising demand, competing water usage, and threats from climate change, the water wars narrative still seems to be premature.
No Plans to Divert Water
The supporters of the "water war" narratives believe that China already has a plan to divert the Brahmaputra River – more specifically, the western route of China's South North Water Diversion Projects. This is, however, a misperception. The Grand Western Water Diversion Plan (GWWD), which originated from the Shuotian Canal idea proposed by Chinese water expert Guo Kai, intends to divert water from the upstream sections of six rivers in southwest China, including upstream Mekong, the Brahmaputra River, and the Salween, to the dry areas of northern China. In contrast, the officially approved western route of the South-North Water Diversion (SNWD) project is about linking the headwaters of the Yangtze and Yellow rivers across the high-altitude Qinghai-Tibetan Plateau. In 2011, at a press conference, China's vice minister of Ministry of Water Resources confirmed that China had no plan to divert the waters of the Brahmaputra.
In recent years, China has spent trillions of yuan damming its rivers and diverting water flows by digging grand canals. This has led to worry that in the future China may eventually proceed with this grand plan and start diverting waters from Brahmaputra River to China's dry Northern provinces. While India's concern is understandable, the evidence suggests that it is very unlikely that China will divert waters from the Brahmaputra.
First, despite the fact that a few scholars and some officials, particularly from the military, have expressed support for the GWWDP, the mainstream scientific community has been very much opposed to the plan and the Chinese authorities have never endorsed it. In 2000, Chinese academician and formal minster of water resources Qian Zhengying as well as renowned water expert and academician Zhang Guangdou invited 43 academicians and 300 experts to study the GWWDP. Later, Qian and others submitted their report to the State Council and other relevant departments. The main message of the report is that the GWWDP is not technically feasible in the foreseeable future, and given China's development trajectory, it is neither practical nor necessary.
China's policymakers eventually decided to halt further discussion about the GWWDP and approved a less radical proposal that would link the upstream Yangtze and Yellow rivers. This was subsequently known as the western route of the SNWD Projects. In 2005, the book Can Tibet's Water Save China, authored by Li Ling, drew renewed attention from the public, scholars, and officials on the GWWDP. However, in 2006, China's then Minister of Water Resources Wang Shucheng condemned the plan in a speech at Hong Kong University, saying: "GWWDP is not needed, is not feasible, and is not scientific." Wang reiterated his position on the GWWDP in 2011. In recent years, with attention mostly focused on the feasibility of the western route of the SNWD project, there has been little interest in the GWWDP.
Second, while both the eastern route and central route were completed, the western route of the SNWD projects has been suspended since 2006 for a number a reasons. Economic considerations are perhaps the key driver of the strong resistance to the western route. Many experts argued that the total construction cost would be too high and it does not make economic sense to use the diverted water as it will be too expensive for consumers. Social and environmental concerns are another important factor. As the Yangtze and Yellow rivers are two completely different ecosystems, linking them could have disastrous environmental and ecological impacts. In addition, conflicts of interest among different provinces makes construction of a western route even more difficult. Upper stream provinces, particularly Sichuan, are strongly opposed to the western route as the water diversion would have severe ramifications for their own economies. Therefore, given that the GWWDP is a much bigger proposal, its building cost, economic, social, and environmental impacts will be even higher.
Third, the Chinese government has become more aware of the futility of water diversion projects to meet China's water shortages as there has been increasing criticism from scholars on the Three Gorges Dam and
SNWD projects, as well as growing public resistance to major water infrastructure projects accompanying the rapid rise of civil society in China and public awareness of the potential negative impacts of these mega projects on the environment. The Chinese government is placing more emphasis on the potential environmental impacts as well as the sustainability of mega water projects. In a press conference in March 2015, when asked about the progress of the western route, Jiao Yong, vice minister of China's Ministry of Water resources, said that while the government is still studying the western route, top priority will be given to water conservation and environmental protection. Moreover, with the declining costs of water recycling and desalination technologies, the western route alone – not to mention the massive GWWDP – could prove economically unattractive.
Inflated Impacts
In estimating the potential impact of the mythical Chinese plan to divert the Brahmaputra River based on river basin data, it is very easy to conclude that the repercussions would be huge, given that 50 percent of the river basin of Brahmaputra is in Chinese territory. However, river basin data can be very deceptive as they are not equivalent to water discharge data, which are a better indicator of the potential impact of water projects along the river.
While China has the largest spatial share of the basin at over 50 percent, it generates only 22-30 percent of the total basin discharge. This is attributable to Tibet's cold desert climate and the very low annual rainfall. In contrast, the Indian section of the basin, covering 34.2 percent of the basin area, contributes 39 percent of the total discharge. Equally significant is the contribution from Bhutan, which accounts for 6.7 percent of the total basin area but generates 21 percent of the system output. Isabel Hilton, editor of Chinadialogue, has argued that only 14 percent of the Brahmaputra's flow is generated in China; the other 86 percent comes from India. Given the existence of major border disputes in Southern Tibet (Arunachal Pradesh in India), which also forms part of the river basin for Brahmaputra River, as well as the huge difference in water flow between dry and monsoon seasons, it is very difficult to have a precise and actuate measurement of China's contribution to total water flows in the Brahmaputra River. Nonetheless, it is generally agreed that China's contribution is much smaller compared to its share of the river basin.
Next, even if the radical GWWDP were implemented, not all of the water of the Brahmaputra River generated in Chinese territory would be diverted. In fact, the project would divert only around 20 percent of the total water flows of six rivers in southwestern China, including the Mekong, Brahmaputra River, and Salween. As for the Brahmaputra River, even to discard the proposed water diversion volume, at maximum, around 50 percent of the water discharged will be affected as the diversion plan would start roughly in the middle part of the Brahmaputra River in Chinese borders. This is to say, even when 100 percent of the water at that point was diverted-an impossible scenario, it would only affect around 50 percent of the total water discharge originated from China.
Finally, the utilization rate of water in Brahmaputra River is very low. Professor Pranab Kumar Ra estimates that the utilizable water of the Brahmaputra system is a mere four percent of the total discharge, a reflection of the very high speed of the discharge and its sheer volume. This is to say, 10 percent or 20 percent reduction in the water flows of Brahmaputra River would be unlikely to cause water scarcity of any nature in the Indian part of the basin.
China: No Water Hegemon
The perception that downstream countries have of China as an uncooperative water hegemon is largely attributed to China's passive role in international water governance and its reluctance to cooperate with them. To be sure, China needs to be more engaged with its neighbors on trans-boundary river issues, but it is no water hegemon, for several reasons.
To begin with, owning to the low level of integration and deep-seated mistrust in the region, the degree of cooperation on the Asia's major trans-boundary rivers remain very limited compared with other parts of the world.
In Central Asia, Tajikistan and Kyrgyzstan have paid little heed to the water needs of downstream countries, including Uzbekistan, Turkmenistan, and Kazakhstan, in their hydropower development projects. In Southeast Asia, even with the creation of the Mekong River Commission, Laos decided to move forward with the Don Sahong and Xayaburi dams despite objections from downstream countries. In South Asia, while reports about China's plan to divert the Brahmaputra turn out to be illusory, India in fact has unilaterally diverted or withdrawn water from its trans-boundary rivers. In fact, India has long been criticized for paying scant regard to the concerns of lower riparian countries, such as Bangladesh, in diverting waters from and building dams in trans-boundary rivers despite the existence of water treaties.
China did vote against the 1997 United Nations Watercourses Convention (UNWC), but it is worth pointing out that India has not ratified the agreement either; in fact, in Asia, only Uzbekistan and Vietnam have ratified the UNWC. While they are many factors behind Beijing's reluctance to participate in regional and international water governance, its decision to vote against the 1997 UNWC is not because of its insistence on the doctrine of absolute territorial integrity. In contrast, according to Professor Patricia Wouters, China in fact embraces the fundamental principles of UNWC – equal and reasonable use and obligation not to cause significant trans-boundary arms.
What also needs to be noted is that in recent years, China has been showing more willingness to cooperate with downstream countries on trans-boundary river issues. In Northeast Asia, China and Russia have a long history of water cooperation; they are bound by numerous bilateral agreements and a number of joint institutions. In recent years, their water-related cooperation has become increasingly active. In Central Asia, China has engaged in bilateral cooperation with Kazakhstan on a number of water-related issues. Their efforts to create an adequate legal and institutional framework have been relatively successful – there are several bilateral agreements and joint commissions. In April 2011, the two countries launched the China-Kazakhstan Friendship Joint Water Diversion Project on the Khorgos River, under which each side will be allotted 50 percent of the water diverted.
In Southeast Asia, China is showing a greater willingness to reach out on issues related to the Mekong River and is gradually opening up to the Mekong River Commission as well. In December 2014, China's vice minister of water resources, Jiao Yong, during a visit to the MRC secretariat, expressed China's intention to continue and strengthen cooperation and emphasized that China would work with the MRC on a joint scientific study on water flow fluctuations in the Mekong-Lancang River, among other existing and upcoming activities.
In South Asia, as far as the Brahmaputra River goes, it is certainly true that China and India have yet to establish an effective working mechanism to deal with the trans-boundary river issues. Nonetheless, since they signed a memorandum on Strengthening Cooperation on Trans-border Rivers in 2013, the two countries have been in sound communication through the mechanism of expert-level meetings. What should also be noted is that the key stumbling block to substantial cooperation between China and India on the Brahmaputra is the boundary disputes in Southern Tibet (Arunachal Pradesh in India)m since South Tibet forms a large part of the river basin. This makes any water sharing agreement impossible.
Conclusion
As Selina Ho from the National University of Singapore rightly pointed out, given divergent interests between central and local governments and among different ministries and departments, as well as fragmented and devolved power and authority in relation to the management of trans-boundary rivers, China does not have an independent trans-boundary river policy; instead, it manages its trans-boundary rivers as a subset of its broader relations with other riparian states. Therefore, as far as managing the Brahmaputra River is concerned, playing up a "water war" or China threat narrative is not helpful; worse, the real danger of such a narrative – as with other China threat theories – is that it becomes a self-fulfilling prophecy, as it erodes the mutual trust that is desperately needed to improve Sino-Indian relations and encourages overreaction from both sides.
China's Three Gorges hydropower plant accused of causing landslide

June 29, 2015
China's massive Three Gorges Dam is being blamed for causing a landslide that killed at least two and injured several others in the southwestern Wushan County.
The landslide included portions of the Daning River's northern bank, according to local authorities, and created waves that caused at least 17 boats to capsize.
Plant owner China Three Gorges Corp. said the project was not affected by the landslide, though it continues to monitor the reservoir's levels.
The massive 22,500-Three Gorges hydroelectric plant and its dam have long been accused of increasing geological pressure in an area already susceptible to seismic activity.
Critics of the project reported in 2012 that Three Gorges had caused about 19,000 "slight or ultra-slight" earthquakes since the plant's reservoir began holding water in 2003, though others, including the Yangtze River Institute of Survey, Planning and Design, have contested that claim.
Three Gorges set a world record for annual hydroelectric power production in 2014 with 98.8 billion TWh, besting a mark previously established by Brazil's Itaipu.
The world's biggest hydropower project may be causing giant landslides in China

June 25, 2015
A giant landslide near China's Three Gorges Dam last night sent six meter waves crashing down on a fleet of fishing boats, leaving five people injured, and killing one. Dozens of residents near the Daning River, where the landslide took place, have been evacuated.
The incident is only the latest natural disaster that critics believe the $59 billion mega-dam has caused, twelve years after it was built on the Yangtze River to provide hydropower to China. The world's largest hydroelectricity operation, an engineering feat and point of national pride, is also another reminder of the risks Chinese policymakers take when it comes to huge infrastructure projects.
Chinese scientists and other experts have long warned that the 600-kilometer-deep reservoir created by the dam increases pressure on the surrounding land, in a region already prone to landslides and earthquakes. After a series of landslides throughout the 2000s, China's ministry of land resources finally admitted in 2012 that there had been "70% more landslides and bank collapses in the area than had been predicted."
Officials said then they would not be able to prevent geological accidents caused by the dam over the next three to five years and that 100,000 residents, in addition to the 1.3 million that were initially moved, would have to be relocated. Last year, a landslide on the Yangtze wiped out one of the Three Gorges hydropower stations.
China is still installing more dams and hydropower operations as part of a campaign to wean itself from fossil fuels—by the end of last year, installed hydroelectricity capacity was over 300 million kilowatts, accounting for about 20% of China's electricity and almost a quarter of the world's total hydropower. But progress is moving more slowly now. China's goal, to raise capacity to 420 million kilowatts by 2020, has been hampered by a slower approval process, perhaps because of incidents like this week's land slide.
Tibet's six rivers to plan 6.67 million hectares of afforestation
June 23, 2015
Analysis from remote satellite sensors over Tibet shows that over the last 15 years, Tibet has continued to "become green".
According to data released by the Remote Sensing Application and Research Center of Tibet Autonomous Region, the total area of vegetation coverage from 2000-2014 was 20-80 percent, with a significant increase in recent years. Data shows that the region's high vegetation coverage is mainly concentrated in southeastern Tibet; middle vegetation coverage is located in middle and southern Tibet; and low vegetation coverage is mainly located in northern Tibet, pastoral and uninhabited lands in northwestern Tibet. Analysis from remote satellite sensors shows that over the last fifteen years, areas of middle and high vegetation coverage in Tibet have increased more than eight percent.
In February this year, Tibet adopted the "Afforestation Plan near Six Rivers including the Yarlung Tsangpo, Ngulchu, Lhasa, Nyangchu, Yarlung and Sengye Khabap rivers (2014-2030) (hereafter referred to as the 'Plan')". According to the "Plan", within 17 years, Tibet will establish a forest ecological system covering the six rivers, and combing grasses, river system forests, farmland forest belts, green channels, and urban and rural forests.
The planning area of the six rivers will reach 335.97 million mu (224.09 million hectares), among which the afforestation area will reach 10.74 million mu (7.16 million hectares).
According to the Tibet Agriculture and Animal Husbandry Department, the number of livestock in Tibet was 4,195,900 sheep units less than the previous year at the end of 2013. The average volume of overgrazed grasslands decreased from the previous year by three percentage points.
Implementing grazing prohibitions is an important measure in naturally recovering the ecosystems in grasslands that have been overgrazed. In 2011, the Tibet Autonomous Region announced a five-year goal of grazing prohibitions, covering 10.6 percent of the region's total grassland area.
China seeks to stem northern desertification

June 19, 2015
A decade after making the difficult decision to move from her family's home on a dilapidated pasture to a nearby town, former herder Lianhua says her life in northern China's Inner Mongolia region has significantly improved.
In 2005, Lianhua had to sell her six cattle and 200 sheep after the 500 mu (33 hectares) of family-owned grasslands succumbed to expanding sands, making it so she was unable to feed the livestock due to drought and overgrazing. The family moved to Zhengxiangbaiqi, a county-level town 60 km from her home in search of a new life.
"At first, I worked as a cashier in a supermarket store. But I could not speak Chinese fluently and was rather slow in learning things because of my age, I could not do the job well," the 50-year-old woman, an ethnic Mongolian, recalls.
Lianhua later opened a small restaurant near a school, but life remained bleak, she said. After a few years, she began managing a meat shop that used to be owned by her relative and life got better.
China launched a grassland protection subsidy program across eight provinces and regions in 2011. Included in the program was he Inner Mongolia autonomous region, where protection was offered for five million herders eking out a living on more than 660,000 hectares of pastures.
The regional government has distributed nearly 5 billion yuan (US$817.6 million) as subsidies to herders in the project. A reduction in livestock has accelerated local ecological rehabilitation, with the vegetation coverage rate currently 44%, rising from 37% in 2010, said Wu Baoshan, an official with the Inner Mongolia Agricultural Department.
Thanks to the policy, Lianhua receives a subsidy of 30,000 yuan (US$4,830) a year for not raising animals on her land. The government also helped her husband find a job in a local coal power plant.
China is a country severely affected by land degradation, with a desertified land area of 2.6 million sq km, or 27% of the country's total land area as of 2009. There were also 1.7 million sq km of sand lands, which are able to support some plant life but soon will become desertified lands.
The country began attempting to combat desertification in the 1950s, said Zhang Jianlong, deputy head of the State Forestry Administration.
The land's desertification trend has been contained on the whole but still expands in some areas, he said.
China has advanced technologies in fighting desertification, said the official at a news briefing last Tuesday.
Wednesday marks World Day to Combat Desertification, whose focus is "attainment of food security for all through sustainable food systems."
China will celebrate the day with the theme of "greening deserts and safeguarding the homeland" this year.
Beside the government's heavy investment in anti-desertification, individuals and enterprises have also joined the green campaign.
Elion Resources Company, a local company in Inner Mongolia, has turned 5,000 sq km of the Kubuqi Desert into a lush landscape after 25 years of efforts. The desert is the seventh largest in China and one of the main sources of sand storms that regularly hit north China, including Beijing.
China Petroleum Bio-energy Company, based in the southeastern city of Shenzhen, plans to plant 66,000 hectares of forests which also serve its bio-energy base in Makit county in the south of Xinjiang Uygur autonomous region in northwestern China.
China has stepped up its efforts in restoring and protecting the environment in recent years. Policies have supported the gradual suspension of commercial chopping of state-owned natural forests and the conversion of farming lands into forests and pastures.
According to a guideline on improving the country's environment issued by the central government in May, more than half of China's treatable sand lands will be dealt with by 2020.
Soot from India a 'serial killer' for glaciers in Tibet, scientists say
June 10, 2015
Soot from India has proven more destructive than global warming in terms of harming glaciers in parts of Tibet, according to a joint study by researchers in China and the United States.
In fact, most of the carbon-containing aerosols in the Himalayan region come from the soot created when coal and biomass is burnt in South Asia, the scientists said.
They based their findings on a core of ice measuring 100 metres in length that Chinese scientists retrieved during an expedition to the Zuoqiupu glacier in southeastern Tibet's Kangri Karpo mountain range in 2007. They took it to the Tibetan capital of Lhasa for further study.
Bored from an altitude of 5,600 metres above sea level, the ice showed a history of soot deposits dating from 1956 to 2005.
The team described soot as a "serial killer" in terms of how it impacts the slowly moving rivers of ice that coat mountains in areas like Tibet, which straddles the Sino-Indian border.
When airborne, soot increases atmospheric temperatures and reduces snowfall. After it lands on ice or snow, it absorbs heat from the sun, causing glaciers to melt faster.
The fast retreat of glaciers in Tibet has long-puzzled scientists, as they have been melting at twice the estimated rate of the impact of climate change.
Their rapid erosion has also greatly troubled China as its three biggest rivers – the Yangtze, Yellow River, and Lancang River in southern Yunnan province – all originate from the Tibetan Plateau. As such, the glaciers play a critical role in China's long-term water supply.
Soot was a major suspect as previous studies found traces of black and organic carbon all over the Himalayan region, but scientists were unable to pinpoint whether it came from China or India as both countries consume vast amounts of coal and rank as major emitters of pollutants.
Factories and farms in India are geographically closer to the glaciers, but doubts remained as to whether their emissions would be able to scale Mount Everest and find their way into Tibet.
The new study, which was published in the latest issue of Atmospheric Chemistry and Physics, took various approaches to trace the source of the soot. The team began by analysing its chemical fingerprint.
"The emissions from China and India carry their own district chemical compositions," said professor Xu Baiqing, one of the authors of the paper. Xu works for the Chinese Academy of Sciences' Institute of Tibetan Plateau Research in Beijing.
"For instance, the soot from China contained more black carbon from fossil fuels, while the Indian soot had more organic carbon, which resulted from the burning of hay and wood in rural areas," he said.
India contributed 74 per cent of the black carbon and 81 per cent of the organic carbon in the core of ice, according to their analysis.
They also found that the size of the soot deposits on the Zuoqiupu glacier had grown significantly over the years. From the 1980s onwards, the fallout was three times higher than in previous decades, with the rate of heat absorption also up threefold.
The soot deposits found in the glacier were attracting enough heat from the sun to power an LED bulb, the scientists said.
To verify whether the soot was coming from India, the researchers used a new modeling technique developed by scientists at the Pacific Northwest National Laboratory in the US. The two teams collaborated on the project to find out how the soot was able to travel across the mountains between the two countries.
If the Indian government can do something about it, such as reducing its burning of hay and firewood in rural areas, we will see a quick improvement
Xu Baiqing
The model was able to track emissions from different regions and regenerate the flow of soot in the atmosphere as it was tossed about by monsoons and other climatic events.
They found that soot levels in the Zuoqiupu glacier rose and fell over the years in proportion to the amount of coal consumed in India. They also spiked and dipped in line with the country's hay-burning seasons.
It took tremendous effort to remove the large core of ice, occasionally under life-threatening conditions, said Xu, who participated in the expedition.
To ensure it was free of contamination by the activities of local people, the Chinese scientists picked one of the most remote areas in Southern Tibet, far from any human settlement.
Scientists warned that the threat to the glaciers needs to be addressed urgently as large populations rely on drinking water sourced there.
"If the Indian government can do something about it, such as reducing its burning of hay and firewood in rural areas, we will see a quick improvement," Xu said.
"Soot doesn't stay in the air for long. As soon as the emissions are cut, the fallout will drop."
China turns focus to smoky ships, boats in fight against pollution

June 8, 2015
China is considering regulating emissions from boats and ships, the environment ministry said on Monday, as it tries to clamp down on pollution.
Facing mounting public pressure, leaders in Beijing have declared a war on pollution, vowing to abandon a decades-old growth-at-all-costs economic model that has spoiled much of China's water, skies and soil.
The Ministry of Environmental Protection said it was seeking public feedback on whether to pass the regulation, which could include new standards on marine fuel quality and usage.
"Environmental pollution problems caused by shipping are becoming more evident," Xiong Yuehui, an official with the ministry, said in a statement on the ministry's website, adding that China had 172,600 vessels at the end of 2013.
He estimated that the shipping sector accounted for 8.4 percent of China's sulphur dioxide emissions and 11.3 percent of nitrogen oxide emissions in 2013.
Environmental regulations for ships are overseen globally by the International Maritime Organization. But while the IMO has cut pollution with emissions controls in America and Europe, which use low-sulphur marine fuels as standard, Asia has been left untouched.
Last October, a U.S. environmental group said shipping was a significant source of air pollution in China and that one container ship along the country's coast emitted as much diesel pollution as 500,000 Chinese trucks a day.
Dam waste: planning chaos drains China's hydro ambitions
June 7, 2015
Poor planning and weak grid infrastructure blamed for waste sufficient to power Britain and Germany combined.
Visitors on top of the Danjiangkou dam at Danjiankou in China's central Hubei province. Photo: AFP
China could be wasting enough hydroelectricity to power Britain and Germany for a year, depriving its smog-bound eastern regions of huge volumes of clean energy as a result of poor planning and weak grid infrastructure.
An often controversial dam-building programme raised China's hydropower capacity to 300 gigawatts last year, but a preoccupation with capacity rather than efficiency and grid connectivity has created huge local surpluses that are often litreally flushed away, executives said.
Hydropower is a key component in China's efforts to cut coal use and meet pledges made during global climate talks to raise the share of renewables in its total energy use – which includes fuels used for heating and vehicles as well as power – to 20 per cent by 2030, up from 11 per cent now.
And thanks to slowing growth in demand for power it has been making headway, allowing the grid to take on more clean energy at the expense of the country's coal-fired power plants, where utilisation rates have plummeted.
In the first four months of this year, when power generation as a whole rose just 0.2 per cent, hydropower generation rose 15.3 per cent, and its total share of the power mix rose to 17.3 per cent last year from 16.9 per cent in 2013.
But while China generated 944 billion kilowatt hours (kWh) last year, experts say it could produce much more.
"If China fully exploited hydropower, total annual output should be around 2.2 trillion kWh, compared to about 1 trillion kWh now," Zhang Boting, deputy secretary-general of the China Hydropower Society, told Reuters.
Doubling Chinese hydropower usage could cut coal use by about 500 million tonnes a year.
In the southwestern province of Sichuan, where hydro output rose 19.1 per cent in January through April, official National Energy Administration data showed that plants were forced to release water that could have generated an additional 9.8 billion kWh last year had the grid been able to absorb it.
One of Sichuan's rivers, the Dadu, is emblematic of the problems. Developers there were encouraged to build dozens of dams with little regard to overall planning or the environment, creating a huge glut.
"It was like a piece of meat being chopped and chopped very badly," said Xie Changjun, the vice-president of the Guodian Corporation, one of China's "big five" state power firms, which has seen its local Dadu river subsidiary suffer as a result.
Reforms to the system
Lost power is a problem not only in hydro, but also in wind, and China last week published guidelines banning new wind farms in regions where waste already exceeded 20 per cent.
"We are currently looking for ways to solve problems like discarded wind and discarded water," said Shi Lishan, vice-head of renewables at China's National Energy Administration, speaking at a conference last month.
Supply and demand imbalances were normal in a sector with lengthy construction times, he said, but "reforms to the system" could solve the problems.
Some of those reforms could include plans to allow industrial firms to sign power supply contracts directly with local power plants instead of going through the grid, but that is unlikely to help hydro plants in remote southwest China, where industry is undeveloped and local power demand weak.
Long-distance ultra-high voltage lines built by the State Grid Corporation shipped 100 billion kWh across the country last year, but are dedicated to delivering power from central government-administered plants like the Three Gorges. Power from less prestigious projects is often left stranded, including those on the Dadu, where Guodian's plants have struggled.
Many projects on the Dadu were approved by the regional government to meet double-digit increases in local power demand, but growth has now slowed considerably, said Zhang Zhengling, deputy director at the State Grid's development and planning department.
Two years ago, the smaller plants could still use the State Grid's spare transmission capacity, but that is no longer available now that giant dams like the Xiangjiaba and Xiluodu, both in Sichuan, have been completed, he told Reuters.
"The big projects don't have any waste problems, but those on the Dadu are medium-sized or even small, and their market is in Sichuan," he said, adding that China's power sector was still state-planned and needed to be more responsive to the market.
Guodian's Xie said that the economics of hydro were making it difficult to justify further investment.
"I personally propose that the central government improves coordination and harmonises economic interests between provinces that deliver power and provinces that receive it," he said.
China to further protect desertified land
June 5, 2015
The State Forestry Administration of China rolled out guidelines on protecting the country's desertified land on Tuesday.
The guideline advised more than 1.2 million square kilometers of desertified land in China be closed off as a protection zone so as to control drifting sand and improve the environment.
The guidelines, effective from July to the end of 2020, demand that activities including cutting down trees, cultivating land, animal grazing, resource exploration, mining, and misuse of water be prohibited in the protected zones. Construction of railways and highways are not allowed. No immigrants should be settled in the areas.
According to the guidelines, the protected areas should be important locations that have an impact on regional and national ecology and have suffered from frequent human activity.
Desertified land, which is land that has become barren due to constant water shortages and excessive exploitation, makes up more than half of the total desert area.
According to statistics from the State Forestry Administration, China had a desert area of around 2.62 million square kilometers, which accounts for 27 percent of its total land area.
India Plans Dam on Tsangpo-Brahmaputra to Check Floods and China
June 4, 2015
India is planning a 9,600 megawatt hydroelectric project on the Brahmaputra river to reduce flooding in eastern India and ensure its water use is protected in case of a water-rights dispute with neighbor China.
The dam will hold as much as 13 billion cubic meters of water, Amarjit Singh, additional secretary in India's water ministry said in New Delhi Thursday. The project is expected to reduce flooding in the states of Assam and Arunachal Pradesh. The so-called middle Siang project will be built across the river that's known as Tsangpo in China.
"This project will help protect our rights in international courts as a lower riparian nation," Singh said. China shares information on flood waters, but the two countries don't have a treaty similar to the one India signed with Pakistan on the use of Indus waters in 1960, Singh said.
The Brahmaputra river originates on the Angsi glacier in northern Himalayas and flows through Tibet, India and Bangladesh. China is building 510 megawatt hydropower capacity on the Tsangpo in Tibet.
Yangtze cruise ship sinking 'worst maritime disaster in China's modern history' with more than 400 still missing
June 2, 2015
People's Liberation Army launches massive rescue operation involving 170 divers after vessel capsizes during stormy weather, including what the captain described as a tornado.
A survivor is helped from the overturned passenger ship in the Jianli section of the Yangtze River yesterday. The ship capsized after it was caught in a storm. Photo: Xinhua
More than 400 people – most of them tourists aged from 50 to 80 – remain missing after a cruise ship carrying 456 people capsized in the Yangtze River during stormy weather on Monday night.
The Eastern Star was en route from the eastern city of Nanjing to the southwestern city of Chongqing when it capsized at about 9.30pm on Monday in the Jianli section of the river in Hubei province.
The national meteorological administration said a tornado had hit the area at about that time, but it's unclear whether it struck the ship.
The PLA was committing 170 divers to the search and rescue efforts, a commander told China Central Television.
The first batch of 13 divers sent to search for survivors said it had been very difficult to open the ship's doors underwater, especially given the poor visibility caused by the downpour.
Fifteen survivors are accounted for, the Ministry of Transport said in a statement on Wednesday.
It has also ordered checks to be carried out on vessels of the same type run by the Eastern Star's operator.
Some 109 ships and more than 1,900 people were involved in the rescue operation, the ministry said.
Satellite data released by the China Transport Telecommunication and Information Centre showed the ship had made a 108-degree turn at about 9.20pm. It then travelled for a further 10 minutes before capsizing.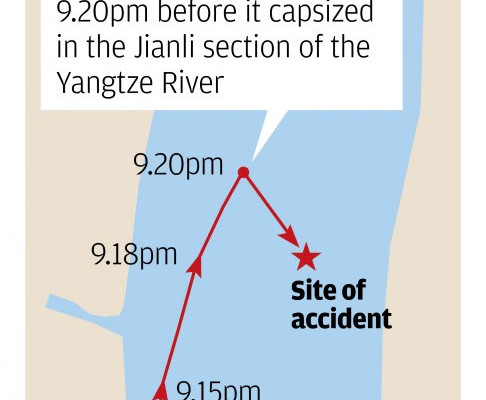 The ship had been carrying 405 passengers, 46 crew members and five tour guides, the youngest of whom was only three and the eldest over 80, according to a list of passengers obtained by the mainland media.
Zhang Hui, a tour guide from a Shanghai-based tour agency that was a major organiser of the trip, was one of 15 known to have survived.
The ship was sailing through a thunderstorm when it suddenly tilted at an angle of more than 45 degrees, he told the state-run Xinhua news agency.
"I tried to tell my colleague that we were in big trouble. But before I was able to finish the sentence, the ship had capsized," he said.
Deng Zhibo, deputy chairman of a local hospital, said three survivors had been taken to hospital with minor injures including dislocations.
The cause of the sinking was not immediately clear, but the captain, who was rescued and then held in custody together with the chief engineer of the ship, told local newspaper the Chutian Metropolis Daily the ship tilted towards its right side after encountering a tornado.
The ship capsized within one minute, he said.
The meteorological administration confirmed that the Jianli section of the river had recorded a tornado that lasted for 15 to 20 minutes.
The nearest weather station, 35km away, recorded winds of up to 16.4 metres per second at the time of the accident.
Initial investigations found the ship, which is capable of carrying up to 534 people, was not overloaded and that it had enough life vests on board for the number of passengers it was carrying, state media said.
Read the full article here: http://fnvaworld.org/?p=15303
Military and Infrastructure Development
82% Roads along China border unfinished

June 29, 2015
In 2006-07, India approved the construction of 73 strategic Sino-Indian border roads, but 82% of these–scheduled to be ready by 2012–are unfinished. The new deadline: 2018.
Despite ambitious plans, India cannot seem to catch up with China in building infrastructure and militarising the 3,488 km border between the two countries.
The roads are part of a quiet but extensive Indian border-strengthening plan, which includes a new army corps of 35,000 (down from 90,000) soldiers, specifically to counter China's burgeoning conventional forces across the Himalayas, and 14 strategic rail links to deploy troops and supplies.
There is little doubt that India is wary of Chinese abilities and intentions, despite recent declarations of peace.
"It is not a volatile border. Not a single bullet has been fired for over a quarter of a century now," Prime Minister Narendra Modi said in an interview with the magazine TIME, ahead of a visit to China.
Modi and Chinese premier Li Keqiang also agreed to "resolve outstanding differences" and maintain "peace and tranquillity" but on the border, "transgressions" –as Chinese posturing and troop forays along the unmarked Line of Actual Control (LAC) is called–are common.
As many as 1,612 transgressions by Chinese troops inside Indian territory took place between 2010 and August 2014 (see IndiaSpend report), according to data released by the Ministry of Home Affairs.
New roads are being built, but progress is slow "While our neighbouring countries can reach the borders within two or three hours, our army takes more than a day to reach there. This is a matter of great concern with regard to our defence preparedness. "
These are the observations of a parliamentary committee of defence report, alluding to the situation in Tawang, Arunachal Pradesh.
No more than 19 of 73 approved roads have been built, according to the report.
Delays on 40 roads have pushed deadlines by as far as six years, while construction of two roads has not started.
In Assam, India's longest bridge, 9.15-km long, will be thrown open later this year. It costs Rs 876 crore and is built to bear 41.5 tonne T-72 tanks and cut travel time to the Lohit district of Arunachal Pradesh, which lies along the LAC.
Rail plans still only plans, while China nears the border
India envisages urgently building four rail lines in the states of Arunachal Pradesh, Assam, Himachal Pradesh, and Jammu & Kashmir, stretching 1,352 km, to be built collectively by the ministries of railways and defence.
While final surveys continue, China is already extending existing rail lines to the border: To Yatung, a trade centre close to Sikkim, and Nyingchi, a small town bordering Arunachal Pradesh. Both projects are expected to be completed by 2020.
China recently completed a railway line connecting the Tibetan capital of Lhasa to Shigatze, a town close to the Nathu La pass, a strategic border post connecting Sikkim with the Tibetan Autonomous region.
Below are India's railway plans:
Besides the contentious border, the Sino-Indian border dispute is also fuelled by the Chinese claim to nearly 90,000 sq. km of Arunachal Pradesh, which it refers to as South Tibet, and the Indian claim that China illegally occupied nearly 30,000 sq km of the deserted Aksai Chin region of northern Jammu and Kashmir after the 1962 war.
Chinese airfields grow stronger
Six key civilian Chinese airfields in Tibet are being expanded to handle military operations, according to Air Marshal (retd) M Matheswaran, former Deputy Chief of Integrated Defence Staff for Policy, Plans and Force Development.
Alongside, he said, China is deploying advanced military aircraft and support systems, such as air-to-air refuelling capabilities, airborne advance warning systems, sensors, air-defence systems and missile stock.
By contrast, India recently opened three advanced landing grounds (ALG) in J&K's Ladakh region at Daulat Beg Oldi, Fuk Che and Nyoma, all close to the LAC.
Daulat Beg Oldi is the world's highest airfield at an altitude of 16,614 feet. It is about 10 km from the Sino-Indian border and has seen regular landings of heavy transport aircraft.
But such landing grounds are not full-fledged air bases. They are landing strips that can be used to drop off troops and supplies.
This is why the Indian Air Force wants to upgrade the Nyoma landing ground by 2016-17 to station fighter jets and provide logistical support to the paramilitary Indo-Tibetan Border Police (ITBP) and Ladakh Scouts, an Indian army unit.
In Arunachal Pradesh, advanced landing grounds are being developed at Tawang, Mechuka, Vijaynagar, Tuting, Passighat, Walong, Ziro and Along, at a cost of Rs 720 crore.
Meanwhile, the Indian Air Force has to deploy its frontline Sukhoi-30 MKI aircraft at Chabua and Tezpur air bases in Assam, up to 405 km from the border. The Sukhoi 30 MKI can cover this distance in less than 15 minutes.
China conducts first military mobility test on bullet train
June 9, 2015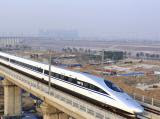 China has successfully conducted the first-ever military mobility test by rushing troops and weapons on its bullet train to the restive Muslim-majority Xinjiang province, aimed at evaluating its performance in quick movement of soldiers during a crisis. Terming the test as a milestone in the People's Liberation Army's (PLA) mobility, the China National Defence Daily said that the trial has been successfully completed on the Lanzhou-Xinjiang high-speed railway in northwest China. Another test carried out with troops carrying Type-40 rocket launchers and Type-120 bazookas showed that the train's personnel transport capacity will be reduced to 80 per cent. The data gathered at the test will be applied to the future emergency mobility of military personnel in the Chinese PLA Lanzhou Military Region, state-run China.org.cn reported.
To transport light weapons easily and safely, the Lanzhou railway authority specially made 1,000 sets of rifle stands, holsters and ropes, said Jiang Xiaolin, chief of transport of the military representative office at Lanzhou Railway Bureau. These simple facilities had proved both practical and reliable throughout the test, he said. Chinese bullet trains travels at a speed of about 350 kmph. It now has about 40 bullet train lines with 16,000 kms of high speed tracks.
China's extensive rail network in Tibet not far from Arunachal Pradesh providing the facility to move troops and weapons has evoked concerns in India prompting it to undertake rail, road and air development in its border region. Li Bao, chief of the military representative office, said "railways have always both civil and military functions, and high-speed railways are no exceptions." Transporting troops using high-speed railways is a new trial of how to make most of railway development for the military, he said. The high-speed rail where the test run was conducted links Lanzhou, capital of Gansu Province, and Xinjiang Uygur Autonomous Region. It was put into operation last year. The 1,776-km railway travels mostly through desert and wasteland, along with a 460-km corridor of high wind.
In China defence strategy, the silent message
June 1, 2015
China released its latest defence white paper, its ninth so far, on May 26. With the last paper in 2013, China changed the format from an all-encompassing paper to a thematic focus on a specific topic. The current paper focuses on "China's Military Strategy". It has not caused as much of a stir as the last one, which was ambivalent about China's "No First Use" policy for nuclear weapons. "The 2013 paper focused on 'The Diversified Employment of China's Armed Forces' and therefore was not designed to thoroughly delineate China's nuclear policy," says Tong Zhao of the Carnegie-Tsinghua Center for Global Policy in Beijing.
The 9,000-word paper names only three countries — Japan, Taiwan and the US — and all three in confrontational terms. As India is not mentioned, does it mean China does not view it as a primary military concern? Indian defence officials see no clear message. They note an emphasis on "maritime preparation for military struggle", where the Chinese Navy would become more active through a combination of "offshore waters defence" with "open seas protection". "White papers always entail an element of public diplomacy, signalling, and posturing," says Shashank Joshi of Royal United Services Institute at London. "But in this case, China's actual posture — the hardware it is procuring or building, the way it is deploying forces, and its behaviour — is consistent with the paper's assertive tone and substance," Joshi says while noting a clear Chinese emphasis on blue-water capability and maritime struggle.
Asked about the white paper, Navy chief Admiral R K Dhowan recently noted that the tasks mentioned are "a normal activity for any navy". He added, "There would be aspects related to defensive operations, surveillance, and all kinds of operations which spread out during the period of peace and during hostilities. So it is natural for any navy to have its plans which covers the spectrum of entire operations." The Indian Navy does not seem to share those fears. "PLA Navy's activities are minutely monitored by the Indian Navy and our belief is that the responsibility of protecting Indian Ocean and our coastline lies with the Navy. Our ships and aircraft are always on alert so that this responsibility is carried out well," Admiral Dhowan said.
"India has service doctrines, but these lack credibility and weight because they do not represent a comprehensive view of national priorities. The purpose is really twofold. The first is to signal to both adversaries and friends… The second purpose is to give an overall sense of strategic direction to the Indian military and other instruments of national power," Joshi argues. "The Raksha Mantri's operational directive does not seem like a substantial document up to this task." The paper refers to the PLA's Track 1.5 Xiangshan Forum; India has no such global interactive mechanism. No Indian agency organises an event similar to Singapore's Shangri La dialogue. This year's Shangri La dialogue saw a last-minute participation of India's MoS for Defence, Rao Inderjit Singh, when all other major countries were represented by top defence officials.
Border Disputes
China calls for closer ties between Tibet and Sikkim
June 25, 2015
A view of Yam Dro Yum Tso lake near Lhasa. Photo: Atul Aneja
The Chumbi valley is the gateway of two major passes — Jelep La and Nathu La.
China has signaled that the opening of the new route for the Kailash Mansarovar pilgrimage through the Nathu La pass is likely to lead to stronger economic and cultural ties between Tibet and Sikkim.
"When I spoke to the chief minister of Sikkim (Pawan Chamling), he told me that it is only 54 kms from Gangtok to Nathu La. The road there is not bad," said Le Yucheng, China's ambassador to India, during a conversation with a section of the China-based Indian media.
The ambassador pointed out that Sikkim is looking forward to welcome Chinese tourists, businesses and investments. "Sikkim is the closest state to China. Why not (develop) tourism? Why not trade? Why not investment? Why not environment protection because chief minister of Sikkim is known as the 'green' chief minister. We also now have the strategy on environment protection," observed the ambassador.
Analysts however point out that the pulls and pressures of hard economics and security concerns are likely to determine the expansion of connectivity between the Tibet Autonomous Region (TAR) of China and Sikkim.
Chinese concerns about the relatively unrestricted flow of Tibetans into India, and New Delhi's security unease about the Chumbi valley, are likely to emerge as focal points of a Sino-Indian dialogue. The Chumbi valley is the gateway of two major passes — Jelep La and Nathu La. It also juts out as an inverted triangle, on the tri-junction of Bhutan, China and India, terminating in close proximity of the Siliguri corridor—the narrow passage that connects the North-East with the rest of India.
"They (the Sikkim government) are expecting Chinese tourists, expecting Chinese businesses, expecting Chinese investments. I think all these issues will be discussed in the years to come at the local l and the central level," Mr. Le observed.
In his conversation with the media at Yadong—the town that was used in 1904 by the British expeditionary force to Tibet— the ambassador said that border trade through Nathu La was now booming. "He (Mr.Chamling) told me that this year especially, the Chinese trade mart is very busy. From our side also from the discussions I had with the local government, I have been told that the trade mart is booming.
Many people are appealing to increase the items of trade; right not there are only 15 items, we need to double that." Sherethang on the Indian side, and Renchen Qiang on the Chinese soil, are the two border trade marts, which conducted business worth around Rs.17 crores last year.
While the Indian side of the road from Nathu La to Sikkim may need attention, connectivity to the border is well established by the highway that links Lhasa to Yadong. It takes less than eight hours to cover the around 500 kilometer distance, which passes through stunning landscape of the high, but mostly flat Tibetan plateau, before Yadong is approached.
The Kamba La pass, at a dizzying height of 16000 feet connects Lhasa with the TAR's Shannan prefecture. This district is known for its turquoise blue Yam Dro Yum Tso lake, an emblematic point of reference in the Buddhist religious calendar. Further ahead lies the TAR-Bhutan junction, before the road descends steeply towards Yadong, on the base of the Nathu la pass, forming Tibet's link with India.
The ambassador did not rule out that in future, the Tibet-Nathula route to Sikkim could be connected to the much more ambitious Bangladesh-China-India-Myanmar (BCIM) economic corridor.
He praised India's recent enthusiasm for establishing cross-border connectivity, under the framework of New Delhi's "Act East" policy.
Mr. Le pointed out that China's Eurasian "Belt and Road" connectivity initiative could be harmonised with India's "Act East" policy.
Nathu La opens for Kailash Mansarovar Yatra today, China to receive Indian pilgrims in Tibet
June 22, 2015
Around 40 Indian pilgrims, bound for the spiritual Kailash Mansarovar Yatra, will on Monday cross over from Nathu La Pass on the Sikkim-Tibet border, a route that remained closed for more than a half-century following the 1962 Sino-India war. The Chinese Ambassador to India Le Yucheng will receive the first batch of Indian pilgrims in Tibet. Yucheng, who arrived in Gangtok, Sikkim's capital, on Saturday evening, crossed over to Tibet on Sunday where he stayed overnight to recieve the pilgrims today, official sources said. On Sunday, Yucheng called on Sikkim Chief Minister Pawan Chamling and briefed him about the arrangements made for receiving the Yatris in the Tibet Autonomous Region, they said. During the meeting, the Chinese Ambassador recalled the visit of Prime Minister Narendra Modi to China this year which was preceeded by Chinese President Xi Jinping's trip to India in September last year, they said. Yucheng, who crossed over to Tibet through Nathu La pass with four other Chinese officials, would be staying overnight in a tourist hut and will receive 39 Indian pilgrims, besides BJP MP Tarun Vijay and his wife in the morning. One pilgrim will not make it as he forgot to carry his passport.
The new route through the Himalayan pass will facilitate more comfortable travel for the Indian pilgrims, especially the elderly, by buses compared to the existing route via Lipulekh Pass in Uttarakhand. Kailash Mansarovar is believed to be the seat of Hindu god Shiva. Pilgrims have to travel to high altitudes through inhospitable and rugged terrain. Hundreds go on the pilgrimage every year, with a part of the journey overseen by Chinese authorities. Nathu La, which means "Mountain pass with listening ears", was closed after 1962 Sino-Indian war. The area had witnessed week-long skirmishes between the Indian and Chinese Army. After remaining closed for all activities, the pass was opened as a trading junction in 2006. Traders from both sides gathered in the No-Man's Land and sold their items. However, due to limited number of items including goat and sheep skin, raw silk, china clay, butter, common salt, cycles, tea, cigarette, the trading point has been receiving a lukewarm response from traders of the two countries.
Related article: Old Route, New Journey as well – http://fnvaworld.org/?p=15629
After half-a-century, Nathu La Pass opens for Kailash-Manasarovar pilgrims on Thursday
June 16, 2015
More than a half-century after China closed the Nathu La Pass on the Sikkim-Tibet border, the first batch of 50 Indian pilgrims and tourists will be going to the legendary Kailash-Manasarovar in Tibet on Thursday. This follows a bilateral agreement to open the pass for Indian visitors which was signed on September 18 last year when the Chinese President Xi Jinping visited New Delhi. The agreement offered an alternative route for the Kailash-Manasarovar Yatra through Nathu La, in addition to the existing arduous route through Lipulekh Pass in Uttarakhand.
The decision to reopen Nathu La has brought cheers to the tourism industry in West Bengal and Sikkim as it is expected to result in a flood of tourists in the coming years. Nathu La Pass, a part of the ancient Silk Route, is 54 km from Sikkim's capital, Gangtok.
After the 1962 India-China war, Chinese authorities closed the border, thus shutting down an ancient route for trade and pilgrimage. This season, a total of 250 pilgrims will travel by the Pass in five batches — all selected, grouped and organised by the Central Government. The first batch will arrive in Gangtok on Wednesday and start the eight-day journey on Thursday. According to sources, they would get acclimatised for the high- altitude Tibetan plateau, where air is thinner and oxygen is less, for two days at two places – Seventh Mile and Sherathang. Then they would move to the destination through Shigatse in Tibet.
The other route to Kailash-Manasarovar is through Nepal, which also requires trekking. However, because of the recent earthquake, this route is not fully operational now. Mount Kailash, which Hindus believe is the abode of Lord Shiva, and the legendary Manasarovar Lake are holy places for Hindus, Buddhists and Jains, though they are located in the south-western corner of Tibet. While the reopening of Nathu La Pass will improve India-China relations and bilateral trade, it will also improve tourism prospects in the region. "This is a very important development for the tourism sector in West Bengal and Sikkim," Partho Guha, secretary of the East Himalayas Travel and Tour Operators Association, told Business Line. "It opens a window of opportunity for the tour operators and local communities." He said though this year the yatra was being organised by the Centre, from next year, private players might be permitted. "There is a heavy demand for the Manasarovar tour and we expect a flood of visitors in the coming years — which means more business for tourist operators, travel agents, taxis and hotels." Moreover, since the yatra would be from June to November, an idle season for tourism in this part of the Himalayas, it would be a 'boon' for the tourism industry.
China conducts first military mobility test on bullet train

June 9, 2015
China has successfully conducted the first-ever military mobility test by rushing troops and weapons on its bullet train to the restive Muslim-majority Xinjiang province, aimed at evaluating its performance in quick movement of soldiers during a crisis.
Terming the test as a milestone in the People's Liberation Army's (PLA) mobility, the China National Defence Daily said that the trial has been successfully completed on the Lanzhou-Xinjiang high-speed railway in northwest China.
An analysis of the trial run held on June 2 evaluated the train when it is fully loaded with troops, soldiers' personal weapons placed on the luggage racks as well as in the spare room at both ends of each carriage.
Another test carried out with troops carrying Type-40 rocket launchers and Type-120 bazookas showed that the train's personnel transport capacity will be reduced to 80 per cent.
The data gathered at the test will be applied to the future emergency mobility of military personnel in the Chinese PLA Lanzhou Military Region, state-run China.org.cn reported.
To transport light weapons easily and safely, the Lanzhou railway authority specially made 1,000 sets of rifle stands, holsters and ropes, said Jiang Xiaolin, chief of transport of the military representative office at Lanzhou Railway Bureau. These simple facilities had proved both practical and reliable throughout the test, he said.
Chinese bullet trains travels at a speed of about 350 kmph. It now has about 40 bullet train lines with 16,000 kms of high speed tracks.
China's extensive rail network in Tibet not far from Arunachal Pradesh providing the facility to move troops and weapons has evoked concerns in India prompting it to undertake rail, road and air development in its border region.
Li Bao, chief of the military representative office, said "railways have always both civil and military functions, and high-speed railways are no exceptions."
Transporting troops using high-speed railways is a new trial of how to make most of railway development for the military, he said.
The high-speed rail where the test run was conducted links Lanzhou, capital of Gansu Province, and Xinjiang Uygur Autonomous Region. It was put into operation last year.
The 1,776-km railway travels mostly through desert and wasteland, along with a 460-km corridor of high wind.
During trial operations in June last year, railway authorities in Urumqi, capital of Xinjiang, declined to reveal how many trains would set off from both terminals on a daily basis – the simplest way of calculating its transport capacity, nor did they comment on the military implications of the latest bullet train line.
Nepal objects to India-China trade pact via Lipu-Lekh Pass

June 9, 2015
A meeting of Nepal Parliament's International Relations and Labour Committee said the India-China agreement, made during Prime Minister Narendra Modi's recent visit to China, was against international norms and values at a time when Nepal and India are working to resolve the boundary issues.
During Modi's China visit, India and China agreed to expand border trade at Qiangla/Lipu-Lekh Pass, a far western point of Nepal, near Kalapani.
One of the points of the joint communique issued on May 15 in Beijing, mentioned that "the two sides recognised that enhancing border areas cooperation through border trade, pilgrimage by people of the two countries and other exchanges can effectively promote mutual trust, and agreed to further broaden this cooperation so as to transform the border into a bridge of cooperation and exchanges".
The far west border point Kalapani is a disputed border area between Nepal and India.
Lipu-Lekh, is the last point of Nepal's border with China and India and known as an ancient route for traders and pilgrims transiting between Nepal and Tibet.
China has regarded the area as a tri-junction boundary point between Nepal, India and China and a Lipu-Lekh is at a very strategic location, said the House panel.
It instructed the ministry of foreign affairs to find out what the deal was between India and China and that the people of Nepal should know whether that accord would undermine Nepal's sovereignty, territorial integrity, independence and national interest.
The panel also instructed the foreign ministry to conduct a study over the deal, and take up the matter with India and China while urging both the neighbours to correct their agreement pact immediately.
ITBP seeks 6,000 personnel on Ladakh border

June 8, 2015
In a bid to strengthen its presence on the Sino-India border in Ladakh, the Indo-Tibetan Border police has sought deployment of additional 6,000 personnel along the Line of Actual Control in the sector that has witnessed a series of transgressions by the Chinese Army.
According to sources the force wants to enhance its reserves in the Ladakh sector, above Leh, as it has some of the most challenging frontiers to guard along the 1,597 km border which Jammu and Kashmir shares with the country's eastern neighbour.
Sources said the ITBP, which mans the 3,488 km border with China stretching from Ladakh to Arunachal Pradesh, has moved the proposal for deployment of six battalions to plug gaps along the LAC. While the proposal is under the home ministry's consideration, sources said, in-principle approval has been given to the force for raising eight additional battalions (about 8,000 personnel) to enable rest and recuperation of its men after working in harsh weather conditions on the icy frontier.
At present, the ITBP has about seven battalions in this region which effectively means about 6,000 armed personnel at any point of time. The approval, sources said, came after ITBP director-general Krishna Chaudhary led a team of his senior officials to make detailed presentations before the ministry of home affairs following which home minister Rajnath Singh gave his nod.
Officials said the force is also in the process of bolstering the number of its troops in each border post on this frontier as many of them are located at altitudes ranging between 9,000-18,500 feet amidst thin oxygen levels and a continuous threat of blizzards. Sources said the required approvals for having new infrastructure for fresh units at Leh-like barracks for jawans, armoury and administrative blocks for troops have also been granted.
"The force strength in Ladakh sector was required to be enhanced for the last few years as the border posts here are located in very far off and inhospitable areas and the inter-border post distance is large. More men will mean better border vigil," they said adding that it was a fact that maximum confrontation with Chinese troops has taken place in this sector.
The force, which has dealt with a number of transgressions from the Chinese Army in the last few years, has also been accorded the green-signal for having 37 border out posts (BOPs) and about fifteen "staging camps" (temporary border patrol bases) which will come up in Arunachal Pradesh and Sikkim as part of government's initiative to bolster its strength in border states.
India-China Border Row: Why No Breakthrough?

June 8, 2015
In May 2015, even before Indian Prime Minister Narendra Modi set his foot in China, the 'expectations' bar from the visit was inordinately raised by analysts from different backgrounds.
In May 2015, even before Indian Prime Minister Narendra Modi set his foot in China, the 'expectations' bar from the visit was inordinately raised by analysts from different backgrounds. One of the most important issues which has been consistently discussed was: What steps the two leaders are going to take to settle the decades-old row over border demarcation? Though this issue dominates whenever the leaders from the two countries meet, this time it gained additional attention because India's External Affairs Minister Sushma Swaraj during her 'preparatory' visit to China in February 2015 talked about the need for an "out-of-the-box" solution to resolve the long-pending territorial dispute between India and China.
The genesis of the India-China border dispute lies in the Simla Accord of 1914 between the plenipotentiaries of British India and Tibet. Though the representative of Yuan Shi Kai-led Chinese government was part of the discussion, he did not sign the accord. The problem in this accord occurred in 1930s when Tibet showed reluctance to accept the McMahon Line as a border and give up Tawang to British India. It wanted the British government to force the Chinese to accept the Tibet-China clause outlined in the Simla Accord. This did not happen. Instead, Chinese raised a question over the authority of the Tibetans to sign that accord.
Primarily, the border map was sketched out to secure the colonial interests of British India in south and central Asia. In 1954, sovereign India recognised and accepted the McMahon line as a border between India and China. This is being contested by China, which desires for a border demarcation along the lines of pre-1914 accord. The 1962 war was the result of those differences, though many other factors too were responsible for it. Fortunately or unfortunately, the war could not settle the border row. After the war, India and China paused their diplomatic relationship, which was re-established in 1979.
A real breakthrough over the border issue was made during the visit of then Indian prime minister Rajiv Gandhi to China in 1988. During that visit, in a meeting Chinese leader Deng Xiaoping had expressed his intention to leave the settlement of the territorial dispute to a "future generation". Working in that spirit to address their border disputes the two countries agreed to establish a Joint Working Group (JWG) in 1988. As a follow on, in 1993 they set up an expert group comprising diplomats, military officials, cartographers etc for the purpose of making a closer scrutiny of each side's position and clarifications on the Line of Actual Control (LAC). Later on, to help the JWG, Special Representatives (SR) were appointed in 2003 after the then Indian prime minister Atal Bihari Vajpayee visited China and stressed the importance of including political viewpoints in the solving of border disputes.
Since 1988, more than a quarter century has passed but the dispute has not been satisfactorily resolved or managed. Although in 2005 certain guiding principles were accepted to manage incidents at the border, intrusions and skirmishes do take place. Later, in 2013 India and China signed a Border Defence Cooperation Agreement to ensure that border patrolling could not trigger exchange of fire between the border guards of two sides. A major balancer in managing India-China ties is their economic rise, especially since 1991 when India too adopted the liberal economic order. By saying this, the author does not substantiate the Kantian logic and theory that mutual economic interests strengthen political relationships too, though they manage disputes from crossing beyond an accepted level.
At present, the two main areas of dispute along the Himalayan frontier are the Western Sector (Aksai Chin, around 37,250 sq km/14,380 sq miles); and Eastern Sector (Arunachal Pradesh, around 83,740 sq km/ 32,330 sq mile). India reportedly has been insisting on a 'LAC plus' solution; the "plus" was a limited concession, possibly in the Western sector. On the issue of persisting border disputes between India and China, Taylor Fravel, of Massachusetts Institute of Technology, maintains: "Beijing has often been very flexible about principles in reaching territorial settlements with other states. The decisive factor is the judgment of China's leaders about what best serves their national interests – flexibility or inflexibility on principle. In relation to India, rather than being flexible Beijing has chosen to stand on inflexible principle, making a solution of the territorial conflict less likely". This quote can be supported by a fact that after disintegration of the Soviet Union when Central Asian Republics emerged, the first step China took was to settle its border disputes with them. In a few cases, it even made compromising adjustments on its pre-1990 territorial demands.
After the Indian prime minister's visit to China, delivering the annual K.F. Rustamji lecture, India's National Security Adviser Ajit K. Doval made a statement that India needs a 'larger plan' for 'tackling' China to resolve all ticklish matters. He also said "McMahon line was agreed by China till Burma, the same was not accepted thereafter". Reacting to it, the Chinese foreign spokesperson Hua Chunying said that McMahon line is 'illegal', and "it is not easy to resolve the China-India boundary question, as it is an issue left over from history". The two opposite statements shows the complexity of the border issue where one recognises the line, the other does not.
Any step to settle the border demarcation demands compromise, adjustments and political determination. This is possible only when there is a consensus to do so among the political leadership, institutions and dominant political constituencies. It is a difficult exercise because of bitter memories of the past and existing socio-political narratives about each other in respective countries. A move to address the bitterness requires a re-negotiation with history and review of the past to sketch out a draft for the future. Unless it happens there is a bleak possibility of settling the India-China border issue through a series of incremental measures.
MCMAHON LINE, MORE THAN JUST A BORDER ISSUE

June 4, 2015
India must seek to preserve the sanctity of the McMahon line because it not only demarcates its legal border with China but also marks its historical ties with Tibet, which was once an independent nation.
While the Indian archives are still jealously kept in the vaults of the Ministry of External Affairs, the Chinese are slowly (and selectively) declassifying their documents. Is declassification on the agenda of Modi Sarkaar? If it is, it will be good for the country because slowly Chinese perceptions are starting to prevail among Indian 'experts'.
Let us take an example. During the annual KF Rustamji lecture, National Security Advisor Ajit Doval (who is also the Special Representative for border talks with China), said that he was surprised that, while China agreed to the McMahon line being the Sino-Burmese border in 1960, it does not accept the same principle for India. Some Indian 'experts' have argued that Mr Doval was wrong to compare the Sino-Burmese and Sino-Indian border issues. The Agreement on the Question of the Boundary between China and Burma signed on January 28, 1960, slightly departed from the McMahon alignment.
Also, Burma did not call its border with China, the 'McMahon Line'. Why so? Today, like in 1960, Beijing wants to wipe out all proof that Tibet was once an independent nation and signed bilateral treaties with other countries; therefore, China insists we forget about Sir Henry McMahon, the Indian Foreign Secretary, who signed one such agreement with Tibet in 1914. The treaty between China and Burma was based on a principle that the northern boundary would follow the traditional McMahon line, but the imperialist name would be removed. For Burma, it did not matter much if the independent status of Tibet was erased.
For India, it is different; Tibet's status matters hugely. Not only does the Dalai Lama and many of his countrymen live in India, but for India, its deep cultural, economic and religious contacts with the Roof of the World far pre-dated the arrival of the British in the subcontinent. The border issue is not just a question of 'demarcating' a line between China and India; it is also about acknowledging this ancient relation between India and Tibet. For this reason, Mr Doval is absolutely right to call the Sino-Indian border the McMahon Line.
Mr Doval also reminded his audience of the existence of Arunachal Pradesh: "We are particularly concerned about the Eastern sector where [Chinese] claims have been made on Tawang which is totally in contravention of accepted principles." He was referring to the Agreement on the Political Parameters and Guiding Principles signed on April 11, 2005, between India and China. Article VII says: "In reaching a boundary settlement, the two sides shall safeguard due interests of their settled populations in the border areas." Beijing seems to today have forgotten about the 2005 Guidelines!
Soon after, the Chinese Foreign ministry spokesperson Hua Chunying affirmed: "The Chinese side holds a consistent and clear position on the eastern section of the China-India boundary: Arunachal Pradesh is a part of Southern Tibet." Ms Hua explained: "The Chinese Government does not recognise the McMahon Line, which is illegal."
What does history say? The Wilson Center in Washington, DC, recently released the translation of important documents from the Chinese Foreign Policy Database, an online resource on China's international relations.
According to one of these documents, in early 1952, the Indian Ambassador in China, KM Panikkar, speaking to a Chinese official, gave a report about "the existing conditions [in Tibet], without implying that those conditions should be preserved." The "existing conditions" meant the existence of a full-fledged Indian mission in Lhasa.
Soon after entering the Tibetan capital in September 1951, Beijing realised that the Indian mission was proof of Tibet's independence. Zhou Enlai met Panikkar in June 1952 and agreed that "to proceed in this manner was very proper", ie the "existing conditions" need not to be preserved. Zhou felt that the situation was a scar left by Britain: "For all of this, the new Government of India was not at all responsible." He went on to say that "to settle the question of Sino-Indian relationship in Tibet, time and proper steps were required. Therefore, the Chinese Government proposed that the Indian mission, previously stationed in Lhasa, be changed into an Indian Consulate General." Zhou insisted that this "specific problem" should be solved first.
The Government of India readily (and foolishly) agreed and offered a Consulate in Mumbai to the Chinese as 'bonus' (though the Indian Head of the Mission in Lhasa, S Sinha, was deeply upset about it, as he understood the far-reaching consequences for the future Indo-Tibet relations). Wanting to please Zhou Enlai, Panikkar added: "The Government of India was very anxious to remove those conditions through negotiations; for example, the 200 Indian troops stationed at Yatung [in fact in Gyantse], and the postal and telegraphic establishments of India in Lhasa." According to the Chinese declassified documents, the Indian Ambassador continued: "The Government of India would be willing to transfer these to the Chinese Government as soon as the latter was ready to take them over."
It was Sales Season! India was ready to offer all its Tibetan 'privileges' for free to China. During the following months, Prime Minister Jawaharlal Nehru was under the impression that the situation was settling down in Tibet and slowly the Tibetans were accepting the invasion of their country by the Peoples Liberation Army asfait accompli. He was wrong; the Chinese had begun interfering actively in the life of the Tibetans whose resentment was boiling.
On October 21, 1953, Beijing's representative in Tibet, General Zhang Jingwu, sent a cable to Beijing to explain the "existing conditions" which had to be disbanded: "The Indian troops and officials should be withdrawn; postal facilities shall be taken back; Indian radio facilities shall also be withdrawn or transferred to us, all [dak bungalows] relating to posts and telecommunications shall be withdrawn; as a consulate general already exists in Lhasa, the Indian commercial representatives in Yatung and Gyantse shall be cancelled; radio stations should be given to China [in India to 'balance'] the one of the Consulate General of India in Lhasa."
He further suggested that trade should continue for some time and "when [the Chinese presence] becomes mature, one or two years later, relevant rules on entry and exit visas may be established." It is what happened after the signature of the Panchsheel Agreement in April 1954. Import duties were levied on Indian goods and progressively, by the end of the 1950s, the flourishing Indo-Tibet trade and while it became impossible for Indian pilgrims to visit the holy sites in Tibet.
The McMahon Line is more than a line; it symbolises centuries of close contact between India and Tibet, which unfortunately does not exist anymore. Why should India rewrite history, and wipe out a glorious past just for the sake of Beijing's good conscience? And what about the Indian archives?
Nepal's tourism industry hit by closure of Tibet borders
June 4, 2015
China has closed all border points along the Nepal-Tibet border following the devastating earthquake of Apr 25. As a result about 25,000 tourists, mostly Indians, planning to visit the Kailash-Mansarovar pilgrimage sites in Tibet, are left in the lurch, reported PTI news agency Jun 1.
The report said Nepal's tourism and civil aviation ministry had asked the country's foreign ministry to raise the issue with the Chinese authorities. Nepal's tourism industry was hard-hit by the devastating earthquake and subsequent aftershocks and reopening the Tibet border points for the tourists is expected to generate employment for over 100,000 people.
The report said the 25,000 foreigners, including Indian, Russian, Malaysian and other European tourists, had booked their Kailash-Mansarovar tours through 38 travel agencies based in Nepal.
No tourist has, however, cancelled bookings so far and were awaiting reopening of the Tibet border points from China, the chairman of Kailash Tour Association, Prakash Shrestha, was cited as saying.
The report said about 80 per cent of tourists visiting Kailash-Mansarovar were Indians, with around 40,000 visiting the pilgrimage sites via Nepal every year. The main season is the May-July period.
China, which annexed Tibet in 1951 and fully integrated it in 1959, closed border points at Tatopani, Rasuwa and other places, stating there could be landslides and it would be difficult to travel or trek.
Commentaries
China and India: Powers and rivals
June 26, 2015
China's remarkable economic and military resurgence over the past 30 years have led to ever more attention being paid to its foreign policy by western politicians, diplomats, scholars and journalists. That attention has focssed largely on these issues: (a) China's relationship with the United States, amidst much speculation that China may soon emerge as a rival superpower; (b) China's often highly contentious relationship with Japan, mired in historical grievances; and (c) China's more aggressive assertion of its claims to territorial waters and islands in the East and South China seas. These are all topics worthy of serious consideration. Another topic that has attracted far less attention is China's relationship with India, its largest neighbour and another emerging Asian power. Yet this is a highly complex relationship that could have a profound impact on the future of the region. It certainly deserves serious study.
In their present configurations, China and India emerged almost simultaneously on the world scene in the late 1940s. They embarked on radically different political courses. China became an authoritarian, one-party state dominated in every aspect of life by the Communist Party of China. India became a multi-party democracy in which periodic elections determined who should rule the country. These ideological differences were not the cause of friction between the two countries, but did create an unspoken rivalry as to which system could produce the best results for its people. The first clouds began to appear on the bilateral horizon in 1950 when China invaded and occupied Tibet on the grounds that it had once been part of the Chinese empire. This action eliminated what India considered to be a useful buffer between itself and China and created a new border several thousand kilometres long between the two countries. Indian apprehensions were increased when China refused to recognize the border between India and Tibet, as one having been unilaterally dictated by the British earlier in the century. On this front, things were only to go from bad to worse.
Read the full article here: http://fnvaworld.org/?p=15754
Sino-Indian relations today: Some basic issues
June 24, 2015
It is by now generally acknowledged that Prime Minister Modi's successes during the first year of his rule have been mostly in the area of foreign affairs. Modi's outreach to neighbours – be it Bhutan which was the first country he visited, Nepal, which he visited twice during the year, Sri Lanka or recently Bangladesh – have all yielded positive optics. His visit to countries such as the US, Canada, Germany, France and Australia can also considered to be successful though, the actual deliverables will only be known later. Pakistan continues to present problems to Prime Minister Modi and the mandarins in South Block. However, it is the relationship with China that has thrown major challenges to Modi's foreign policy initiatives. It would be instructive to see how the relationship with China is developing now and what options India has.
One of the reasons why PM Modi's accession to power in May 2014 was considered significant by the global community was because of the majority he received in the elections, and because of this mandate, he was considered to be able to take strong actions needed to improve relations in the region and globally. China, however, was in the process of its own change with the coming to power of President Xi Jinping in March 2013 and his efforts to give new direction to the country. It will be interesting to examine how this refashioning of China by President Xi Jinping is affecting its relationship with India, and how, does the Chinese leadership perceive India now.
Read the full article here: http://fnvaworld.org/?p=15651
China's Biggest Taboos: The Three Ts
June 23, 2015
Three subjects where thinking differently is forbidden. This month marks the 26th anniversary of the Tiananmen Square massacre, reminding us that despite its economic awakening, China's intellectual coma continues. Almost upon arrival in China, one is counseled not to discuss the three Ts — Taiwan, Tibet, and Tiananmen. So when I found myself asking Chinese friends, and often perfect strangers, about these matters, I of course soon grew used to hearing the same replies. Tibet belongs to China. Taiwan belongs to China. A visiting friend from Taipei once told me every time locals heard his accent, they were sure to let him know he wasn't from another country.
"In Taiwan some support sovereignty and some support Beijing and some favor the status quo," he said. "But here, there's no difference of opinion. None!" I shared the old General Patton platitude, "If everybody is thinking alike, someone isn't thinking," and realized that in China, it isn't a platitude. I also recalled to him the Talmudic phrase ipcha mistabra or "the opposite is true," an affected way of saying "on the contrary" when speaking Hebrew (affected because it's Aramaic), which points to the value of Devil's advocacy. Namely, sometimes the Devil is right. Tibetan independence strikes a different chord, often evoking the same derision with which many Americans view Texan independence. In addition to being separatists Tibetans are, unlike their Texan counterparts, apostates. With respect to the Party faith, they are infidels; unbelievers in the China Dream.
Yet strangest of all is Tiananmen, a name associated more with the square itself than the massacre, which is known in Chinese as "June 4." It began in 1986 when Princeton astrophysics professor Fang Lizhi started speaking about human rights at universities in China. Former General Secretary Hu Yaobang died three years later, providing the kindling for the renewed flame of protests that began to burn that April. Hu was a man whose politics had rested at the bleeding edge of Chinese statecraft. He opposed out of hand any policy that hurt Tibetans and sought to broker peace with the Dalai Lama, who turned him down. He worked to improve relations with the Japanese, limit censorship, improve transparency, and end single-candidate elections. The beginning of the end came when his anti-corruption campaign netted the children of several high-ranking officials, and was furthered along when Deng instructed him to punish Fang Lizhi in 1986 and Hu refused.
Read the full article here: http://fnvaworld.org/?p=15673
June 22, 2015
In March David Shambaugh published an op-ed piece in The Wall Street Journal under the headline, "The Coming Chinese Crackup." "The endgame of communist rule in China has begun," the article continued, "and Xi Jinping's ruthless measures are only bringing the country closest to a breaking point." With this opening proclamation, Shambaugh certainly got our attention.
Though predicting the Communist Party's collapse might be counterintuitive, David Shambaugh is not the first China watcher to imagine the worst. In 2001 Gordon G. Chang published The Coming Collapse of China in which he argued that the end of Communist Party rule was inevitable. He wrote, "As time passes, the underlying problems fester.
Economic dislocations become social ones, with dark political overtones. At some point there will be no solution. Then the economy, and the government will collapse. We are not far from that time." Over the last decade, Chang has been updating his timetable without altering his prediction. He is still convinced the communist system will collapse in the near future. His most recent article in Forbes is entitled, "China: Did We Just Hear The Death Rattle Of The Economy?"
But this prediction is different. Chang is a lawyer, columnist and television commentator. Professor David Shambaugh is a respected scholar not given to hyperbole. He is one of the heavyweights among China hands: director of the China Policy Program at George Washington University and a non-resident scholar at the Brookings Institution. Over the past thirty years he has published nineteen highly regarded academic books on China. (See my review of China Goes Global: The Partial Power in the February 2014 issue.) In fact, just recently China Foreign Affairs University (CFAU is part of the Ministry of Foreign Affairs) named Shambaugh as one of the two most influential American experts on China. (Have heads rolled at CFAU since?)
Read the full article click here: fnvaworld.org/?p=15640
External and Internal Threats to China
June 18, 2015
China's White Paper on military strategy notes that the country's external threats are increasing and mentions only a few internal threats. But it is the latter that are more serious, as they're inherent to the one-party system. The recent White Paper on China's military strategy affirms that the country generally enjoys a favourable environment for development, but external challenges are increasing. It also briefly mentions some 'internal' threats. The latter are, however, far more serious for China's future. While the 'external' threats are mostly self-made (for example in the South China Sea), the 'internal' ones are inherent to the one-party system. When the WP speaks of complex security risks, "leaving China an arduous task to safeguard its national unification, territorial integrity and development interests," the first two points refer to internal issues.
While the 'Taiwan independence separatist forces', are described as the biggest threat to the peaceful development of cross-Straits relations, other 'internal' dangers are listed: "Separatist forces for 'East Turkistan independence' (Xinjiang) and 'Tibet independence' have inflicted serious damage, particularly with escalating violent terrorist activities by 'East Turkistan independence' forces." Beijing takes this particular menace seriously at a time when China is planning to finance the Pakistan Economic Corridor in a big way.
It is also apparent that Beijing is more bothered by a 'terrorist' Xinjiang, than a 'non-violent' Tibet. The problems of Xinjiang and Tibet are serious enough for the party to call a three-day special meeting (held from May 18 to 20 in Beijing) of the United Front Work Department, which deals with non-party organisations and 'minorities'.
Read the full article here: http://fnvaworld.org/?p=15581
June 14, 2015
Representing India in the special representative-level boundary talks with China, national security adviser Ajit Kumar Doval is performing the most challenging diplomatic trouble-shooting tasks on behalf of the Prime Minister Narendra Modi. Only a few days after Narendra Modi's China visit, Mr Doval, while delivering the annual K.F. Rustam Lecture on May 22, exposed China's double standards in boundary negotiations with India. Expressing surprise that China had recognised the McMahon Line only till erstwhile Burma, but did not accept beyond it, he sounded worried:
"We are particularly concerned about the eastern sector, where the claims have been made on Tawang, which is totally in contravention of accepted principles". Predictably, China reacted strongly. Terming the McMahon Line as "illegal", China's foreign ministry spokesperson Hua Chunying reaffirmed Beijing's claims on Arunachal Pradesh. Obviously, China has once again demonstrated its commitment to ruthless pragmatism while negotiating long-standing boundary dispute.
Chinese leaders, absorbed by China's phenomenal economic success and driven by the inflexibility of their strategic orientation towards India, will find it extremely difficult to reconsider their "approach on issues that hold us back from realising full potential of our partnership", as Mr Modi would like them to. If past is any guide to the future, China is not likely to mind if their diplomats would keep talking to their Indian counterparts — already 18 rounds of negotiations between special representatives — and do not seem to be getting anywhere.
Mr Modi's appeal for clarification of Line of Actual Control (LAC) has fallen on deaf ears as China's deputy director general of the Asian affairs at the foreign ministry, Huang Xilian, has openly expressed Chinese reservations on clarifying the LAC and instead shown preference for a pact with India on a code of conduct to maintain peace along the border. In other words, China wants procedure should take precedence over substance. For India, procedural details should not make the contending parties lose sight of the bigger picture.
Read the full article click here: http://fnvaworld.org/?p=15534
And That's a Wrap: China Cites Cartoons, Film Development in Defending Human Rights Record

June 8, 2015
China offered an almost exclusively positive portrait of its human rights situation in a white paper released Monday that cited progress in a wide range of areas. Near the top of the list: development of the country's film and cartoon industries.
The annual white paper, which weighed in at 21,000 characters this year, is China's response to frequent foreign criticisms of its human rights record. In contrast to its critics, who tend to emphasize the rights of the individual, China advocates a broader definition of human rights that puts greater weight on social goods, such as economic and cultural development.
To read the full article click here: http://fnvaworld.org/?p=15418
Xi purges the liberal who gave him China's crown
June 7, 2015
He was once the kingmaker of Chinese politics, but Zeng Qinghong is said to be among the victims of a purge that is sweeping away the last liberals in the country's Communist elite.
Zeng, 75, cut a smooth figure in the top ranks of the party and served as a trusted aide to the former leader Jiang Zemin.
A supporter of democratic experiments inside the party, he shocked orthodox cadres by banning performances of The Internationale, the Marxist anthem.
He went on to broker the deal that led to Xi Jinping taking over as head of the party, the state and the army in 2012.
But Zeng is now under detention in the northeast city of Tianjin, while Xi's investigators probe his family's affairs for evidence of corruption, according to media reports in Hong Kong.
It is a sign that the party's factions have decisively broken their unwritten pact to leave each other's family business dealings alone in the interests of unity.
The move may be intended to curb the influence of Jiang, 88, who continues as a power in the land a decade after he stepped down as leader.
Zeng belonged to the aristocracy of Red China — his father was Mao Tse-tung's interior minister and his mother made the 1930s Long March — but that does not guarantee immunity from the poisonous elite politics in Beijing.
The purge, officially described as a campaign against graft, has already claimed hundreds of officials and army officers, including two generals close to Zeng, as well as the former security supremo, Zhou Yongkang.
The targets of the investigations, conducted by the party's Central Discipline and Inspection Commission (CDIC) under draconian extrajudicial rules known as shuanggui, are almost all rivals of Xi.
Some, like the fallen spy chief, were hardliners. Now it seems that as Xi concentrates his authority, anyone in favour of a collective leadership or mild political reform is in trouble.
The first clue that Zeng might have been vulnerable came in a strange article posted on the CDIC website on February 25. It purported to be about a figure from imperial history, Prince Qing Yikuang.
The prince grew rich from his role at the court of the Dowager Empress Cixi and is said to have put his ill-gotten gains into the Hong Kong and Shanghai Bank, the forerunner of today's (Sunday) HSBC.
To read the full article click here: fnvaworld.org/?p=15399
June 1, 2015
The slogan for the 2008 Beijing Olympics was "Beijing Welcomes You." Now, seven years later, a draft law targeting foreign institutions — including universities, museums, athletic and cultural groups, professional associations and all nonprofit social organizations established outside of mainland China — makes clear that Beijing has become much less welcoming.
The draft "Foreign NGO Management Law," released last month, is part of a package of legislation that includes strict laws on national security and antiterrorism. With this slate of broad and far-reaching statutes, President Xi Jinping, who evidently feels Communist Party rule is vulnerable to ideas from the outside world, is aiming to be the toughest leader since Mao.
If the NGO draft becomes law, the international cultural, educational and technical exchanges that have become commonplace and so essential to China's astonishing development may come to a grinding halt.
Under the proposal, foreign-based nonprofit organizations would need to be vetted by China's security police before they conduct activities in China. The law does not define "activity," so security agencies will have free rein to decide whether to put a stop to an organization's plans in China — and there is no provision for independent review of their decisions.
The roots of the draft law go back at least two years to when the Communist Party circulated an internal memorandum titled "Document No. 9," warning of the dangers of Western values and advising cadres to be vigilant against seven particular ideas, known as the "seven unmentionables."
The list of unmentionables displays a mistrust of outside influences that starkly contrasts with notions of a modern China building soft-power prestige around the world. Among the forbidden topics were: Western constitutional democracy, universal values, civil society, neoliberalism, Western media, "historical negation" and questioning the meaning of Chinese slogans such as "socialism with Chinese characteristics."
To read the full article click here: http://fnvaworld.org/?p=15397
Other News
Hiking route along primeval forest opens in Metok, Tibet
June 18, 2015
Due to the warmer weather, less snow and more tourists, Metok Tourism Department in Tibet Autonomous Region has opened a hiking path from Pai Township to Drepung Township at a cost of 160 yuan (25.8 US dollars) per person, People.com reported.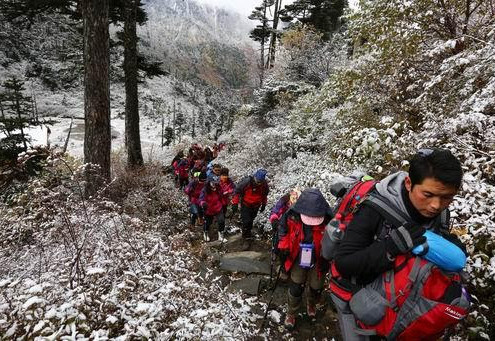 The path is roughly 90 kilometers long surrounded by beautiful scenery; it is safe but still provides a stern challenge. Every year in November when there is continuous snowfall, the hiking path will be covered with snow. In the interests of safety, the local tourism department will close the path during winter and spring.
Metok Tourism Bureau reminds tourists that the path follows the primeval forest and that they should watch out for mosquitos and leeches and take necessary preventative measures. Also, along the path are a number of cliffs so tourists are advised to walk slowly and stick together to ensure safety. Metok is located in southeastern Tibet at Nyingchi City, in the lower reaches of the Yarlung Tsangpo River, with a humid and subtropical climate.
Hong Kong marks Tiananmen massacre
June 5, 2015
A park in central Hong Kong turned into a sea of candles Thursday as tens of thousands gathered to mark the 26th anniversary of China's Tiananmen Square crackdown, with the city deeply divided ahead of a vote on how to choose its next leader.
Six football pitches in Victoria Park were filled with sombre crowds who held candles aloft as they paid silent tribute to the dead.
Students later took to the stage and burned a copy of Hong Kong's mini-constitution, or Basic Law, saying it "restricted democracy".
Hong Kong is the only location on Chinese soil to see a major commemoration of the military's brutal crushing of pro-democracy protests in central Beijing in 1989.
Hundreds — by some estimates more than a thousand — died after the Communist Party sent tanks to crush demonstrations at the square in the heart of Beijing, where student-led protesters had staged a peaceful seven-week sit-in to demand democratic reforms.
"Tens of thousands have gathered every year to mourn your sacrifice… Hoping your day of justice will come," said Mak Hoi-wah of the Alliance in Support of Patriotic Democratic Movements of China, which organises the vigil.
"We will continue to demand an independent investigation into the truth."
The wife of one student who died during the Tiananmen crackdown wept as she thanked Hong Kongers for coming to the park every year.
Organisers said that 135,000 had attended.
The US called for "an official accounting of the victims" of the 1989 crackdown Thursday, as well as the release from prison of those serving Tiananmen-related sentences.
The state department also urged a halt to the harassment and detention of those who want to commemorate the anniversary.