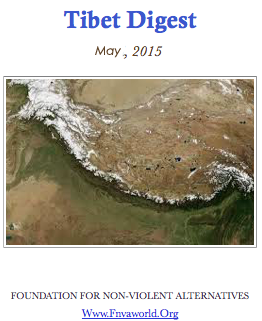 China's Policies in Tibet
President Xi urges China's religions to shun foreign influences
May 21
President Xi Jinping yesterday urged China's religions to shun foreign influence amid concerns over Islamic extremism and the role of The Vatican among the country's growing Church community.
Xi said that the government must value religious leaders and in turn direct them to better serve China's development and unification, a reference to restive Xinjiang and Tibet.
"Active efforts should be made to incorporate religions in socialist society," Xi said in his speech to the United Front Work Department, an agency tasked with aligning groups with the aims of the Communist Party.
"We must manage religious affairs in accordance with the law and adhere to the principle of independence to run religious groups on our own accord," he added.
Following a rise in Islamic separatist attacks in Xinjiang and western China that left at least 500 people dead last year, Xi's administration has taken a tougher line on China's myriad faiths.
Last year, authorities closed dozens of madrassas and banned under-18s from visiting mosques in Xinjiang, home to 12 million minority Muslim Uyghurs.
Authorities reportedly confiscated passports near the Kazakh border in Xinjiang earlier this month as the state cracks down on Muslims travelling to and from the region.
Beijing has cited the influx of Chinese fighters joining ISIS in Iraq and Syria, and the presence of Xinjiang separatist militants in northern Pakistan as a justification for restrictions.
State media recently announced plans to enlarge the only Muslim training center in Xinjiang in a bid to seize firmer control of Islamic teachers and their interpretation of the Qu'ran.
"[Chinese policy] has included extensive curbs on Islam through state administration of religion and engineering a diminished role for the Uyghur language in education," the US-based Uyghur Human Rights Project said in a report published yesterday.
Similarly, in Tibet where Buddhist monasteries have traditionally led cyclical uprisings against Chinese rule, the government has introduced an advanced education course to develop patriotic lamas and monks.
The student handbook notes the first task is to cultivate and build a reserve of Tibetan Buddhists who are "politically reliable, educated and venerable".
Last month, the Communist Party chief in Tibet announced new classes for monks that would teach Chinese law and a program to supply radios and newspapers to remote monasteries in an apparent bid to more widely diffuse China's shackled media.
Beijing recently rejected the exiled Dalai Lama's proposed 'Middle Way' for Tibetan rule which would see greater autonomy according to Buddhist principles.
The government has engaged with The Vatican in recent months as talks continue over an enduring impasse on bishop appointments, but Beijing has given no sign it may be willing to cede any meaningful control of the process to the Holy See.
Meanwhile, Zhejiang has continued a crackdown on Christianity that has seen at least 470 crosses removed and more than 35 churches destroyed since the end of 2013.
During his tenure, Xi has regularly distinguished between "foreign religions" – particularly Christianity and Islam – and homegrown faiths by actively endorsing Buddhism, Daoism and Confucianism. China's state media has published frequent Confucian references made by Xi, a series that was compiled and published as a book in March.
"The most dangerous situation is when apparently everything seems fine, but there breeds hidden danger," reads one quote, among the most frequently cited by China's president. "If one only sits and watches, the situation would worsen and there would be no turning back."
China denying passports to restrict critics, minorities
May 20, 2015
Hand your passport to police or it will be canceled, read the notice to all 4.4 million residents of far-northwestern China's Ili Kazakh Autonomous Prefecture. The demand would now seem outrageous to most Chinese, who more than a decade since passport restrictions were eased have become increasingly accustomed to traveling abroad for tourism, study or work.
Now that most Chinese can easily obtain passports, eroding barriers to travel have thrown into relief a new pattern showing that entire ethnic groups deemed potentially risky to the leadership — such as Muslim Uighurs and Buddhist Tibetans — are largely being barred. By denying them opportunities for jobs, education and overseas connections, the withholding of passports has become one of the party's most potent weapons against dissent, both real and imagined.
The notice in Ili, part of the vast Xinjiang region bordering Central Asia, set a May 15 deadline for residents to hand in passports "for safekeeping." It gave no reason for the demand. The order raised eyebrows because Xinjiang is home to China's minority Uighurs, Turkic Muslims who are culturally and linguistically distinct from the country's Han majority. This has resulted in heightened unofficial barriers on travel even within China, such as difficulty booking air tickets or hotel rooms. China is eager to avoid the appearance of discrimination against ethnic minorities, including Uighurs and Tibetans, and an officer at police headquarters in the prefectural seat of Yining said the order applied to all ethnic groups. The officer, who like most Chinese bureaucrats declined to be identified by name, said passport holders would be required to reapply and submit documents stating their reason for traveling and ensuring their good reputations if they wished to get them back.
Uighurs and Tibetans, who together number about 16 million inside China, have increasingly complained about difficulties obtaining passports, including the need for government approvals that members of the majority Han group aren't subject to. Permission is often limited to those participating in government-backed exchanges, or in the case of Uighurs, Muslims performing the pilgrimage to Mecca. While the government says only that the restrictions are to maintain social order, minority activists and critics of the one-party communist system believe politics are the real reason. "The government fears that Uighurs will return with a better understanding of their conditions and greater determination to throw off Chinese rule," said Germany-based Uighur activist Dilshat Rexit.
For Tibetans, already severe restrictions were tightened further in 2012 when hundreds of Buddhist pilgrims were detained and interrogated after attending a religious event in India presided over by the Dalai Lama, Tibet's exiled religious leader who is reviled in Beijing, say overseas activists.
Concerns over Uighurs have been heightened by the growth of global jihadi groups, said Dru Gladney, an expert at Pomona College. Yet, travel restrictions will likely only add to the "pressure cooker" of ethnic discontent in Xinjiang, he said.
A growing number of Chinese overseas putting off returning home for fear of not being allowed out of the country again, said Columbia University China expert Andrew Nathan. Often the criteria for being denied is murky, he said.
Many Tibetans in Qinghai homeless after china demolished their 'unauthorized' homes
May 13, 2015
Many Tibetans have been rendered homeless in Chabcha (Chinese: Gonghe) County of Tsolho (Hainan) Prefecture, Qinghai Province, after Chinese authorities began demolishing their homes from May 5, saying they were unauthorised and spoiled the place's scenic beauty, reported Radio Free Asia (Washington) May 11. It said six Tibetans were held for protesting the demolition. The Tibetan homes were reported to be metallic sheet shelters built near the shores of the Qinghai Lake near a scenic spot. The demolished homes were reported to have been built in the townships of Trilnak, Tanak, Chang Shey and Rigmon.
The authorities were also reported to have issued an order on May 7, forbidding the building of houses along the lake or in any nearby nomadic areas. The homes of those who had bribed officials were said to have been spared.
Tibet's tourism revenue surges nearly 40%
May 31, 2015
Tourism revenue rose 39.3% to 1.29 billion yuan (US $207.92 million) in the same period, including US $15.36 million from foreign visitors.
Tourism revenue in Tibet increased by nearly 40% at over US $200 million during the first four months of the year with more than one million people from China and abroad visiting the region.
Foreign visitors numbers rose 17.3% to 23,421.
Over 1.01 million people from China and abroad visited Tibet from January to April this year, an increase of 22.2% from the same period a year ago, according to the autonomous region's tourism authority.
Tourism revenue rose 39.3% to 1.29 billion yuan (US $207.92 million) in the same period, including US $15.36 million from foreign visitors.
The tourism in Tibet has been on the rise with an improved air, rail and road connectivity in recent years. Foreign tourists require special permission to visit the Himalayan region.
Earthquake
Tibetan county and township move 60 cms due to Nepal quake
20 May 2015
A township and county in Tibet have moved 60 centimetres southward as a result of the devastating Nepal earthquake last month, a Chinese geologist has said.
The township of Gyirong and Nyalam County, which border Nepal, have shifted about 60 centimeters, said Wang Qi, a professor with the China University of Geosciences who is leading a research team in Tibet, southwest China, on Tuesday. According to Wang, the massive quake on April 25 resulted in the movement of the Indian Plate and the Eurasian Plate.
"Gyirong and Nyalam are close to the epicentre, so their movements are obvious," he said. The quake also resulted in the sinking of Nyalam by about 10 centimeters, he added.
Wang also said that, after analysis, they will offer a conclusion about whether the height of Mount Everest has changed since the quake.
Meanwhile, the earthquakes in Nepal have significantly damaged 242 temples in neighbouring Tibet Autonomous Region, affecting the lives of 2,566 monks and nuns, the regional religious affairs bureau said during the day. The quake-ravaged temples are all located in Xigaze in the southwest part of Tibet.
At Qoigar Temple, which belongs to the Gelug sect of Tibetan Buddhism, Abbot Jamba Gonbo said that the quakes have damaged 20 Buddha statues in the temple. Three gold-plated figures were buried in rubble. The regional religious affairs bureau is still collecting information on damage to relics in the temples, while repairing salvaged items, state-run Xinhua news agency reported.
The 7.9-magnitude earthquake which struck Nepal on April 25 and ensuing aftershocks have left nearly 9,000 people dead and destroyed or damaged tens of thousands of houses in Nepal.
The quake also left 25 dead in Tibet, with four missing and 797 injured. The quake affected nearly 300,000 people, displacing more than 52,000, in the southwestern Chinese region, the report said. PTI
Tibet Shaken Again by Nepal Quakes
May 12, 2015
China reported a new death and more destruction in Tibet on Tuesday following the latest earthquakes in Nepal, after last month's temblors in the Himalayas had also badly shaken parts of the plateau. China's state news agency Xinhua said one person died in a landslide in Tibet on Tuesday as a result of what the U.S. Geological Survey measured as a magnitude-7.3 quake in Nepal, and a less-substantial one a half-hour later. Another two were also injured a landslide that occurred in Gyirong County, it said. China's latest tallies put last month's death toll in the Tibet Autonomous Region at 26 people, with three missing and 856 injured.
Reflecting Beijing's concerns about retaining political control of the Buddhist region, information from Tibet is tightly monitored by Chinese authorities and most flows from official news outlets. Devastation from natural disasters normally gets widespread media coverage in China, notably the massive Sichuan earthquake in 2008 that on Tuesday passed its seventh anniversary that was highlighted in a report on CCTV's main news broadcast.
Last week, a blog aimed at travellers said Tibet's Nepal border town of Dram was worst affected in the earlier temblor but that many other areas popular with visitors were little affected. Brief dispatches in China's state-run media suggest that the devastation last month in Tibet included the south-central city Xigaze and the western town of Ngari. Some 47,500 people were made homeless and 300,000 in total were affected, according to one Xinhua report that also said 2,500 houses fell across 19 counties in Tibet, with more than 24,700 damaged. The report, citing local publicity department figures, said 82 temples were damaged.
The China-Nepal Highway sustained heavy damage after last month's quake. It took 13 days for authorities to clear a key Himalayan route between Nepal and China, Gyirong Pass, following the clearance of 28 landslides. No information was available on the current state of the pass. To restore affected telecommunications and repair 47 bases in the remote Tibetan plateau last month, Chinese authorities said they dispatched 158 engineers in 52 vehicles.
Supplies being delivered on foot to isolated areas in Tibet May
May 5, 2015
In China's Tibet autonomous region dozens were killed and hundreds injured, many more have since been relocated. Relief work continues in the region as some mountain villages remain cut off since the quake.
20 kilometers away from the closest town, Laojiang village has been isolated since the earthquake cut off its main road to the outside world late last month. Ten days have passed since the quake, but rocks and soil continue to periodically tumble down onto the road, threatening people trying to pass.
To provide relief material for the stranded villagers, a team of 65 members carried the much-needed supplies along a footpath over mountains and landslide debris. The materials include tents, food and medicines. The remote village has a population of only 74 and the earthquake damaged many of its 14 houses. The first batch of relief materials were dropped by helicopters four days after the disaster. The outbreak of disease in Tibet has been a major concern, and some 13 medical teams have been sent to Tibet. Their work includes testing drinking water, vaccines for local residents and environmental disinfection.
Chinese Embassy sends relief supplies to Tibetans in Quake-hit Nepal
May 4, 2015
The Chinese Embassy in Nepal had distributed a total of 1.1 million rupees(13,750 U.S. dollars) of relief supplies to Tibetans living in quake-hit Nepal on May 2, 2015. A massive 8.1-magnitude quake struck Nepal at 2:11 p.m. on Apr. 25, leaving at least 7,240 people dead. The whereabouts and safety of those quake-hit Tibetans had drawn the attentions of the Chinese Embassy in Nepal.
At the request of Ambassador Wu Chuntai, Counselor Gonpo and Second Secretary Ngawang Lodpo had contacted the local Tibetans immediately after the quake to find out if they were safe. By various means, the two officials received detailed information of their casualties and property damages and done their utmost to help those affected. As of the afternoon of May 2, the Chinese embassy had bought relief goods worth 1.1 million rupees for the quake-hit Tibetans, including rice, mineral water, instant noodles, biscuits, beverages, butter, edible oil, and blanket, which broke the normal procedure. In the past few days, the officials of the Chinese Embassy also went to the hospital to see the wounded Tibetans in 14 households paid visits to five monasteries of Tibetan Buddhism and offices of three Tibetan organisations.
Tibetan county and township move due to Nepal earthquake
May 19, 2015
A township and county in Tibet have moved slightly southward as a result of the devastating Nepal earthquake, said a Chinese expert on Tuesday.
The township of Gyirong and Nyalam County, which border Nepal, have shifted about 60 centimeters, said Wang Qi, a professor with the China University of Geosciences who is leading a research team in Tibet, southwest China.
According to Wang, the massive quake on April 25 resulted in the movement of the Indian Plate and the Eurasian Plate. "Gyirong and Nyalam are close to the epicentre, so their movements are obvious," he explained.
The quake also resulted in the sinking of Nyalam by about 10 centimeters, he added.
Wang also told Xinhua that, after analysis, they will offer a conclusion about whether the height of Mount Qomolangma has changed since the quake.
Infrastructure, Ecology and Strategic Development on the Tibetan Plateau
Infrastructure
3.97 bln invested in hydraulic engineering carried out
May 26
According to the report of China's Xinhua News Agency, the Water Resources Department of southwest China's Tibet Autonomous Region has announced that a total investment of 3.97 billion yuan RMB from the central government in China's capital Beijing has been carried out in T.A.R. during the first 4 months of year 2015, which has exceeded the annual assignment of 3.5 billion of the whole year.
300 miles away from Lhasa City, Panam County of Shigatse City is one of the granaries in T.A.R.. In the past, farmers of Panam irrigated their fields through rain water and traditional water diversion. "Thanks for the farmland water conservancy project, our grain output has been doubled, and my personal income last year has increased tens of thousands yuan." says Dondrup, a villager in Jengar of Panam.
Under the title of "Asia's water tower", there are 28 rivers whose drainage areas have exceeded 10,000 km² and the annually average amount of water resource has reached 430 billion m³ in Tibet. Yeshe Drogar, a cadre of T.A.R. Water Resources Department, says that reasonable and scientific exploitation on Tibet's abundant water resources and improvement of water use efficiency concern local people's life and Tibet's development.
(One US dollar equals to 6.1950 yuan)
Experts call for an end to humidification of Qinghai-Tibet Plateau
May 26, 2015
The temperature of the Qinghai-Tibet Plateau has risen, rainfall increased, glaciers retreated, and frozen earth melted over the last decade – largely due to climate change. As a result, its air, originally cold and dry, has been humidified, according to the Economic Information Newspaper.
Research from the Qinghai-Tibet Research Institute at the China Academy of Social Sciences shows that over the past 30 years, the glaciers on the Qinghai-Tibet Plateau and its surrounding areas have shrunk by 15 percent, decreasing from 53,000 square kilometers to 45,000 square kilometers. Among them, the Puruo Gangri Glaciers – the third largest grouping in the world – has retreated by 50 meters, and the Qomolangma Glaciers have shrunk by 10 percent over the past 40 years. Meanwhile, frozen earth on the Plateau has been reduced by 16 percent from 1.5 million square kilometers to 1.26 square kilometers. Over the past 50 years, the depth of frozen earth has diminished by 12 centimeters every 10 years in Sanjiangyuan, or the waterheads of the Yangtze, Yellow and Lancang rivers (Mekong in the downstream). Experts estimate that by 2100, the temperature of the entire Sanjiangyuan area will go up by 3 centigrade. Frozen earth masses will disappear at a rate of 19 percent with every increase of 1.1 centigrade in the average temperature.
Kang Shichang, researcher with the Chinese Academy of Sciences and head of the Qomolangma Glaciers Exploration Team, says that melted glaciers from the Plateau have increased the area of its surface water, which will add to the stream flow of its rivers. However, if this phenomenon continues, it will break the balance of water resources in rivers as well as the hydrological cycle in East Asia, and threaten water security in the region. He also stressed that once part of the glaciers dies out and its area shrinks, the runoff in the lower reaches will diminish gradually, which will bring about drought and desertification. All of these possible outcomes will prevent the local economy and society from developing in a sustainable way.
In May the Chinese government published its "Opinion on accelerating construction of ecological civilisation" – a guideline on preserving and improving China's natural ecology in order to speed up the construction of the ecological security barrier for the present and the future. According to Du Jun, vice chairman of Tibet Climate Monitoring Center, energy may be the solution. New energy, renewable energy and energy conserving technologies should be developed vigorously. Outdated and high energy consumption equipment should be phased out. Controlling the sources of air pollution and land desertification should be greatly strengthened. And public awareness on the need to preserve Tibet's glaciers should be raised across the country, especially within the Tibet Autonomous Region and Qinghai Province. The humidified Qinghai-Tibet Plateau results from climate change and is related to the sustainable development of the earth. Experts say that China should take advantage of the U.N. Assembly and United Nations Climate Change Conference to inform the world of the impact of climate change on the Qinghai-Tibet Plateau as well as draw attention to the country's consistent efforts to protect its ecology. They also say China should call for more international cooperation and strive for additional funds from international organisations for research on the humidification of the Plateau.
China's Tibet build-up
May 12, 2015
While developments in Chinese airpower capabilities generally interests European and US military planners, Peoples Liberation Army Air Forces (PLAAF) aircraft operations especially in the Tibetan Autonomous Region (TAR) concerns the Indian security establishment. The PLAAF which has five airfields for full-fledged fighter operations in the TAR, added a sixth one earlier this year. These are primarily civilian airports that are now being enhanced to take on military operations. Accordingly, increased Chinese fighter aircraft operations earlier this year at the Kashgar airfield, located 600 km north of Srinagar, has the potential to threaten Indian security interests considering the centre of gravity of the India-China boundary dispute is Tibet.
Moreover, China now articulates its territorial claims on Arunachal Pradesh with greater assertion. PLAAF's fighter aircraft operations in the TAR were minimal over several decades. China's primary focus has been and continues to be, in its eastern region and targets Taiwan, South China Sea and the West Pacific. Its strategic objective is to reduce, if not eliminate, US influence in the region. China has, in recent years, largely surmounted its technological challenges, particularly in air, space and naval capabilities. This enables Beijing to demonstrate its power projection more confidently.
Tibet continues to be the soft underbelly of China's security interests. Its strategy to deal with this issue has been through rapid development of infrastructure in the TAR. It aids Beijing in two ways: firstly, it has created an extensive and modern infrastructure that would enable rapid deployment of its forces in any eventuality; secondly, all infrastructure developments naturally are accompanied by economic development of the region. This, China hopes, would ultimately subdue and dissipate the resistance of the Tibetans overtime. The dual objective of infrastructure development now results in the next stage of strategic developments in TAR that exposes a clear shift in China ' s strategy vis-Ã -vis India.
Till 2010, PLAAF operations from TAR airfields did not exceed anything more than four or six aircraft detachments during good weather conditions and for not over two weeks. These were hardly noticeable. However, this began to change from 2011 onwards. Detachment sizes began to increase to a minimum of six to eight aircraft and simultaneously in two airfields. From 2012, PLAAF operations have increased in frequency which culminates in winter operations during 2014 and a jump of over 300 per cent to about 1400 sorties. In 2012, PLAAF carried out weapon firing trials at high altitude ranges in the TAR for the first time in an integrated exercise. Today, two regiments of 24 aircraft, J-10s and J-11s, operate virtually on a permanent basis from the TAR airfields.
In tune with their limited war under informatised conditions, the Chinese have invested heavily in their air and space capabilities. Their operational philosophy in TAR focuses on strong air defence to create local air dominance, support to ground forces primarily for integrated airborne assault operations, and a strong strike capability centred on the Second Artillery.
Launch of satellites
China' s aggressive launch of satellites in the last decade and its capabilities in multi-dimensional surveillance technologies, control over its own navigation and positioning satellite architecture, gives it significant control over its situational awareness.
India has advantages in terms of better airbase infrastructure, quality of aircraft with its highly trained aircrew and manpower, well integrated force multipliers, and the advantage of a favourable geography. However, its air bases remain vulnerable to the Second Artillery. The Chinese have explicitly articulated their operational doctrine where their first line of attack in any conflict would be the use of conventional missiles of the Second Artillery and the PLAAF ' s Land Attack Cruise Missiles. The objective is to neutralise enemy airpower right at the start.
With the scheduled visit of Prime Minister Narendra Modi to China, considerable pressure would be mounted by the Chinese to leverage significant concessions from India on the boundary dispute. While the burgeoning economic and trade relations can help resolve the dispute, the Chinese have clearly indicated by their actions on the border that they would not make concessions that can diminish their current strategic advantage. New Delhi will need to keep in mind that negotiations can become meaningful only from positions of strength and deterrence.
Lhasa Tibetan-style street opens to the public
May 6, 2015
The Princess Wencheng Cijuelin Tibetan-style street was opened to the public in Lhasa, capital of southwest China's Tibet Autonomous Region, May 1, 2015, Chinanews.com reported. Rows of two-story traditional Tibetan-style houses, rustic wooden signs, and exquisite handcrafts attracted thousands of tourists to come.
The Cijuelin Tibetan-style street is located south of the Lhasa River in CiJiaoLin district. The district is situated among a large mesa where there are numerous Tibetan-style residential courtyards and commercial communities lining up along both sides of the main street. There was an opening ceremony held on the evening of May 1 in the street. Liao Qiang, general manager of the Beautiful Potala Culture Creative Industries Developmeng Co. Ltd., said during the ceremony that the street, featuring Tibetan specialities and tourism, is based on the profound cultural resources of ancient Cijuelin Village and great popularity of the epic drama Princess Wencheng. The drama is based on the story of a 16-year-old Tang Dynasty (618-907) princess Wencheng, who spent three years traveling from Chang'an (the current Xi'an in Shaanxi Province) to Lhasa to marry the king of Tubo (a kingdom on the Qinghai-Tibet Plateau from 7th to 9th century), Songtsan Gampo. Liao Qiang also said that the street combines folk culture exhibitions, ethnic minority crafts, traditional song and dance performances, recreation, sightseeing, leisure, trade, and hotel service to create a scenic destination in an effort to support tourism in Tibet.
Environment
South-North Water Transfer Project in China
May 30, 2015
One of the fastest-growing developing mega-economies in the world is striking more environmental hurdles than expected. This time, it is in regards to water security, rather than atmospheric pollution.
Some key environmental problems that are becoming more evident (or beginning to manifest) include soil degradation, over-extraction and pollution of (both surface and ground) water sources, whereby the latter has subsequently led to land subsidence. This over-reliance on water has restricted availability in major hubs such as north-eastern China (e.g. Beijing)
To compensate for water shortages in northern China, (that relies on the relatively low-flowing Yellow River), the South-North Water Transfer (SWNT) Project is under way, with the plan to divert approximately 44.8 billion cubic metres of water per year from southern China to the north (north-east), with the ultimate aim of ensuring ample environmental flows for the Yellow River and its tributaries.
Considering the heavy reliance of desalination plants (both existing and proposed units – as shown in the image below) this will place an additional burden on ensuring successful water conservation for the nation's population. Notwithstanding the size of China's megacities, industry and agriculture are significantly dependent on the provision of water. In 2007, approximately 750 billion cubic metres of water was used for agriculture, including 43% derived from irrigation sources.
These themes have played a central role in the latest report by Postdoctorate researcher, Carole Delin, who is based in Grantham Research Institute for Climate Change and the Environment. Her and her colleagues have produced a comprehensive analysis of the future of food security and water management within their latest scientific journal,
Addressing significant disparities in water flows from southern and north-eastern China by avoiding droughts and floods for the Yellow and Yantze Rivers respectively, will be paramount in achieving water security; both in the short-term and long-term. Ultimately, a combination of technologies will required.Demonstrations and Self-Immolation
Tibetan woman sets herself on fire in Chone, Tibetan exiles offer prayers
May 27, 2015
A Tibetan woman from Chone County in Kanlho region, Gansu Province has reportedly died after setting herself on fire earlier today in protest against China's occupation of Tibet and its hard-line policies. Sangye Tso, 36, a mother of two, set herself ablaze around 4AM (local time) in front of a building of Chinese Security personnel and armed forces near Tashi Choekhorling monastery.
Immediately after her self-immolation protest, Chinese security personnel took away her charred body but later returned the body to the family but deployed a large number of police in and around Tso's home. Yesterday, the family members of Tso got worried after they heard her message on WeChat instant messaging application. What she exactly said in her message is not yet known due to stepping up of checks on communication.
Chinese students in the west call for transparency over Tiananmen Square
May 26, 2015
A group of Chinese students living in western countries have issued a rare public appeal for their government to end its secrecy over the Tiananmen Square massacre and hold those responsible to account. The open letter from 11 students enrolled at universities in the US, UK and Australia is politically risky at a time of tightening government controls on activists and rights groups, from small charities and feminists to human rights lawyers who take on politically controversial cases. It prompted an angry attack from the hardline nationalist paper The Global Times, which accused the authors of serving "overseas hostile forces" and trying to "tear society apart".
The lead signatory to the letter, Gu Yi, said the group felt they had a moral duty to share the information they had stumbled upon after leaving their home country, about the extent of the Tiananmen protests in Beijing and the bloody government crackdown on 4 June 1989. Gu, a chemistry student at the University of Georgia, said: "I feel strongly as a Chinese citizen with full access to information outside China that I have a responsibility to tell my fellow citizens about this. We have been living in fear for a lot of years and what we are trying to do is fight this fear so we can live in freedom." The lengthy discussion of what happened in May and June 1989 was mostly addressed to fellow students at home in China, trapped behind what the letter called the "ever higher internet firewall", but pointedly criticised the government.
The letter said: "Some say the Communist party of China has taken lessens from 4 June and we should not pursue it anymore, and yet the repression lingers on: the truth is still being covered up; the victims are still being humiliated." It goes on to subvert the so-called China dream, a favourite slogan of the president, Xi Jinping, used by the government with a strict focus on economic progress. "We have a dream in our hearts, that in the near future, on the basis of accurate history and the implementation of justice, everyone could live in a world free of fear. As a group of Chinese students overseas, this is our China dream."
The letter has already drawn more than 50 new signatures since it was posted online. To read the full article click click http://fnvaworld.org/tibetan-festival-organizer-is-detained-by-police-in-sichuan/
Protests and Detentions
Tibetan Festival Organizer is Detained by Police in Sichuan
May 22, 2015
Police in western China's Sichuan province have detained a Tibetan man suspected of organising a prayer festival in March in which flags bearing photos of Tibetan exile leaders were publicly displayed, sources said. Sonam Dargye, a resident of Suwa village in Ngaba (in Chinese, Aba) county in the Ngaba Tibetan Autonomous Prefecture, was taken into custody and was detained about 20 days ago, and there is still no information about his present condition," RFA's source said, speaking on condition of anonymity. Word of Dargye's detention was delayed in reaching outside contacts because of communication blocks imposed by Chinese authorities in the area, the source said.
Call for unity
Participants in the festival shouted slogans calling for Tibetan unity and paraded flags with photos of the Dalai Lama, the Sikyong Lobsang Sangay, and former exile prime minister Samdhong Rinpoche, another source said in earlier reports. Other flags bore images of the world and of doves of peace, the source said.
Tibetan singer sentenced to three and half years in prison
May 20, 2015
A Tibetan singer had been sentenced to three and half years' imprisonment by a Lhasa Intermediate People's court on April 15, sources said. Gonpo Tenzin, 27, is a Tibetan singer who was arrested from Lhasa, Tibet's capital city, last year in November for producing music albums that called for Tibetan unity and preservation of the Tibetan language. Gonpo has sung several songs calling for unity among Tibetans and preservation of the Tibetan language and cultural tradition. Among his albums, "where is the Tibetan losar in Tibet" became hugely popular in Tibet.
Gonpo Tenzin is a native of Septhra village, Shagchu Township in Driru County, Nagchu Prefecture. Due to China's strict restriction on telephone line and other mode of communications like instant messaging application Wechat in Driru County, news of his detention and sentence surfaced only now. Since widespread protests against China across Tibet in 2008, Tibetan singers, writers, and artistes promoting Tibetan national identity and culture have become easy targets of China's ongoing crackdown on intellectuals.
Tibetan Father of Four Self-Immolates in Protest in Sichuan
May 20, 2015
A Tibetan man living in western China's Sichuan province set himself ablaze on Wednesday to protest Beijing's rule, bringing to 140 the number of self-immolations in Tibetan areas of China since the wave of fiery protests began in 2009. Tenzin Gyatso, 35, self-immolated at around 8:00 p.m. on May 20 in the Khangsar township of Tawu (in Chinese, Daofu) county in the Kardze (Ganzi) Tibetan Autonomous Prefecture, sources in the region and in exile said. "He staged his protest near a bridge close to official government buildings in Khangsar," a Tibetan living in exile told RFA's Tibetan Service, citing local sources.
Tibetans believe that Gyatso, who has a wife and four children, became upset when security forces were sent to Khangsar to prevent celebrations of the 80th birthday of exiled spiritual leader the Dalai Lama, Tenzin said. Following Gyatso's protest, additional numbers of security personnel were deployed in Khangsar, and restrictions on movement and communications have been imposed in the area, sources said.
Tibetan Protest Monk Freed From Prison in Sichuan
May 18, 2015
Prison authorities in southwestern China's Sichuan province have freed a Tibetan monk jailed in 2008 for his role in protests challenging Beijing's rule in Tibetan areas, returning him to his home in secret to prevent public celebrations, sources said. Palden Trinlay, a monk of Kardze monastery in Sichuan's Kardze (in Chinese, Ganzi) county, was released on May 17 after serving a seven-year term and arrived home at about 3:00 a.m. the next day, a local source told RFA's Tibetan Service.
"To avoid a reception or other welcoming activities, he was privately escorted by two police officers, but the local Tibetans were expecting him and waited all night for him to arrive," the source said, speaking on condition of anonymity. Trinlay, now 26, was 19 when he took part in a May 18, 2008 protest in Kardze town along with five others, a second source said. "He was detained and then sentenced to seven years in prison by the Kardze People's Intermediate Court," Gonpo Trinlay, a former political prisoner now living in exile, said. "He was released on May 17 after completing his sentence, and three police officers went from Kardze county to Deyang prison to receive him," Gonpo Trinlay said.
Earlier reports had identified Palden Trinlay's place of confinement as Mianyang prison, also in Sichuan. No details were immediately available on Trinlay's physical condition at the time of his release, though reports in March 2014 had described him as being in failing health, with authorities refusing him adequate medical treatment or admission to a hospital.
China urged to release Panchen Lama after 20 years
May 17, 2015
Tibetan exiles are calling for China to release a high-ranking monk who disappeared 20 years ago when he was just six years old. The boy was detained by the Chinese authorities just three days after the Dalai Lama declared him to be the reincarnated Panchen Lama. He is the second most important figure in Tibetan Buddhism. Many consider him to be one of the world's longest-serving political prisoners. China has refused provide details of the whereabouts of Gedhun Choekyi Nyima.
In 1995 it anointed its own Panchen Lama, Gyaltsen Norbu, who while popular among some Tibetans has been described by exiles as a "stooge of the atheist Chinese Communist Party government". Wangdue Tsering, press spokesman for the Office of Tibet in London, told the BBC that events were taking place on Sunday across the world to mark the 20th anniversary of Gendhun Choekyi Nyima's disappearance, including a candle-lit vigil outside the Chinese embassy in London.
Two Are Detained Over Suspect Writings, Photos in Tibet's Dingri County
May 17
Chinese authorities in Tibet have detained two young Tibetans believed to have transmitted politically sensitive writings and images over the popular WeChat microblog, sources said. Lhundrub, 27, and Rithar, 21, were taken into custody separately on May 22, a Tibetan living in exile told RFA's Tibetan Service, citing local contacts.
Both were natives of Traktse village in Dingri county in Shigatse (in Chinese, Rikaze) prefecture of the Tibet Autonomous Region, RFA's source said.
"Lhundrub, a monk of the Traktse Chakjomo monastery, was detained in Traktse village, while Rithar was detained in [Tibet's regional capital] Lhasa," the source said.
"No reason was given for their detention, but local Tibetans believe they had been detected sending politically sensitive writings and photos of the Dalai Lama over their WeChat accounts," he said.
Chinese authorities have stepped up curbs on information flows in Tibetan-populated regions amid protests, in some places including self-immolations, challenging Beijing's rule in these areas, and images of Tibet's exiled spiritual leader the Dalai Lama are considered especially sensitive.
Separately, a second source confirmed the two had been taken into custody, but gave separate dates for their detention by police, saying that Rithar had been detained on May 16 and Lhundrub on May 19.
Others also held. Another Traktse village resident was detained at the end of last year after police found politically sensitive photos on his cell phone, sources said in earlier reports.
Tobgyal, aged about 23, was taken into custody in Lhasa on Dec. 26 while working at a construction site, a local source told RFA.
He was handed over to authorities in Dingri on Jan. 12 and released the next day on condition he not travel outside his home area, the source said.
Tobgyal's elder brother Tsewang Dondrub was later detained on Jan. 17, sources said.
Sporadic demonstrations challenging Chinese rule have continued in Tibetan-populated areas of China since widespread protests swept the region in 2008, with 140 Tibetans to date setting themselves ablaze to oppose Beijing's rule and call for the Dalai Lama's return.
Important meetings, conferences and official visits
CCP sends senior officials on prison tour as anti-corruption warning
May 26, 2015
A total of 70 senior officials in Hubei province were taken to a city prison for an "educational warning" on corruption by the CPC Central Commission for Discipline Inspection. China.org reported on the unusual excursion, which included visiting ex-officials convicted of corruption and experiencing a "day in the life" of an inmate. The touring party were shown the "deep repentance" of disgraced former-officials and cautioned to "be aware of wrongdoings involving corruption, correctly exercise their powers and actively receive supervision from the Party."
Spooking would-be grafters is just the latest unorthodox measure in China's war on corruption. Last week, the wives of senior officials channeled their revolutionary spirit as they dressed up in Red Army clothing to receive counselling on the important role they play in the supervision of their husbands' integrity. Previously, the crackdown has had golf in the crosshairs, while a "100 most wanted fugitives" list was released via Interpol in the hunt for suspects who had fled overseas as part of Operation Sky Net.
Grain stockpiles do not help China's national security: report
May 25, 2015
The Chinese government has faced growing pressure to review its longstanding policy of maintaining a stockpile of grain as more people have complained of grain prices well above international levels caused by the policy. Han Jun, deputy director of the office for the central leadership panel for finance and economics, admitted after-tax (50% duty) CIF prices for imported grain in China are much lower than for domestic grain, 0.5 yuan (US$0.08) cheaper per jin (0.5 kilo) for maize, 0.35 yuan (US$0.05) per jin for wheat, and 0.5 yuan per jin for rice.
The income for farmers remains incredibly low, meanwhile, with per capita annual income in rural areas reaching only 9,892 yuan (US$1,595) in 2014, according to the National Bureau of Statistics. As a result, farmers have migrated to urban areas in massive numbers in search of a better life. The business channel of web portal Sohu.com attributes the low price of imported grain to advanced agricultural technology boosting output and large-scale mechanised farming lowering costs. In the United States, for instance, a farmer can cultivate several thousand acres using machinery, including the use of small planes to spray pesticide. In China, by contrast, farming is still mostly carried out by older men and women without much modern agricultural know-how on small plots of land.
The plight of local farmers has been aggravated by unscrupulous middlemen, whose costs typically account for 60%-70% of the retail price of agricultural produce. Sohu.com attacked the food security argument behind the existing policy, citing China's reliance on imports for 60% of its oil needs which few believe has posed a serious threat to national security. Opening up further to grain imports will force many people in rural areas, especially seniors and women, to give up farming, but the effect will actually be limited as many farms are operating in the red or generate only slim profits, according to the report, which said the vacated farmland could be used to cultivate crops with higher added value.
Party's 'United Front' Meeting Said to Be Aimed at Earning Reform Support
May 22, 2015
As reforms stall and economy slows, party meets to discuss ways it can work with non-members inside and outside the country. The ruling Communist Party recently held a three-day conference to talk about ways to gain the support of groups of people who are not members – a move one expert says is an effort to garner support for reforms. The Central Committee, the party's 205-member nexus of national power, held the meeting on "united front" issues from May 18 to 20 – the first time in nine years this type of conference has been held.
Xi Jinping, the party's general secretary, identified three groups that the party should seek to work closer with. "There is a need to strengthen our relationship with prominent representatives of new media via regular contact and interaction both online and offline," he was quoted by the official Xinhua News Agency as saying. Xi said that the leaders of new media industries – a broad and changing term that refers to use of the Internet to transmit news to mobile devices – could help the party patrol cyberspace.
He identified the other two groups as people who have studied or are studying abroad and the new generation of entrepreneurs. Xi said many individuals in this latter group are not party members, but they are becoming economically and socially influential. Shortly after he took power from Hu Jintao, Xi launched a massive campaign against corruption, and he may be seeking ways to bolster the party's legitimacy in the eyes of the public amid a nearly daily torrent of news stories about dirty officials, generals and executives. This could become an even larger issue as economic growth – and new job creation – slow. The number of newly created jobs fell by 200,000, or 5.81 percent, in the first quarter, compared to the same period a year earlier, recent official data show.
A complicating factor is the party's efforts to continue to transform the economy into one playing by market rules and to establish the rule of law. Plans for progress in those areas have been in place for two years, but implementation has been slow, obstructed by poor coordination and resistance from interest groups, among other problems.
Li Keqiang, the premier and party No. 2, has repeatedly complained lately that reform is going too slow. Ye Xiaowen, vice president of Central Institute of Socialism, a research body linked to the party, said China will face many challenges in its push for deepening reforms, and the united front approach can help overcome them. Three-quarters of the country's intellectuals are not party members, he said, and uniting this group is the main chore of united front efforts. "To unite non-party intellectuals, the party needs to embrace them with due respect and a sense of inclusiveness in order to make full use of what they do best," Ye said.
First United Front national conference since 2006 starts this week
May 20, 2015
The 21st national conference of the Communist Party's United Front Work Department is set to kick off this week. The conference, the first under Xi Jinping as party chief and the first since 2006, will set the direction of the department's work over the next few years. The party staged 20 national United Front conferences between 1950 and 2006.
Political analysts predict that the focus of the conference will be on driving the "Four Comprehensives" unveiled by Xi in February, which aims to comprehensively: build a moderately prosperous society; deepen reform; govern the nation according to law; and strictly govern the party. According to the official Xinhua news agency, United Front work has been at the forefront of Xi's attention. There have been 57 conferences and meetings with non-party elite since the 18th National Congress in November 2012, with Xi personally attending 11 of them.
The main function of the United Front is to manage relations with the non-Communist Party elite, including individuals and organisations holding social, commercial, or academic influence, or who represent important interest groups, both inside and outside China. The department includes a bureau tasked with handling Hong Kong, Macau, Taiwan and overseas affairs, and it is believed that Taiwan will be a focus of the conference after the Sunflower Student Movement last year, which saw demonstrators occupy Taiwan's Legislature in protest against an attempt to force the ratification of an unpopular cross-strait trade agreement without proper review. It is also looking increasing likely that the pro-independence Democratic Progressive Party will return to power in Taiwan next year, posing new challenges Beijing following years of strengthening ties under the Kuomintang administration of President Ma Ying-jeou since 2008.
The United Front also plays an active role in managing ethnic and religious minorities. The conference is therefore also likely to zone in on stability in the restive regions of Tibet and particular Xinjiang, which has seen a large number of terror attacks inside and outside the region in recent years stemming from ethnic discontent. Duowei News, a US-based Chinese political news outlet, says the status of the United Front has clearly been lifted by Xi since his ascension to power. One of the reasons for this is because Xi recognises the importance of consultation in making decisions, particularly when it comes to executing his plan of a slow and steady approach to stabilising Xinjiang and Tibet, Duowei added.
Sun Chunlan, the incumbent United Front chief, met with the heads of China's eight minor political parties, the All-China Federation of Industry and Commerce, and numerous religious leaders at the end of last year. From the end of March to the end of April, she also undertook a tour of Hebei, Yunnan and Shandong provinces to conduct research into democratic, non-economic, religious and civil society organisations in those regions. Sun remarked that the United Front's work continues to face emerging new situations and problems as the party implements deepening reforms. To face these challenges, the department has put together the country's top academics and professionals to become an important think tank for the party and the government in pushing forward the Four Comprehensives, she added.
Xi stresses befriending non-CPC elites
May 20, 2015
Chinese President Xi Jinping has asked authorities to befriend and recruit more non-Communist Party of China (CPC) intellectuals and representatives, stressing their role in economic development and cleansing the Internet. To unite the non-CPC intellectuals is basic and strategically important work under the party's efforts to unite the nation and pool strength for realisation of the Chinese dream of national rejuvenation, Xi said at a three-day meeting of the united front work, which closed on Wednesday in Beijing. High value should be placed on intellectuals in new economic and social organisations and they should exert their roles in development. Students studying abroad should also be encouraged to return home and serve the country in various ways, said the president.
He called for officials to improve their work style and learn to make friends with non-CPC intellectuals in "doing ideological work". Xi asked them to establish regular contacts with outstanding intellectuals from new media organisations and strengthen interactions with them both online and in reality, encouraging them to make contributions to purifying the cyberspace. The president also called for expanding the selection and use of non-CPC representatives who consciously accept the leadership of the Party and have strong political abilities. Officials at all levels should take the lead to participate in important united front work activities and make more true friends from non-CPC communities. They should be sincere, modest and clean so that they can gain respect from non-CPC members and help them work together with the party, Xi added.
Tibet in India-China Border Dispute
Beijing believes unrest in Tibet linked with Tawang: Zhang LiInterview by Ajai Shukla with Professor, Sichuan University
May 14, 2015
Professor Zhang Li of Sichuan University is an expert on China-India-Pakistan strategic relations. He is based in Chengdu, which is also the headquarters of the People's Liberation Army (PLA) group that is responsible for the Sino-India border. Ajai Shukla spoke to him in Chengdu last week.
Do you see any shift in the way India and China view the boundary question after Mr Modi and Xi Jinping came to power?
Yes. India is becoming increasingly more important for China in the last three to four years especially with the new generation of Chinese leaders under Xi Jinping and Li Keqiang. They have launched a new diplomatic thrust on issues that China and India share, such as infrastructure, investment and energy.
Can strong new leaders like Xi and Modi approach the border issue in new ways?
Under these strong leaders, one has reason to expect much more to be done for an early settlement of the border issue. I think China could develop some new thinking, but obstacles remain as we have seen in the 18 rounds of dialogue between the special representatives (of India and China).
It seems the matter is stuck on China's claim on Tawang?
China has never given up its claim to Southern Tibet as we call it, and Arunachal Pradesh as India calls it. Beijing thinks it is the major part of the territorial dispute. The Chinese people basically understand that there is a dispute between China and India only in the eastern sector. In the western sector only the specialists understand that India claims certain parts and believes China has occupied some parts of Aksai Chin. But in the eastern sector the understanding is quite different and so the Chinese leadership continues this territorial claim.
Why is Tawang so important for China?
In the last 10 years I think the Chinese government has tried to link the border issue with Tibet, especially Tawang. A core concern for China is to stabilise Tibet, and they realise the strong historical and cultural linkages between Tibet proper and the disputed areas, especially Tawang. There are historical accounts of linkage that were political in nature and issues of jurisdiction for centuries.
So Tawang remains a sticking point, even for an eastern border based on the McMahon Line?
The Chinese government has never accepted the McMahon Line. Since the 1950s, when Nehru and Zhou Enlai discussed, China said lets swap eastern sector and western, just exchange [Aksai Chin to China for Arunachal to India]. But now China says we have to make a "minor but not insignificant" adjustment [within each sector]. Basically this is a reference to Tawang, which is not just part of the territorial issue but also part of the Tibet issue. When Chinese think of the Tawang issue they also have to think about Tibet. Perhaps China associates the stability of Tibet with Tawang. This is something new.
What thinking has driven this change?
In 2005 at the time of signing the "Political Parameters" (Agreement for a border settlement), and maybe soon afterwards, the Chinese government thought they have to change their position, especially on the Tawang issue. There was instability in Tibet and around, especially at the time of the Beijing Olympics in 2008 and 2009. That is a partial reason, not the whole reason, that Tawang and other factors play on Chinese thinking for Tibet stability. China believes that instability in Tibet is not just from inside but it also gets lots of influence from the outside. A lot of negative influences come from the west, places like America and Europe but also from within India. So the status of Tawang is a sensitive issue. The very factor that the Dalai Lama stays in India, changes everything radically.
So China will not settle the Sino-Indian border until it resolves the Tibet situation internally?
Like I said, there is some connection between Tibet and the settlement of the border issue. That there is a direct linkage is something new in the last 10 years. Perhaps China has some misgivings about the situation in Tibet. According to Chinese thinking, in 1959 India played a role in the Lhasa uprising. In 1954, China and India signed an important agreement defining relations with Tibet [Panchasheel Agreement], and five years later we had the Tibetan uprising. This time after the 2005 agreement, we saw the 2008 protests in Tibet. But this time, I personally think there is some misunderstanding, and that there is quite a complicated linkage with India. Naturally, the Chinese government thinks there are outside negative influences in Tibet from two sources, one is from America and Europe and the other from the Tibetan government in exile in India. It is complicated because New Delhi says it does not allow the Tibetan government to do any political activity against China.
So the border settlement must await the Dalai Lama's return to Lhasa?
I think the settlement is indirectly linked with the Dalai Lama. We can guess that if Tibet is more stable then the Chinese government will be more flexible in discussing the border issue with India. For the Chinese government it is much more important to stabilise Tibet than it is to settle the border issue early as India has expected.
Does Beijing believe the China-Pakistan Economic Corridor is feasible, given the turmoil in Pakistan?
Since General Musharraf came to China in 2006, Beijing and Islamabad have proposed to develop this strategic linkage from Gwadar in the Arabian Sea to Xinjiang. Surely China has formidable problems to overcome before making it a success. But Pakistan remains extremely important for China strategically, given the regional situation. Of course I have to recognise that it has something to do with India. In Chinese perception India is strategically getting closer to United States and some Chinese analysts fear perhaps one day it may become a part of American arrangements against China. There seems no assurance for Beijing to judge India's role choice.
Is China going to put pressure on Pakistan to stop radicalism spilling over into Xinjiang?
There have been actual terrorist attacks in Xinjiang, and also through internet propaganda and sharing terrorist techniques and ideology. We discuss terrorism with Pakistan and keep channels open. But we don't press too hard because the partnership is very important for China. We understand there are limits to what they can do.
In Gwadar, China has no plans for a military base, only for civilian and commercial purposes. The security situation is not good and the project itself, so far, hasn't proven attractive and lucrative. Both China and Pakistan think highly of the prospects of Gwadar in the long run and Pakistan, understandably, is trying to overplay this for effect.
Nathu La route for Tibet pilgrimage for Indians to open in June
May 18, 2015
Nathula Pass, Sikkim
Indian pilgrims to the Kailash-Manasarovar sites in the remote western Tibetan prefecture of Ngari (Chinese: Ali) will be able to travel through the more convenient Nathu La pass in Sikkim from June 2015. This is in addition to the existing route through the Lipulekh Pass in Uttarakhand state which the bulk of the pilgrims will take.
"The Nathu La route for Indian pilgrims to visit Kailash Mansarovar will become operational in June. I want to thank China for that," Indian Prime Minister Narendra Modi said in his address to the India China Business Forum in Shanghai on May 16 after 26 agreements worth US$22 billion were signed between Indian and Chinese firms.
The route through Nathu La Pass will facilitate comfortable travel by buses especially for the elderly pilgrims.
India's Ministry of External Affairs currently takes more than 1,000 pilgrims a year in 18 batches in a 22-day journey through the Lipulekh Pass. The number of pilgrims is expected to rise considerably once the new route is opened.
This year a total of 1,330 pilgrims will make the journey, including 250 via Nathu La in five batches. The remaining 1,080 will journey via Lipulekh in 18 batches.
Chinese President Xi Jinping had promised to open the new, Nathu La route during this visit to New Delhi in Sep 2014.
The easiest and shortest route for travelling to the Kailash-Manasarovar sites remains Demchok in Ladakh region of Jammu and Kashmir. This route was used by Indian pilgrims when Tibet was free until 1959 without even being required to apply for a visa. People in Ladakh have been demanding the reopening of this route but without success apparently due to China's refusal.
Tibet out of purview of India's new Consulate in China
May 20, 2015
India will soon be opening a new Consulate in China's Chengdu city, capital of Sichuan province but Tibet, which borders it will not come under its purview.
Under the agreement signed during Prime Minister Narendra Modi's visit last week, both China and India have agreed to open their third Consulate in each other's territory.
While India will open its Consulate in Chengdu, China will open its mission in Chennai, making debut in the South for the first time. However, the Chengdu Consulate will cover the areas of Sichuan, Yunnan, Guizhou provinces and Chongqing Municipality, according to the officials.
Tibet, which is next door to Sichuan is conspicuously missing from its purview. Tibet continues to be a sensitive issue for China, specially in view of its staunch opposition towards Dalai Lama and Tibetans in exile. Beijing views
Except for Nepal, China has not permitted any foreign country including US to open their Consulates in Tibet and foreigners need special permits to visit the remote Himalayan region.
China's Military White Paper
China rolls out military roadmap of "active defense" strategy
May 26, 2015
China issued Tuesday its first white paper on military strategy, stressing "active defense" and pledging closer international security cooperation. The white paper, "China's Military Strategy", issued by the State Council Information Office, outlined a strategy that adheres to the unity of strategic defense and operational and tactical offense. The nearly 9,000-word paper also underscored "the principles of defense, self-defense and post-emptive strike," adding that China "will not attack unless [it is] attacked, but will counterattack."
In response to the evolving form of modern warfare and national security requirements, more focus will be placed on "winning informationised local wars". The armed forces will strengthen international security cooperation in areas crucially related to overseas interests. The paper goes on to highlight four "critical security domains", including the ocean, outer space, cyberspace and nuclear force. The PLA Navy will gradually shift its focus from the sole strategy of "offshore waters defense" to the combined one of "offshore waters defense [and] open seas protection".
The country will expedite the development of its cyber force to tackle "grave security threats" within the digital realm. China opposes weaponisation and arms race in outer space and vowed to secure its space assets. The paper also underscored that China will never enter into a nuclear arms race with any other country.
ACTIVE DEFENSE
This is the ninth white paper issued since 1998. Compared with the previous documents, this one focuses on the core and most sensitive questions concerning China's military and security policy, said Wen Bing, a researcher with the Academy of Military Science (AMS) of the Chinese People's Liberation Army (PLA). The essence of China's military strategy is "defense" and it highlights an "active" state, Wen said. China's socialist nature, fundamental national interests and the objective requirement of peaceful development all demand adherence to active defense, the paper says. It's because of adherence to this strategy that China could enjoy a relatively stable environment for development and win international respect, said Chen Zhou, director of national defense policy research center under the AMS. No matter how strong China becomes, it will never deviate from this strategy and will not pursue military expansion, Chen said. China opposes hegemonism and power politics in all forms and will never seek hegemony or expansion, according to the paper.
INCREASING THREATS
A world war is unlikely in the foreseeable future and the international situation is expected to remain generally peaceful, according to the paper. Small-scale wars, conflicts and crises are recurrent in some regions. Therefore, the world still faces both immediate and potential threats of localised wars, it says. China remains in a period of strategic opportunities for development, but it also faces multiple and complex security threats, as well as increasing external challenges. This means China still has the arduous task of safeguarding national unification, territorial integrity and development interests, according to the paper. The paper also warned of threats to China's maritime rights and interests. It mentioned the provocative actions of certain offshore neighbours, including reinforced, and illegal, military presence on China's territory and outside parties involving themselves in South China Sea affairs.
Commentaries
The Future of Hydropower
May 26, 2015/
Even Kuross
Given the strains climate change is putting on the planet's limited resources, what role can hydropower play in the future?
The Three Gorges Dam in China is the largest hydroproject in the world. Spanning 2.4 kilometers across the Yangzee River in Hubei Province, the dam captures 84.7 terawatts per hour (TWh) annually. China is, in fact, the world's largest producer of hydroelectricity, generating 687 TWh in 2011, which accounts for 15% of China's total electricity production. Hydropower actually makes up 6% of China's total energy mix — more than both natural gas and nuclear power — and the Chinese government plans to increase its output to 325 gigawatts (GW) by 2015. For a country that is also the largest emitter of carbon dioxide, hydropower is a vital source of clean energy that can help Beijing combat the pervasive pollution that blankets many major Chinese urban centers.
China is one of the many countries eager to take advantage of their natural topography to tap a clean source of renewable energy. Across the globe, the use of hydropower is on the rise, growing by 4% over 2013, as renewable sources of energy are touted as the most environmentally responsible alternative to finite carbon emitting fossil fuels and a valuable tool in fighting climate change. The runoff produced by precipitation, rivers and other waterways around the world combine to create 16% of the world's electricity every year, and more than 60 countries receive over half of their electricity through hydropower.
Norway is western Europe's largest producer of both oil and natural gas, yet it receives 97% of its energy needs from hydropower. Energy-rich Canada, Brazil and Venezuela all receive over 50% of their electricity from hydropower. Given the growing global push toward renewable energy, what does the future of hydropower hold?
Hydropotential
A recent report by the Intergovernmental Panel on Climate Change (IPCC) starkly outlined the long-term economic, social and environmental costs the world will be forced to contend with if climate change is allowed to progress at its current rate. The report concluded that the effects of climate change will affect every facet of life if it is not proactively dealt with. These effects are before the increased demand for energy and subsequent increase in carbon emissions are taken into account. The United Nations (UN) estimates that the world's population will consume 50% more energy by 2035.
Read the full article here: http://fnvaworld.org/?p=15194
Tibetan PM warns that India and China can't sidestep his country if they aim for peaceful ties
May 23, 2015
Ajaz Ashraf
Dr Lobsang Sangay talks about Beijing's repression of Tibet and Modi's recent visit to China.
Prime Minister of the Tibetan government-in-exile Dr Lobsang Sangay was educated at Delhi University and Harvard Law School. In an email interview, he speaks of how discussions about Tibet were absent in the media coverage of Prime Minister Narendra Modi's recent visit to China and Beijing's policy of repression.
The issue of Tibet was largely missing from the Indian media both before and during Prime Minister Narendra Modi's recent visit to China. What are your feelings about it?
Even though the Indian media remained largely silent on the issue of Tibet, the Chinese state media raised it a few days before the Indian prime minister's visit there. They demanded from the prime minister that he should stop visiting Arunachal Pradesh and stop supporting His Holiness the Dalai Lama. So China realises that the core of the better India-China relations lies in Tibet.
Do you think the Indian media and the Indian foreign policy establishment have veered around to the view that raising the Tibet issue with the Chinese is inimical to India's interests?
The Chinese government has been pressuring governments across the world in not meeting the Dalai Lama or speaking up on the issue of Tibet. It is however to be noted that there is no going around Tibet if India and China want to have a peaceful and amicable relationship.
Read the full int review here: http://fnvaworld.org/?p=15146
Caught in the Middle: India, China, and Tibet
May 19, 2015
Ellen Bork
May/June 2015
My friends and I had gone as far as we could toward the border with China. We were tracing, in reverse, the Dalai Lama's path into India from Chinese-occupied Tibet in March 1959. We stopped in this village, on a rise in the road overlooking a river in the far western corner of India's northeastern state of Arunachal Pradesh, to look for anyone old enough to remember the Dalai Lama passing through on his way into exile.
We were unable to find anyone. Restrictions on foreigners' travel prevented us from driving farther on, so we sent our Indian driver off alone, to the next town toward the border. After some time, he returned with Bumpa, a compact, weathered man in his eighties, in the seat beside him. When the Dalai Lama arrived, Bumpa recalled, he was wearing a robe of reddish brown, "the color that tea leaves make in water." It was, Bumpa said, "like looking at Avolokiteshvara himself." Tibetan Buddhists believe the Dalai Lama is the manifestation of Avolokiteshvara, or Chenreizig, the Bodhisattva of compassion, an enlightened being who postpones the attainment of Nirvana to serve humanity.
It's getting harder to find people like Bumpa, who is among the last of a generation that can remember a free Tibet. Before the Chinese invasion of Tibet, historic cultural and religious bonds connecting Tibetan Buddhists from various ethnic groups—including Bumpa's own Mon people—stretched unhindered between the two countries. Bumpa recalls the local townspeople trading across the border and walking for days on pilgrimages to Lhasa, the capital of Tibet. He also recalls sleeping by the road as he trekked in the other direction, to escape Chinese troops who surged through Arunachal Pradesh during the Sino-Indian War of 1962.
In late 2014, my companions and I traveled to this area of northeastern India in Arunachal Pradesh, and to Ladakh, in Jammu and Kashmir state, another heavily Tibetan Buddhist region on the western end of India's disputed border with China. We wanted to appreciate the remote, high-altitude setting for this standoff between two strategic rivals, one an authoritarian communist regime, the other a democracy developing ties with the United States. In particular, we wanted to consider the conflict's enduring connection to Tibet.
Click here to read the full article: http://fnvaworld.org/?p=15069