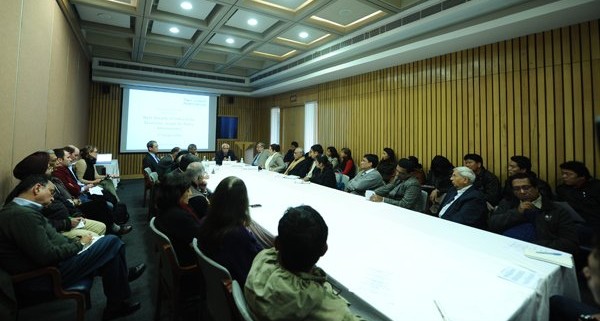 Second Roundtable Discussion
Thursday, 3rd January 2013 (3 p.m. to 6 p.m)
Seminar Hall Number 3, New Wing, Gate Number 1, India International Centre, Max Mueller Marg, New Delhi 3
China Under the New Leadership: China's Relations with India: Jayadeva Ranade
Overview of the Sino-Tibetan Dialogue: Lodi Gyari Rinpoche
The Coming Collapse of China and What it Means for India: Gordon Chang
Q & A Session
The programme shall be chaired by Prof. Srikanth Kondapalli
Brief background to speakers:
Jayadeva Ranade
is a former Additional Secretary, Cabinet Secretariat, Government of India is a security and intelligence expert. He is a seasoned China analyst with over 25 years experience in the field. He earned a Diploma of Advanced Proficiency in Chinese after a two-year study programme in Jawaharlal Nehru University, New Delhi and completed an Intensive Introductory course in Mandarin and a Diploma in Mandarin from the University of Hong Kong, Hong Kong.
His foreign assignments have included Hong Kong, Beijing and his last foreign posting, prior to retirement in late 2008, was as Minister in the Indian Embassy in Washington. He contributes to many mainstream national newspapers, magazines and leading publications, mostly on strategic and security issues relating to China. Chapters contributed by him on specialised aspects relating to China have been published in many books. He is often requested by leading TV news channels to comment on issues of national interest and is also invited to international conferences and seminars in India and abroad to speak on China/East Asia and subjects related to Intelligence.
Lodi Gyari Rinpoche
served in the senior most elected and appointed positions of the Tibetan administration in exile – from Speaker of the Parliament to Cabinet Minister. He was also one of the youngest people to be appointedby His Holiness the Dalai Lama to the Kashag (Cabinet), to servein the Tibetan administration but also led anextensive behind the scenes diplomatic effort to sustain theprocess, expand the channels of communication, build trust withthe Chinese leadership and maintain a broad internationalinterest in the dialogue process.
Lodi Gyari has published editorials in many publications including The South China Morning Post, Asian Wall Street Journal, The Washington Post, The Harvard Asia Quarterly and The Far Eastern Economic Review.
Gordon G. Chang
is theauthor of Nuclear Showdown: North Korea Takes On the World, released by Random House in January 2006. His first book is The Coming Collapse of China. He is a columnist at Forbes.com and blogs at World Affairs Journal. His writings on China and North Korea have appeared in The New York Times, The Wall Street Journal, the Far Eastern Economic Review, the International Herald Tribune, Commentary, The Weekly Standard, National Review, and Barron's.
He lived and worked in China and Hong Kong for almost two decades, most recently in Shanghai, as Counsel to the American law firm Paul Weiss and earlier in Hong Kong as Partner in the international law firm Baker & McKenzie. He has spoken at Columbia, Cornell,Harvard, Penn, Princeton, Yale, and other universities and at The Brookings Institution, The Heritage Foundation, the Cato Institute, RAND, the American Enterprise Institute, the Council on Foreign Relations, and other institutions.
He has given briefings at the National Intelligence Council, the Central Intelligence Agency, the State Department, and the Pentagon. He has also spoken before industry and investor groups including Bloomberg, Sanford Bernstein, Royal Bank of Scotland, and Credit Lyonnais Securities Asia. Chang has appeared before the House Committee on Foreign Affairs and the U.S.-China Economic and Security Review Commission. He has appeared on CNN, Fox News Channel, Fox Business Network, CNBC, MSNBC, PBS, the BBC, and Bloomberg Television. He has appeared on The Daily Show with Jon Stewart and is a frequent co-host and guest on The John Batchelor Show. He has served two terms as a trustee of Cornell University.
The Chair, Prof. Srikanth Kondapalli
is professor in Chinese Studies at Jawaharlal Nehru University, New Delhi. He is also an Honorary Fellow at Institute of Chinese Studies, Delhi and Research Associate at Centre for Chinese Studies, University of Stellenbosch, South Africa. He served at Indian Institute for Defence Studies, New Delhi for nearly twelve years. He is educated in Chinese studies in India and China with specialization in modern Chinese History. He learnt Chinese language at Beijing Language and Culture University and was a post-Doctoral visiting fellow at People's University, Beijing from 1996-1998. He was a visiting Professor at National Chengchi University, Taipei in 2004.
He has published three books, two monographs, co-edited a volume and several articles in edited books and in national and international journals and newspapers. He has presented several research papers in both national and international conferences. Prof. Srikanth is a guest faculty member at College of Naval Warfare, Army War College, Indo-Tibetan Border Police Academy and Border Security Force Academy.