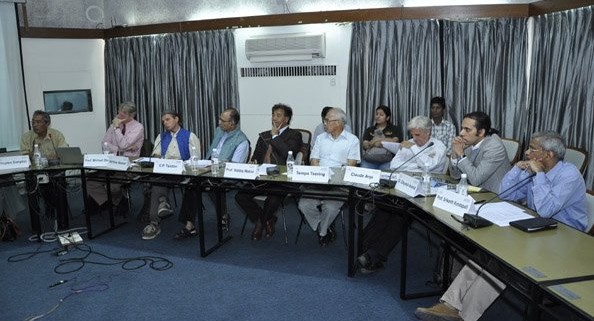 This conference will address the nature of the Chinese Constitution, the Regional Autonomy Law and the manner in which it is being implemented both in spirit and letter. This conference will bring out how and why the very basic fundamental rights are being denied to the Tibetans even after 60 years of occupation of Tibet and declaring it as a part of the Motherland.
Date: Saturday, 21st April 2012
Time: 09:30 -14:00 hr
Venue: IIC Main, above Dining Hall, 2nd Floor
Background
The Chinese Constitution provides for autonomy for minorities. China also claims to have brought development at every Tibetan's door and 'liberated' them from serfdom (?). Why then is there such frustration amongst the Tibetan community compelling them to take this extreme step of self-immolation? There is a BIG WHY. What further belies the Imagination is that on one hand China has been taking all possible steps to declare its Buddhist authority to the world and yet in practice, its action contradicts the philosophy of Buddhism.
What are the Chinese policies for Tibet in particular in the domain of their cultural, religious and language issues? What are the implications of the last Tibet Work Forum Meet? What has been the response of China and India to the current situation in Tibet?
The panelists at this conference will address these and other issues to understand the ground reality in  Tibet and the compelling reasons driving young Tibetans to self-immolation.
Programme
09:30 hr Registration
10:00-10:10 hrs Conference- Opening remarks – FNVA
Session I:
Chairperson and Moderator: Prof. Siddiq Wahid
10:10-10:30 hrs Great Wall of Stability: the State's Longer Term Response to the 2008 Uprising
Speaker: Matthew Akester
10:30-10:50 hrs China's Tibet Policy in the Global Context
Speaker: Michael C. Davis
10:50-11:10 hrs Tibetan Perspective
Speaker: Thupten Samphel
11:10-12:00 hrs Discussion
12:00-12:10 hrs Break
Session II:
12:10-12:30 hrs China's Policies in Tibet
Speaker: Srikanth Kondapalli
12:30-12:50 hrs India, Tibet and the Tibetan Exiles: A Troubled Future?
Speaker: Dibyesh Anand
12:50-13:10 hrs Shift in the Tibetan Movement: from Dharamsala to
Eastern Tibet
Speaker: Claude Arpi
13:10-14:00hrs Discussion
14:00 hrs Lunch
End of the Programme
SPEAKERS:
Claude Arpi– writes regularly on Tibet, China and Indo-French relations. He is the author of Tibet; the Lost Frontier, and Dharamsala-Beijing: the Negotiations That Never Were.
Dr. Dibyesh Anand – Reader (Associate Professor) in international relations at the Department of Politics and International Relations, Westminster University, London. He is the author of 'Geopolitical Exotica: Tibet in Western Imagination', 'Tibet: A Victim of Geopolitics', 'Hindu Nationalism in India and Politics of Fear' and published numerous articles.
Mr. Matthew Akester's – He is an independent researcher in Tibetan history, based in the Himalayan region. He has done years of informal field research in various parts of Tibet, and worked as consultant for Tibet Information Network, Tibet Heritage Fund, Tibetan Buddhist Resource Center and Human Rights Watch. Research interests include history of Lhasa, history of occupied Tibet and history of central Tibet's monuments. He has published several books, translations and research articles, and contributed to many more in English, French and Tibetan.
Prof. Michael C. Davis -Professor at the University of Hong Kong, Faculty of Law and he teaches in the areas of international human rights, comparative constitutional law, and public international law, as well as in foundation areas such as legal systems and law and society.
Prof. Siddiq Wahid – former Vice Chancellor of Islamic University of Science and Technology in Kashmir. Prior to that he was the Maharaja Gulab Singh Chair Professor at the University of Jammu. He also taught at Harvard University in the Department of Inner Asian and Altaic Studies.
Prof. Srikanth Kondapalli – Professor in Chinese Studies at Jawaharlal Nehru University. He is also an Honorary Fellow at Institute of Chinese Studies, Delhi and Research Associate at Centre for Chinese Studies, University of Stellenbosch, South Africa.
Thupten Samphel – Executive Director of Tibet Policy Institute, Dharamsala and the author of "Falling Through the Roof," a work of fiction about the Tibetan exile community. He has also published numerous articles in different journals and edited books.