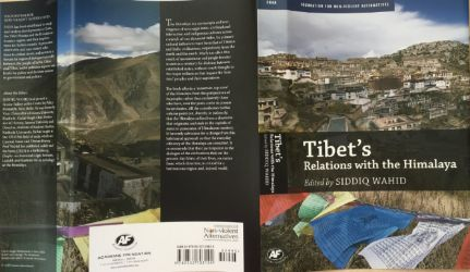 Hard-cover • 2017
Pages: 300
ISBN: 9789332703124
INR 1095
Brought out by: Foundation for Non-Violent Alternative
Published by: Academic Foundation
Tibet's Relations with the Himalaya
---
About the Book
The Himalaya is a cornucopia and convergence of sovereign states, civilisational interaction and indigenous cultures across a stretch of two thousand miles. Its primary cultural influences have been that of Tibetan and Indic civilisations, respectively from the north and the south. Much too often this swath of mountainous and jungle frontier is seen as a territory for division between established states, without much thought to the major influences that impact the frontiers' peoples and their aspirations.
---
About the Author(s) / Editor(s)
Siddiq Wahid is at present a Senior Fellow at the Centre for Policy Research, New Delhi. He was formerly Vice Chancellor of Islamic University, Kashmir; Gulab Singh Chair Professor of History, Jammu University and Director, Institute of Kashmir Studies, Kashmir University. He has taught in the US in his field of study, which are Central Asian and Tibetan History. Prof Wahid has published widely and the latest (2015) is a forthcoming chapter on historical Gilgit, Baltistan, Ladakh and Kashmir for an anthology of the Himalaya.
---
Contributors
---