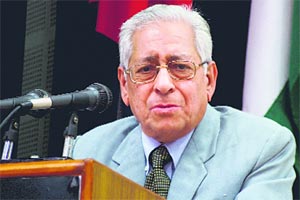 Soli Jehangir Sorabjee: is a leading legal luminary of the country and has been the Solicitor General and later Attorney General for India.
1. Mr. Soli Jehangir Sorabjee
He commenced legal practice in 1953. He enrolled as Senior Advocate, Supreme Court of India 1971; Additional Solicitor General and Solicitor General of India, 1977-1980; Attorney General for India, 1989-1990 and again from 7th April 1998 till 31st May 2004.
Positions: He has held many eminent positions in internationally renowned institutions, to name a few- Member, Executive Committee of the Commonwealth Lawyers' Association; Vice-President, Bar Association of India; Vice-President, International Institute of Human Rights Society; he was appointed by the United Nations Human Rights Commission as Special Rapporteur in 1997 to report to the UN General Assembly on human rights situation in Nigeria; He was later appointed in 1999 as Personal Envoy of the UN High Commissioner for Human Rights for East Timor to report on the human rights situation in East Timor to the High Commissioner; In 2000 he was appointed as a Member of the Permanent Court of Arbitration at The Hague for six years; He was re-elected as a Member of the UN Sub-Commission on Promotion and Protection of Human Rights for four years from April 2002; He was unanimously elected in 2004 as Chairperson of the 56th Session of the UN Sub-Commission on Promotion and Protection of Human Rights; He is a Member, National Commission to Review the Working of the Constitution; Mr. Sorabjee also appeared and argued several cases of constitutional importance in the High Courts and in the Supreme Court of India, particularly cases relating to the Freedom of Expression and the Freedom of the Press. He also appeared and argued in 2000 for the Government of India in the International Court of Justice at The Hague regarding the Pakistan complaint regarding aerial incident.
Publications: The Law of the Press Censorship in India (1976); The Emergency, Censorship and the Press in India, 1975-1977; Chapter on Fundamental Rights in 'Public Law of India' (1979); Chapter on 'The Constitution and the Governor' in "The Governor, Sage or Saboteur" (1985); Monograph on 'Protection of Human Rights in Emergencies' (1988); Monograph on 'Equality in the United States and India' published in "Constitutionalism and Rights", Ed. Louis Henkin & Albert Rosenthal, Columbia University Press (1990); 'Obliging Government to Control Itself: Recent Developments in Indian Administrative Law' published in "Public Law" (Spring 1994); 'Freedom of Expression and Censorship: Some Aspects of the Indian Experience' published in Northern Ireland Legal Quarterly (Winter 1994); 'Freedom of Expression' published in Commonwealth Law Journal Bulletin (1994); Bill of Rights: Judicial Approach, Principles of Interpretation and Remedies – The Indian Experience, 1 Law & Justice (1994) at p.83; The United Nations and Human Rights, 2 Law & Justice (1995) at p.59; Freedom of Expression in India, 3 Law & Justice (1996); The Duty to Give Reasons, 4-7 Law & Justice (1997-2000); Constitution, Courts and Freedom of the Press and the Media, published in "Supreme But Not Infallible : Essays in honour of the Supreme Court of India", Oxford University Press, New Delhi (2000); Fundamental Rights in the Indian Constitution: Rhetoric or Reality?, 8-10 Law & Justice (2001-2003).
Award: Kinloch Forbes Gold Medal in Roman Law and Jurisprudence (1952). Conferred Padma Vibhushan [the second highest civilian award of the nation] in March 2002. On 16th March 2006 appointed an Honorary Member (AM) by the Commonwealth of Australia in the General Division of the Order of Australia. Degree of Doctor of Laws [LLD] [Honoris Causa] was conferred by NALSAR University of Law, Hyderabad in July 2006.