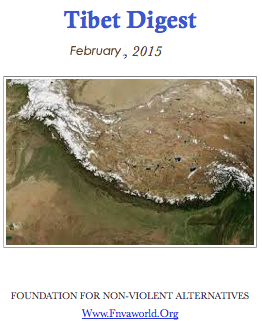 China's Policies in Tibet
Welfare policies benefit all Tibetans despite attackers' distortions
February 5, 2015
The Chinese government has in recent years been striving to improve people's livelihood across remote and poverty-stricken areas including Tibet Autonomous Region through massive financial input. The endeavor is well received among the general public. By engaging in this large-scale project, China is actively fulfilling its obligations stipulated in the International Covenant on Economic, Social and Cultural Rights. However, what is inexplicable is that the World Report 2015 by New York-based Human Rights Watch distorts the support by the Chinese government. The report says, "China's mass rehousing and relocation policy has radically changed Tibetans' way of life and livelihoods, in some cases impoverishing them or making them dependent on state subsidies." Do people in Tibet have access to healthcare through regional development? Tibet is among the first of China's provinces and autonomous regions to set up the new rural cooperative medical care system. At the beginning of the 1980s, farmers and herdsmen in Tibet received free medical care of 5 yuan ($0.79) per capita annually, which was increased to an average of 340 yuan by 2014.
Monks and nuns used to depend on earnings of temples and donations from religious adherents, but now they can live on the basic medical insurance provided by the government. Do the impoverished in Tibet get appropriate assistance? Tibet was also among the first of all the provinces and autonomous regions across the country to establish the minimum living allowance system. In 1996 when urban areas in Tibet began to experiment with this system, individual income stayed at 130 yuan a month. By 2013, this figure amounted to 1,700 yuan. Plus, since they have been included in the social security system since 2012, clergy can receive 400 yuan a month as the minimum living standard. If their earnings in temples fall short of this standard, the government will pay to close the gap. Are the elderly in Tibet looked after properly? Currently, there are 200,000 people aged over 60 in this autonomous region. In as early as 1987, urban workers were covered by basic pension insurance and unemployment insurance, and since 2009 the new insurance system in rural areas has been fully implemented.
Last but not least, are people in Tibet fully employed? The government has officially launched the employment assistance policy by providing public service jobs since 2006, endowing the underprivileged with not only stable income but also opportunities to participate in social life. Survival of the fittest is the golden rule of the market, various factors of which marginalize to some extent those with poorer labor, language and communication skills. It's rather parochial to interpret the special care from the central government toward Tibet as merely benefiting Tibetans or those whose permanent residences are registered in Tibet. Those living in Tibet for generations and the people heading there to work and live need particular care and support. Tibet's inclusive development policy should be understood in a comprehensive way. If not for its malicious political intention, the Human Rights Watch would not have reached such a shallow conclusion.
In War on Terror, China Takes Aim at Tibet
February 3, 2015
China's broad definition of terrorism includes following the teachings of the Dalai Lama. The government of China's Tibet Autonomous Region will offer rewards of up to 300,000 RMB ($48,000) for tips on potential violent terror attacks, Chinese media reported over the weekend. Offering rewards for tips is a strategy that has been incorporated across China as part of a broader "people's war" against terrorism. Xinhua, citing a document from Tibet's regional public security department, said that "the reward will cover tip-offs on overseas terrorist organizations and their members' activities inside China, the spreading of religious extremism, terror related propaganda, those producing, selling and owning weapons, activities that help terrorists cross national borders and terror activities via the internet."
In general, China's anti-terrorism activities have centered on Xinjiang Uyghur Autonomous Region, home to the Uyghur minority group. After a series of deadly terrorist attacks allegedly perpetrated by Uyghurs with ties to foreign terror networks, Beijing launched a year-long crackdown on terrorism centered in Xinjiang. However, while there have been a number of violent terrorist attacks in Xinjiang within the last year, Reuters reports that "there is little indication that any such attacks have occurred in Tibet." However, China's draft anti-terrorism law features an extraordinarily broad definition of terrorism, one that includes not only violent attacks but also "thought [or] speech" that aims to "subvert state power" or "split the state."
That new definition has implication for Tibet. China has repeatedly denounced the Dalai Lama, the exiled spiritual leader, as a "splittist," arguing that his talk of a "middle way" and increased Tibetan autonomy is merely code for outright Tibetan independence. Chinese authorities have vowed to crack down on officials within Tibet that "follow the 14th Dalai Lama to split the country, break ethnic unity, participate in illegal organizations and activities, and spread reactionary opinions." Beijing also accuses the Dalai Lama of encouraging violence (including self-immolations by Tibetan monks) even while publicly embracing a message of non-violence. Last summer, Chinese media directly accused the Dalai Lama of inciting "hatred, terror, and extremist action" through the Kalachakra ceremony.
Speaking with Global Times, Gong Fanglin of China's National Defense University said that within China, Tibet and Xinjiang were the areas where "terrorism manifests intensely." However, Gong noted, in Tibet the tendency for terrorists to actually go on the offensive was "weak" compared to Xinjiang – in Xinjiang, citizens are at great risk of brainwashing and bodily harm, Gong said. The International Campaign for Tibet warned about the implications of China's anti-terrorism campaign for Tibet last fall. The organization argued: "The counter-terrorism drive in Tibet has a particular political dimension, involving training of police in Buddhist monasteries, the characterization of religious teachings by the Dalai Lama as incitement to 'hatred' and 'extremist action' and the implication that Tibetan self-immolations can be characterized as 'terrorism.'"
China's Tibet to reward tips on 'terror attacks'
February 1, 2015
Authorities in China's Tibet will offer rewards up to 300,000 yuan ($48,000) for tips on "violent terror attacks", state media reported, in an effort to "promote stability" in the region beset by ethnic tensions. China has stressed that it is facing a serious and complex struggle against terrorism, and other provinces and regions have offered similar payouts for information on what authorities deem terrorism crimes and suspects.
In Tibet, the government will give rewards for tip-offs on "overseas terrorist organizations and their members' activities inside China", and the "spreading of religious extremism", the official Xinhua news agency said late on Saturday. Information on "terror related propaganda, those producing, selling and owning weapons, activities that help terrorists cross national borders and terror activities via the Internet," will also be eligible for rewards, Xinhua said, citing a document from Tibet's public security officials. Hundreds of people have been killed over the past two years in Xinjiang and elsewhere around the country in such violence. There is little indication that any such attacks have occurred in Tibet, though violent protests have erupted over what human rights activists say are harsh Chinese policies that trample on Tibetan religious freedom and culture.
Rights groups also argue that a new Chinese draft law to combat terrorism is extremely broad and would give authorities unchecked powers to commit rights abuses. The draft's definition of terrorism includes "thought, speech, or behavior" that attempt to "subvert state power", "incite ethnic hatred" or "split the state". Subversion and splittism are catch-all charges that have been used against dissidents. China rejects criticism of its policies in Tibet, saying its rule, since Communist Chinese troops "peacefully liberated" the region in 1950, ended serfdom and brought development to a backward, poverty-stricken region.
China, Tibet and Xinjiang: Political repression at a high mark: HRW
February 2, 2015
Under president Xi Jinping, China has unleashed the harshest campaign of politically motivated investigations, detentions, and sentencing in the past decade, marking a sharp turn toward intolerance of criticism, HRW stated. In the 656-page World Report 2015, its 25th edition, the rights group said it has reviewed human rights practices in more than 90 countries. "Under President Xi, China is rapidly retreating from rights reforms and the Party's promise to 'govern the country according to law,"' Sophie Richardson, China director at Human Rights Watch said, adding "Repression of critics is the worst in a decade, and there appears to be no end in sight." In China, the authorities have unleashed an extraordinary assault on basic human rights and their defenders with a ferocity unseen in recent years. The government targets activists and their family members for harassment, arbitrary detention, legally baseless imprisonment, torture, and denial of access to adequate medical treatment, report said. The Chinese government's hardline approach was particularly discernible in Xinjiang and Tibet areas that are nominally autonomous. Indiscriminate anti-separatism campaigns fueled rising tensions, resulting in several clashes on the Tibetan plateau – including at least one in which security forces used live fire against unarmed demonstrators – and a marked increase in violence in Xinjiang, the report said.
The report said that "activists increasingly face arbitrary detention, imprisonment, commitment to psychiatric facilities, or house arrest. Physical abuse, harassment, and intimidation are routine." "A series of self-immolations by Tibetans protesting Chinese government repression appeared to have abated by early 2014," the report said, adding that "the authorities punished families and communities for allegedly inciting or being involved in these protests; punishment of individuals included imprisonment, hefty fines, and restrictions of movement." The report further said that Authorities were intolerant of peaceful protests by Tibetans, harshly responding with beatings and arrests to protests against mines on land considered sacred and against detention of local Tibetan leaders." "China's mass rehousing and relocation policy has radically changed Tibetans' way of life and livelihoods, in some cases impoverishing them or making them dependent on state subsidies. Since 2006, over 2 million Tibetans, both farmers and herders, have been involuntarily "rehoused"—through government-ordered renovation or construction of new houses—in the TAR; hundreds of thousands of nomadic herders in the eastern part of the Tibetan plateau have been relocated or settled in "New Socialist Villages," the report found.
"The most significant legal trend in 2014 has been the government's effort to further strengthen an already powerful, unaccountable state security apparatus. It adopted an overly broad counter-espionage law and the publication of a draft counter-terrorism law that equates peaceful dissent with terrorism, strengthens control over civil society groups that receive foreign funding, and appears to target specific ethnic minority groups," the report said. This year's report also flagged weakening international concern about human rights abuses in China.
The report says that "the United Nations Secretary-General Ban Ki-moon similarly failed to criticize the Chinese government's deteriorating rights records during his August visit, instead praising the government for "its contributions to the promotion of … human rights." "While China engages with various UN mechanisms, it has not significantly improved its compliance with international human rights standards nor pushed for improved human rights protections in other countries, such as North Korea," it added, saying "there are eight outstanding requests by UN special rapporteurs to visit China, and UN agencies operating inside China remain tightly restricted, their activities closely monitored by authorities." "China under Xi Jinping is escalating hostility to human rights and democratic pressures, at home and abroad, yet the international community remains largely silent," Richardson said. "Abetting the systematic suppression of basic freedoms is a short-sighted and dangerous policy, one that only encourages Beijing's growing intransigence." The report said that "the Chinese government targeted the Internet and the press with further restrictions in 2014. All media are already subject to pervasive control and censorship. The government maintains a nationwide Internet firewall exclude politically unacceptable information."
"Authorities also tightened press restrictions. The State Administration of Press Publication, Radio, Film, and Television issued a directive in July requiring that Chinese journalists sign an agreement stating that they will not release unpublished information without prior approval from their employers and requiring that they pass political ideology exams before they can be issued official press cards," the report added. "Even as China has taken major steps backwards on human rights under Xi Jinping," it said, adding" "most foreign governments have muted their criticisms of its record, opting to prioritize economic and security issues or trying to win Chinese co-operation on issues like climate change."
"Few bilateral human rights dialogues were held in 2014, and few governments that had pointed to such dialogues as centerpieces of their human rights strategy developed effective, alternative long-term strategies, such as elevating their engagement with Chinese civil society," the report noted. "Foreign governments also largely failed to mark the 25th anniversary of the Tiananmen massacre, or to speak up for Hong Kong when China ruled out true universal suffrage for the territory, though several noted the harsh sentences handed down to high-profile human rights defenders and the release of Gao Zhisheng, who, however, remains under heavy surveillance. For the third time in recent years, South African authorities indicated they would not grant a visa to the Dalai Lama," it further added. The Rights group stressed that "China also continued to pressure governments to forcibly return Chinese asylum seekers and to deny visas to individuals it dislikes, such as the Dalai Lama."
All orphans in Tibet to be adopted in 2015
February 3, 2015
A commitment was signed between the government of the Tibet Autonomous Region and those of its prefectures and cities on Jan. 27 to ensure that all orphans can enter children's welfare centers according to their own will, China News reports. In 2014, the Tibet Department of Civil Affairs approved seven projects to improve the welfare of children and invested 36.768 billion yuan (5.66 billion U.S. dollars) toward that end. Two of the projects are currently underway.
Deputy-general of the Tibet Department of Civil Affairs Kelzang Rinchen, said an orphan adoption system will be established in 2015 with fully trained managers to oversee the children's welfare institutions. According to China Minzu Newspaper there are over 5,000 orphans in the Tibet Autonomous Region. A campaign to raise funds from cadres of government organs enterprises and public institutions has also been launched. A donation of more than 3,000 yuan each year was made. All of the funds were spent on building children's welfare centers and for special education.
During China's 12th Five-year Plan period (2011-2015), Tibet will build or relocate seven prefecture-level and 52 county-level children's welfare centers across the region. In addition, children under 18 years old, the disabled or those without legal guardians will also be covered or offered opportunities to receive special education, according to China Minzu Newspaper. A Fund Management Committee has also been established to oversee funding to the centers. The Tibet Civil Affairs Department will submit a report each year to the Committee for approval regarding how it plans on allocating the funds, which will be based on the orphans' needs. Meanwhile, the department also invites the media to supervise how funds are spent.
China's Policies Toward Dalai Lama
Obama praises Dalai Lama at prayer breakfast
February 5, 2015
President Obama praised the Dalai Lama and condemned the Islamic State during his annual address on faith at Thursday's National Prayer Breakfast. The Dalai Lama, the Tibetan leader who is an object of attack by the Chinese government, is "a good friend" and "a powerful example of what it means to practice compassion," Obama said to warm applause. He "inspires us to speak up for the freedom and dignity of all human beings," the president said. China objects to any presidential meeting with the Dalai Lama, calling him a dangerous separatist. Obama and the Dalai Lama — who supports freedom for Tibet — have met privately at the White House; this was the first time they have appeared at the same public event.
The National Prayer Breakfast is an annual Washington event that brings together lawmakers from both parties and leaders from a variety of religions. In discussing the role of faith in public life, Obama stressed that too many religions are "twisted and misused in the name of evil" by people who use faith as a "weapon." He cited a string of terrorist attacks from Pakistan to Paris, though he did not single out a specific religion and noted that faith has been abused by all religions throughout history. The president did criticize the Islamic State, calling it "a brutal, vicious death cult that, in the name of religion, carries out unspeakable acts of barbarism." Obama also reported that he recently received a letter from Saeed Abedini, a pastor held captive in Iran who described himself as a "prisoner for Christ."
A prayer for world leaders was delivered by Kent Brantly, a doctor who survived a bout with Ebola. NASCAR champion driver Darrell Waltrip delivered the keynote address at this year's event. "There aren't that many occasions that bring his Holiness (the Dalai Lama) under the same roof as NASCAR," Obama said. "This may be the first … but God works in mysterious ways." Obama also said he is "looking forward to welcoming Pope Francis to the United States later this year." The pope will be in Washington to address a joint session of Congress on Sept. 24.
China Takes a Predictably Harsh Line on Obama's Meeting With the Dalai Lama
February 2, 2015
To Beijing, a breakfast isn't simply a breakfast. It's tantamount to backing Tibetan independence It took three days for China's official media to react to the news that the Dalai Lama, the exiled Tibetan spiritual leader, will join U.S. President Barack Obama at a National Prayer Breakfast in Washington, D.C., on Feb. 5. But Beijing's response, now that it has finally come, is not joyous."Obama is acquiescing to the Dalai Lama's attempt to split Tibet from China," went a Monday op-ed in the China Daily, the Chinese government's English-language mouthpiece. "Tibet is an inseparable part of China," it continued. "The Dalai Lama's flight from China's Tibet in 1959 was because of his failed attempt to maintain the serfdom in the region, under which the majority of Tibetans were slaves leading a life of unimaginable misery."
Many Tibetans decry the Chinese government's systematic repression of their religious and cultural freedoms. Possessing the Dalai Lama's image can land Tibetans in jail, even though he has repeatedly said he is not calling for an independent Tibet but rather one in which local traditions are respected. Tibetan monks are regularly required to denounce their spiritual leader in communist-run re-education classes. So profound is the despair among some Tibetans that more than 130 people have committed suicide since 2009 by setting themselves on fire, according to exile organizations. As they burn, self-immolators reserve their final breaths to praise the Dalai Lama and denounce Chinese rule.
More than half a century of anti-Dalai Lama propaganda has failed. The Tibetan leader is still widely venerated across the high plateau. Even Tibetan government officials are not immune, with Chinese state media reporting a crackdown on cadres who "are suspected of providing intelligence to the Dalai Lama's separatist forces." Last year, 15 Tibetan officials were punished for "serious violations in discipline." Obama has met with the Dalai Lama three times before, but always in a private setting. The National Prayer Breakfast marks the first time the pair will appear in public together. Chinese state media reported that a Chinese Vice Foreign Minister summoned a U.S. diplomat in Beijing to register official displeasure with the Feb. 5 event. News of the National Prayer Breakfast, however, will likely take time to reach parts of Tibet. Since the spike in self-immolations, Internet and phone lines have been severed in some regions.
Tibet in India-China Border Dispute
China border upgrade: 6 airports in Arunachal
February 6, 2015
In a strategic move, the NDA government has commenced work to develop six airports in Arunachal Pradesh. The eastern border state, which China does not recognise as part of India, does not have a single operational airport at present and has just a heliport near Itanagar. In fact, along the 3,488-km border with China, there are no operational airports at present. According to the proposal firmed up in a meeting between Civil Aviation Minister Ashok Gajapathi Raju Pusapati and chief ministers of northeastern states on January 29-30, the first of these airports at Tezu is to be made operational in January 2016. Apart from the airport at Tezu, efforts have also been renewed to resolve a long-standing dispute between the Central and state government over sharing the compensation for rehabilitation of 145 families to develop a second airport at Holangi. Besides, feasibility studies are being commissioned to set up four more airports at Tawang, Daparizo, Anini and Koloriang. The push to improve air connectivity in the region comes close on the heels of the Indian government easing norms to construct 1,800 km of roads and military facilities along its disputed border with China in September last year.
The seven operational airports in the North-Eastern region are Dibrugarh, Lilabari, Guwahati (Assam), Dimapur (Nagaland), Shillong (Meghalaya), Imphal (Manipur) and Agartala (Tripura). A senior government official told The Indian Express, "China has vastly improved roads and is building or extending air strips on its side of the Line of Actual Control. India does not have a single operational airport in Arunachal Pradesh. The Civil Aviation Ministry, in a recent meeting with chief ministers of Northeastern states, has decided to set up six airports and several helipads in Arunachal Pradesh."
Sources said growing Chinese influence has been hindering execution of several developmental projects in the region over the last few months. At Tezu, for one, an airport engineer was allegedly put behind bars for three months on trumped up charges by local authorities and the previous contractor was roughed up, delaying construction work. Moreover, according to reports, construction equipment was not permitted to be carried to the project site. "The Tezu airport would have been commissioned by now but for protests by locals. One of the key issues on the minister's agenda this time was to resolve problems so that work can resume at Tezu," the official said. The minister has assured locals that wherever permissible, local labour would be engaged and local people employed at the airport. With a breakthrough achieved last week, Tezu, which is being built at a cost of Rs 80 crore, can now become operational in a year.
India's current approach to territorial disputes with neighbouring countries marks a departure from its traditional non-aligned approach to foreign power blocs. Since assuming office in May 2014, Prime Minister Narendra Modi has visited Nepal twice, becoming the first Indian PM to travel to the buffer state with China in 17 years. He has improved ties with Vietnam and Japan, both locked in territorial disputes with Beijing.
Only last week, China had expressed concern about US president Barack Obama's second visit to India as chief guest during the Republic Day parade. The Daily, a mouthpiece of the ruling Communist Party of China, had carried several articles in the past few days with assertions by Chinese analysts that it is aimed at denting improving China-India relations. "The US is looking toward India as a regional partner in South Asia and the Indian Ocean to coordinate with its 'pivot to Asia' strategy and as a counterweight to a rising China. It also needs India's cooperation in international affairs given New Delhi's increasing sway in the international community," it had said.
China and India Want a Breakthrough on Their Border Dispute
February 5, 2015
China and India hope to complete the next step in settling their border dispute in time for Modi's May visit to China. Indian Foreign Minister Sushma Swaraj was in Beijing this week to participate in a trilateral meeting with her Russian and Chinese counterparts. While there, she also held separate meetings with both President Xi Jinping and Foreign Minister Wang Yi. Swaraj told reporters that, in addition to the trilateral meeting, one of the main purposes for the visit was laying the groundwork for Prime Minister Narendra Modi's trip to China in May 2015. Apparently, part of that groundwork will be a concerted effort to see concrete progress in discussions over China and India's disputed border. The Telegraph, citing an Indian government official, said that New Delhi in particular hopes to hammer out the Framework for a Resolution of the Boundary Question. "That's the next big diplomatic target for the government," one official told The Telegraph of India. "The breakthrough has to be ready to be announced when the PM visits in May." India's national security adviser, Ajit Doval, is expected to travel to Beijing soon to continue the negotiations.
India and China dispute two large swaths of territory: Arunachal Pradesh to the east of Bhutan and Aksai Chin on the western edge of the India-China border. Arunachal Pradesh is administered by India as a state while Aksai Chin is administered by China as part of Xinjiang. In the 1990s, China and India effectively agreed to hold to the status quo, with both countries agreeing to abide by the Line of Actual Control until their governments could agree on a true border. However, the LAC remains ill-defined and incursions by both sides are frequent.
Since Modi came to power last year, China and India have taken to emphasizing the newness of their relationship. "I have been told that the Lunar Year of Sheep is known as the year of creativity and innovation… I feel that your India visit was about creativity and innovations," Swaraj told Xi during their meeting this week. Xi also affirmed that "China-India relations entered a new development stage" with his fall 2014 trip to India. He added, "I have full confidence on the future of China and India relations and I believe that good progress will be achieved in the growth of bilateral relations this year." The question, then, is whether this new "creativity and innovation" can actually lead to a diplomatic breakthrough on the border issue. China and India both were hoping to have such a breakthrough to showcase during Xi's September visit to India. That didn't pan out – instead, the presence of Chinese troops in a disputed region highlighted how the border issue continues to strain China-India ties. That led to Modi raising India's "serious concern over repeated incidents along the border" in talks with Xi.
Environment
The rise of black soot
February 26, 2015
New field research suggests that on the Tibetan plateau the effect of black soot on glacial melting rivals, and may even surpass, the effect of greenhouse gas emissions. The Tibetan plateau is the world's highest and largest plateau covering an area about five times the size of Spain. Often referred to as the "Earth's third pole," the area includes the headwaters of multiple Asian rivers and also contains the world's third largest repository of permanent ice. Melt water from both seasonal snowpack and the glacial fields of the Tibetan plateau replenishes more than half of the supply of the Indus, Yellow, and Brahmaputra rivers and up to two thirds of the summer flow of the Ganges.
Collectively, the waterways are the predominant fresh water source for more than a billion people. Because its elevation exceeds 4500 m, the Tibetan plateau determines much of Asia's weather—including the steering of westerly wind currents from the Mediterranean Sea and the brewing of summer monsoonal rains. Over the past decade, scientists have observed drastic changes in the climate on the Tibetan plateau. In 2009 researchers noted that temperatures in the area had warmed by 0.3°C per decade, which is twice the rate observed elsewhere in Asia. Rising temperatures represent a particular threat to the nearly 46–000 glaciers on the Tibetan plateau because of the distinct possibility that without a change in the rate of global temperature increase many of the glaciers could vanish by the middle of the century.
As glaciers recede and eventually disappear, they release stored water, which provides a short-term increase to many of the major waterways on the Asian subcontinent. Over the long term, though, the results are far less encouraging—the loss of glacial headwater from the Tibetan plateau would mean a dramatic decline in dry season water availability (as the seasonal snowpack would have already melted) for nearly 20% of the world's population. Glacial retreat on the Tibetan plateau is driven to some extent by global warming, which results from increasing greenhouse gas emissions, but other factors are most likely involved, too. Black soot is an aerosol pollutant that warms the troposphere, and there is increasing evidence that black soot is one of the additional agents contributing to surface melting.
The soot is comprised of black carbon (BC) and organic carbon (OC), with the BC absorbing incoming solar radiation (across the visible spectrum) and the OC absorbing primarily in the UV portion of the spectrum. When black soot is deposited on snow in sufficient quantities, the effect is similar to what happens with dark surfaces such as pavement or black roofs in the summertime: The absorption of more sunlight makes the surface hotter than it would if it were exclusively a lighter color. The sources of black soot on the Tibetan plateau include diesel engines, coal-fired power plants, and outdoor cooking stoves. As the plateau is located near regions in South and East Asia that have been (and are predicted to remain) the largest sources of black soot in the world, glacial melting that results from increased black soot concentrations is expected to remain a persistent problem.
Glaciers and snowpacks absorb solar radiation, yet their highly reflective surfaces allows for the snow to stay cool, thereby inhibiting melting. The glaciers and snowpacks of the Tibetan plateau are characterized by their high albedo—the fraction of solar energy reflected from the Earth back into space. Snowpack albedo decreases as surface temperatures increase, altering the morphology of the snow and making it coarser.
The upshot is that melting takes place more readily when the coarser snow crystals are exposed to the Sun. Black soot pollution also decreases albedo and researchers have found that only a very small concentration of soot (10 nanograms of soot per gram of snow) may significantly alter the albedo of a thick snow layer. On the Tibetan plateau aerosol pollution is significant, especially at the lower elevations, where the snow is more likely (by one to two orders of magnitude) to be polluted than is the case for snow sampled from higher elevations. From ice core samples from locations across the plateau have it is clear that pollution is becoming an issue even at the higher elevations, where it has integrated into the snowpack.
Changes in albedo due to black soot deposition leads to the effect known as snow darkening. Researchers have found that snow darkening on the Tibetan plateau has decreased snow cover in both the western and eastern Himalayas by 1–8 days per year.
Once the snow cover begins to melt, a positive feedback loop occurs. Melting snow retains a portion of the black soot (and other pollutants). As more snow and ice melt, the concentration of black soot increases, since there is less snow in the layer. As a result, the altered composition of the snowpack raises melting rate on the plateau. Thus far, modeling soot's impact remains challenging, not least because absorption of solar radiation depends on many factors, including size and shape of the snow crystals and whether the soot is integrated within the snow crystals or externally mixed. Theoretical results based on the global climate are not in complete agreement with local observations.
The discrepancy is particularly wide for the Tibetan plateau due to its complex topography, which features high spatial variability and multiple atmospheric circulation and surface processes. Scientists have therefore begun initial analyses on the closely related question of black soot's effect on regional climate in areas with extensive snow and sea ice. Results thus far suggest that a substantial fraction of regional warming in the past century is a result of black soot pollution, and this fraction is much larger than that of CO2 pollution. Scenarios for the future climate are often dramatic and are usually made with the assumption that fossil fuels will continue to be burned for the foreseeable future. Reducing human-made climate-forcing agents that have a net warming effect on the environment, including black soot, is a necessity if we want to prevent the deleterious effect of glacier loss on the Tibetan plateau. A significant reduction in fresh water supplies for more than a billion people would represent a global climate and human health catastrophe.
Yet alternative scenarios do exist where coal emissions are phased out (over the next 2–3 decades) and unconventional fossil fuels, such as tar sands and shale oil, are not fully developed. Thus we face a choice: Permanently alter the environment with substantial consequences or adopt a more enlightened approach that reduces the human footprint on the Tibetan plateau and preserves these resources for the people who need them.
Bangladesh disputes Chinese activities on Brahmaputra
February 6, 2015
In a significant development in which India failed to take-up issues with the Chinese government, Bangladesh has dared to push the issue relating to both the neighboring countries. According to a media report Chinese government planned to construct several mega dams and hydro projects in Brahmaputra (Lohit) basin in Tibet's Jangmu and Great Bend region. Bangladesh opposed the Chinese plan through a strong letter from Dacca to Beijing. A copy of the letter from Bangladesh's foreign office was also sent to Bangladesh high commissioner's office at New Delhi and Chinese embassy in Dacca. Bangladesh through this letter suggested to hold a three-party meeting among China, Bangladesh and India to discuss on this issue. In the protest letter named 'Note Verbal' it has been said that Brahmaputra is an international river and on this river commissioning of a 500 Megawatt Jangmu hydropower project near Arunachal Pradesh of India's Great Bend river's circular bend, world's greatest hydro project's news is in the knowledge of Bangladesh. Indo-Bangla Joint River Commission's member Meer Sajjad Hussain said that Chinese authorities were asked to send 'Note Verbal' on this matter. Afterwards a protest note was also sent to China.
Bangladesh's water experts feel that during dry seasons their country would be badly affected if dams are constructed at Brahmaputra, the river which supplies 75 percent water to Bangla rivers. Besides, that the natural life of Brahmaputra would also extinct, if the project comes in operation. The construction of mega dam at Brahmaputra is bound to bring natural calamity to both India and Bangladesh. According to Bangladesh water resource ministry and Indo-Bangla Joint River Commission's sources on November 20, 2014, China started the construction of Jangmu hydropower project, which is to be the world's heaviest hydropower project. China plans to produce forty thousand megawatt power from this project. There is also a plan to establish four more projects from which 2000 MW power would be produced.
According to China's national hydropower company Sino-hydro and Chinese Society of Hydropower Engineers, Brahmaputra runs straight through Tibet about 1700 kms and enters into India at a place named Motuo, the place which is famous in the name of Great Bend. Coming down from the hills to plain the river's current is very high. By constructing 40,000 MW power project at Great Bend China would save ten crore tones of coal. Jangmu hydropower project has been planned by China keeping an eye at this site.
China's Next Challenge: The Depletion of Global Natural Resources
February 28, 2015
China is cleaning up its act at home, but will leaders be willing to tackle illegal environmental depredations abroad? The recent University of Georgia study reporting that China is responsible for as much as 28 percent of plastic waste in ocean waters— making it the largest contributor to the problem worldwide — underscores the broader challenge of the country's global environmental footprint. Some problems, such as the plastic waste or air pollution from China that travels across the Pacific, directly reflect China's own environmental problems; as China addresses these problems on the home front, other affected countries will also benefit.
China is a significant contributor to the depletion of a number of the world's most precious natural resources. It is, for example, an important — indeed perhaps the largest — source of overfishing and illegal fishing globally. Scientists at the University of British Columbia estimate that of the 4.1 million of tonnes of fish that China catches off the coasts of other countries, only 9 percent is officially reported. Whether the fishing is legal or illegal (and some of it most certainly is illegal), the failure of Chinese fishermen to report their catch deprives countries of the ability to develop the proper conservation policies. In late 2014, for example, Chinese fishermen threatened members of the Korean Coast Guard with knives and beer bottles and even attempted to choke one of them. The situation took a turn for the worst when one of the fishermen was shot and killed.
China's role in illegal logging is also a long-standing concern. Over the past decade and a half, as China has sought to protect its own forests, it has become both the largest importer of timber and the largest importer of stolen wood. According to one estimate, as much as 20 percent of Chinese imported wood is illegally sourced. In Myanmar, where Chinese logging enterprises are very active, forest coverage has dropped from 60 percent in the 1970s to as little as 20 percent in 2013; the Myanmar government recently arrested more than 100 Chinese loggers who were suspected of illegally entering the country. Although attention to this issue within China has risen significantly over the past few years, Beijing has yet to put in place any significant domestic legislation or signed any agreements to curtail the flow of illegal wood products into the country.
At the heart of this illegal depletion of the world's resources is a combination of greed, official complicity, and weak governance, both in the resource-rich countries and in China as well. Chinese officials often claim as their first line of defense that they are not responsible for these environmental problems — it is the responsibility of the host governments to protect their own environments. Some countries indeed have tried to take matters into their own hands. Indonesia, for example, confiscated dozens of Chinese-linked fishing vessels in 2014. It also revoked a deal that it had signed with Beijing in 2013 that gave Chinese fishermen an advantage over other foreign fishing interests. And Ghana deported thousands of Chinese gold miners whose mining practices were devastating the environment. Yet in many cases, governance in the resource-rich country is weak and often corrupt, helping the illegal trade in resources to flourish.
So what could or should Beijing do? Even without acknowledging culpability, Beijing could do much to ensure that its businesses, whether private or state-owned, become responsible global actors. For example, Beijing could follow the lead of the European Union, Australia, and the United States to pass legislation that bans the import and trade of illegally sourced timber; it could ensure that Chinese fishermen report their catch accurately; and it could ratchet up the strength of its customs inspections at ports and other well known border transport points for endangered species and illegally-logged timber. Such actions, in fact, should be a natural extension of China's own domestic efforts to enhance transparency and the rule of law.
Chinese President Xi Jinping took an important step forward at the November APEC summit to support the protection of the global environment by pledging that China's greenhouse gas emissions will peak around 2030. He was uniquely positioned — along with President Obama — to make a real difference in the world's environmental future. He should not stop now, but should position himself as a leading force for global environmental protection. Indeed, the fate of the world's natural resources depends on it.
China's Cybersecurity
What to Do About China's New Cybersecurity Regulations?
February 2, 2015
The China Digital Times has a very good overview of Beijing's assertion of "Internet sovereignty" at every level, from "international norms and Internet traffic down to software and the hardware it runs on." China is circulating new cybersecurity regulations for companies in the banking sector and there is concern that the regulations will be expanded to other critical sectors of the economy. Foreign technology companies that supply Chinese banks may be required to turn over source code, submit to invasive audits, and build back doors into hardware and software. According to the New York Times, 75 percent of technology products to be used by banks must be classified as "secure and controllable" by 2019. China ultimately aims to create a "cybersecurity review regime" to assess all Internet and information technology products across the economy.
The Chinese government has promoted these types of policies before. The "Multi-Level Protection Scheme" was introduced in 2007 by the Ministry of Public Security and prohibited non-Chinese companies from supplying the core products used by the government and banking, transportation, and other critical infrastructure companies. Under the 2010 "Compulsory Certification for Information Security Scheme" foreign companies wishing to sell to the Chinese government were required to reveal intellectual property for security products. While the previous policies were pushed by specific ministries and a limited number of officials, the current effort appears to come from the top—from the Central Leading Group for Cyberspace Affairs, which is chaired by President Xi Jinping. In addition, banks and other sectors often chose not to comply with the regulations.
So what is to be done? There is some history to draw on. In December 2003, Beijing announced that WLAN Authentication and Privacy Infrastructure, or WAPI, would be the mandatory standard for any wireless product sold in China. The Chinese standard essentially came out of nowhere, mandated by a government agency without consultation with private companies. In addition, Beijing's decision not to share an algorithm included in WAPI due to "national security concerns" would have forced foreign companies to cooperate with one of twenty-four Chinese vendors licensed to develop the standard, which was likely to result in technology transfer to the Chinese companies.
In March 2004, the Bush administration sent China a letter about WAPI, signed by Secretary of State Colin Powell, Commerce Secretary Don Evans, and U.S. Trade Representative Robert Zoellick. Arguing that regulations compelling technology transfer were incompatible with China's trade commitments, the letter implicitly threatened to pursue the case at the World Trade Organization. The Chinese government backed down, agreeing to revise the standard after input from foreign companies. The campaign against the current cybersecurity regulations has just started and getting all of the actors on the same page will be critical. There has already been a public response. The U.S. Chamber of Commerce, the American Chamber of Commerce in China, the Information Technology Industry Council and the Telecommunications Industry Association and fourteen other business associations sent a letter to Xi Jinping and the leadership of the Central Leading Group for Cyberspace Affairs, arguing that the technological innovation needed to protect against bad actors could only be achieved by "through commitment to an open market and global trade."A joint letter from the U.S. government, or some other official protest may be in the works and should come soon. If the Chinese press reports about Apple agreeing to security inspections are true, building a united front among the companies may already be impossible.
China's Political Faction
How Factionalism in Chinese Politics Is Misunderstood
February 2, 2015
Media descriptions of three "factions" in Chinese politics are actually not very helpful. Apparently, factionalism is a real issue in Chinese politics. The top leadership takes it so seriously that it held a Politburo meeting on December 29, 2014 on combating factionalism within the Chinese Communist Party. However, there are also widespread misperceptions of factionalism in Chinese politics.
First, there is confusion between corporate groups and political factions. Corporate groups are those whose members have worked in the same organization and political factions are those whose members have clientelist ties based on mutual benefits. It is popularly believed that there is a "Petroleum Clique" in China. This is because a number of former high-ranking officials (such as Jiang Jiemin and Wang Yongchun) associated with Zhou Yongkang have been sacked along with their former boss. But it is not clear whether all senior officials who have worked or are currently still working in the petroleum sector belong to the same faction or only some of them. It is not very useful to identify only those who have been sacked along with Zhou Yongkang as members of the Petroleum Clique. Nor is it useful to classify all senior officials who have worked in the sector as members of the Petroleum Clique.
Second, there is confusion between a location and a political faction. It is widely believed that there is a "Sichuan Clique" simply because Zhou Yongkang worked as party secretary of Sichuan from 1999 to 2002 and several of his former subordinates in the province such as Li Chuncheng, Guo Yongxiang, and Li Chongxi have been purged due to their connections with Zhou. The problem with this label is that it is not easy to distinguish between those closely associated with Zhou and many others who have worked or are currently working as senior officials of the province.
Third, there is confusion between a category of people and a political faction. In Chinese politics, personal secretaries (mishu) of top leaders are usually considered belonging to a political faction, known as the "Mishu Gang." The fact that several of Zhou Yongkang's personal secretaries such as Guo Yongxiang and Ji Wenlin have been investigated because of their association with Zhou seems to have provided evidence to support such a claim. However, the personal secretaries of different leaders hardly work with each other. They belong to the same categories of people but not necessarily to the same faction. In an ordinary sense, political factions are supposed to be competitors with each other. But the three main factions identified by the media are not competitors but actually people associated with one ex-Politburo Standing Committee member who has been disgraced. These identifications are politically correct but these perceptions are not very useful in analyzing the dynamics of Chinese politics.
COMMENTARIES
Dalai Lama visit sets off another round of the awkward Washington-Beijing two-step
February 4, 2015
Two weeks after the White House was blindsided by Israeli Prime Minister Benjamin Netanyahu's planned visit to Washington, another world figure who creates awkward politics for President Obama is coming to town Thursday. The Dalai Lama is not a head of state, and he formally gave up his political role in Tibet's exile government three years ago. But his appearance at the National Prayer Breakfast, where Obama will deliver an address about religious freedom, has already drawn sharp objections from Chinese leaders, who oppose meetings between the religious leader and world politicians.
Each of Obama's three meetings with the Dalai Lama at the White House has brought a similar rebuke from Beijing. In a bid to head off tensions, administration officials emphasized that the White House played no role in arranging the Dalai Lama's appearance at the annual breakfast at the Washington Hilton. There are no plans for them to meet. Furthermore, the Dalai Lama will have no speaking role at the breakfast, and he will not sit onstage, event organizers said. In a statement, National Security Council spokeswoman Bernadette Meehan called Obama "a strong supporter of the Dalai Lama's teachings and preserving Tibet's unique religious, cultural and linguistic traditions."
The machinations surrounding the Dalai Lama's visit illustrate his unique standing as a global icon. Perhaps no other person who is not a head of state forces the White House into such contortions — simultaneously embracing him as a symbol of democratic values and keeping him at a remove because of his status as a political lightning rod. "The president's desire, and probably need, to meet with the Dalai Lama is a function of U.S. domestic politics and a desire in the White House to be seen standing up for human rights," said Bonnie S. Glaser, an Asia expert at the Center for Strategic and International Studies. "But they do understand we have to be careful with our relations with China."
Read the full article here: http://fnvaworld.org/?p=13525
Xi's Anti-Corruption Campaign: Moving China's 'Cheese'
February 4, 2015
The fight against corruption goes beyond arresting officials — it will touch the lives of every Chinese person.
Supporting anti-corruption is right and proper — you don't need a reason for it, right? And yet I have to write a piece defending myself; you can see how serious the situation is. I personally don't care if I am misunderstood, but the attitude more and more people have toward anti-corruption can't help but incite caution and consideration. Anti-corruption is the will of the people; only a few corrupt officials oppose the anti-corruption movement – this has been the common consensus for many years, right? But as soon as the current government showed it meant business – that it wanted to "scrape the poison off the bone" – more and more people's initial excitement has turned to slight unease and dislike. I can see the seriousness of the problem from the changes in the way my friends react to my support for anti-corruption. In pursuing anti-corruption, whose "cheese" have Xi Jinping and Wang Qishan moved?
Of course, the anti-corruption campaign will touch on the basic interests of some people, first and foremost the corrupt. According to reports, in the past few years of anti-corruption, we've already seen close to 200,000 corrupt officials arrested, dismissed, or set aside. The "casualty rate" is close to that of a revolution. At the beginning, some officials thought that this was just a case of a new government asserting its authority, that everything would "go back to normal" after a little while. Those officials have finally discovered that's not the case. But has anti-corruption only moved the "cheese" of government officials? Definitely not. The source of corruption is unlimited power and unsupervised government, but the hallmark of Chinese corruption is that it has already infiltrated into every aspect of society and life. We can say that corruption has become a lifestyle for several generations of Chinese. This is even more true when it comes to the elite groups of Chinese society.
Read the full article here: http://fnvaworld.org/?p=13509
Self-Immolations. Threats From Beijing. Playing Politics With the Dalai Lama
February 4, 2015
These days, the Dalai Lama seems to make news mostly when world leaders decide whether or not to meet with him. On Feb. 5, the Dalai Lama will attend the annual U.S. National Prayer Breakfast — a rare victory for the globetrotting spiritual leader of the Tibetan people, as President Barack Obama will also be in attendance. More typical is what happened to the Dalai Lama in mid-December, on the 25th anniversary of his Nobel Peace Prize, when he visited Rome for a summit of Nobel Peace laureates. He requested a meeting with Pope Francis, but the pontiff declined for what a Vatican spokesman called "obvious reasons" — i.e., the Church's relationship with Beijing. Much of the Western world views the Dalai Lama as a superstar: He regularly addresses tens of thousands in stadiums across Europe and the United States. But Beijing sees him as a dangerous separatist (a "splittist," as the Chinese like to say), and has punished governments and agencies that engage with him.
Tibetan exiles in Dharamsala, the remote Indian town that serves as their headquarters, also wanted to mark the anniversary of their leader's Nobel. In the Dalai Lama's absence, the job of master of ceremonies fell to Lobsang Sangay, the prime minister of the Tibetan government-in-exile. The Dalai Lama stepped down from his role as political head of the Tibetans in March 2011, and since then he's been trying to unload power and responsibility — much of it to Sangay, a Harvard-trained legal scholar elected in April 2011. On a makeshift stage in a Buddhist temple outside the Dalai Lama's residence, the 46-year-old Sangay spoke about the bravery and courage of the Dalai Lama to an audience of a few thousand. Smiling and regal in his flowing black robe, he watched Tibetan dances and listened to long Indian speeches. If he was bored, he didn't show it.
Time, however, is not on Tibet's side. If interacing internationally is getting more difficult for the Dalai Lama, it's easy to forget how much that problem is compounded for the small, quixotic, and increasingly irrelevant Tibetan movement in exile, and for Sangay himself. There are an estimated 6.5 million Tibetans worldwide, of whom all but a few hundred thousand live inside China. Sangay won the election for prime minister with roughly 27,000 votes, including exiles — a number that seems more at home with a mayoral election in a small American city. His annual operating budget is reportedly around $30 million — roughly the revenue Apple makes every two hours. The Tibetan refugee population in Dharamsala, the town in the foothills of the Himalayas where the Dalai Lama made his home after fleeing China in 1959, is just 14,000, out of a total of roughly 20,000 people. The town is growing. When I visited in December, new apartments and hotels were springing up along the mountain, and the widening of one of the town's only roads led to traffic snarls that were bad even for India. But the numbers of Tibetans are increasing slowly, if at all. "Before 2008, there was an average of a few thousand refugees" from China arriving to Dharamsala every year, says Thubten Samphel, who runs the Dharamsala-based Tibet Policy Institute, a government think tank. "For 2014, I've heard we only had eight."
Prime Minister Sangay's challenges are many. He has to keep the door open to negotiations with China, while not seeming too pro-mainland. He has to keep his constituents happy — in Dharamsala, in Tibet, and in scattered communities across India, the European Union, and North America. When I interviewed him during my December visit, Sangay made a point of telling me that he's been to all of the major Tibetan communities in the United States. "Maybe there's a few Tibetans in Montana," he added. "But I'm not counting those."
Read the full article here: http://fnvaworld.org/?p=13520
China Sharpens Its Censorship Blade
February 2, 2015
In early November, when Beijing played host to the Asia-Pacific Economic Cooperation meeting, city officials closed hundreds of factories and forced millions of vehicles off the roads to clear the soupy gray smog that normally blankets the sky. But one day the pollution level soared, with data from the United States Embassy showing an index reading six times the World Health Organization's safe daily limit. Seeking their last course of action, the Chinese officials summarily removed the American statistics from smartphone apps and Chinese websites.
The element of self-deception in China's attempt to control information has always invited mocking skepticism. In 2000 President Bill Clinton famously compared Chinese Internet censorship to "trying to nail Jell-O to the wall." But as the ensuing years have proved, Chinese censors' commitment to this seemingly hopeless enterprise has created a dire reality that imprisons each of its citizens. Last year, several non-Chinese social media apps, including Instagram and Line, fell under the censors' blade, joining a growing list of foreign services, such as Facebook and Twitter, that are inaccessible in China. Google, having long been in the crosshairs of the Chinese authorities, saw its Gmail service in China disrupted in late December. In recent weeks, the authorities have disabled popular virtual private networks — technical loopholes that many residents had used to access online content beyond the Great Firewall.
Returning to China from abroad during school vacations increasingly feels like stepping into an alternate universe. Internet tools that my peers across the world use to stay connected are replaced by their heavily monitored Chinese versions, where benign criticisms of the Communist Party can lead to police interrogation or jail time. Mainstream media and publishing are under similar assault. Gone are the days when industry insiders summarized taboo topics with the "three Ts" — Tiananmen, Tibet and Taiwan. My mother, an editor at a state publishing house, has in the past few months had several book projects — on subjects from Buddhism to homosexuality, which used to bypass censors with relative ease — rejected by higher-ups without explanation. The expurgation does not stop at the politically sensitive. A television drama on China's first female emperor was recently pulled simply for featuring revealing costumes. The often-farcical appearance of the censorship rules has on occasion galvanized individuals into making a demand for transparency but more often has only served to alienate them by depriving them of channels for communication.
Read the full article here: http://fnvaworld.org/?p=13494